Everything you need to know about returning to Fiji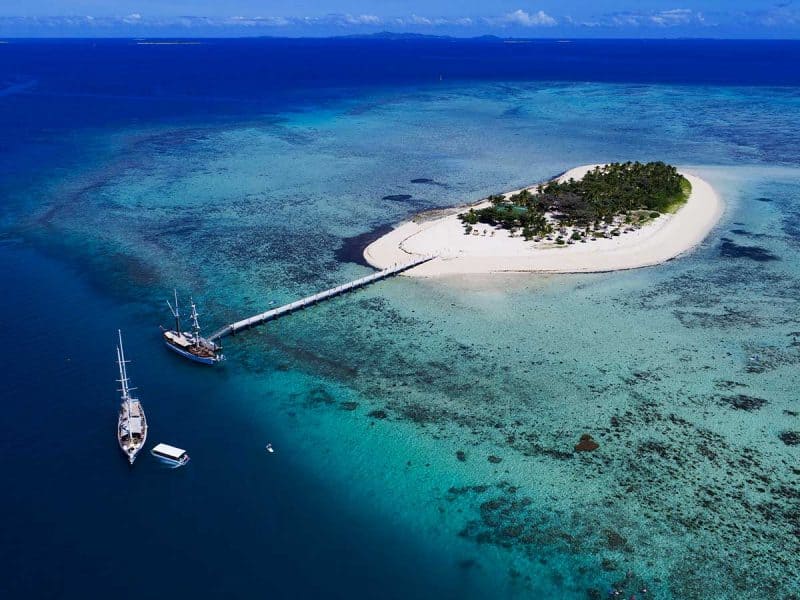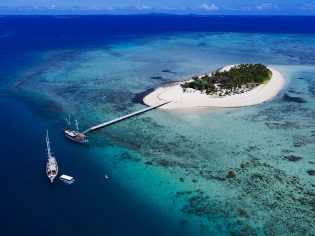 It couldn't be more exciting to have Fiji back on our travel radars. But there are a few things we need to know – and plenty of resorts, tours and restaurants we need to reacquaint ourselves with. To help you plan your next tropical escape, here's your ultimate Fiji travel guide.
Fiji COVID rules
The first thing you're likely wondering is: how easy is it to return to Fiji? And the answer is 'very easy'. You just need to have all your ducks in a row before you fly. Firstly, you will need proof you're triple vaccinated. Before leaving Australia, travellers over the age of 12 will need a negative PCR or Rapid Antigen Test (RAT) that's supervised and verified by a medical professional who can give you a written record of the result.
You will also need to have your first three nights' accommodation booked at a Care Fiji Commitment (CFC) property, plus a CFC airport transfer. The CFC certification is awarded to businesses that are deemed COVID safe, and there are hundreds of choices. Another must is medical travel insurance that covers COVID (it's best to book with a travel agent and check the fine print).
Two days after arriving in Fiji, it's mandatory travellers take a supervised RAT at their resort, and then you will need another negative COVID test result (PCR or RAT) prior to returning to Australia, and to complete the Australian government's Digital Passenger Declaration. However, Australia's federal health minister, Greg Hunt, recently announced that international arrivals will no longer need to be tested for COVID-19 before travelling after April 17. You will still need to be fully vaccinated and wear a mask on flights to return to Australia. Entry requirements will continue to change as more people start travelling overseas, so keep up-to-date with Fiji's rules.
Fiji Hotels
Whether you're staying on the main island of Viti Levu or taking a boat, helicopter or seaplane to a distant island chain, there are plenty of choices when it comes to Fiji accommodation.
COMO Laucala Island
COMO Laucala Island is one of the latest COMO Hotels and Resorts to open and its clifftop location above azure waters is nothing short of stunning. This private island resort is in Cakaudrove Province, in Fiji's north. Guests arrive to the island's airstrip after a 45-minute private air charter from Nadi International Airport. Settle into one of 25 luxury residences (complete with butlers) that are on secluded beaches and atop hills. The island is covered with rainforests, lagoons, mountains and coconut groves, and one of the biggest selling points is the 18-hole designer golf course.
Six Senses Fiji (reopening April 1)
If sustainable travel is a priority, you'll love Six Senses, in the Mamanuca Islands. Guests stay in beachfront villas and residences that are 100 per cent solar-powered and spend their days meeting the resident iguanas, exploring the house reef, learning about the growing kitchen garden and making their own kombucha and body scrubs. There is also diving and surfing (Cloudbreak is only 20 minutes away) on your doorstep.
InterContinental Fiji Golf Resort & Spa
If you're searching for somewhere to spend a few nights on the mainland, the sprawling InterContinental Fiji Golf Resort & Spa is a great option. The resort was one of the first to open when international tourist flights resumed in December 2021 and it's a popular choice with families, couples and business travellers. Not only is it beside a white-sand beach (with a healthy house reef), it also has a handful of restaurants, a family pool and adults-only pool, a day spa, children's centre and gym.
Fiji tours
Whether you're keen to surf world-class waves, scuba-dive amid vibrant reefs, hike through rainforest or plant coral, Fiji has a wealth of activities to choose from, including a few you may never have heard of.
EcoTrax Fiji
One of the country's most unique experiences is EcoTrax Fiji, where travellers hop aboard a modified electric bike to ride old sugar cane railway tracks. You can pedal the bike or use an accelerator so you can cruise along, venturing through rainforest, over rivers and past villages. Located on the Coral Coast of Viti Levu, the award-winning three-hour tour also sees passengers stopping at a remote beach to swim, snorkel and enjoy local fruit.
Hot Glass Fiji
Another little-known tourist experience is Hot Glass Fiji, the country's first glass-blowing studio. We love this place because it's not what you expect to find in Fiji yet it offers a fascinating alternative to typical island tours – and a great experience for travellers who love being creative and learning from locals. There are a few different lessons you can sign up for, with options starting from a quick 30-minute session for anyone aged seven years and older to a more detailed class where you can make three glass pieces to take home. Alternatively, you can simply pop along to the studio to purchase a special souvenir. You will find Hot Glass Fiji in Korotogo, on the Coral Coast.
Fiji cruising
Cruise ships have returned to the high seas and Fiji's specialty is small-ship cruising, where crowds are smaller and port stops are more intimate.
South Sea Sailing
For full-day sailings and charters, South Sea Sailing has introduced a new 78-foot catamaran to its fleet. Called SABRE, this custom-built sailing catamaran is the first of its kind in the southern hemisphere and was specifically made with modern day-trippers in mind. There is plenty of seating and a full bar, which you can enjoy while you journey through the Mamanucas, stopping to swim and snorkel.
Captain Cook Cruises
Captain Cook Cruises Fiji is expanding its conservation and education programs with marine biologists hosting lectures on three-, four- and seven-night cruises. The talks will be about topics such as coral bleaching and crown-of-thorns starfish. Other Captain Cook initiatives are themed around citizen science projects, becoming ocean ambassadors and planting coral. One of Captain Cook Cruises' biggest selling points is its variety of itineraries, which range from the classic Fijian tourist activities (such as snorkelling) to remote villages on and around Fiji's second-largest island, Vanua Levu.
LEAVE YOUR COMMENT