This eco-resort will make you love Fiji all over again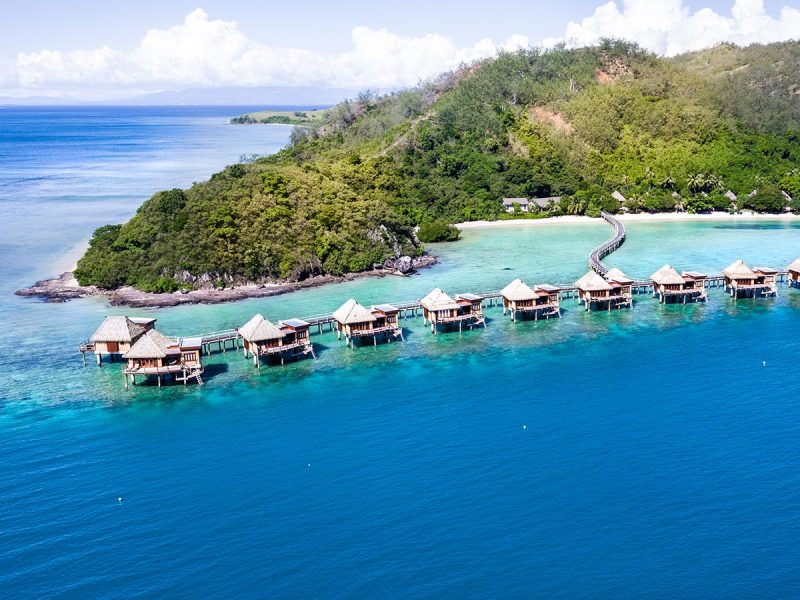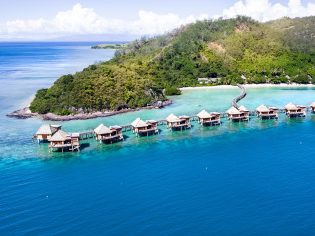 |

This Article was created in partnership with Ahura Resorts

|
With an ever-increasing focus on sustainable tourism, Fiji is finding new ways to make us fall in love with its extraordinary natural environment of sparkling seas and paradise islands.
The country is dedicated to preserving its extraordinary natural environment. With its 333 islands scattered throughout a jewel-like sea, it's hard not to fall in love with Fiji and feel similarly protective.
Here in the Mamanuca archipelago, a collection of 20 islands that extend like an arc to the west of Nadi but feel a world away with their white sandy beaches and swaying palm trees, resorts like Likuliku on Malolo Island are keenly focused on sustainable tourism and promoting community livelihood.
Its conscious efforts are underpinned by the Mamanuca Environment Society, an active society that works in tandem with the archipelago's resorts to protect the special marine and terrestrial environment of the Mamanucas, which includes mangrove and wetland ecosystems, seagrass beds and coral reef systems the likes of which lie beneath us now.
And all across Fiji, resorts and tour operators are greening and fine-tuning their operations – from installing renewable energy sources such as solar to going plastic-free – and supporting conservation and community initiatives to create a better experience for all.
Here are three practices that have Likuliku leading the way in Fiji's sustainability.
1. Fijian-owned eco-friendly accommodation
Likuliku Lagoon Resort and sister property Malolo Island Resort are completely different experiences – the former a bucket-list adults-only paradise and the latter the gold standard of Fiji family holidays. But they have a few things in common, not least their friendly staff; operating company Ahura Resorts is 100 per cent Fijian-owned and its culture trickles down to those big smiles accompanied by an ebullient 'Bula!'.
The pristine but fragile island they inhabit is Malolo, known across Fiji as the island where the sun comes to rest at the end of each day. It's where coral reefs cast abstract patterns in turquoise waters that fringe golden sands and forests.
Ahura supports sustainable tourism through the Ahura Resorts Conservation Foundation, whose initiatives include extensive coral planting projects and reef protection initiatives and extend to people and culture.
Operating in close exchange with the land, sea and people of Fiji; the resorts are built on land that has a 99-year lease and royalties are paid to the landowners as well as a monthly rental calculated on a percentage of all sales.
In 2005, the late Paramount Chief of the Malolo Islands, Turaga Na Tui Lawa, declared the waters and reefs in front of Likuliku Lagoon a marine protected area or 'Na Tabu'. This environmental initiative allows natural recovery and restoration of reefs and marine life. And it's working, they're seeing more sea turtles than ever.
2. Sustainable dining options
Menus at Likuliku Lagoon Resort and Malolo Island Resort are overseen by executive chef Gregory Llewellyn, a New Yorker by way of Australia, where he launched Sydney's inner-west cult favourite restaurants Hartsyard and Wish Bone.
Here in Fiji, his fresh, clean and creative menus embrace local ingredients, some of which are grown in on-site kitchen gardens or courtesy of the local staff village. The resorts foster a relationship with the mataqali, the local resource landowners, and have a responsibility to work with and support them by purchasing their produce, says Gregory.
"Whether that's fish, octopus, coral trout. It could be a wheelbarrow full of bananas. It could be cassava, all sorts of things." The delicious local spinach pie with moca (amaranth leaves), leek, feta, roasted white sesame seeds and lemon at Malolo Island Resort's casual beach bar is recommended, as is a bowl of moreish cassava chips on the table to start.
Try the long-nose snapper with macadamia milk, salsa verde and garden herbs at Treetops Restaurant. At Likuliku, a five-course dinner might include a walu curry to share, accompanied by house masala, dahl, roti, rice and chutney, with breakfast dishes that sing of the location like chia-seed pudding with passionfruit, blueberry, island coconut and Likuliku honey made by the resort's own bees.
3. Efforts to recover Fiji's iguanas
Tucked away just off the elegant reception bure at Likuliku Lagoon Resort, something extraordinary is happening. Malolo Fiji crested iguanas, previously thought to be an extinct species, are thriving in captive breeding enclosures.
The spot is blink-and-you'll-miss-it, just like the iguanas would be in their natural environment: their markings changing from forest green to bright green and turquoise, like the jungle and sea that typifies Malolo Island.
But peel yourself away from the infinity pool for a presentation with Keli Nacewa and you'll learn their remarkable story and maybe even meet one, too. Thought to have been extinct for more than 25 years, a Malolo Fiji crested iguana was discovered in 2010 at Likuliku Lagoon Resort, kicking off an incredible research journey, breeding program and regeneration program.
The demise of Fiji's iguanas has been in a large part due to the destruction of their natural forest habitat thanks to human activities and the introduction of non-native animals including rats, cats, mongooses and goats.
Crucial to the survival of iguanas and other wildlife, tropical dry forest – which once spanned large areas of Latin America, Africa, Asia and the Pacific – is perhaps the most degraded ecosystem in the Pacific if not on Earth.
Only pockets remain on Malolo Island and the islands of the Mamanuca group, a fact that Ahura Resorts is helping to combat with a major regeneration program including the creation of the first dry forest nursery on the island, which has 3000 saplings of 22 different species required to create this unique ecosystem.
As of 2021, through the successes of its program, 71 Malolo Fiji crested iguanas have been observed in the wild and the number keeps growing. They hang out in patches of restored habitat near beachfront bures, so keep an eye out.
More ways to visit Fiji sustainably
Turtle conservation programs
Of the seven species of sea turtles on the planet, five of them are found in Fiji and all are threatened or endangered. Which is why resorts across the country run a variety of turtle conservation programs.
In the Mamanucas, Mana Island Resort & Spa, Vomo Island Resort and Beachcomber Island keep baby turtles safe in ponds until they're old enough to be released into the wild while Yasawa Islands resorts Treasure Island and the appropriately named Turtle Island have been protecting the creatures for decades.
Fiji Biology lessons
A pioneer in eco-tourism, Jean-Michel Cousteau Resort Fiji was one of the world's first eco-luxury hotels and remains a trailblazer as the only resort in Fiji with a marine biologist on staff. Johnny Singh helps guests explore and understand the natural wonders on his doorstep.
Coral care and regeneration
It's little wonder that resorts across Fiji are investing in coral garden programs and marine education centres when you consider the country claims more than 10,000 square kilometres of coral reef and that 42 per cent of the world's coral species are found here; spots that get a big green tick and have ways for guests to get involved include the Shangri La Fiji Resort & Spa, Outrigger Fiji Beach Resort and Kokomo Private Island Resort.