A go-to Fiji accommodation guide for every traveller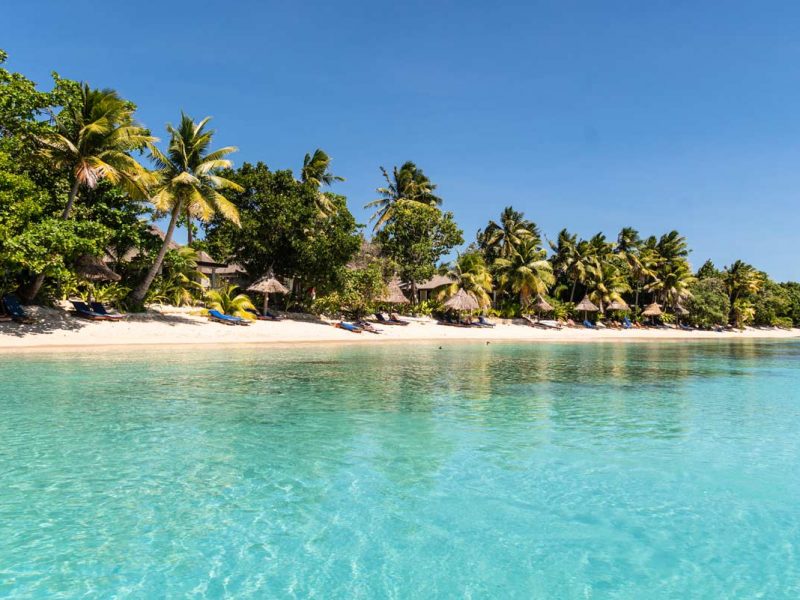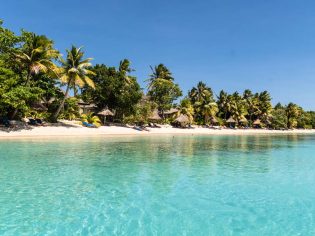 Whether you're crooning for couple time, ogling over water bungalows or searching for the ultimate family resort, Fiji has it all.
With 333 islands peppering a turquoise sea, Fiji has a swathe of suites, bures and residences you can call home for a week – or even more. From luxurious island stays shared with few other travellers to sprawling resorts made with kids in mind, here's our guide to some of the best accommodations in the country.
Best family accommodation in Fiji
Family pools, kids' clubs and playgrounds help make Fiji the perfect place to introduce children to another country and culture, only a short flight from home.
Radisson Blu Resort Fiji, Denarau Island
With a giant pool that includes a waterslide and volleyball net—plus a tonne of fun activities such as coconut cracking and rubber duck races—Radisson Blu is Fiji's ultimate family resort. The handful of restaurants caters to your little one's every whim no matter their age, and the staff are genuinely happy to hang out with your brood. For some kids-only entertainment, there's also a kids' club, while rooms are large with kitchenettes and plenty of space to unpack. You'll love that this resort is only a quick drive from Nadi International Airport and a stroll from Big Bula Waterpark.
Castaway Island, Fiji, Mamanuca Islands
There's a reason why families return to Castaway year after year – not only are the staff warm and welcoming but there's also plenty to keep little people entertained. From beach volleyball to walking through rainforest, kayaking and touring Tom Hanks' Cast Away island, you'll be hard-pressed deciding how to spend your days. The four-star resort even runs snorkelling lessons in the pool for those new to the hobby and there's a designated family pool where kids can be as rambunctious as they like.
InterContinental Fiji Golf Resort & Spa, Natadola Bay, Viti Levu
What makes the InterContinental a favourite for so many families is its location on the southwest coast of Fiji's main island. You don't need a chopper or boat to get there, and the luxury resort is away from the hubbub of Nadi. The sprawling property is also situated on one of Viti Levu's only cream-sand beaches. Add a house surf break, plenty of reefs to snorkel (including a family-friendly shore reef), a kids' play area and a large family pool and you can see why it's popular with water-loving families. It's also a great entry point to Fijian luxury accommodations.
Best accommodation for couples in Fiji
Fiji may be famous for its awesome kids' clubs and nannies, but there are also plenty of island escapes offering romance and seclusion for couples.
Six Senses Fiji, Malolo Island
Couples with an eco-conscience with fall in love with Six Senses Fiji, famous for its focus on wellbeing and reconnecting with nature. Surrounded by tropical gardens and coral reefs, couples can spend their days learning about and looking after the environment. You can replant coral on a snorkelling trip, go searching for resident Fijian Crested Iguanas and sign up for a healthy mixology class. Sprinkle that with time spent swimming, surfing and chilling out in your beachfront villa and you won't ever want to leave.
Sofitel Fiji Resort & Spa, Denarau Island
If you're in Fiji to unwind and indulge, you've come to the right place. Whether you want to spend hours sampling seafood in oceanfront restaurants or swanning about in the expansive lagoon-style pool, the Sofitel delivers. The dining is undoubtedly the highlight, with a new adults'-only poolside grill and a beach bar serving more than 30 infused rums. Even the main buffet restaurant impresses with a wall of desserts. There is also a nightclub, a hair and nail salon and a great range of high-end boutiques and souvenir stores. Plus, Fiji Airways has a check-in counter near the lobby, making your journey home utterly seamless.
Namotu Island Fiji, Mamanuca Islands
Famous for world-class water sports, adventurous couples line up to stay on Namotu Island. Surrounded by several of Fiji's best surf spots (including Cloudbreak) and brilliant blue water, the resort is frequented by the world's top surfers and kite surfers. If that's not your thing, there's also fishing, spearfishing, diving and stand-up paddleboarding as alternate water activities. Although Namotu does occasionally run family weeks, it's primarily an adults-only piece of paradise.
Best luxury accommodation in Fiji
Arrive in style and spend your days traipsing from ocean to pool to bar to daybed at these luxury stays worth splashing out on.
Kokomo Private Island Resort, Kadavu Group
Exclusive and stunning, Kokomo is an all-inclusive six-star stay and one of Fiji's best properties. Arrive by seaplane or helicopter to a resort that's the epitome of barefoot luxury, where the dining is second to none, the day spa pampering indulgent and the ocean an always alluring aqua. Accommodation ranges from large beachfront villas with plunge pools to private hilltop residences with wide decks that offer views over the island and beyond.
Fiji Marriott Resort Momi Bay, Momi Bay
With thatched-roofed bungalows that seemingly float above a blue lagoon, it's easy to be seduced by this five-star resort. Not only can you step off your private balcony every morning for a dip, but the hotel is also on the doorstep of stellar dive sites and surf breaks. After an active morning, unwind in the three pools, at the day spa or in one of the oceanfront restaurants. Located on the west coast of Viti Levu, Fiji Marriott Resort is a great option for travellers wanting island vibes close to Nadi.
VOMO Island Fiji, Mamanuca Group
Perfect for a special celebration or to splurge after a few years on home soil, the famous VOMO has everything you'd expect from an award-winning luxury resort. The private island is home to a day spa, a nine-hole golf course, a gym, a yoga deck and a tennis court. You can also enjoy island picnics, learn to dive, go hiking or flit from poolside restaurant to juice bar to beach club. Aside from all of the above, one of the things we love about this resort is that it caters to both couples and families, with accommodation ranging from stylish beachfront family digs to luxury homes for complete privacy.
Best affordable accommodation in Fiji
Fiji may be home to some of the South Pacific's most luxurious resorts, but it also has a great choice of mid-range accommodation for those on a tighter budget.
Plantation Island Resort, Malolo Lailai Island
Coconut palms, white beaches and a protected lagoon are part of the magic of popular Plantation Island. Resting on nine hectares in the Mamanucas, the three-star resort is a great option for budget-savvy travellers. Bures and rooms are large enough for multiple families or groups of friends, and although you're not spending big you'll still find three pools, a playground and games room, shops and plenty of water sports and tours.
Outrigger Fiji Beach Resort, Viti Levu
Stay in a traditional bungalow at the Coral Coast's Outrigger. The bures are older here but cute and comfortable, and there are hotel-style rooms as well. Restaurant dining is relaxed with international cuisine, wood-fired pizzas and sunset cocktails on the menu. For families, there are two kids' clubs and nanny services, while the resort also has a cultural program that includes firewalking and traditional dancing demonstrations.
Barefoot Manta Island Resort, Yasawa Islands
One of the most affordable beachfront accommodations in Fiji is Barefoot, in the northwest. The small resort's biggest claim to fame is that you can go snorkelling with mantas, hence the name. The majestic creatures visit a nearby feeding site between April and October, and you can witness the spectacle with a guide. Another big plus is that the resort has a Marine Conservation Centre with a resident marine biologist running programs such as coral farming. Barefoot also gets our vote for its very simple and affordable beach bures, where you'll get a taste of authentic Fiji.
LEAVE YOUR COMMENT