The Fijian family holidays making your kids better people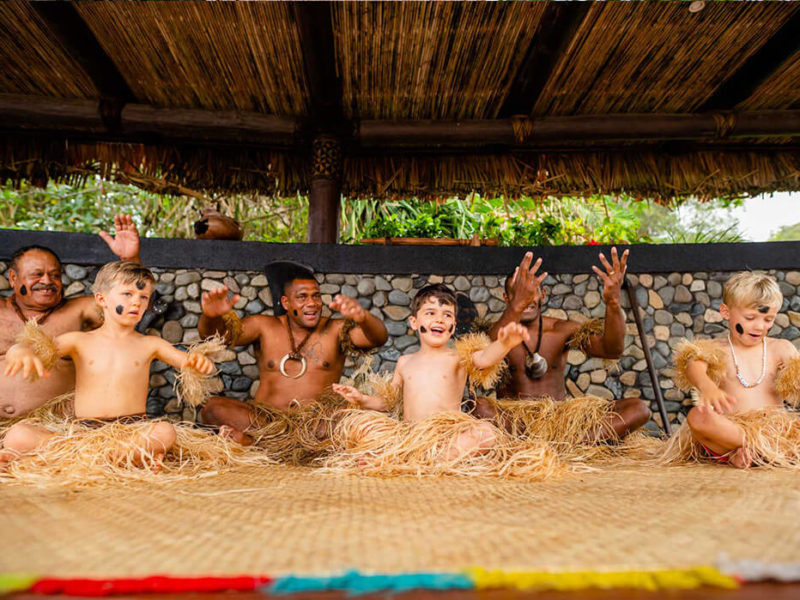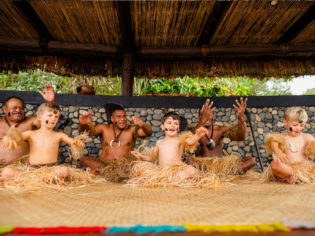 This is more than a holiday. It's so much more than drinks by the pool and time spent lying under palm trees (though of course, you can have that, too).
It's so much more for your kids, in particular, than simply playing in a new space.
A holiday in Fiji is a chance for children to experience their first deep connection with a foreign culture, a culture so filled with joy and warmth and a sense of community.
This is an opportunity like no other, as kids get to know Fijian culture on a personal level, engaging with locals, learning traditions, hearing stories, gaining skills, and having an absolute ball doing it, all while taking in that infamous Bula Spirit of the locals.
And of course, while the children are having those experiences, those palm trees await for the parents.
Walk to make a difference
For children, the best way to learn is to participate. And the Outrigger Fiji Beach Resort offers an excellent opportunity to do just that if you're staying there in April when the "Walk For Kids" charity initiative is held.
This family-friendly, 10-kilometre walk is not just a fundraiser, but a way to foster a sense of partnership between resort guests and the local Sigatoka community, as well as promoting a healthy lifestyle. When kids cross the line at the end of the walk, a presentation by local students and teachers makes it all worthwhile.
Indulge in a cultural immersion
Here's the challenge: getting your kids to ditch their devices and actually experience the world around them.
Fortunately, that's no trouble at Nanuku Resort Fiji, where the Lailai Adventure Club offers complete immersion with nature, mindfulness, education and traditional experiences.
Kids here get involved in the customary rituals of the Fijian people to develop a deeper understanding of local culture; they take part in traditional earth cooking, dancing, storytelling, coconut husking, basket weaving, language lessons, singing lessons, rice planting, and so much more.
Balance that with a range of fun outdoor adventure activities and you have the island experience of a lifetime. No devices required.
Learn about land and sea
This is not something you can do at home; not if you live in the city; not if you live away from the coast. And that's the entire point of the Bula Club, an award-winning kids club at the Jean-Michel Cousteau Resort in Savusavu.
The goal here is to expand kids' horizons, as well as help them better understand and appreciate their surroundings.
That's done through walks on the reef flats with marine biologists, medicine walks with local elders, and even a Junior Chef Program, in which children learn how to harvest and prepare a wholesome dish from scratch. And, of course, there are plenty of fun indoor and outdoor activities – ziplines, trampolines, waterslides and more – to participate in.
Experience Fijian-style mindfulness
Six Senses Fiji's children's program is all about connection: connection with nature, connection with culture, and connection with those around them and themselves.
This is done through Grow with Six Senses, in which a sense of playfulness and fun is injected into the resort's six dimensions of wellness: social, emotional, environmental, physical, intellectual and spiritual.
Children here can take yoga and meditation classes, visit nearby villages and schools, take Fijian dance classes, and learn traditional cooking techniques, all of which will allow them to take a little of the Fijian experience home with them.
Become a ranger for a day
Any visit to the Kula Wild Adventure Park, near Sigatoka, will be an enjoyable one for kids, what with the ziplines, the waterslides, the animal displays and more.
For a truly memorable experience, however, sign your children up to become park rangers for a day: they'll receive their own uniforms and go behind the scenes at the park, learning what it takes to look after the resident animals.
They'll do health checks on the iguanas, learn to make special food for the tropical fish, and plant their own fruit tree. All up, an educational and amazing time.
Eat and be merry
There are few experiences that foster strong relationships like the act of sharing a meal, and at VOMO Island Fiji children have the chance to do that in several ways.
They're encouraged to eat breakfast with their families in the mornings; later in the day, they can head to the VOMO Kids Village and share an evening meal with new friends, served up by a dedicated chef with a range of healthy choices.
Parents, meanwhile, can access the resort's adults-only areas, such as The Rocks, to enjoy sunset cocktails. It's the best of both worlds.
At the Kids Village, children aged eight to 12 years also have the option of an introductory PADI scuba-diving course, a skill that will stay with them for a lifetime.
Create your own souvenir
Here's some family fun with difference. Hot Glass Fiji is a glass-blowing studio that offers visitors the chance to create their own glass piece.
Each creation is inspired by the colours of the Fijian islands, and popular shapes such as shells and turtles have an obvious connection to your idyllic surroundings.
This is Fiji's first glass-blowing studio, and it offers a memorable and creative way to take home a souvenir.
Regenerate for life
Here's the perfect opportunity for your children to learn the importance of caring for the ocean and regenerating it for future visitors to enjoy.
Plantation Island Resort's Ocean Regeneration Program includes guest education opportunities, in which visitors of all ages participate in coral and seaweed planting, as well as making fish houses to encourage fish life and coral growth. The resort also has two playgrounds, one for younger kids and one for older children, as well as two blow-up water parks.
Help save the turtles
Turtles. Do you need to hear any more? Kids love turtles. Everyone loves turtles.
And Treasure Island Resort has been a strong advocate for the protection of local Hawksbill turtles for more than 40 years.
At this Mamanuca Island resort, the Kids' Club has plenty of activities to help children learn and help with the conservation of these beautiful creatures. Kids here are also treated to hands-on experiences of Fijian culture, including song and dance performances, basket weaving and language classes.
LEAVE YOUR COMMENT