Fiji Airways FJ679 – no ordinary flight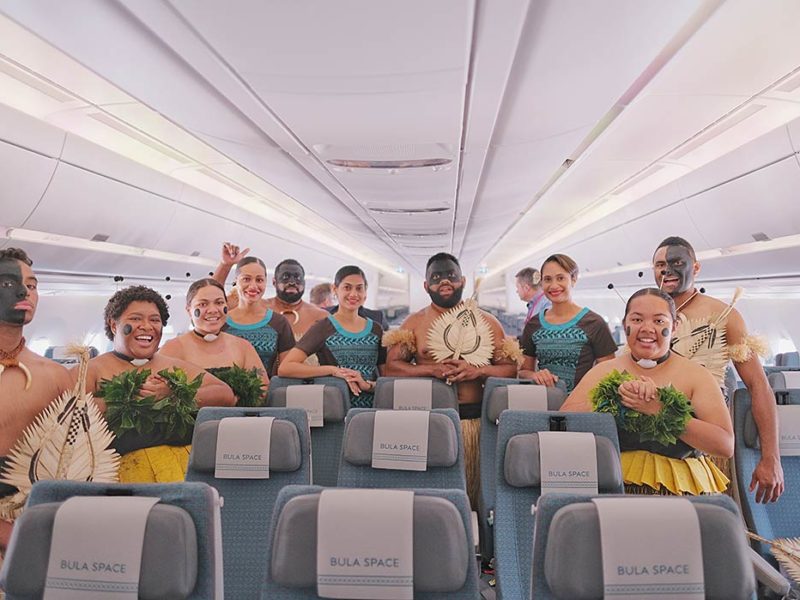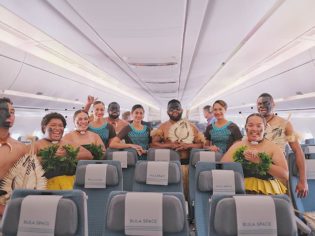 It was live broadcast to an entire nation, more than 1000 people greeted the aircraft at the hangar, and yet there were fewer than 30 people onboard. Flight FJ679 carried the hopes of a nation.
Fiji Airways flight FJ679 on November 23 2019 was no ordinary flight.
"It is more than just a plane. It is a symbol of Fiji's progress and modernity," declares the Fijian Prime Minister Frank Bainimarama on the tarmac in Nadi at the welcome ceremony for Fiji Airways' first A350 XWB (the XWB stands for Extra Wide Body), on which he and I have just flown.
It was a very surreal, if a little eerie, flight. Fewer than 30 people onboard an aircraft with 334 seats. Row after row of in-seat screens were playing various new-release movies but no one was watching. Engineers and flight crew potting around as if they were at a house inspection, opening and closing doors to discover what was inside or how it worked.
The arrival and ceremony were broadcast live in a two-hour special across the country. Without exaggeration, this is the most important flight for Fiji as a country since international commercial flights commenced in 1951. It is strange to think an aircraft could have such a profound effect on an entire nation. New aircraft change the fortunes of airlines, sure, but nations?
The A350 is recognised by aviation nerds as a generational leap forward in aircraft technology. For Fiji it is perhaps a multi-generational leap forward. Fiji Airways now has the product to attract the lucrative luxury traveller being targeted by a new generation of luxe Fiji resorts like Six Senses Fiji and Fiji Marriott Resort Momo Bay, which join the well established high-end escapes like Vomo, Luacala and Turtle Island.
The 33 Super Diamond business-class seats, also flown by QATAR and British Airways, are world class. The A350 also has a much larger range, a flight time 16 hours that will allow Fiji Airways to directly penetrate far deeper into the lucrative US market in the future.
But it is freight where the nation of Fiji will benefit most in terms of revenue; each aircraft will expand the freight capability from approx. one tonne to approx. 20 tonnes. This extraordinary increase in capacity has flow-on effects for Fijian exporters. They can now plan to expand their production to fill the additional 20 tonnes into the two most important markets for Fiji, the US and Australia.
Add the fact that the A350 emits 25 per cent less CO2 due to fuel-efficient engines and capacity increases from 313 to 334 and you've got the is the aviation Holy Grail: increased capacity, cheaper to run and a better quality product.
Fiji Airways also reportedly picked up the new aircraft for a steal. The new jet was "out of reach of the airline", according to Fiji Airways CEO Andre Viljoen until the financially distressed Hong Kong Airlines decided in April 2019 it would not take delivery of the two A350s due to be delivered in November. The Airbus execs had a problem.
But one company's problem is another company's opportunity. In a month-long negotiation the aircraft became within reach of Fiji Airways if it could achieve the impossible and get the aircraft ready for service in five months, not the usual 12–18. With un-Fijian alacrity the Fiji Airways team leapt into action and made the deals required to remove the red and gold colour scheme of the intended owners to fit out the interior with a new colour scheme and design.
And the result is truly world class. It had to be, the whole of the nation was banking on it.
The first A350 entered service 1 December 2019 and the second 1 January 2020.
The new A350s fly Sydney – Nadi – LA – Nadi – Sydney on a daily rotation.
More at Fiji Airways