The 14 special Fiji destinations you didn't know about… until now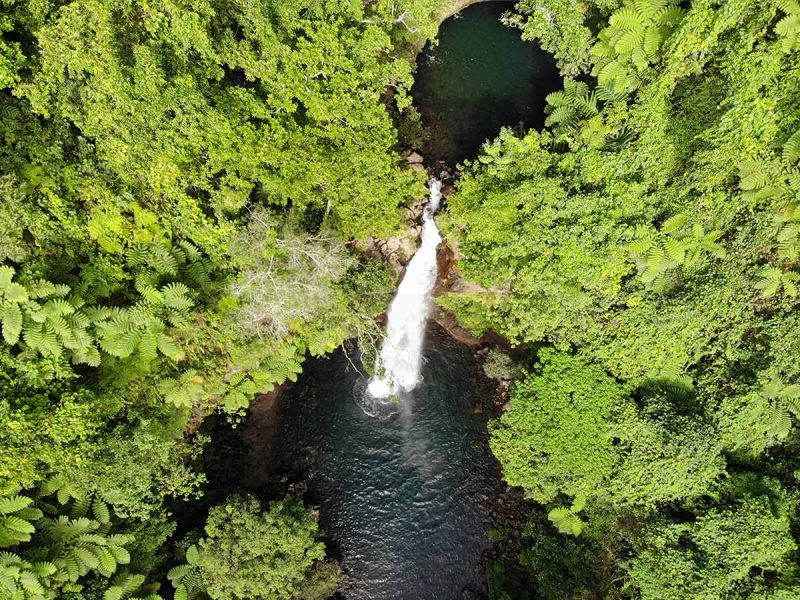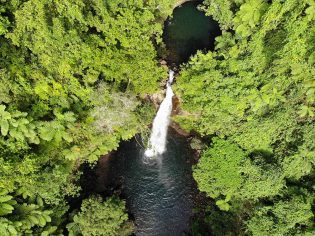 |

THIS ARTICLE WAS CREATED IN PARTNERSHIP WITH Tourism Fiji

|
There's more to Fiji than resort pools and swim-up bars. Venture further afield to discover hidden waterfalls, local markets and spectacular diving.
Famous for epic surf breaks, luxury resorts and friendly hospitality, Fiji is somewhat of a second home for ocean-loving Aussies. We flock there to stop and flop in Denarau's stylish resorts, to kayak off the Coral Coast, to surf in the Yasawas and Mamanucas, and to explore the villages of Viti Levu.
But there's more to Fiji than floating bars, hotel spas and kids' clubs. Here are 14 special places to visit in Fiji on your next holiday to these magical islands.
1. UNESCO Heritage-Listed Levuka, Ovalau
3. Koko Mana chocolate tour, Vanua Levu
4. Wadigi Private Island Resort
5. Sigatoka Markets, Coral Coast, Viti Levu
6. Dive at Rakiraki, Viti Levu
8. Maqai Eco Surf Beach resort, Qamea
9. Grand Pacific Hotel, Suva, Viti Levu
10. Manta ray passage, Yasawa Islands
11. Hot Glass Fiji, Coral Coast, Viti Levu
12. Fiji's best fishing, Viti Levu
13. Matanivusi Beach Eco Resort, Coral Coast, Viti Levu
14. Tukuni Restaurant, Tuvu, Viti Levu
1. Wander UNESCO World Heritage-listed Levuka
If you're after an authentic Fijian experience, make your way to the UNESCO World Heritage-listed Levuka on the remote island of Ovalau.
Levuka was the original capital of Fiji and is as 'real' as it gets; there are no fancy resorts and you'll barely come across another tourist as you wander the main street, past shops selling toys, stationery and clothing.
Make your way to The Royal Hotel, the oldest hotel in Fiji, to admire the facade, then wander behind it to discover an old Masonic lodge, or head farther out of town to photograph the peeling Levuka Hospital.
2. Hike to Bouma Waterfall on Taveuni
Nicknamed 'the garden island' of Fiji, Taveuni romances visitors with a quintessential South Pacific scene. Narrow roads weave around timber shacks, past free-roaming chickens and dogs, to the edge of the thick jungle that cloaks the island.
On foot, follow a slippery forest path past vibrant flowers to the roaring 24-metre-tall waterfall; this is the first of the three Bouma (or Tavoro) Waterfalls.
There's a large pool that's safe for swimming, although the undercurrent can be strong, so keep kids within arm's reach. Intrepid travellers will find this one of the best places to visit in Fiji. Scale the rocks to launch into the water from above, while the timid can soak in the scenery from the pebbly shore.
3. Indulge at one of the tastiest places to visit in Fiji
Fiji's culinary delights have come a long way over the past five years, and slowly but steadily the country is developing a taste for fine chocolate. It's no surprise, given the lush mountain regions are perfect for growing cocoa.
Instead of simply calling into a shop, consider joining a chocolate farm tour. At KokoMana on Vanua Levu (Fiji's second-largest island), you'll be guided through cocoa trees as pink pods dangle like Christmas decorations above.
You'll get the chance to taste the fruit (it's like a slightly sour lychee), learn how the seeds are sundried and roasted, and then – the all-important part – taste numerous morsels of smooth chocolate. It's the ideal place to buy a handful of tasty souvenirs, too.
4. Relax at Wadigi Private Island Resort
Fiji is an island paradise for the rich and famous seeking seclusion, but that only makes it harder to find somewhere really off the tourist radar.
Let us introduce you to Wadigi Private Island Resort in the Mamanucas. Arrive to the island via helicopter from Nadi and let your hair down as you familiarise yourself with your very own luxury beach house.
This five-star experience includes fine dining courtesy of two private chefs, poolside massages, off-the-beach snorkelling, and a boat captain at your beck and call.
5. Shop with locals at Sigatoka Market
To get a true taste of a town and its people, it's always good to pop into a local market. Not only do you get to see the way traders and farmers interact with each other, but you can taste your way around the stalls, make new friends and inject a few dollars into the local economy.
Sigatoka Market, on Viti Levu's Coral Coast, is a bustling meeting place where families sell fruit, vegetables (including kava), sweets and handicrafts.
You'll find other tourists there, but it's far from the resort crowd. Join a tour or wander alone, and be sure to take cash and your camera.
6. Scuba dive or snorkel Fiji's pristine waters
Scuba diving is one of Fiji's most popular tourist activities, thanks to a mix of incredibly colourful reefs, easy-to-reach bommies, and calm, enticing lagoons.
Plenty of resorts have on-hand dive masters, as well as beginner courses. But to experience something truly stunning, head to Rakiraki, on Viti Levu's Suncoast. The nutrient-rich Bligh Waters attract a huge variety of marine species, such as nudibranch, pygmy seahorses, whitetip reef sharks and even olive ridley turtles.
If you stay at the Dolphin Island Resort – an exclusive private retreat for just eight guests – you'll meet them all on a tour with your hosts.
7. Stay in remote luxury at Oneta Resort
It's likely you know about Kokomo Private Island, one of Fiji's most luxurious resorts, but have you heard of nearby Oneta Resort on Ono Island?
This premium accommodation option flies under the radar but is also in the remote Kadavu Group. Oneta proudly touts that it's on a hard-to-reach untouched island, and that's why it's a must-visit.
The family-run resort offers snorkelling, kayaking, hiking, birdwatching, sailing, sport fishing and scuba diving on the Great Astrolabe Reef, the fourth-largest reef In the world.
8. Hang 10 at Maqai Beach Eco Surf Resort
Famous for its reef breaks, Fiji has long been attracting surfers to its islands. But if you've been to iconic Cloudbreak and are looking for a new, out-of-the-way spot, make your way to Maqai Beach Eco Surf Resort on Qamea Island, in Fiji's far north.
It caters to all levels of surfers, with lessons and board hire available. The best bit? You won't be stuck on a boat for ages just to reach the waves, and you can eye the main breaks from your resort deckchair.
9. Sleep in one of Fiji's oldest hotels
Fiji's capital, Suva, may be popular with business travellers, but most leisure tourists bypass it – despite it being home to the impressive five-star Grand Pacific Hotel.
Built in 1914, and rebuilt a hundred years later, this 'grand old lady of the Pacific' oozes colonial style, and you can book the same suite the late Queen Elizabeth stayed in. It's also where Prince Harry and Meghan Markle stayed during their Royal Tour in 2018. Suffice to say, you'll be in good company.
10. Swim with Fiji's manta rays
With more than 330 islands making up Fiji, there are plenty of underwater adventures to enjoy, and one of the most magical – and unexpected – is swimming with manta rays.
Get up close to black and chevron-morphed mantas as they seemingly fly through 'manta ray passage' in the Yasawa Islands. You can snorkel with the mantas when staying at Barefoot Manta Island Resort Fiji; the best time to visit is between May and October.
11. Learn the art of glass blowing
There's no need to go to Venice to learn the skill of glass blowing when you can add a workshop to your next Fiji itinerary. Hot Glass Fiji is the country's first and only glass-blowing studio, and is easy to reach in Korotogo, on the Coral Coast.
You can join a range of workshops, including child-friendly sand casting where kids can make glass starfish, turtles and shells, or you can simply admire the handiwork of the locals as they craft molten glass into beautiful bowls, cups and vases.
12. Discover the best fishing spots in Fiji
Aussies visiting Fiji love to reel in a wahoo or giant trevally, and most big resorts offer charters. But as the best fishers know, you want to go where the fish are least expecting, and that means travelling away from the crowds.
In the north of Viti Levu you can catch a ride with Half Cast Charters from Volivoli Beach Resort, then spend a half or full day game fishing in Bligh Waters, between the main island and Vanua Levu. With a tonne of bommies about, these waters attract the likes of dogtooth and yellow tuna, Spanish mackerel, marlin and other sought-after species.
13. Experience Fiji's commitment to sustainability
Sustainability is serious business in Fiji, and one of the best (and little-known) destinations championing it is Matanivusi Beach Eco Resort on the Coral Coast. This place is the first surf resort in the world to be awarded STOKE certification for sustainable tourism.
At Matanivusi, rainwater is used, food is composted, non-recyclable bottles are added to concrete, and wastewater is treated and used as fertiliser. There are organic vegetable gardens, walkways have been built above the forest floor, and there's a zero plastics policy.
With only six beachfront bures, journey here to get away from it all and reconnect with nature.
14. Taste traditional Fijian cuisine
Mix fresh seafood with coconut and root vegetables such as cassava and you have the essence of traditional Fijian cuisine. Award-winning chefs showcase the best local produce to tourists, but you don't have to stick to big-name resorts to try it.
You can dine with Fijians at Tukuni Restaurant in Tuvu, on Viti Levu; this farm-to-table restaurant serves dishes that change with the seasons and each day's catch, but you can expect to find favourites such as ika tavu (fish wrapped in banana leaves and smoked). The emphasis is on healthy and home style.
Learn more and plan your Fijian holiday.