7 ways to discover Fiji's adventurous side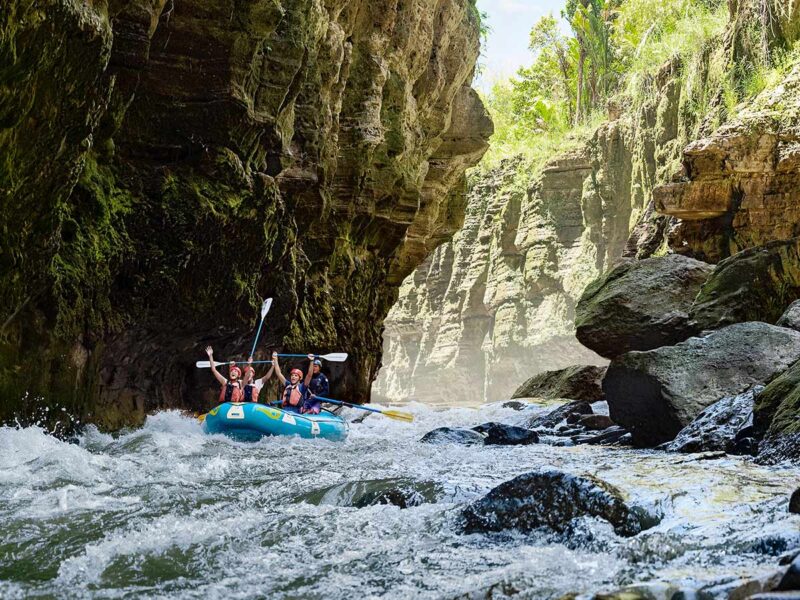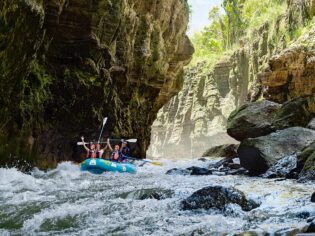 |

THIS ARTICLE WAS CREATED IN PARTNERSHIP WITH Tourism Fiji

|
Fiji is quietly developing a reputation as one of the world's hot spots for adrenaline seekers.
Luxury resorts located beside aquamarine waters? Located less than four hours flight time from Sydney, Fiji's got you covered. A lush emerald landscape with a beauty matched only by the friendliness of its people? Yes, Fiji has both in spades too. A vibrant food culture and a relaxed pace to help you unwind is a yes and yes. But perhaps what's lesser known for first-timers is that Fiji adventures are like no other. These 333 islands are teeming with heart-stopping, adrenaline-pumping experiences.
There's an activity to have you soaring, diving, throttling and tumbling your way through your next holiday.
1. Surfing
Thanks to its world-class reef breaks and crystal-clear water conditions, Fiji's islands – particularly heart-shaped Tavarua and Namotu – have long been a magnet for surfers and ocean lovers. Home to Cloudbreak (considered among the top 10 challenging waves in the world and traditionally part of the WLS surfing tour), the best way for pros (and it is only recommended for pros) to make the most of the location is by checking into Tavarua Island Resort or Plantation Island Resort.
Meanwhile, nearby Namotu Island isn't only located right by some of the top breaks including Swimming Pools, Namotu Lefts, Wilkes, Tavarua Rights and yes, Cloudbreak, but has ideal conditions for a wide range of water sports including foiling, kitesurfing, SUP and deep sea fishing. Book a stay at Namotu Island and you'll have unlimited use of surf boats.
Looking for further inspiration? Consider a stay further along the Coral Coast at Matanivusi Resort, Fiji's newest surf resort, with access to world-class surf break Frigates Pass.
2. Diving
Home to some of the world's longest barrier reefs (including the Great Astrolabe Reef and Great Sea Reef), countless world-class dive sites containing over 1200 species of fish, plus a maze of wall drives, caverns, swim-throughs and canyons, Fiji is made for underwater exploration.
Taveuni, with its world-famous Rainbow Reef, has long been considered the jewel in Fiji's dive crown ab and the best way to access such sites is by staying at Raiwasa Resort or The Remote Resort who can help guests organise a dive tour.
Island hopping the Yasawa Islands with a dive operator such as Diveplanit Travel is another great option. Aim for manta ray season (between May and November) if you can, to stumble upon the ultimate dive buddies.
3. Kayaking
There's sea kayaking, and then there's sea kayaking along an unspoiled coastline dotted with traditional villages and white-sand beaches. We're not just talking self-guided or guided day tours on the Pacific Harbour and Beqa Island, but booking a multi-day kayaking adventure around remote Kadavu Island with Tamarillo Active Travel. Protected from the ocean swell by the Great Astrolabe Reef, the tour overnights in a small eco-resort and village homestay for a truly authentic experience.
Prefer to do your own thing? Lock in a stay at nearby Oneta Resort Fiji where you can explore at a pace that suits you.
4. White water rafting
Tucked away in a remote tropical wilderness and shrouded in lush rainforest, there's no better place to tackle the heart-in-the-mouth rapids of the Upper Navua River which range from peaceful glides to 3+ grading. Located in Fiji's adventure capital, Pacific Harbour, Rivers Fiji will help you navigate waters that tumble past black volcanic walls, deep gorges and some 70 waterfalls.
Got the need for speed? You also have the option to try river tubing with River Tubing Fiji.
5. Trekking
Beyond Fiji's beaches lies a maze of hiking trails, each one a study in spectacular landscapes – all rugged peaks, waterfalls and dewy rainforest.
The four-hour (one-way) Mt Batilamu trail in Koroyanitu National Heritage Park (located between Nadi and Lautoka), and Mt Korobaba in Suva are two of the most popular trails, but booking a guided tour can make all the difference. Talanoa Treks, Fiji's only dedicated hiking company, runs multi-day tours which access some of the country's most remote trails and villages, offering hikers the opportunity to stay overnight in local lodges.
6. Waterfall hikes
You can hear them long before you see them, cascades of water tumbling and carving their way through that dense jungle interior, and when it comes to viewing waterfalls, it's simply a question of 'which one to start with?'
Bouma Falls (also known as Tavoro Falls) in Bouma National Heritage Park, Taveuni, is easily the most famous, offering three magnificent waterfalls within a scenic, hour-long walk. Also in the Park is the impressive Wainibau Falls, tucked away at the end of a 5km Lavena Coastal Walk.
Naiwaisomo Waterfall Hike along the shores of the Pacific Harbour, and Biausevu Waterfall which you can visit on horseback, are must-visits too, but for something different consider exploring the Pacific Harbour's waterfalls by dune buggy, courtesy of the five-hour tours run by Terratrek.
7. Abseiling and zipline
To soar at thrilling speeds through mountainous terrain and tropical forests on a zipline, or to abseil 100 metres into a cave and discover what lies beneath Fiji's surface? With Zip Fiji, you can enjoy both, the canopy tour company offering a range of high-flying adventures across Nadi and the Pacific Harbour.
With 16 heart-stopping zip-lining journeys weaving their way around mountaintops, caves and canyons, their Zipline Nadi tour includes limestone cave exploration, while the Abseil Nadi package includes a guided tour of local caves (including the Tau Caves) and wildlife along the course.
For further information, visit fiji.com.fj
LEAVE YOUR COMMENT