How some lucky people get to quarantine in paradise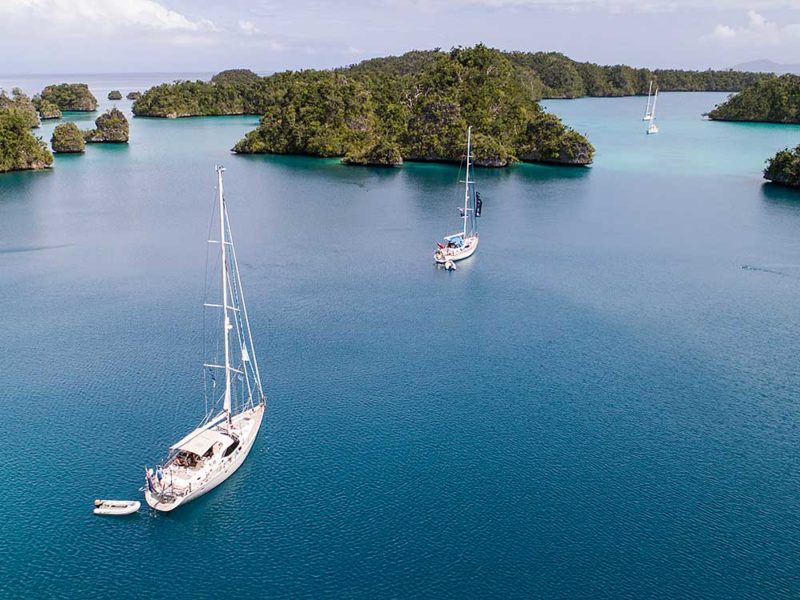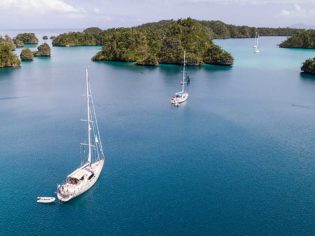 |

THIS ARTICLE WAS CREATED IN PARTNERSHIP WITH Tourism Fiji

|
Fiji's Blue Lanes system shows that even in a pandemic, Fiji is a haven.
If the global pandemic made you want to sail away to paradise, Fiji's Blue Lanes program might just be the quarantine scheme for you. Successfully launched in 2020 and the first scheme of its kind worldwide, the Blue Lanes programs allows international water-based travellers to gain entry to Fiji by quarantining on their own yacht or pleasure craft.
'Fiji has come up with a really robust and foolproof system to allow some tourism and much needed income for Fijians, while keeping everyone involved save from covid at the same time," says Christina Palmer, who visited Fiji with her husband and two children on their yacht the s/v Camara last year.
The family, from New Zealand, were part of the second cohort of boats to enter under the Blue Lanes entry process, sailing to the islands in late August 2020.
"The fact they had 80-100 boats enter last year and not a single case of covid from it speaks for itself."
Protocols and procedures
The Blue Lanes initiative involves strict quarantine requirements. Before heading to Fiji, yachts must hire a Fiji-based Yacht Agent to liaise with relevant authorities and facilitate their application. A covid test with negative results must be undertaken less than 72 hours before departure, a prepared itinerary must be supplied, and all passengers and crew must download the Care Fiji App.
For Palmer, the process felt flawless. Her family completed all paperwork, took a covid test, set sail and received their approval from Fiji " before we had sailed out of cell phone reception", she says, with the process from covid test to approval taking just 36 hours.
Yachts can count their uninterrupted travel time to Fiji as part of the 14-day quarantine period, switching on their AIS (Automatic Identification System) transceivers so the Fijian Navy can monitor their journey.
Palmer and her family spent 6.5 days on a passage from New Zealand, and 7.5 days at anchor quarantining, using the time to fish and do some maintenance jobs on the boat.
Navy officials visited daily to take their temperatures, and they also had an additional covid test on day 12 of their quarantine before they were cleared for entry.
"While in the quarantine anchorage you aren't allowed to leave your boat, but you can swim off the boat and if anything is required, like supply of food, sim cards or the like, the agent can facilitate this in conjunction with the Navy," says Palmer.
Once their quarantine was finished and their second covid tests were clear, the s/v Camara was able to dock and complete inbound clearance procedures, and collect their individually numbered Tourism Fiji Blue Burgee Flag, to show fly on the boat and show their successful quarantine.
A port in the pandemic storm
While not open to cruise ships, the Blue Lanes scheme has also been extended to high-net worth individuals with superyachts, who are able to arrive in Nadi by private aircraft, undergo VIP testing upon arrival, and then join the crew and their yacht.
(If you suffer from seasickness but still keen to experience paradise, the other quarantine alternative is to splash some cash on hiring out the entire Kokomo Island Resort for a minimum of 12 days).
While much fuss has been made in the media about the superyachts and the billionaire owners fleeing to Fiji, the Blue Lanes scheme has been praised by the global yachting community: when many yachts and pleasure craft found themselves stranded last year at the height of the pandemic, Fiji was the only place to allow them entry.
Opening up Fiji's Hidden Paradise
After the success of the initiative at Port Denarau, Fiji opened a second Blue Lanes yacht port at Savusavu Bay on Vanua Levu in late April 2021.
"… being able to expand this initiative has multi-faceted benefits to our communities all over Fiji, " says Tourism Fiji Acting Chief Executive Officer Robert Thompson.
"Our visiting yachts tend to spend longer in our more remote regions, spreading economic benefit to villages and provinces that are quite removed from our main tourist corridors,"
It is expected superyachts will quarantine in Port Denarau, with smaller vessels heading to Savusavu, known as the Hidden Paradise of Fiji.
Meanwhile, Palmer is planning her second Blue Lanes voyage with her family aboard the s/v Camara this year, planning to quarantine in Port Denarau and sailing the islands for at least 4-6 months.
"We've been cruising for the last 22 years and been to many beautiful places, but Fiji has definitely stolen our hearts like no other place before."
"I think what the Blue Lanes system has shown is that there are sensible ways to open sea borders where risks can easily and safely be managed, unlike air borders" says Palmer.
"…yachts cover the costs incurred, and the economy gets a slight reprieve from the effects felt of an otherwise non-existent tourism industry since covid".
LEAVE YOUR COMMENT