How Fiji is preparing for the return of Aussie Travellers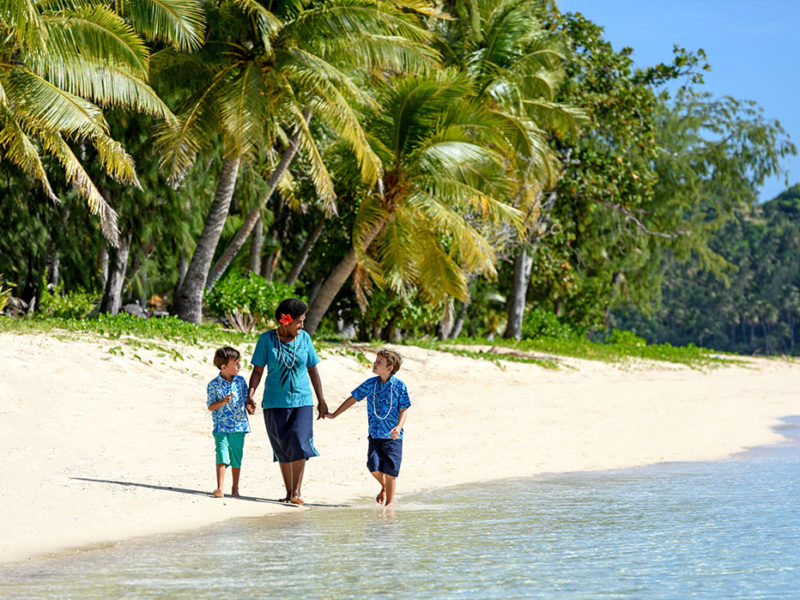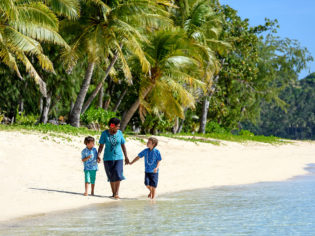 With the imminent reopening of Fiji, we look at the strategies and steps Fiji has taken to ensure the safety of travellers to the incredible island nation.
When Fiji announced it was reopening the Pacific Island paradise on 1 November, it could do so with utmost confidence. Here is why.
Currently a whopping 96% of the target population* have had their first jab and 65% are fully vaccinated. The incentive for Fiji to be not only ready but a world leader in Covid safe travel is far too big to ignore. (*Target population excludes children, pregnant women and the populations on the remote east islands who do not come into contact with travellers.)
Pre-pandemic, tourism contributed to a massive 34 per cent of Fiji's gross domestic product (GDP), employing more 119,000 Fijians across the 333-strong island group.
For decades it was a favourite with families, honeymooners and sun-seekers, drawn by its close proximity, warm weather, postcard-perfect scenery, and the incredible hospitality of the Fijian people.
Fiji was heaven and Australians knew it, with Aussies accounting for 42 per cent of all visitor arrivals.
The island nation had just experienced another year of record visitor growth when the Coronavirus pandemic hit.
Like Australia and New Zealand, Fiji was able to quickly mitigate the spread of Covid-19, by shutting its borders in early 2020 and swiftly bringing the disease under control.
The Delta variant like everywhere else in the world was a setback, but like a rampaging Fijian rugby sevens player, they are storming over the adversity with their a coordinated and deliberate national program to make sure the island nation leads the world as a Covid safe travel destination.
Working with the Ministry for Health, Tourism Fiji has developed a detailed set of protocols to enhance the standards of safety, health and hygiene for incoming visitors and locals across the country, called the Care Fiji Commitment.
"We have been working together as one across the tourism and health industries to fight COVID-19 and adapt to a new normal to get us ready for when we can welcome international travellers again," says Tourism Fiji's Regional Manager, Robert Thompson.
"The Care Fiji Commitment is our assurance to travellers that the health and safety of everyone who lives and travels here is our number one priority," says Thompson.
More than 200 Fijian tourism businesses, including resorts, restaurants, tour operators and attractions have signed up for the scheme.
Central to the scheme is a multi-faceted approach to traveller and community health and safety.
First and foremost is the afore mentioned vaccination program.
Fijians are now proudly updating their social media pages in droves as they receive each dose of the vaccine.
The resorts themselves have become vaccination hubs and run programs to transport workers and villagers to be vaccinated.
And if the villagers and workers can not be moved to the vaccination then the vaccination is coming to them thanks again to the local industry.
South Sea Cruises are using their island hoping ships to transport vital vaccines to the popular Yasawa group of islands. The critical supply of vaccines and PPE ensure the workers and villagers are well on their way to COVID protection and readiness to welcome back Aussies.
Understanding that vaccination is only half the battle, Fiji is winning the war with COVID with the rest of the program that ensures all systems and protocols are in place.
To meet the Care Fiji Commitment, qualifying operators must have an action plan that meets the requirements of the Fijian Government's Covid-19 Safe Guidelines for tourism business, have undertaken extensive training in Covid mitigation and also have a nominated wellness ambassador.
Wellness Ambassadors
Wellness Ambassadors are the cornerstone of the Care Fiji Commitment. The role of the ambassadors, usually senior members of staff, is to ensure Covid-19 programs and controls are followed, and they are trained in coordinating the response if someone is unwell.
"The Care Fiji Commitment is essentially our commitment to the health, and safety of travellers to Fiji and their commitment to us to travel responsibly in Fiji," says Ben Johnson, area director for sales and marketing for Outrigger Fiji Beach Resort and Castaway Island, Fiji.
"The ambassadors here are responsible for delivering the Care Fiji Commitment; they are a contact point with the Ministry of Health and Medical Services; they are active facilitators of COVID-19 mitigation programs and controls on property," says Johnson.
"In fulfilling this capacity, they are trained in coordinating the response to suspected COVID-19 cases."
Best Practice
In line with World Health Organisation (WHO) best practice, testing and tracing is also considered a critical part of Fiji's commitment to visitor health and safety, with Aussie visitors encouraged to download the CareFIJI mobile app, available on both the Android and iPhone operating systems.
A dedicated Covid-19 hotline has been set up, there are dedicated drop-in fever clinics for concerned visitors, fast local testing and WHO-accredited isolation facilities also in place.
Additionally, a number of Fijians including those working at resorts have already had their first vaccination.
A Two-way street
Critically, the Care Commitment is presented to Aussie visitors as a two-way commitment. Incoming visitors are encouraged to defer their trip if they're unwell.
They're required to double-check testing requirements before they travel, practice physical distancing, and carry a facemask for use as required to protect the local population.
"It's important we have that safe travel corridor not just at the hotel, because guests interact with the community to a great degree as well, whether they've gone on a tour to a local village, or to a waterfall," says Simon Doughty, of Volivoli Beach Resort, which has already been welcoming domestic guests with all Care Fiji protocols in place.
"Our biggest goal is obviously to keep everyone safe."
Proven Track Record
Adding to visitor confidence is Fiji's proven success with its ship-based quarantine system.
Initiated in 2020, the Blue Lanes scheme allows international travellers arriving by boat to pass 14 days quarantine at sea or at anchor, before being cleared for safe entry. One of the first programs of its kind since the outbreak of Covid-19, over 100 vessels took advantage of the Blue Lanes scheme in 2020, including New Zealand sailor Christina Palmer.
Labelling it a "robust and foolproof system", Palmer spent four months sailing the Fijian Islands with her husband and two children, after taking part in the Blue Lane quarantine system in 2020.
"The fact they had 80-100 boats enter last year and not a single case of Covid from it speaks for itself," says Palmer, who will sail to Fiji again this year with her family.
Ready and Waiting
And while many operators are ready with all safety measures in place, they're incredibly eager to see visitors return.
"We're absolutely ecstatic to have Australians back. We want them to come to Fiji, We want them to come to the Sun Coast. We want them to come to Volivoli Beach," says Doughty.
"We're safe. We're ready to go. And yeah, for the Australian market, on the East coast, it's four hours pretty much and you're in Fiji."
The Outrigger's Ben Johnson concurs.
"With borders being closed for over 12 months, once they do reopen every guest dollar spent in Fiji will be helping to restabilise regions, villages and families that have been doing it very tough since last April," says Johnson.
"Australia has supported our resorts for decades and generations, and in return we have proudly provided genuine hospitality, a sense of family and the brightest Bula spirit."
"When you are ready to travel, we will be ready to welcome you home."