6 of the best road trips in Canada to take now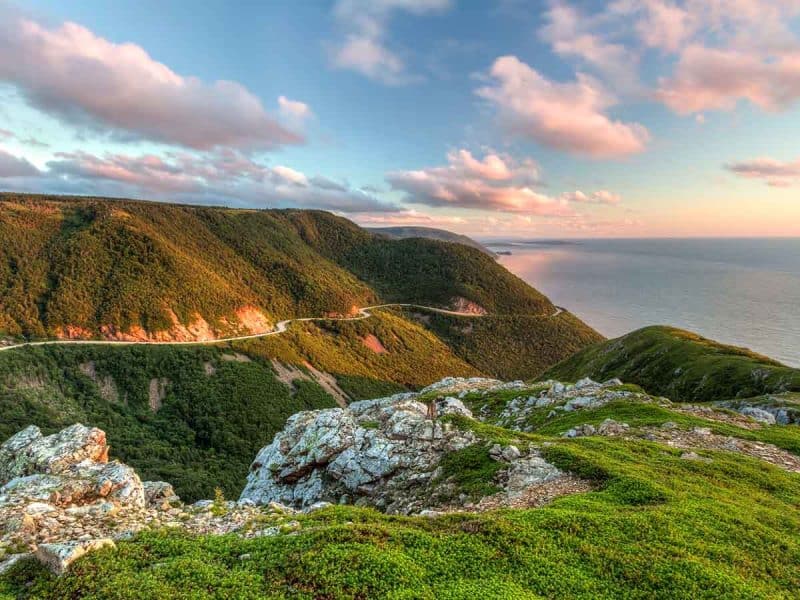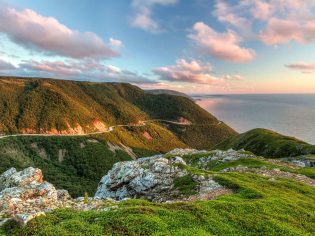 Let Canada's winding roads and open highways deliver you to awe-inspiring destinations.
Larger than Australia with a landscape as equally as diverse, Canada is one of the best road-tripping destinations in the world. Whether you embark on an epic west-to-east itinerary, want to scout out Nova Scotia's top seafood experiences or head into the wilds of British Columbia in winter, here are six routes to get you dreaming – and planning.
British Columbia ski road trip
Distance: Approx. 1,330km (17 hours)
As lift ticket prices at Aussie ski resorts continue to climb, a snowy road trip in Canada becomes ever more appealing – and it's easier than you think. You can hire a 4WD with snow tyres from Vancouver International Airport and be at Whistler Blackcomb in two hours. You'll want around five days here to get familiar with the main ski trails and restaurants before making your way to Sun Peaks Resort for a European-style experience.
There are two ways to get to Sun Peaks; you can go north-east via BC-99 highway or you can return south to Vancouver and follow the BC-5 through Kamloops. The northern route can get hairy in winter and is subject to close, so it's best to head south again. Stop overnight in either the university town of Abbotsford or the quiet community of Chilliwack.
After another week of skiing, make your way to nearby SilverStar Mountain Resort, a family favourite thanks to its colourful village. Complete your ski loop by returning to Vancouver, or, if you have time, check out Big White Ski Resort.
When to go:
January and February are ideal for snowfall, but March is also good if you want smaller resort crowds and less-intimidating road conditions. For more tips, read our guide to skiing in Canada.
Hot tip:
Pay for the extra car insurance so you're covered if (likely, when) gravel or ice hits your windscreen and chips it.
The Canadian Rockies
Distance: 415km one way (5 hours)
If you've ever dreamed about road-tripping in Canada, it's highly likely you've been wowed by the beauty of The Icefields Parkway, between Banff and Jasper national parks. This 230-kilometre stretch of road in Alberta slices through a breathtakingly beautiful valley of thick forest and pretty lakes, with a backdrop of soaring mountains. Be sure to take your time and appreciate the landscape. The Icefields is the last leg of your road trip; you'll be starting in Calgary on the Trans-Canada Highway.
Make the cool outdoorsy town of Canmore your first stop, then head onto Banff and Lake Louise. If you're there in winter, there are three ski resorts in the Banff area and ice-skating behind Fairmont Chateau Lake Louise. The mountain town of Jasper will mark the end or turnaround point in your journey. Jasper is a Dark Sky Preserve, home to Marmot Basin ski resort and offers plenty of outdoor activities.
When to go:
This trip is perfect any time of year. If you're into mountain biking, canoeing and hiking, visit in summer; if you'd rather ski then you're looking at December to April/May.
Hot tip:
If you see a moose or bear on the side of The Icefields Parkway, do not leave your vehicle to get a photo. It's a big tourist faux pas and can get you into big trouble.
Nova Scotia road trip
Distance: 759km loop (9 hours)
For travellers keen to see a different side of Canada – literally and culturally – put Nova Scotia on your list. The province is a lot smaller, which makes it easy to cover a lot of ground.
Start in the capital of Halifax and check out the harbour restaurants and museums. Then make your way to the ruggedly romantic fishing village of Peggys Cove and its lighthouse. Then, travel the main highway, the NS-103, and set your sights on Lunenburg. This fishing town is famous for lobster and there's plenty on the menus at cafes and restaurants. It also oozes small-town charm, so you'll want to spend a couple of days here, at least.
Afterwards, meander along the southern coastline, stopping into places such as Yarmouth, Digby and Annapolis Royal. Cap off your trip with a pick-your-own-lobster lunch at Halls Harbour Lobster Pound and later a tour of Luckett Vineyards in Wolfville.
When to go:
Spring is a great time to tour Nova Scotia, as many restaurants and businesses close in winter but are ready to welcome back visitors once the weather warms up.
Hot tip:
Go for a tour of Lunenburg's Ironworks Distillery, where rum, vodka, whisky and more are made in the former blacksmith's shop.
Manitoba road trip
Distance: 267km (3 hours)
In the heart of Canada is Manitoba, an unassuming and little discovered province that's bound to impress Australians. From the culturally hip hub of Winnipeg in the south to the Arctic tundra of the north and boreal forests and grasslands in between, there is plenty to see here.
Spend a few days getting to know Winnipeg's craft beer, art and museum scene, before hitting Yellowhead Highway (Hwy 16), headed for Riding Mountain National Park. The park is only 270 kilometres north-west of "the 'Peg", making it a great, short option for families. This is where you can come to see bison, moose, elk, black bears and even wolves. You can also explore the park while fat biking, kayaking or hiking, and stay overnight in an oTENTik.
When to go:
It's open year-round but some shops and restaurants close during winter. If you want to swim, visit between May and October.
Hot tip:
Stop in Neepawa to check out Farmery Estate Brewery, where your passengers can try a Manitoba Maple Lager and you can grab some for later.
Across Canada by car
Distance: 5,900km (59 hours)
Yearning for a once-in-a-lifetime adventure? Then print off a map and start planning an epic road trip from Vancouver, British Columbia, in the west to Cape Breton Island, Nova Scotia, in the east. The time of year and how much you want to stop will determine how long you take to do this one, but I'd say six months will allow you to get to know this special country.
Must-visit stops include Whistler and Golden in BC; Banff National Park in Alberta; Cypress Hills Interprovincial Park in Saskatchewan; Churchill in Manitoba (leave the car in Winnipeg and get the train); Ottawa in Ontario; Montreal in Quebec; the Bay of Fundy in New Brunswick; Prince Edward Island; and Lunenburg in Nova Scotia. And that's just to start.
When to go:
Make the trip in Canada's fall or spring to avoid serious snow conditions and highway closures.
Hot tip:
Be sure to venture away from the main tourist centres and stop in small towns to discover Canada without other Aussies.
LEAVE YOUR COMMENT