What to do in Winnipeg, Canada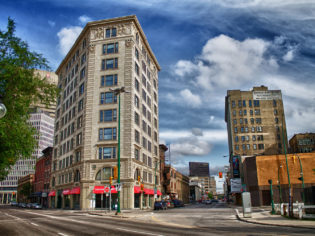 Hide Map
Manitoba's underrated capital flies under the radar with the Rocky Mountaineer-riding visitors who flock to Canada.
If Vancouver is Canada's version of Sydney, then Winnipeg – the capital of prairie province Manitoba – is more like Melbourne.
It's undeniably trendy, with a strong craft-beer scene, a funky streetscape full of murals and a world-class museum. Add to that fab food, fascinating history and a few colourful suprises, and the 'Peg, as the locals call it, rivals 'Van City when it comes to culture.
Since being named a cultural capital of Canada almost a decade ago, Winnipeg has continued to attract publicity for its array of artsy experiences – but still flies under the radar of international visitors, for now.
At the heart of the city's burgeoning popularity is the Exchange District, located downtown. Once the centre of Canada's grain industry, the area is characterised by the cobbled streets, 20th-century stone warehouses and terracotta-clad skyscrapers left behind.
While this distinctive urban landscape is impressive, it's the goings-on inside these structures that keep travellers coming back, with specialty retailers, pop-up stores, cafes, restaurants, nightclubs and art galleries. Much more than a pit stop on the Trans-Canada Highway, Winnipeg has proven to be a destination in its own right.
Here's what not to miss when you're in town…
At the edge of the Exchange District, Winnipeg's spiritual heart The Forks (a historic meeting place at the junction of the Red and Assiniboine rivers) is worth the trip for the markets.
Former train yard stables house a fun mix of independent food and drink options, including a boisterous medley of regional craft brews at ground-floor get-together spot The Common.
With a suitably light head, spoil yourself with handmade creative pressies from the Etsy-like Forks Trading Company and graze on a light sourdough rye sandwich from Tall Grass Prairie Bread Company (with flour milled on site).
Address: 1 Forks Market Rd, Winnipeg
The concept-heavy, artefact-light Canadian Museum for Human Rights is an utter breath of fresh air, from its '100 moments in human rights' exhibition to more intimate storytelling about such heroines as Viola Desmond, Canada's version of Rosa Parkes.
The modernist building's glass exterior is symbolically shaped like a dove (sort of), but the seven-level journey inside is more impressive. It's designed to mirror the battle for civil rights, starting in the dark spaces of the ground floor right up to the hope- and light-filled top storey.
The indigenous art on display is worth the trip alone, especially the largest Métis beadwork in existence.
Address: 85 Israel Asper Way, Winnipeg
See the hundreds of city-wide murals
The population that suffers Winnipeg's icy winter deserves a little colour. The solution? Hundreds of city-wide murals, which mirror Winnipeg's cultures (including a strong Ethiopian connection) and epochs.
You'll see proof that the 'Peg was once Canada's secret entertainment capital with tributes to legends who used to tread the boards here, from Charlie Chaplin and the Marx Brothers to Blues divinities like B.B. King and Robert Johnson. Take a tour with Heartland International Travel & Tours so you catch all the highlights.
Manitoba's Da Vinci Code
It's not usually our style to recommend government buildings, but… While the 77-metre-high Manitoba Legislative Building is an impressive example of neoclassical design, it's what you don't see (at first) that is pure Da Vinci Code.
Without giving too much away, architect Frank Worthington Simon designed masonic symbols, bizarre mathematical repetitions, Nostradamus-like predictions and a sacrificial altar into a place that's been described as 'more temple than building'. Do the Hermetic Code Tour with expert Dr. Frank Albo (see Heartland, left) or you'll definitely miss the best bits.
Dining in the Exchange District
This haven caters for the discerning hipster who appreciates the odd culinary surprise: vodka tempura crudités with caramelised cauliflower dip anyone?
French-inspired, made-from-scratch slow-food classics, the kind of thing your (French-Canadian) grandma would make: onion soups, chicken livers, beef tartare and house-made pickles. Try the charcuterie board.
Forth Coffee
Find monthly open-mic nights, a basement cocktail bar and a scrummy shakshuka and Parlour Coffee, a popular morning cuppa stop featuring baked holey treats from neighbouring Bronuts, deliver a way-better-than-your-average-North-American caffeine hit.
The binge-inducing retro bakehouse with cartoon-colourful shelves full of rainbow sprinkles and topping jars. Sample a Boston cream cupcake or Saskatoon berry imperial cookie from these sweet treat virtuosos.
Spa Town
A 20-minute cab ride from the city centre takes you to Thermea Spa: part country club, part outdoor spa theme park.
Even when there's snow on the ground (which is often in Winnipeg), it's easy and comfortable to move between the outdoor and indoor (hot and cold) features, after a light lunch of locally sourced cold smoked fish. Throw another lemon grass-infused ice ball into the sauna and then head to the heated tile beds.
Details
Getting there
Air Canada flies daily from Sydney and Brisbane, and four times per week from Melbourne, direct to Vancouver, with connecting flights to Winnipeg.
LEAVE YOUR COMMENT