The Ultimate Big White Ski Guide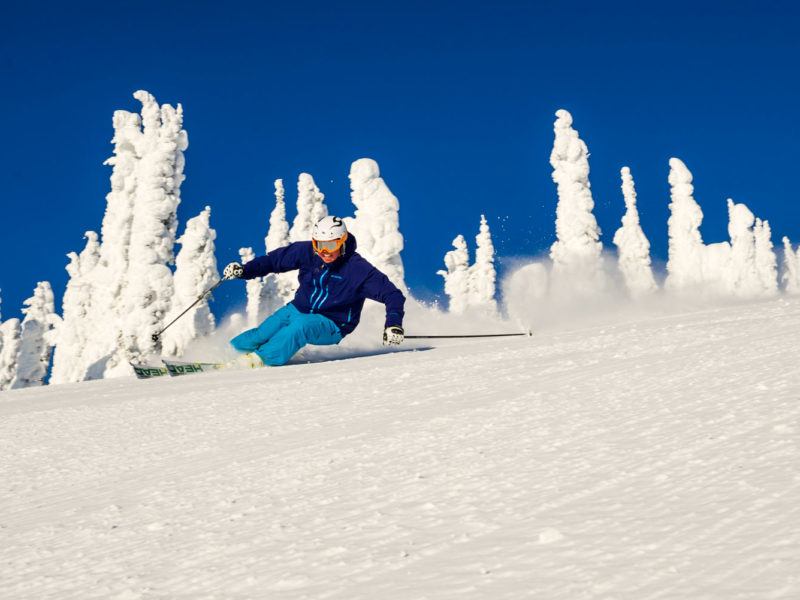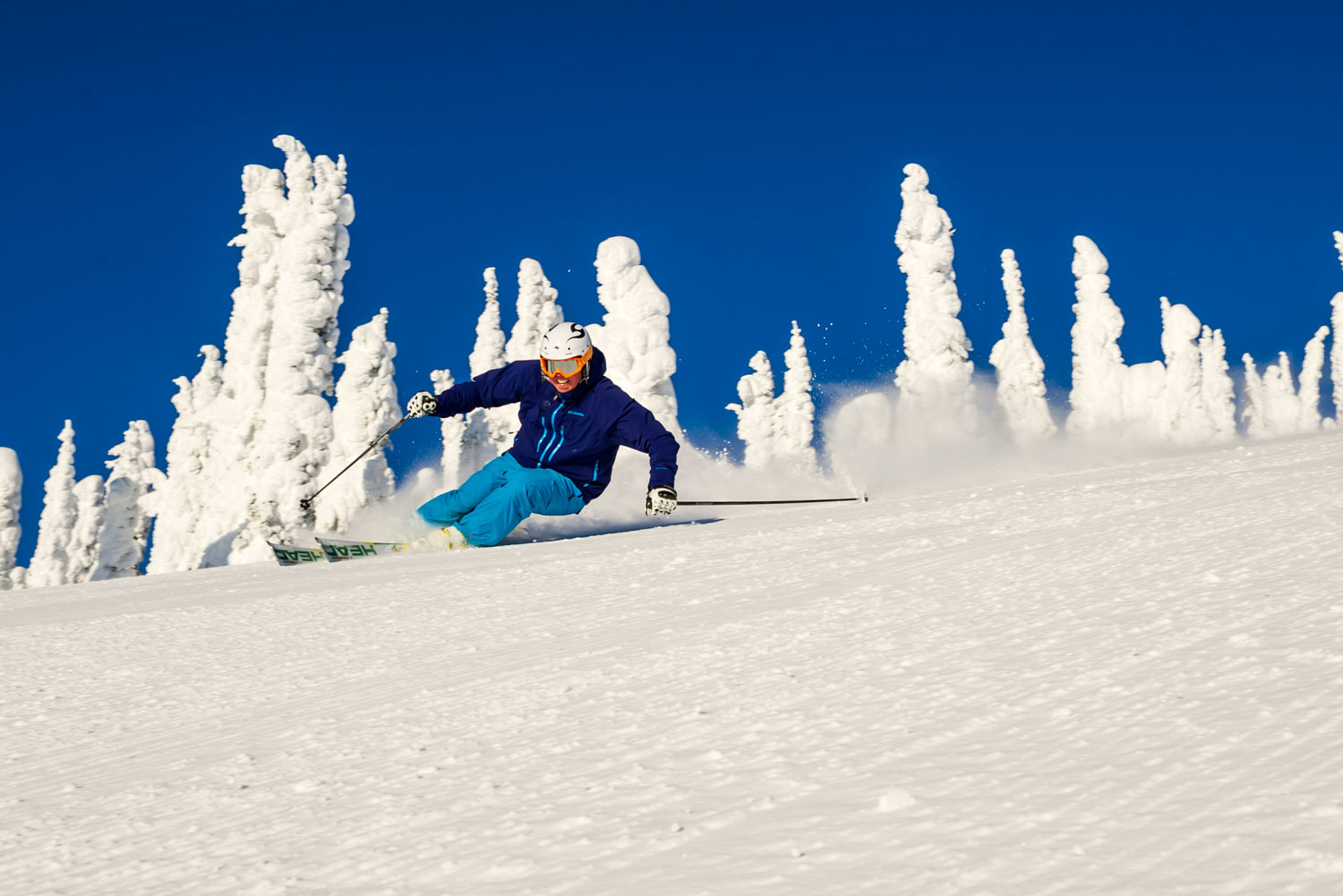 Mix mountains of snow with thousands of slopeside condos, abundant child-friendly amenities and a superb ski school, and you've got a recipe for ski-holiday success.
Why it's legendary
This resort's tagline – "It's the Snow" – only tells part of the story. Granted, it's a very significant part: Big White Mountain, the highest summit of British Columbia's rolling Okanagan Highland, receives an average of nearly eight metres of snow each year, with the 2015–16 season topping 10 metres.
This isn't just any snow, mind you. This is the Okanagan region's famously fluffy champagne powder, which locals call 'hero snow' because it turns beginners into superstars.
Indeed, many hills would be content to rest on laurels as snowy as these, but not Big White. With beds for 17,000-plus guests, it offers more ski-in/ski-out lodging than any other mountain resort in Canada.
The ski and snowboard school is world class, resort amenities are smart and tasteful, and the 15 lifts serve 145 trails that encompass every type of terrain imaginable.
Then, when the sun sets, Western Canada's largest expanse of night-skiing takes over, with more illuminated vertical than anywhere in North America.
Who will love it
Jerry Seinfeld once quipped that "there's no such thing as fun for the whole family", which goes to show that the comedian had never been to Big White.
This is a family mountain first and foremost, with everything from the steep, cliff-ringed Parachute Bowl to cruisy powder-choked glades for mum and dad, an expansive (and selfie-friendly) terrain park for teens, and cartoon-themed runs for the little ones.
As for something the entire brood will appreciate, the ski school's 'door-to-ski' shuttle service collects young pupils in the morning and drops them off in the afternoon. Bet you can taste that leisurely, uninterrupted coffee already.
Three things you must do
1. Take the Alpine T-bar to check out the otherworldly 'snow ghosts' that haunt the gentle uppermost sections of Big White's two peaks. These fantastic figures are actually the snow-encrusted tops of evergreen trees.
2. Ski the Ogopogo. This new trail is littered with colourful gates that mimic the serpentine body of the Okanagan's mythical lake creature for which the run is named. The intermediate tree run is also great fun for adults – just don't be surprised when Junior boasts about getting to the tail first.
3. Sample Tabletop S'mores at the Globe Cafe and Tapas Bar: toast giant marshmallows on a table-top fire pit, dip them in rich chocolate ganache, and then sandwich the lot between graham crackers for a decadent DIY dessert.
Local secrets you should know
Seeing it for yourself always trumps just hearing about it, so why not have a local show you around the slopes?
Big White's Snow Hosts program provides free guided mountain tours every morning. Make new friends, learn about local history and lore, and find Big White's secret powder stashes.
Off the slopes
If your idea of a winter wonderland involves sleigh bells and snuggling under blankets, two unique dining packages fit the bill. Both begin in a sleigh pulled by a pair of Clydesdale horses.
Your destination: a cosy alpine cabin, where brunch includes bacon, eggs and pancakes with real maple syrup, and dinner features gourmet grilled fare prepared by the chefs at Kettle Valley Steakhouse.
Beyond skiing and boarding, there are plenty of thrilling ways to earn that sleigh-ride feast. A case in point is the 18-metre ice-climbing tower in Happy Valley Adventure Park, where you can also go tubing and ice skating.
Then again, do you really need a reason to pamper yourself? You've earned this holiday, so you might want to make the luxurious Elevation Village Spa your first stop. Two village locations offer treatments including massages, facials and nail care.
Best après-ski hotspots
Big White's family focus means it is relatively quiet after the sun sets.
For fantastic views of those sunsets – not to mention the best grown-up hot chocolate anywhere – head to the enormous patio at Sessions Taphouse & Grill, which is just off the aptly named Perfection run.
There are exceptions to the mellow vibe. Take Snowshoe Sam's; repeatedly touted by the ski media as one of North America's best resort bars, it hosts DJs and live bands, and is famous for its flaming "Gunbarrel Coffee" that's poured down the barrel of an antique shotgun.
Skiers will love
The gorgeous glades
Most named trails are flanked by meticulously thinned wooded slopes that deliver some of the best, and most forgiving, glade skiing on Earth.
There's no better way for intermediates to take their skills into the snowy greenery.
Snowboarders will love
Rarely waiting in line
With a six-person chairlift and a quadruple one both serving the main village, and with the 13 other lifts bringing Big White's total uphill capacity to 28,000 schussers per hour, getting up to the sublime Flagpole Glades is as effortless as gliding through them on a powder day.
Recommended places to stay
Budget
Ski-in/ski-out convenience with 90 dorm beds, seven private rooms, a full kitchen and an expansive lounge.
Address: 7470 Porcupine Road, Big White
Midrange
A hundred well-appointed units of various sizes rise over a gorgeous sunset-facing outdoor pool and hot tub.
Address: 5340 Big White Road, Kelowna
Slopeside kitchenette and loft rooms with essential ski amenities such as an outdoor hot tub and equipment storage.
Address: 5315 Big White Road, Kelowna
Family
A prime location near the village centre is complemented by a heated outdoor pool, outdoor hot tubs, fireplace-equipped lounge and in-house movie theatre. Units range from one-bedroom suites to four-bedroom cabins.
Address: 255 Feathertop Way, Beaverdell
Multilevel condos are just steps from the slopes and the village centre.
All units feature gas fireplaces, private hot tubs and heated garages.
Address: 5350 Big White Road, Kelowna
Luxury
Slopeside condos feature stone fireplaces, full kitchens with granite countertops, and private decks with hot tubs.
Address: 5255 Big White Road, Kelowna
This 480-square-metre chalet takes luxury to another level. Its five bedrooms, with 16 separate king, queen and twin beds, comfortably sleep 22 guests.
Address: Big White Ski Resort, Kelowna


LEAVE YOUR COMMENT