Would you walk amongst grizzlies with a BC bear whisperer?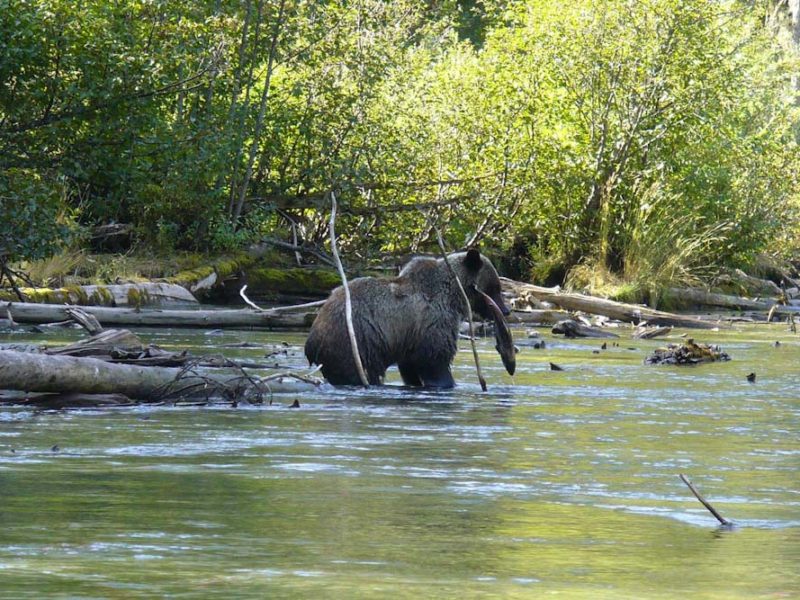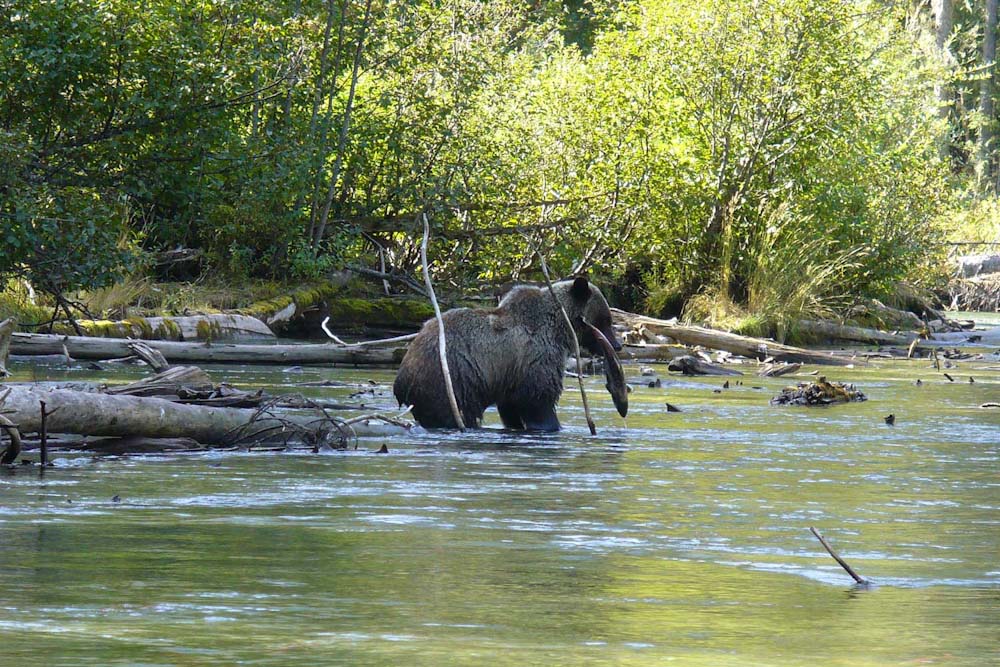 In order to not just see grizzly bears but walk with them, one has to get up early and develop a strong olfactory fortitude, writes Birgit-Cathrin Duval.
It absolutely reeks here. There are dead salmon everywhere: on sand banks, on the riverbanks, in the water. Red-white bodies, half rotten and chewed at.
They travelled for weeks on end, swimming thousands of kilometres upstream and, here in the Mitchell River, in the endless forests of the Cariboo Mountains in British Columbia, they returned to the place of their birth, only to spawn here and die here – and become a feast for grizzly bears.
The nights are short at the Pyna-tee-ah Lodge owned and run by Ecotours BC in the unlikely town of Likely, British Columbia.
A handful of houses surrounded by thick rain forests, high mountains and wild rivers, this is a wilderness only familiar if you watch a lot of nature docos on TV.
Despite the protracted night, there's no sleep-in on the cards; the alarm buzzes at 4:30 and, in pitch black, we set off on the motorboat to cross Quesnel Lake into a region only very few tourists ever get to see.
At over 450 metres deep, this body of water is the deepest fjord lake on Earth, and the thought makes us a little dizzy.
We reach the mouth of the Mitchell River in the dawn light and our guide, Gary moors the boat so we can board an even smaller dinghy to travel further up the river.
Into the water
At 70, Gary Zorn is still fit and wiry. He has spent half his life in this wilderness, and his steely blue eyes are sharp and always alert.
He used to use his eagle eyes to guide bear hunters until he came to detest the senseless shooting.
He then founded Ecotours BC with his wife Peggy to specialise in animal sightings and, certainly, it's more like animal encounters as he takes guests closer to bears than anyone else would ever dare.
It's only possible to do in small, exclusive groups; Gary, his employee Ryan Simmonds and we three travellers are the lucky participants (or could it be victims?) today.
It is an unbelievable experience: while most sane people would never walk towards a known bear feeding ground, we don waders and Gary leads us forward up the Mitchell River.
The current is so strong that it almost lifts me off my feet.
There is that overpoweringly pungent stench of old fish as we wade upstream in slow motion. I step on something soft.
My foot is standing on a half-rotted salmon.
I can't avoid stepping on countless slippery bodies as I scan the riverbank, surrounded by dense undergrowth, occasionally broken by tunnel-like passages – bear picnic spots.
Chewed carcasses are piled up here, many with part of their head missing.
The bears are gourmets and only bite off the nourishing brain. It all becomes suddenly real and, for a moment, panic rises.
What would happen if a bear suddenly appeared from one of the tunnels?
I push the thought to one side and concentrate on Gary.
The riverbed has become deeper, the water now reaching far above my hips. We link arms and wade together step for step through the current.
It is an unbelievable feeling to know that we are walking through grizzly bear territory. We have come to observe bears, but now I am the one who feels she is being watched.
Gary stands as safe as a steel girder in the current – without him, I would have stumbled countless times in a stinking baptism of decaying fish.
Circle of life
I ask myself if I will ever be able to eat a salmon steak again, with a glance at the dead and rotting fish.
However, their death brings new life. With their mass dying, a lifecycle is completed, for the rotting bodies of fish are full of nutrients including complex proteins, containing nitrogen compounds.
These, in turn, form an excellent fertiliser for the trees in the rainforests, and of course cheer the bears up with a sumptuous feast.
However today we do not see any of the shaggy brown hides. Are all the bears lying in the bushes after eating their fill?
Gary takes us back to the boat. He remains in the water and drags the boat along behind him. We wait, and hope, until we reach a sand bank.
A dead salmon is lying on the bank, and an eagle sits calmly atop it. I am holding my camera at the ready: my instinct tells me that something is just about to happen.
Then it all happens very quickly: a wild splashing, the eagle flying off startled.
A young grizzly bear storms into the water right in front of us, running to the sand bank, snatching the salmon, dropping the catch and jumping impetuously back into the water.
He doesn't notice us, even when Gary moves the boat closer. After a couple of minutes he trots back into the undergrowth without hunting for salmon, nor even deigning to give us a backward glance.
We are very close to the pulse of this wild, untamed nature doco come to life, in which the grizzly bear still continues to be the uncrowned king.
This isn't television: we are here live, and very much alive although, once the adrenalin calms down, we are all very quiet.
Only the cold rain, which has been whipping me in the face on the journey to the landing stage, lets me sense that this was anything other than a dream.
Travel information
The Cariboo Chilcotin Coast area (landwithoutlimits.com) lies in British Columbia (hellobc.com) between the Pacific and the Rocky Mountains, characterised by rainforests, lakes, cliffs and precipitous mountains.
It is the wild west of Canada, where they are still prospecting for gold today.
There are fascinating opportunities here for nature-lovers to observe grizzly bears up close.
The largest population of grizzly bears in the interior of British Columbia lives in the Cariboo Mountain Provincial Park.
Interested in Canada?
We've got an amazing amount of information on Canada, don't forget to check it out.
LEAVE YOUR COMMENT