The top 5 ways to unwind in Canada's Rocky Mountains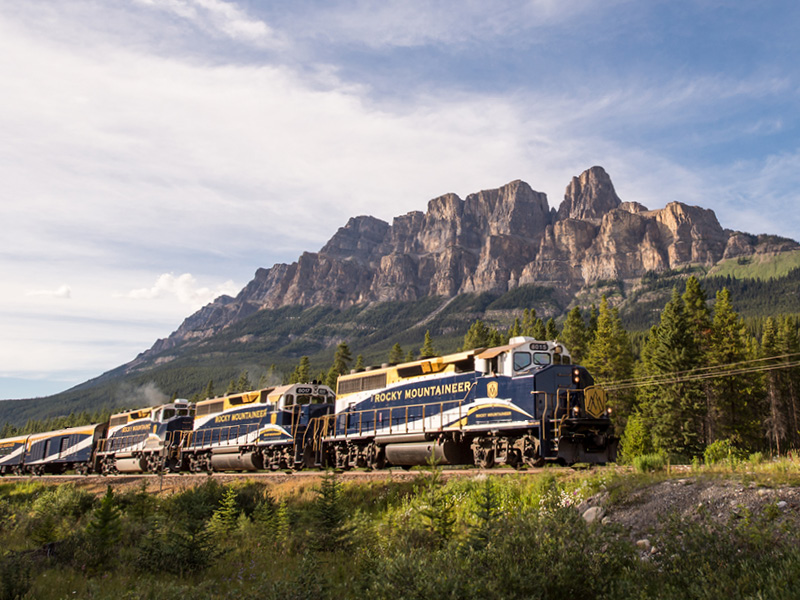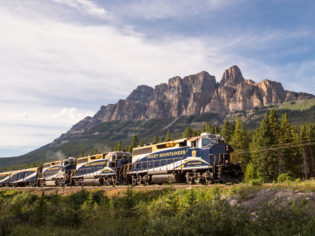 From a luxurious digital detox and mountaintop yoga to hot springs and forest fixes, relaxing has never been so exciting.
Sometimes travel can really take it out of you, so if you're looking to de-stress and recharge we have the perfect place – the Canadian Rocky Mountains.
With soaring mountain peaks, crystal-clear lakes and ancient forests, it's almost impossible not to feel immediately relaxed, but if you need some help, we've found the five best ways to unwind in this beautiful part of the world.
1. Derail your digital attachments
Digital detoxes usually seem like such sparse and sombre affairs that leave you wondering how on Earth you're going to keep yourself occupied without a screen. Never fear, because we have found what is possibly the most luxurious way to unplug: the Rocky Mountaineer.
Consistently named among the best travel experiences in the world, this glamorous train is the ultimate way to travel through western Canada, soaking up stunning scenery usually reserved for Instagram scrolling. You'll barely notice that there's scarce wi-fi connectivity as you wind your way through the plunging canyons with turquoise water rushing beneath, lush forests and towering mountains.
You won't miss having access to the internet on the train because the journey is an incredible opportunity to connect in other ways – travellers in the lavish carriages soon become firm friends and the plentiful, wholesome chef-made food ensures that you feel nourished from the inside out.
But just in case you think you should leave your phone at home – don't. You'll want to keep it nearby because you'll be passing through some of the world's most spectacular scenery and inspirational landscapes. And it'd be a shame not to share your beautiful images as a #latergram.
2. Soak your troubles away in spas and hot springs
There's something inherently relaxing about hot water, especially when snow-capped mountains and crisp alpine air surround you. For centuries travellers have journeyed to Banff and Lake Louise to soak in the hot springs, letting the soothing properties of the mineral-rich waters revitalise and restore them.
Just 30 minutes from Banff, among alpine forest and spectacular mountains, is the Pomeroy Kananaskis Mountain Lodge, home to Alberta's first Nordic spa. A spa experience here is an invigorating way to unwind, as you pass through different hydrotherapy cycles in the five outdoor pools, five steam and sauna cabins, hammocks and fireside lounges. Moving from hot to warm to cold before resting and repeating is an ancient tradition believed to repair, relax and rejuvenate the mind and body.
Once you're ready to leave the spa, be sure to drop into the Two Trees Bistro, where you can indulge in wholesome snacks, like a fresh bagel with smoked salmon, cream cheese and pickled red onion or a crisp fruit platter with fresh ginger yoghurt.
No wellness getaway would be complete without experiencing the Willow Stream Spa at the Fairmont Banff Springs. Named as one of the top spas in Canada, the mineral pools and tranquil springs are reminiscent of the hot springs that attracted visitors to Canada's first national park over 100 years ago.
3. Yoga in the mountains
For a small town, Banff sure loves its yoga. So much so that there's even a dedicated annual yoga festival, focusing on (you guessed it) yoga, mindfulness and meditation. What we love though, is that embracing mindfulness often carries through to what we wear, eat and buy, so there's also a yoga market where you can try out plant-based cork yoga mats, loose-leaf teas and fair-trade, organic activewear.
But if you fancy grounding yourself at 700 metres, check out the summer yoga classes atop the Banff Gondola, where the air is invigorating and the panoramic views are breathtaking. A little further down the road, you can re-energise or begin your yoga practice in one of the region's most beautiful settings – Lake Louise. Develop your own set of mindfulness tools and meditation techniques, while being utterly pampered at the Fairmont Chateau Lake Louise in one of its Mountain View rooms.
4. The sounds of silence
While the idea of 'shinrin-yoku' (forest bathing) originated in Japan, the practice of immersing yourself in woods as a way to aid healing and encourage health has spread throughout the world. As a UNESCO World Heritage site, Banff National Park is the ideal place to breathe deeply, move slowly and soak in the sights, smells, sounds and textures of the surrounding forests.
There are many places in this region where you can embrace silence: from gliding in a canoe on top of an emerald lake and watching the sunrise over the mountains, to walking in silence along pristine forest paths. Being in nature and surrounded by silence allows our minds to relax and be present in the moment. And even better, studies have shown that forest bathing can help heart rate and blood pressure function, as well as encourage psychological relaxation from 'techno-stress'.
5. The great outdoors
Even if you don't think you are an outdoorsy person, the mountains and lakes of this area might have something to say about that. Even taking a simple walk through the forest offers the chance to slow down, as you breathe in the clear alpine air and hear twigs snap underfoot.
The best spots for quiet, leisurely strolls are Bow Falls, Vermilion Lakes, the Fenlands Trail and Consolation Lakes. If your idea of unwinding involves getting your heart rate up, try tackling Tunnel Mountain, Goat Creek and Sulphur Mountain.
And if you're visiting when the mountains and towns are blanketed in glittering white snow, you can spend a day (or a week) on the ski slopes nearby, such as Mt Norquay or Sunshine Village.
LEAVE YOUR COMMENT