Meanwhile in Canada... we pick up the scent of elk urine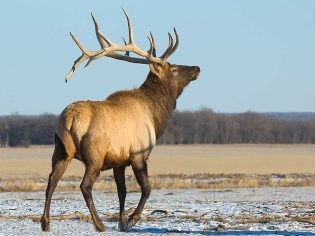 There's no one else in the world like Celes Davar. Not even close.
No one else has his passion. No one else has his enthusiasm. No one else has his sense of thrill at moments and occurrences that to everyone else can appear so utterly mundane or, shall we say, even off-putting.
Case in point: elk urine. There's a heady whiff of it in the air today in Riding Mountain National Park, way out in the prairies of Manitoba. It's that time of year, according to Celes. Mating season, maybe? He doesn't specify.
Anyway, whatever the reason, Celes has stopped dead in his tracks, calling our group of hikers to a halt in the long grass, pausing to breathe deep and to recognise what it is in the clear prairie air.
"You smell that?" Celes asks, his face breaking into a grin. "That's elk urine."
The rest of us smile awkwardly, a little confused. "Wow," Celes continues. "I just love this time of year, it's such a sensory experience."
The presence of that scent, of course, means the presence of an elk, which is what has got Celes excited. Even after all these years, after visiting Riding Mountain National Park again and again and again from his base in Winnipeg, Celes can't believe his luck at the thought of spotting elk in the wild.
And the feeling is infectious. You can't help but be swept up in Celes's enthusiasm. It's like watching a David Attenborough documentary: any subject presented with such passion is immediately fascinating. Tiny bugs. Insignificant plants. And of course, the rich scents of the Canadian great outdoors.
This day out is as much a journey into the mind of one of Canada's most passionate naturalists as it is an experience in one of the country's oft-overlooked national parks. To spend the day with Celes Davar is to appreciate just how exciting the natural world can be. It's also to see a grown man pull a small plastic baseball bat out of his rucksack and bring it up to his mouth to blow, to realise it's been made into a homemade elk-caller, and that the hoot it lets out will soon be answered by the real thing way off in the distance. Incredible.
What am I doing in Riding Mountain National Park? I've asked myself this question a few times today. Even Canadians seem a little surprised at my presence in the Manitoba heartland. I told the customs guy at Vancouver airport that I was transferring over to Winnipeg and he raised an eyebrow: "Really? Why?"
International tourists don't come to Winnipeg, and they certainly don't continue on to modest Riding Mountain (elevation, 756 metres). At least, they don't come here in the sort of numbers that make it to the Rocky Mountains or to Montreal or Niagara Falls. Winnipeg just isn't one of those places.
As a result it can feel like you have this wonderful area to yourself. Just you and the elks and the guy with the plastic baseball bat. Even the city is a revelation. Turns out Winnipeg is a hub for arts and creative culture, with galleries, museums, architecture, local fashion, street art, and an incredible live music scene. This is Neil Young's hometown. The legendary Canadian punk band Propagandhi hail from Winnipeg. This city also has Confusion Corner, otherwise known as Osborne Junction, the meeting point of several major roads that is notoriously and hilariously difficult to navigate.
Back at Riding Mountain, Celes is in his element. He's spotted a family of beavers in a pond near the track. He points out native plants that appear to the naked eye to be quite plain and uninteresting, and yet viewed through Celes's loving gaze they become so fascinating and important.
That elk is still out there, somewhere, evading our search. Celes brings the plastic baseball bat up to his lips and lets out another hooting call. It's answered, somewhere far off in the trees. "Incredible," Celes breathes, even though he's heard it so many times before.
We never do spot the animal. We spend all day tramping around Riding Mountain, taking in the scenery, breathing in the clean air that's so occasionally spiced with the tang of something primal.
We soak up not the joy of a seeing but the pleasure of searching, watching someone, an expert, a professional, so perfectly content. That is an experience; that is a story.
These days, Celes has actually moved on from Riding Mountain. He's taken Earth Rhythms, his eco-tourism collective, and shifted it to the Bay of Fundy, another incredible natural attraction, this time over on Canada's east coast. There, Celes applies his unique passion in all new ways, though there's no doubt he's still on the lookout for elk.
Canada, of course, is all about these characters. It's all about people. It's the interactions here that make the holiday, not simply the places themselves.
Next week I'm meeting another character: Nancy Greene Raine, septuagenarian, former Canadian senator and former winter Olympian, who is going to take me on a tour of her local ski slopes and absolutely school me in the art of downhill racing. Come along for the ride.
Want more? Check out our Meanwhile in Canada collection
Or our essential guide to Manitoba and what to do in Winnipeg.
LEAVE YOUR COMMENT