Meanwhile in Canada... time to face up to the polar bears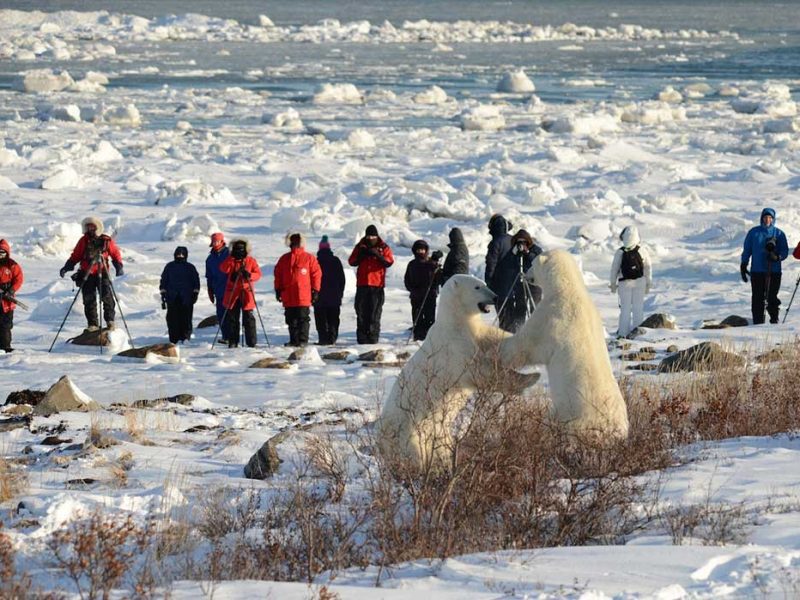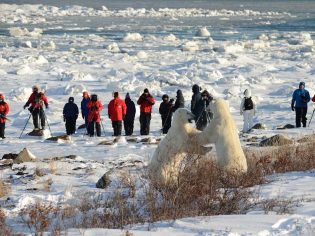 His eyes pierce into mine. Big, almost tearful curious eyes. Just centimetres apart, we stare at each other as our surroundings blur into insignificance.
I am transfixed.
There's nothing fearsome about this apex predator: there's no growling, no bared teeth. I fight the urge to reach out and feel his coat. A sense of calm sweeps over me and not even the chilly sub-Arctic wind can interrupt the peace. I cling to every second, willing the moment to stretch for as long as possible.
I am standing outside Seal River Heritage Lodge, a remote outpost on the edge of Churchill, one of Canada's most remote towns. It's an extremely tough part of the world, north of the tree line on the edge of Hudson Bay. But that's part of the appeal. It's the kind of place you reach by light aircraft when the weather gods allow, and by snowmobile when the snow falls thick and fast.
A handful of my fellow tourists step into our bubble. Although there is a metal fence between us and the bear, it is the bear that is in the wild. It is a reverse zoo.
He's coming to check us out and say "hello", and it's thrilling. This bear, who I later learn is named Mork, and all the others we've met during our few days in northern Manitoba, show no visible signs of hunger. He is one of the luckier ones whose plight is yet to be affected by climate change's secondary affects. Warmer temperatures mean smaller and later ice flows which gives the polar bears less chance of hunting and finding their most important food source – seals.
In this moment, this week, they are big, strong animals at the top of the food chain. They're spending their days happily wandering the tundra and rolling about in grass bear beds as they wait for the ice to return to Hudson Bay, a huge body of water that touches four provinces and territories (Nunavut, Manitoba, Ontario and Quebec).
We first 'meet' the polar bears on a walking tour with long-time Churchill Wild guide Terry Elliott. Terry is exactly the kind of Canadian you'd imagine working in this isolated destination. Lines are slowly being etched around his eyes by Canada's unruly weather, and his overall appearance speaks volumes about his experience in a landscape where bears freely roam. He is at home here.
"Everybody stay nice and close to me now," Terry whispers, a rifle slung around his back.
"In all the years we've been running this lodge, we've never had to shoot a bear." In his pockets, he carries bear spray and noise deterrents such as rocks. He certainly has our attention.
Our tiny group of tourists walk in single file near the water's edge, blue mussel shells crunching underfoot and wild chamomile scratching at our legs. There's no snow on the ground, yet I'm rugged up, my fluoro pink beanie anything but camouflaging me in this landscape of muted greys, whites, browns and greens.
There's little talking, so as not to disturb the bears. Every time we see one, we're stopped in our tracks, the clicking of long-lens cameras the only sound interrupting the wind whistling through long grass. As I walk I notice the other details of the landscape. Chunks of blond driftwood; stunted blueberry bushes; an Arctic hare; Canada geese streaking across an iceberg-blue sky. Even sticking our hands into the ground to feel permafrost, adds to the charm of this rugged place.
On our final morning I yearn for one more bear tête-à-tête. I open the lodge door to the barren, fenced yard and climb to the top of a timber viewing platform. I scan the tundra.
As I wait, a gentle summer sun warms my exposed cheeks. The yellowing, untamed grass flicks in an ever-so-slight breeze. Then a giant lumbers into view, his coat a light beige, nose pointing into the air. He pauses, turns and looks my way. He doesn't venture near but he doesn't need to. I am in his world and that is enough.
Want more? Check out our Meanwhile in Canada collection.
For more wilderness in Manitoba try our ultimate guide to Manitoba, Snorkelling with beluga whales, 13 things to know about Churchill's polar bears, What's it like to visit the polar bear capital of the world, Churchill Manitoba and finally What to do in Winnipeg.