Europe in a nutshell, the ultimate Austrian itinerary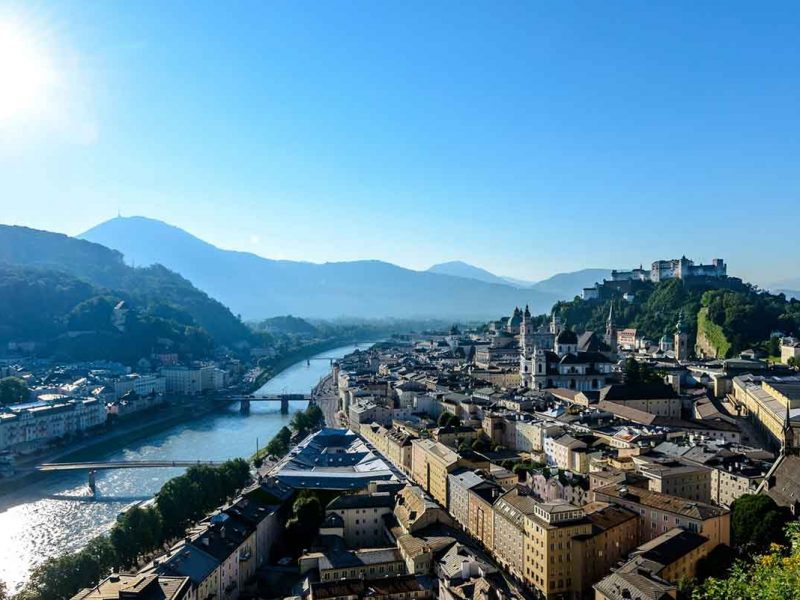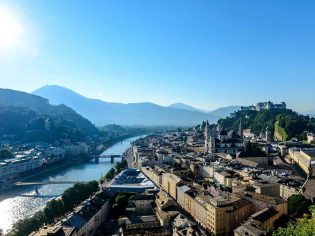 Hide Map
This year, there is one European country that seems to have all the answers – Austria. Here is our guide to how to have the ultimate European holiday in one easy-to-navigate country.
This year there's an undeniable emphatic pull towards more immersive, dare we say it, transformative travel. Choosing just one country in which to deep dive can feel like being asked to pick a favourite child. Fortunately, there is one spectacularly multifaceted country, renowned for its balance of abundant nature and culture. Being one-third the size of Victoria, Austria is compact as far as the crow flies, but almost unnaturally well-endowed where it counts.
But where to begin? Close your eyes for a moment and picture a scene of snow-capped mountain ranges, a universe of freshwater lakes at their feet. Broad fields of alpine flowers wave in the soft breeze, issuing welcome with their subtle perfume. In the distance, terraced vineyards heave with indigenous grapes, and handsomely thatched inns serve free-flowing wine and rustic regional fare. Just beyond the green, castle towns and architecturally blessed cities stand tall, twinkling like candle-lit wedding cakes, steeped in history, art, music, and romance.
Now throw a dart. It doesn't matter where you land or start, the waypoints of any Austrian travel itinerary are rarely more than two hours apart. Not a border in sight!
Your ultimate Austrian itinerary should reflect personal taste and travel style. The regional overviews and links provided are simply keys to driving your own bespoke adventure.
For a fulfilling two-week itinerary, we recommend spending a few days in your choice of the several areas below, dipping in and out of each at your leisure. However, you could just as easily spend the entire time absorbing one place with boundless options.
1. Vienna – City of arts
2. Vienna Alps – Austria's most scenic train ride and hidden nature paradise
3. Graz – Austria's capital of culinary delights
4. Salzkammergut – Home to 76 lakes in the heart of Austria
5. Salzburg – Where culture meets nature
6. Innsbruck – The capital of the Alps
Once you have found the best regions for your getaway, download the full suggested itinerary and check out our list of the 13 best places to stay in Austria.
Vienna – City of arts
If the architecture, music, arts, food, and wine of capital city Vienna (yes, there are vineyards within the city limits) haven't yet made it onto your travel CV, you'll most certainly have been regaled about it in rapturous doses by effusive, if slightly annoying friends.
The city itself located in the lower-laying eastern edge of the country, hugged by the borders of Hungary, Slovakia, and the Czech Republic, is an incredible museum itself, exhibiting a permanent collection of European finery – much of it bestowed to the city during the reign of the Austro-Hungarian Empire (1867–1918).
If your ideal holiday is soaking up all the joyous European city experiences that you could possibly dream of, then breathtaking Vienna has your name written all over it.
Peruse the streets of the elegant old town by foot, soak in the opulence of Schönbrunn Palace or Imperial Palace (Hofburg), drift around the MQ arts and cultural precinct and linger over rum-soaked punschkrapfen torte in a sumptuous, ornate coffee house.
Bus or bicycle further afield, motor your own boat on the Old Danube or taste your way through vibrant food markets, cellar doors, and Michelin stars.
Vienna Alps – Austria's most scenic train ride and hidden nature paradise
Imagine reviving recently frazzled senses with lungful's of pristine mountain air and cool alpine scenery. Situated just one hour south of Vienna, is the start of the Vienna Alps arc – a spectacular range of summits sprinkled with pretty, cultural villages.
The area is connected by the UNESCO world heritage site Semmering Railway Europe's first mountain railway and an engineering masterpiece. In warmer months, hiking devotees devour the climb's 19 stages, but countless clearly marked access points offer a less challenging, hop-in-and-out approach, with steeper legs accomplished by train.
Day-trippers can ride the Schneeberg Railway, to the highest station in Lower Austria within 40 minutes, enjoying the magical, sweeping vistas en route.
Guests are catered for with an array of lodgings from comfortable huts to chic boutique B&Bs along the way, each offering country-style hospitality and sublimely fresh local foods such as just-caught river fish, soft sheep's cheese and hand-picked meadow herbs.
In winter, the region transforms into a magnificent all-white ski resort resplendent with winter sports including cross-country skiing, sledding, snowshoeing and winter hikes with experienced guides.
Graz – Austria's Capital of Culinary Delights
The country's second largest city of Graz, positioned halfway between Vienna and the Adriatic Sea in the peaceful region of Styria, is revered across Europe as Austria's centre of gastronomy. Styria is favoured for its rolling wine country and lush, fertile fields producing for the country's finest tables – some of them a mere stone's throw away.
One great example is Der Steirer Restaurant & Wine Shop, a crowd favourite serving contemporary versions of Austrian classics such as rich, simmered pork with featherlight dumplings alongside vibrant fish and vegetable dishes in tapas-sized serves, perfect for sampling the multitude of local wine varietals – including Styria's famously crisp Schilcher rosé.
Oenophiles will be instantly enamoured with the Südsteirische Weinstraße or South Styrian Wine Road's 2340-hectare vineyard and utterly charming setting. Food travellers will swoon over the sheer number of providores and colourful farmers markets, such as Kaiser-Josef-Markt in Graz which showcases a cornucopia of premium seasonal produce, incredible cheeses, smallgoods, spices, tender breads, floral blooms, and the district's famous pumpkin seed oil – a tasty elixir nicknamed 'black gold'.
Graz, about a two-hour drive from Vienna (a half-hour more by train) is as suitable for a romantic guesthouse stopover as it is a base for foodie friends who don't mind an occasional long table Buschenshank (locally grown wine and food pop-up) or truffle festival (there are seven truffle varieties grown in the woods surrounding Graz).
Salzkammergut – Home to 76 lakes in the heart of Austria
Fancy a dip? Austria's ruling aristocracy started a trend around 700 years ago when they claimed the refreshing waters and spa towns of Austria's own lake district as their playground. Swathes of intellectuals and socialites followed suit and the tradition continues today.
Of course, there's no need to don a tux or tiara, or even a swimsuit if you're comfortable in your own skin. Blissfully attractive year-round, the Salzkammergut region provides a multitude of level walking options and easy hikes past farmhouses and lodgings.
Luxurious Hotel Schloss Fuschl, perched on a jutting point just 25 minutes east of Salzburg, is an excellent venue from which to kick off the 11-kilometre walk around the crystal-clear Lake Fuschl, which shuffles through blue-green moods – from iridescent aqua to emerald.
The relaxing spa town and idyllic resort of Bad Ischl, known as the gateway to the alpine lakes and mountains of the stunning Salz0mmergut region, famously houses the Kaiservilla (imperial summer residence), which is still occupied by Habsburg descendants, but also opens for visitors.
The region quietly boasts Sigmund Freud as a frequent guest, some of his most pertinent work was carried out in Bad Ischl and surrounds, between hikes and mushroom foraging. Nearby, opulent Zauner Cafe serving fine coffee, traditional cakes, cookies and confections should not be missed.
Deeper dive into the region to unveil the treasures of Altaussee and Grundlsee, two exquisite smaller lakes that will knock the wind from your sails.
Salzburg – Where culture meets nature
In the west of the country, close to the German border, the Baroque city of Salzburg (responsible for the all-singing, all traipsing Von Trapp family) sits beside the Salzach River at the collective feet of several strollable, guardian-like mountains.
The city is just as generously gifted with an alternate landscape of magnificent castles (including the Fortress Hohensalzburg), churches and palaces, and a picturesque old town where Mozart was born. Long a hotspot for culture vultures, in recent times Salzburg's open-minded attitude has seen the city take wider creative strides in cutting-edge architecture, musical style and contemporary public artworks.
Each summer the entire city becomes a stage for the effervescent Salzburg Festival – a celebration of music and drama established in the 1920s (giving old-school beer gardens like Der Stiegl-Keller and nearby sausage carts a run for their money). Trace your way through the city's many pedestrian squares often blanketed by flowers, fountains, markets and monuments or take a self- guided walk through the city mountains for panoramic views over the city and surrounds.
Innsbruck – The Capital of the Alps
Although best known by travellers proficient in ski talk or with a penchant for winter Olympics memorabilia, the Tirolean capital of Innsbruck (West of Salzburg) tucked between the peaks of the Western Alps is in fact spoilt for choice with alternative highs.
A splendiferous region year-round, dotted with languid lakes, scented pine forests, pretty churches, and the kind of pocket-sized villages you find starring on traditional advent calendars – it's also brilliant for biking and hiking in the warmer months. There's a host of sights and experiences available within a remarkably concentrated area and Innsbruck city maintains all the standard offerings of larger Austrian cities: read a handsome old town plaza, high-end shops, aromatic cafes, bars, restaurants, and entertainment, only on a slightly smaller scale.
What's more, you can be sipping a melange and ogling crystal one moment and about to spin down the Nordkette mountains the next – having reached an altitude of 2300 metres in just 20 minutes thanks to the feisty Hungerburg funicular.
Tirol's frosty winters offer the perfect excuse to imbibe in the rich, hearty cuisine of the region influenced by Italian and German neighbours.
Think warming soups and Kaspressknodel (flatbread dumplings filled with mountain cheese), Gröstl (a potato, bacon and onion fry-up topped with an egg), smoked, dried and cured meats and Kiachl – fried dough cakes with wild berry jam or apple sauce. After all the action Innsbruck has to offer, you'll have earned it!
Europe in a nutshell. That's Austria. No other European country near its size offers this much natural beauty, history, culture and wonder.
Download and save the detailed itineraries that best suit you:
3. Graz and Southern Styria in three or four days
4. Salzkammergut in two to three days