Review: 25hours Hotel Vienna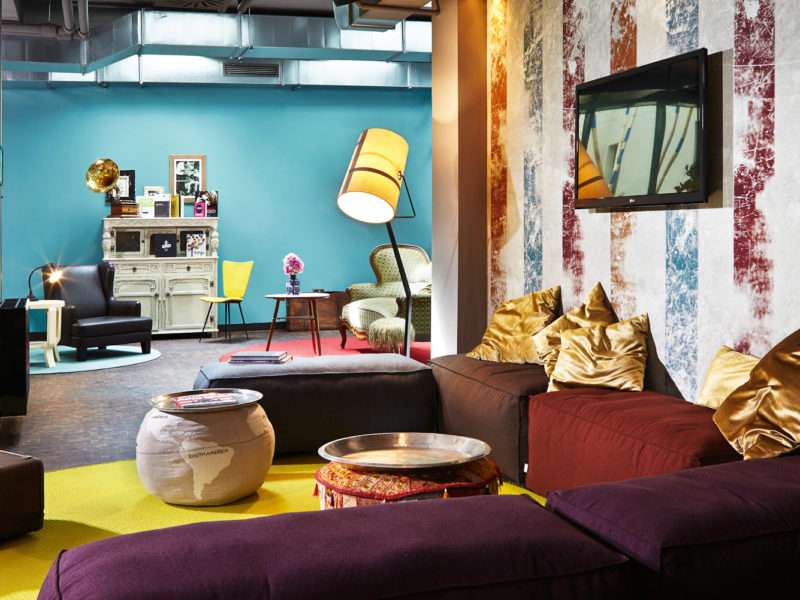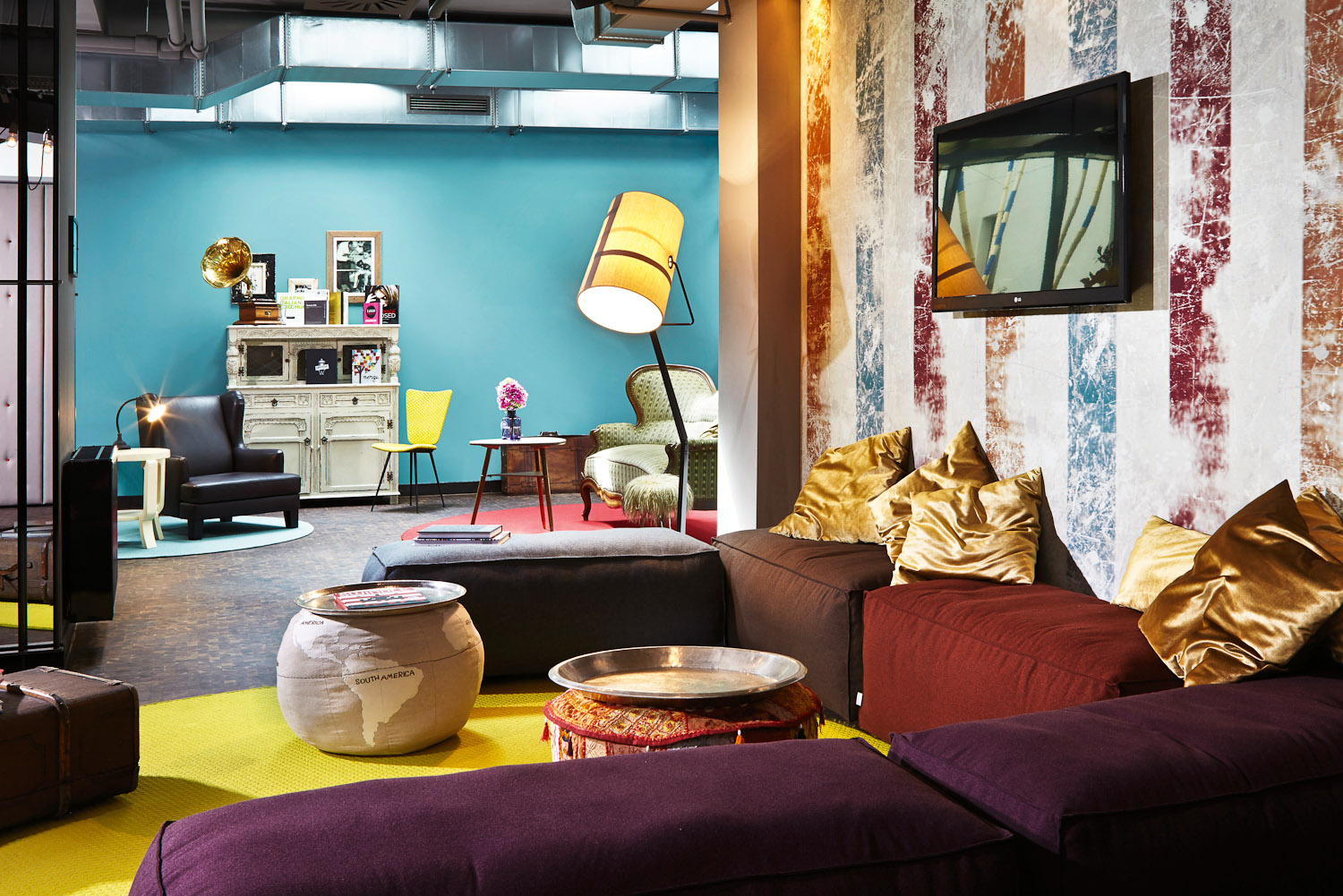 A riot of colour and vintage and clever ideas, this could be one of the quirkiest sleeps you'll ever have. Jennifer Pinkerton runs away to the circus, for one night at least.
If the 25 Hours Hotel were a person, he'd be an offbeat European guy you get chatting with in your twenties, while staying at a backpackers.
Over cask wine and rice crackers, he'd chew the fat about how there are 'hotels' and 'hostels' , and not much interesting stuff happening in between.
Then he'd carry on with his life and, around age 33, surface with a small, entrepreneurial chain of hotels – the kind that does things differently.
For starters, this concept bumps up the number of hours in a day. And in that 25th hour, a kind of magic happens: a stream of fluoro appears in the sea of monochrome accommodation offerings that have been replicated, then replicated again.
But it doesn't look that way from the outside. One of seven '25 Hours' hotels spread across Germany, Austria and Switzerland, the Vienna incarnation is a hulking black block. It used to be a university student dormitory, clearly designed with utility, not creativity, in mind.
Yet, just past the row of free-hire bikes out the front, the reception area is a world of whimsy.
Staff stand behind a 'cage' door wearing casual clothes. A peek-a-boo hotel shop sits just to their right, full of on-trend brands, like Freitag, a Swiss outfit that makes recycled satchels from truck awning.
The wait area is littered with vintage couches, large leather medicine balls and a see-saw plank.
Is that a set of handcuffs clasped to the wall?
The circus begins.
'Circus' is this hotel's theme and, given we're within a lion's roar of the city's museum quarter, the idea works well.
My room is case in point. It's tiny – I just squeeze my way around the bed. But clever design, as well as pockets of bright colour, makes this space more 'gift box' than 'shoebox'.
From floor to ceiling, the feature wall is a painted circus scene: leaping animals and a moustachioed ringmaster. By the bed, a lamp drops from the roof with a shade crafted in yellow yarn.
The sweet little bathroom is lit up like a dressing room. A row of bulbs crown the basin mirror, and a swinging wooden door – punched with Swiss cheese holes – creates privacy if you want to shower without the ringmaster and animal mob peering in.
A whole lot of thought was pooled into these rooms. I'm impressed. But more importantly, I feel at home. I want to bundle these decorative ideas into my suitcase.
Back in the corridor I stand in front of the lift doors and ponder my options: the fitness space, AKA 'Mermaid's Cave' , or the rooftop bar?
It's after dark, so I pick the more sociable choice, descending to the ground floor to catch a special lift to my destination. And 'special lift' it is. The glass cube shoots high up over a carpet of Viennese splendour – the Volkstheater, the Natural History Museum and the Museum of Fine Art – before ejecting me into another world of whimsy.
Here, things are cranking. A smattering of 20-, 30- and 40- somethings occupy the low-fi furniture and the balcony overlooking said splendiferous view.
What really catches my eye, however, is the glassed-in barber's suite. Two 'clipper' chairs face outwards, offering the most unlikely locale for a spot of old-fashioned grooming.
Downstairs, an equally creative-looking crew dine at the hotel café, 1500 Foodmakers. I'm not sure about the slogans on the board, all chalked in English: 'We will feed you' , 'This is the shit' , 'A little bit of magic' and 'F*ck it. Eat Pizza'. It's a tad 'forced edgy'.
But nonetheless, I warm to the café's wall of mismatched serving platters, its colourful tiles and its different-shaped hand mirrors. Each help create an Alice-in-Wonderland vibe that transports me somewhere… delightfully odd.
As I gulp down my $10 continental breakfast the next morning, the café swims with calm.
I push my way out to the pretty Weghuberpark and spot a food van, Burger de Ville, clad in strips of silver. 'Even the best burger bus needs sleep' , reads a sign strung from its window.
On the steps back to the café, my feet pass miniature canoes sprouting cactus flowers.
I wish I had another 25 hours to spare.
This is a circus I'd gladly spin around twice. Thank goodness for dreamers who go their own way – fuelled by cask wine and crazy ideas.
DETAILS
25hours Hotel Vienna
Lerchenfelder Strasse 1, 1070 Vienna
The IT Verdict
Set amid Vienna's culture hub, this is a delightful, unconventional stay and outstanding value.
Location = 9/10
The grungy 7th district is a short skip from the Museum Quarter and a 20-minute walk from the old town.
Style/character = 8/10
From the outside, the 25 Hours Hotel isn't much to look at. But inside it's a different story. The circus-themed fit-out is playful, artful, quirky and fun.
Service = 7.5/10
Staff here boast a more casual disposition than you'd find at most Viennese hotels, yet they're helpful and friendly.
Rooms = 8/10
As a converted university dormitory, many of the rooms are tiny, but the design is cleverly executed.
Food and drink = 9/10
Guests are spoilt with food and drink options. There's the hipster's paradise bar; a converted Airstream for take-away style burgers; and the fancier 1500 Foodmakers Restaurant.
Value for money = 8/10
It's fantastic value at $140 a night for its top location and bonus free bike hire.
LEAVE YOUR COMMENT