The 14 best places to stay in Austria (for Aussies)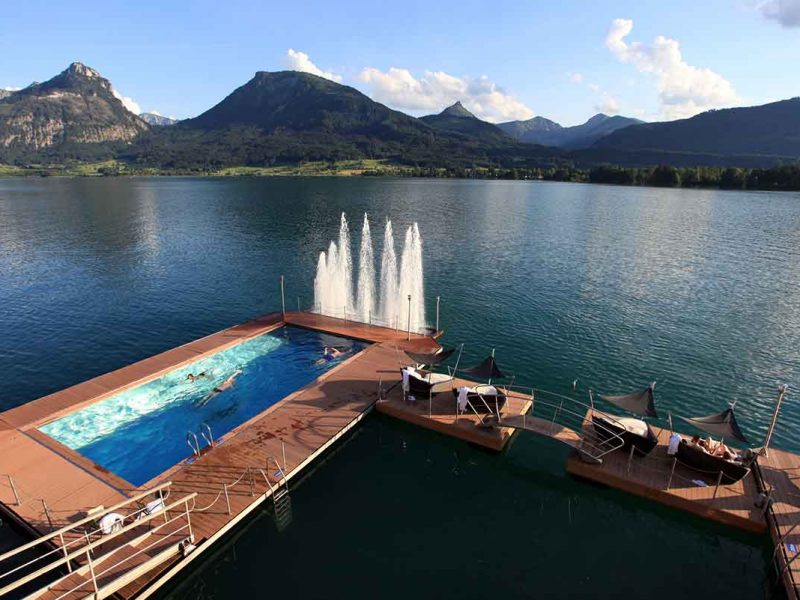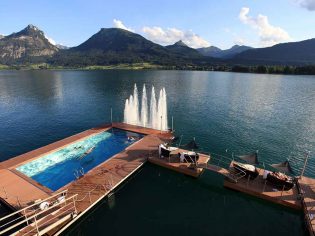 To help you find the ultimate Austrian accommodation we've done the groundwork for you, trawling the land from east to west while bearing in mind all things most appreciated by well-travelled Australians. These are the 14 best places to stay in Austria for Aussies.
While genuine hospitality, authentic food and local wines are hallmarks of any true Austrian stay experience, often served with sides of lively conversation, local intel and potentially lifelong friendships, we've found the most wondrous locations for incredible snow holidays, or immersive art, culture and history experiences or a great biking and hiking break with a healthy dose of food and wine.
This hand-selected group of Austrian hotels promises to connect you with your surrounds in unique and unexpected ways and are an ideal companion to our great Austrian itinerary.
Best hotels in Vienna
1. Hotel Altstadt Vienna
Where?
Right in the heart of urbane Spittelberg (7th district), nicknamed Boboville for the large number of young 'Bourgeois Bohemian' residents.
What makes it special?
The 'art of hospitality' has dual meaning at this stupendous hotel. Staying at the family-run Altstadt is akin to sleeping inside an artwork within an art museum run by good mates.
All rooms are individually designed and decorated and more than 350 pieces of art, curated by the owner, adorn every available wall. Complimentary breakfasts (and equally fabulous afternoon teas) are served in the sumptuous Salon each day. Don't even bother trying to resist. Think Viennese ham, traditional spreads, organic breads, hand-churned butter and a gallery of extras including hot dishes cooked to order and sweet, artisan pastries.
Weekend sleep-ins are encouraged with breakfast served until 11:30 – how thoughtful! A relaxing rooftop garden with expansive views offers a green oasis in the warmer months. Booking directly rewards you with free bicycle rental and discounts in its small, but swanky gift store.
Did you know?
The furnishing of several rooms was inspired by a famous, mid-20th century lady of the night, a lively personality who swung between euphoric visions of the future and world weariness.
2. Andaz Vienna Am Belvedere
Where?
Located in the diverse 10th district, opposite the Belvedere 21 museum of contemporary art and the leafy Schweizer Garten. Belvedere Palace is five minutes by foot.
What makes it special?
Andaz is Hindi for personal style and the mantra is beautifully demonstrated throughout the hotel group's global properties – the art and design of each influenced in part by the charms of the host city.
The new Andaz Vienna Am Belvedere has relaxed sophistication at its core. Floor-to-ceiling windows offer maximum sunlight and wide-framed city views and ultra-luxe beds ensure a decent night's sleep. Drag yourself away from your room and there's plenty of in-house action including the handsome spa and sauna, a 24-hour fitness centre, DJ-driven sunset drinks and Eugen21 restaurant, which is presented like a modern Austrian tavern, serving clever interpretations of classic Viennese cuisine. Don't miss the chance to sample Andaz's bespoke lager, specially developed by the city's own Ottakringer Brewery.
In fact, all Andaz Vienna Am Belvedere supplies are sourced as locally as possible, in keeping with the group's sustainability ethos. A hand-drawn map is provided for guests to locate neighbourhood craftspeople such as tailors and shoemakers.
Did you know?
The hotels' compliment of art is influenced by Prince Eugen of Savoy, the man behind the Belvedere Palace, a leading developer and collector in his time.
3. Hotel Bristol Vienna
Where?
The historic hotel sits directly opposite the Vienna State Opera in the 1st district
What makes it special?
As magnificent today as it was in its heyday, the Bristol (opened in 1892) is one of Vienna's most iconic luxury hotels. History buffs, Opera lovers, architecture and design experts will adore this original Art Deco gem and its furnishings, original and new. Every ornate staircase, hand-carved panel and length of embroidery tells a story. The handsomely refurbished Bristol Bar was the first American-style cocktail bar in Vienna and, to this day, serves its legendary mixes and a spiffing range of cognacs. Many famous musicians and celebrities, plus several kings, presidents and generals, have made Bristol their temporary home in Vienna and you can, too. Splurge on the Opera Suite for the full immersive experience, surrounding yourself with precious antiques, rich textiles, fresh flowers and Bulgari bath accessories. Book an opera-facing room during 'the season' and you can watch a live broadcast from your balcony, essentially your own private box! A truly original Viennese experience.
Did you know?
Named for the British town of Bristol, the hotel was frequented by Edward 8th and Wallis Simpson during the height of their affair – clearly enamoured by the romance of the city
4. The Harmonie Vienna
Where?
Conveniently situated in the historic Serviten neighbourhood and arts quarter (9th district), minutes from the city's grand Ringstrasse boulevard.
What makes it special?
Viennese artists were commissioned to decorate The Harmonie's 66 sleek and stylish rooms in homage to the music and dance once performed in the Harmonie Theatre, which stood nearby long ago. The resulting ambiance fittingly exudes an air of anticipation and excitement so tactile it sashays into the surrounding streets and around its many cafes and restaurants. Regarded as a forerunner in sustainable hotel practices, the hotel uses beautiful organic, allergy-free products throughout and has developed a full range of plant-based breakfast specialties to complement the regular menu.
While highly personalised service is responsible for the high rate of guest returns, a contactless e-service allows clients to take full control of available services, truly making it a home away from home.
Did you know?
Soloists from the Vienna State Opera's ballet were rolled in paint then onto canvas to produce Harmonie's bespoke artwork.
5. Hotel Park Hyatt Vienna
Where?
In the Old City's Goldenes Quartier (1st district), surrounded by luxury shopping and within walking distance of all major sites
What makes it special?
In classic Park Hyatt style, this brand-new hotel extravagance, stands tall behind its reputation for premium comfort, services and amenities. Grand in every sense; from the marbled foyer to the plush, oversized rooms it's the across-the-board professionalism and attention to detail that really make the difference.
The Park Hyatt Vienna's interiors and the royal treatment are so harmoniously in tune with the stately building's heritage that you'll happily allow yourself to be swept back in time. Old-school hospitality provides the backbone to each of the hotel's swish bars and eateries and, on Sundays, the gloriously appointed Bank Brasserie offers a typical gabelfrühstück (buffet). The chance to enjoy this uniquely Viennese display of convivial hospitality should be savoured along with its delicious bite-size nibbles and an abundance of specialist cold cuts, local cheeses, and fresh seasonal juices of course.
Did you know?
The lavish hotel is encased in a former bank building constructed in the early 1900s and many original fittings, demonstrating the affluence of the times, can be viewed throughout the property.
6. Hotel Sans Souci Vienna
Where?
Centrally located between the Museum Quartier in the imperial 1st district and two minutes' walk from Vienna's hip Spittleberg (7th) – home to up-and-coming designers, earthy cafes and creative eateries.
What makes it special?
Champagne tastings and chandeliers. Need we say more? OK, we could recommend the four- poster beds, all-white bathrooms with freestanding baths and Vienna's largest hotel pool… but that would be teasing. This boutique hotel's exteriors and public areas are wrapped like a vintage chocolate box in lilac and cream, but the generously proportioned rooms reveal soft interiors in relaxing neutral tones.
The Sans Souci is the perfect base for lovers of art, culture, style and glamour. After a hard day's shopping, pamper yourself with a treatment at the onsite spa.
While a wealth of dining options line the nearby avenues, the hotel's exclusive Le Bar and Verandah Restaurant are at your disposal as a staying guest. Finer details such as 24/7 free coffee service and green globe accreditation make this urban retreat hard to resist.
Did you know?
The hotel features a swathe of contemporary artworks including several original pop-art pieces by Roy Lichtenstein.
Best hotels in Salzburgerland
7. DAS EDELWEISS Salzburg Mountain Resort, Großarl
Where?
The foothills of the mountains in the heart of the Grossarltal Alps just 55 minutes from Salzburg Airport.
What makes it special?
Das Edelweiss is an incredible property run by 14 third-generation Hettgetter family members. It is the kind of year-round alpine resort dreams are made of.
The owner's vision is for guests to leave with the take-away of wellbeing. Not wanting to disappoint them you should probably make the most of the winter's ski in-ski out access by returning to use it as a base for summer hikes?
Either side you'll inevitably frequent the 7000-metre square spa, a supremely tasteful oasis offering a multitude of pampering treatments, pools, saunas and relaxation zones. Separate areas are stupendously suitable for families, assuring adults are free to bliss out in peace and privacy.
Beautifully presented, spacious rooms offer panoramic mountain views and a range of elegant restaurants feature Edelweiss Mountain cuisine and local wine tastings. Although newly renovated with cutting-edge architectural swagger, Das Edelweiss hasn't lost its charming essence – in fact the clever incorporation of wood, stone and glass anchors the building, blending its sleek beauty in with the surrounding nature.
Did you know?
This divine upscale hotel with 240 rooms started life in 1977 as a humble 14-room guesthouse.
8. Naturhotel Forsthofgut, Leogang
Where?
Located in the Western Alps, at the foot of Leoganger Steinberge range just five minutes' drive from the Leogang's historic village centre and 90 minutes from Salzburg
What makes it special?
Nature and its healing qualities guide the daily operations at Forsthofgut.
Europe's first forest SPA, measuring 3,500 square metres has been managed by the Schmuck family for five generations. Their dedication to sustainability (and connecting with nature) means that everything, from the hotel's decor to the in-house cuisine, relates back to the pristine surroundings. Products from the family's organic farm, such as eggs and milk are featured on the menu alongside fish and other ingredients supplied by small-scale, local food businesses.
Guest rooms have been designed for a cosy stay, incorporating the colours and textures of the landscape as viewed from the balconies, featuring tranquil green, rust, grey and pale wood. Forests, meadows and rivers are easily accessible as is the hotel's three-hectare animal enclosure where guests can accompany the owner feeding deer and dwarf goats. The new five-star waldSPA Lakehouse, overlooking a natural swimming lake, is an adults-only sanctuary linked to the hotel by an underground passage. The hotel offers direct ski and hiking access.
Did you know?
This hotel started life as a forestry business and farm about 400 years ago and today guests are asked to plant a tree giving back to the forest.
Best hotels in Salzkammergut (Lake Region)
9. Romantik Hotel Im Weissen Rössl
Where?
At Lake Wolfgang, in the medieval town of St Wolfgang, within the Salzkammergut Lake region, just one hour's drive from Salzburg and 18 minutes from Bad Ischl.
What makes it special?
The 'White Horse Inn', known for old-school elegance, state-of-the-art comforts and award-winning cuisine, has been operated by the same family for more than 500 years. During that time, Romantik Hotel has expanded organically to include nine linked townhouses forming a property so expansive it has its own map. Much like the versatile year-round holiday destination in which it's located, the hotel offers something for everyone. A wide range of room styles and sizes, no two the same, boast unbeatable views of the stunning lakes and mountains. In winter, there's cross-country skiing from your doorstep and every conceivable snow sport including tobogganing.
In summer, hire a paddleboat or go scuba diving in the crystal-clear lake's impressive cave system. The pièce de résistance is the lakeside spa with its sprawling heated floating lido deck, pool and jacuzzi. Don't miss the smoked Rössl char from the hotel's own fish farm.
Did you know?
This hotel found worldwide fame thanks to the 1930s' operetta, Im weißen Rössl (The White Horse Inn), and subsequent 1960s' musical film of the same name, about romance between a lovestruck waiter and the landlady of the White Horse Inn. Memorabilia from the movie set is displayed throughout the property.
Best hotels in Tirol
10. Astoria Resort, Seefeld
Where?
A mid-altitude location in the Alps just 14 minutes' walk from Seefeld, an old farming village turned major resort, and 30 minutes north-west by car from Innsbruck (a 20-minute drive from the airport).
What makes it special?
Seefeld's only five-star resort the Astoria is a pretty picture, perched central in a vast alpine garden setting against a magnificent mountain backdrop. While at first glance it presents as a traditional mountain chalet, inside it's Alpine-chic all the way, mixing raw woods and stone brick with soft furnishings, fresh-cut flowers, old photos and artwork evocative of another era.
Renovated extensively over the decades, new luxury suites have been recently added, featuring private saunas. A diverse range of treatments are offered in the first-class spa by specially trained staff. Award-winning resort cuisine uses regional ingredients and their famous afternoon cake buffets and dinners accompanied with live piano music are just some of the delightful touches that help sustain this property's popularity.
Golfing, yoga, hiking and biking are available in addition to all the winter experiences you could wish for.
Did you know?
Formerly known as the Hotel Astoria, the property was favoured by the 1950s' jet-set who lauded it as the epitome of Alpine luxury.
11. AQUA DOME – Tirol Therme Längenfeld, Längenfeld
Where?
In the Ötztal Alps, 15 minutes' drive from Sölden and one hour from Innsbruck
What makes it special?
Vitality is the only language spoken at AQUA DOME. Devotees of Japanese onsens will understand precisely why Austrians flock to Aqua Dome, Tirol's largest spa and wellness offering.
The lure of natural thermal water and related health benefits is strong, but it's the unique, futuristic presentation of the spa centre that will transport you into a whole new realm. No matter what the season, the viewpoint from the three floating bowl pools is elevated by water shiatsu, soothing sulphur or weightlessness inducing brine. Adjust the lighting and underwater music to suit and you might as well write the week off. All-weather swimming at a constant 34°C to 36°C range comes courtesy of the namesake steel and glass dome, which resembles a crystal igloo.
In summer take an inspiring day trip to nearby Stuibenfall (a waterfall) or the hotel's (free) mini cabriolet for a spin through the awesome Ötztal Valley Nature Park where you will find glaciers, larch forests and glassy mountain lakes. You can also charter a chopper if that's more your thing. Whether travelling solo, as a duet or family group this mind-blowing resort has you covered.
Did you know?
Every Friday night the Aqua dome thermal spa and sauna are open until midnight for moonlit swims.
12. Das Central, Sölden
Where?
Flying at 3000 metres above sea level in the Ötztal Alps just over one hour by car from Innsbruck Airport or the historic old town.
What makes it special?
Relaxed Tirolean charm merged with world-class luxury is a potent mix at Das Central. Being surrounded by 250 peaks is not the only reason you'll feel on top of the world at this stunning location. Das Central is the perfect base for lovers of snow-sports with the slopes so close you could almost jump from your room. Please don't. But Das Central is not just for the lovers of powdery snow.For some, passions are better met with haute cuisine, weekly gala dinners, cocktails by the fire, fondue parties in the 30,000-bottle strong wine cellars and pretending you're in Venice. The Venetian-themed spa world, encompasses three floors of sauna, steam and water therapies against a backdrop of Piazza San Marco (St Mark's Square) and the gondola of Venice's lagoon. The Falstaff Hotel guide in 2021 named this as 'One of the 10 best hotels in Austria'. It's hard to argue otherwise.
Did you know?
The Restaurant Ice Q, just 25 minutes away by gondola, was used as a film location in the 2015 James Bond Film, Spectre.
13. Interalpen-Hotel Tyrol, Seefeld
Where?
Perched 1300 metres above sea level, just 15 minutes by car to Seefeld township and 35 minutes to Innsbruck.
What makes it special?
Not quite a palace but certainly palatial, Interalpen-Hotel Tyrol glamourous five-star member of 'The Leading Hotels of the World' is a surprising jewel, secluded within the most pristine alpine nature setting and resting at eye level with the rugged mountain peaks. Rooms are lofty with comfortable furnishings and contemporary chalet decor. Highly regarded for its excellent service extolling typical Tirolean hospitality and warmth, the property also boasts award-winning cuisine (with down-to-earth, quality, nose-to-tail dining ruling over trends) and a chef who was awarded Gault & Millau's 2021 Pastry Chef of the Year. The acclaimed Interalpen Spa, complete with beauty treatments, a stroll garden and a centrepiece pool that 'swims in the sky', also caters to kids with plenty of entertainment and activities. There's really no reason to leave when you're gifted with so much in one spot (hello moonlight cross-country skiing) but if you do decide to manoeuvre around the mountain tracks outside of winter – make use of the complimentary e-bikes.
Did you know?
Dr Hans Liebherr's long-held vision to develop this exclusive and extraordinary hideaway was actualised in 1985 – inevitably cheered on by family who own one of the largest construction-machinery manufactures in the world.
14. Nala Individuell Hotel, Innsbruck
Where?
Centrally located in the quiet Wilten neighbourhood, just five minutes by foot from Innsbruck town centre and 10 minutes to major cultural sites and Nordkette Cable Car Station.
What makes it special?
Never judge a book by its cover they say. This 57-room lodging with a modest façade couldn't be spunkier if it tried. Staff are super friendly and there's a room styled to suit every mood – every splash of quirkiness underpinned with elegance. Peruse each on its website or tell the front desk what vibe you're digging, and they'll recommend the perfect fit.
In spring NALA's rooftop terrace exports you instantly to the countryside with its fragrant blooms: enjoy them while taking in the mountain views. A koi pond runs through the middle of proceedings, just because. NALA is an excellent platform from which to dive into the local culture, lounging in coffee houses sampling your way through the region's fine cakes or visiting the famous Golden Roof in the romantic old town.
Many clever hidden design and sustainability features (read: beds and baths elevated to increase storage and views) were included in the recent redevelopment of the 1950s' hotel to bring it into the modern day without losing its original air of enchantment.
Did you know?
NALA isn't air-conditioned, instead, naturally cold water is piped from the ground through the building and the same applies, only using hot water, in winter.
LEAVE YOUR COMMENT