The best food & drink experiences in New Zealand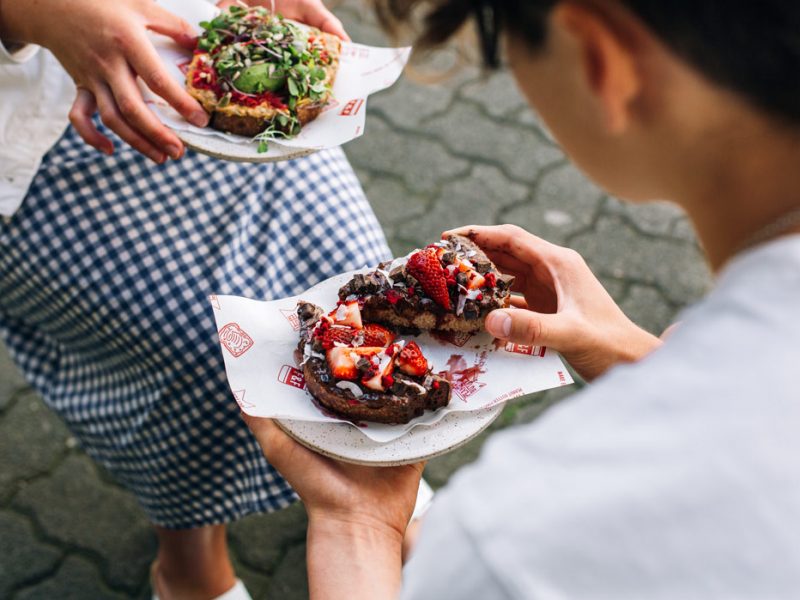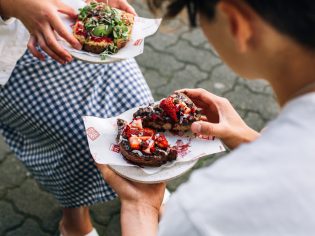 Use New Zealand's vibrant culinary scene as inspiration to travel across the country, weaving world-class epicurean adventures into your itinerary.
It's time to discover the best food and drink experiences in New Zealand: 15 to 26 of our 101 Reasons To Stop Dreaming About New Zealand And Go.
15. A Hawke's Bay foodie tour
When your guide has a few decades of working in the local wine scene, you're guaranteed a good time exploring Hawke's Bay, especially when a full-day tour takes in New Zealand's most historic vineyards and a modern and innovative urban wine-tasting experience. Bespoke itineraries with Prinsy's Tours harness the knowledge of its expert guides, often offering the opportunity to go behind the scenes and meet with the region's winemakers.
16. Follow a cheese trail through New Zealand
In a country of five million cows, more than 65,000 goats and countless sheep, New Zealand is a great destination for travelling cheese lovers. Add in a few hundred buffalo, and there's real diversity in the Aotearoa cheese scene, with artisan products ranging from feta to fior di latte. Chances are there'll be a good craft brewery or vineyard just a short drive away, too.
17. Eat your way through Wellington
In a town with more than its fair share of filmmakers, online game designers and politicians, it can seem that coffee, craft beer and cocktails keep the wheels turning in New Zealand's capital city. And, maybe inspired by Wellington/Te Whanganui-a-Tara's reputation as a movie-making hub local chefs, brewers and craft distillers are often intensely creative. Get ready to discover why Wellington is considered New Zealand's foodie capital.
18. A heli-tour of North Canterbury's wine region
Fly from Christchurch/Ōtautahi to North Canterbury's Waipara Valley wine-growing region to visit five different wineries in one of New Zealand's emerging wine-growing areas, especially for cool-climate and aromatic varietals including riesling, pinot gris and gewürztraminer. Sky-high transport means it's both spectacular and efficient to get between stops, maximising the time for discovering the vineyards' different styles, stories and personalities.
19. New Zealand's best craft brewers & distillers
Spend time in a craft beer taproom from Margaret River to Manchester or Sydney to Seattle, and there's a good chance New Zealand hops will be showcased in a few of the beers on offer. Grown in the warm, sunny Nelson Tasman region at the top of the South Island/Te Waipounamu, hops such as Riwaka and Moutere are prized by brewers around the world for their distinctive flavours including citrus and passionfruit. But there are breweries and distilleries to visit across the country with many focusing on reflecting their local communities. Even the capital city of Wellington/Te Whanganui-a-Tara has been a popular craft beer city for well over a decade.
20. A self-guided walking tour of Central Otago's wineries
Without stopping, you could probably knock off the eight-kilometre route of the 4 Barrels Walking Wine Trail in around 90 minutes, strolling past Cromwell vineyards alongside Lake Dunstan, and through Central Otago orchards growing the pick of New Zealand's stone fruit. It would be a very pleasant walk, but a few stops along the way make it even better.
21. Visit New Zealand's wine town – Martinborough
If you're keen to test the maxim that New Zealand effortlessly squeezes in diverse experiences for travellers, it's time to visit the Wairarapa region. Journey across the Remutaka Range from Wellington/Te Whanganui-a-Tara to Martinborough and use the charming town, anointed as the world's only true wine village, as a base to discover world-beating pinot noir, a remote coastline and an idiosyncratic landscape given a starring role in the Lord of the Rings movie trilogy. Factor in luxury accommodation and fine dining enjoyed by royalty, and Wairarapa definitely punches above its weight.
22. A foodies weekend in Auckland
Should we get away from the city on Friday afternoon or Saturday morning? There's always debate when planning a weekend trip one hour north of Auckland/Tāmaki Makaurau to Matakana for the Saturday morning farmers' market. For international visitors, the recommendation is actually more straightforward. Definitely plan to arrive in Matakana on a Friday, and also definitely plan on staying a couple of nights. That way you're well-positioned for an early start at one of the country's best farmers' markets, and you'll also have time to explore the food, wine and craft beer scene that makes Matakana a popular weekend escape for Aucklanders.
23. Dine and stay at Blue Duck Station
Located at the convergence of the Retaruke and Whanganui Rivers in remote wilderness west of the three volcanic peaks of Tongariro national park, Blue Duck Station is a New Zealand destination like no other. With protected habitats for the country's iconic kiwi and the whio – the endangered little blue duck that gives the property its name – it's a compelling combination of conservation project and eco- savvy farm stay inspired by the vision of founder, Dan Steele.
24. Journey to New Zealand's blanc hotspot
Sauvignon blanc has only been made in Marlborough for just over four decades, but New Zealand's biggest-selling wine on the global stage has made this warm and sunny region at the top of the South Island/Te Waipounamu famous around the world. It's also the spritzy backstory for exploring an area packed with food, wine and beer credentials well beyond its single-wine starring role.
25. Wine and dine at this surprising waterfront winery
You've heard all about Marlborough's world-renowned examples of sauvignon blanc, and the sublime pinot noir wines crafted amid the rocky, hardworking soils of Central Otago, but the warmer Bay of Islands on the north-eastern coast of the North Island/Te Ika-a-Māui could be the wine-making region to surprise even the most informed of travelling wine fans. Especially when wines coaxed from coastal hillside vineyards enlivened by sea breezes can be partnered with fine dining and ocean views.
26. A walking tour at Zealong Tea Estate (with a high tea finale)
Surrounded by the rolling pastures and dairy farms of New Zealand's Waikato region, it's a surreal surprise to chance upon the well-tended tea bushes framing the entrance to the Zealong Tea Estate. Traditionally the world's most-consumed hot beverage is grown at higher elevations in warmer countries, but Zealong Tea Estate's successful foray into the higher-value global market is both New Zealand's only tea estate, and the largest organic tea-growing enterprise in the world.
Next: Experiences you can only have in New Zealand >>
Return to 101 Reasons To Stop Dreaming About New Zealand And Go
LEAVE YOUR COMMENT