Wellington's new boutique hotel is worth flying to NZ for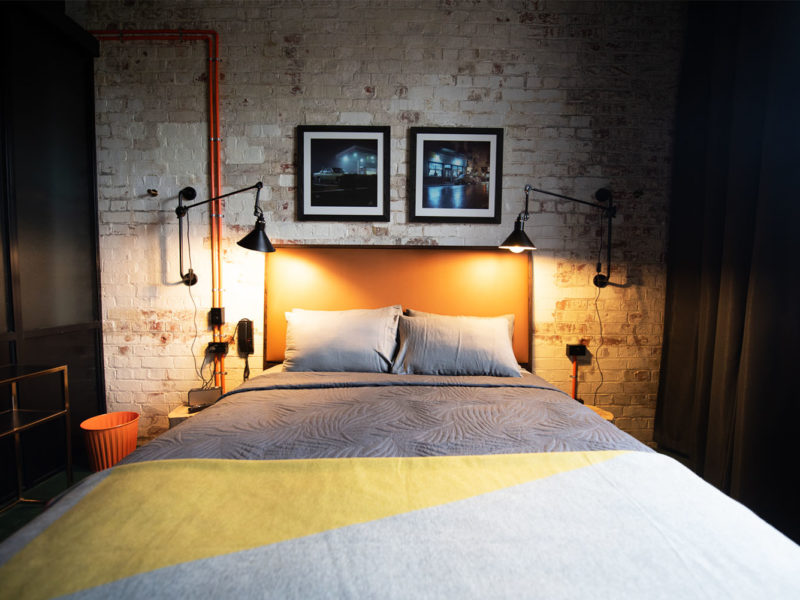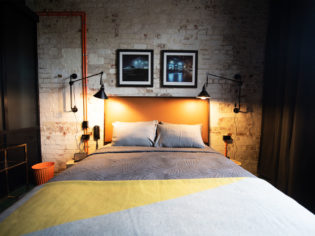 It's always interesting to hear exactly why people open boutique hotels. What urges them to spend their hard-earned dime on a revolving door for tourists, professionals and staycationers?
In the case of The Intrepid, the answer to that question lies within the minds of co-owners, Alex Cassels and Sean Golding – the latter of who already helms craft beer bar Golding's Free Dive, neighbouring restaurant Shepherd and Puffin wine bar (conveniently located downstairs). But more on that later…
The Intrepid is the newest in a line of design-focused boutique hotels to open in Wellington; a place for those who don't want to check their tastes at the door. Alex Cassels and Sean Golding's vision was to create the kind of space that they would want to stay at on a trip to Wellington. The result is a boutique experience that fuses all the conveniences you expect from a hotel with the most important luxuries thrown in for comfort and style.
Details
The Intrepid
60 Ghuznee Street, Te Aro, Wellington, NZ
First impressions
Driving up to The Intrepid was my first foray into central Wellington. Its enviable location on Ghuznee Street initially goes right over my head. I knew little about the adjacent streetscape when I arrived, but would come to be well-versed in my surroundings following a two-night stay within it.
The four-storey heritage façade – with its arched brick windows and triple fronted entryway – stands proudly in an existing building across from Glover Park. I later learn that it was converted from the former 1908 office and warehouse of the Cadbury Brothers; initially designed by architects Hoggard and Price. In the years since it has served Wellingtonians as an enclave for hospitality and retail businesses.
After a three-year refurbishment – including a structural reinforcement to withstand earthquakes – The Intrepid Hotel opened its alarmingly chic doors to travellers in May 2021, attracting travellers who appreciate an intimate, luxurious hotel experience.
The room
Three room sizes are available to guests at The Intrepid. There's Precious (queen), Baker Street (king) and Mighty (super king). I am appointed a Baker Street room, and given an old vintage key to unlock my door.
I reach my room on the second floor via a clear elevator that ascends from the dark-toned, moody lobby. Each floor has complementary coffee and sparkling water (on tap!).
Similar to The Henry Jones in Hobart or The Prince in Melbourne, The Intrepid makes checking-in a way to integrate within the fabric of the world created around you. There's enough old-world charm to impress even the staunchest of contemporary fans. The design takes historic interior touches and manages to make them cool and hospitable. Each room has a distinct personality that leans more towards sophisticated guest-room than cookie-cutter mould.
Bathroom tiles are black, furniture is in velvet and bed-heads are large and plush. Local, selected artworks don the walls – with zero replicas or hotel art clichés in sight. There's dark green carpet underfoot, which isn't an easy colour to pull off but somehow it works in its surroundings. And in excellent attention to detail, a midnight toilet run reveals low sensor lighting in the bathroom which provides semblances of clarity without disturbing the half-asleep eyes.
Standard in-room luxuries are supplied too: plush robes, fluffy towels, large TV screens, Bluetooth speakers and sustainable products provided by plant-based retailer, Real World.
Food and amenities
While there are no dining spaces within the hotel, the complementary minibar in your room will make up for that. Stocked with New Zealand's best edible and drinkable treats – think Wellington roasters Coffee Supreme, tea by artisan blender's Libertine, Whittaker's chocolate and locally-brewed Sour Ale.
Downstairs, part of the ground floor is occupied by the in-house wine bar Puffin. Operated by Intrepid owner Sean Golding with his business partner Hannah Wells, Puffin is where the chic go for a drink in Wellington. In fact, when I went out venturing for a place to sit down and sip, every local I asked sent me straight back in the direction of my very own hotel.
The dimly-lit space, which opened its doors in 2019, is lined with velvet green booths and features a cosy outdoor courtyard. The bar focuses on serving natural and organic wines with minimal intervention, featuring a rotating list (written on a blackboard) of drops they serve by the glass. There's also a short but sharp cocktail list and several Wellington beers on tap. Ask staff if you need to be pointed in the right direction. The menu features a couple of sharing plates, but with so little time in town, I unfortunately didn't have the time to enjoy any.
You'll also find a boutique store, Seller Door, downstairs. Browse a curated range of goods from local retailers. There's vintage watches from FiveFortyFive, gifts from Brown & Co and records from RPM.
Getting there
Air New Zealand fly direct to Wellington from most Australian capital cities – plus a few regional ones, like Cairns.
The verdict
Cosmopolitan travellers will love the attention to detail here. Service was superior, rooms were sophisticated, and the location? Unbeatable. I can't imagine staying anywhere else next time I venture to Wellington.
We rated
This hotel was designed with an aesthete in mind. It definitely shows, and my eyes thank them.
We'd change
With the facilities on hand at Puffin downstairs, perhaps a guest discount for drinking and dining would make sense?