Top 10 things to do in New Zealand's South Island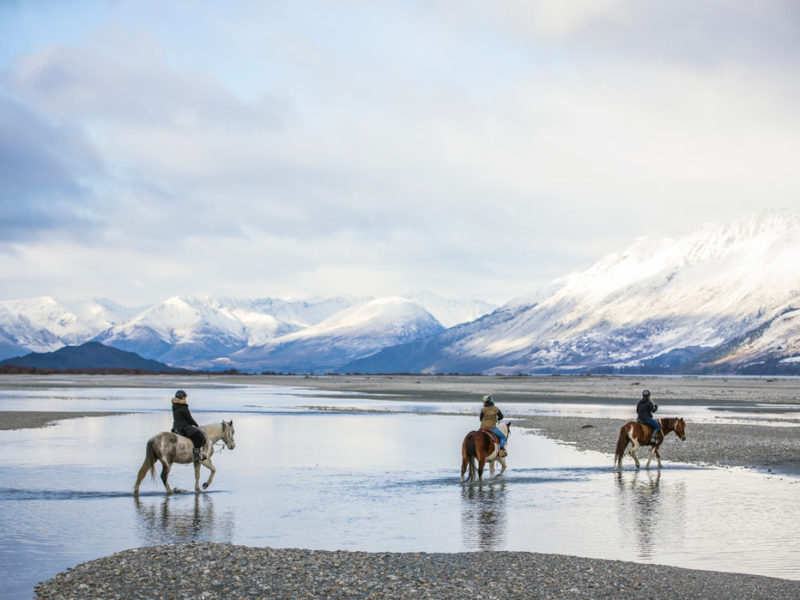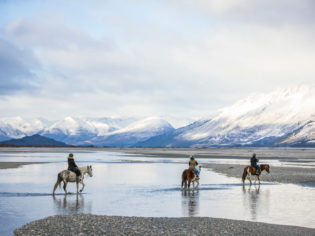 Come for the spectacular landscapes and stay for the character and culture of New Zealand's South Island.
The undeniable allure of New Zealand's South Island lies in its spectacular landscapes: an assembly of lofty mountains, glossy fiords and ancient glaciers that will take your breath away at every turn.
But in between tramping, wilderness cruising and ice trekking, you'll also encounter plenty of fascinating culture and idle delights: from discovering a city reinvented to sipping on the world's best pinot noir, and from exploring New Zealand's only castle to reposing in one of the top stargazing spots on the planet. Here's our guide to doing it all.
1. Have an adventure in Queenstown
Set on the shore of Lake Wakatipu against a dramatic backdrop of the Southern Alps, scenic Queenstown is one of the adventure capitals of the world.
Test your mettle by bungy jumping, mountain biking, jet boating, quad biking, white-water rafting or sky diving, or take to the snow in one of the town's four ski areas from June to October.
Then take it down a notch by exploring the city's excellent food scene (but don't miss a high-octane burger from famous Fergburger).
Queenstown is also a regional hub: a 20-minute drive from the historic mining town of Arrowtown and 45 minutes from Glenorchy, whose spectacular landscapes have featured in both The Lord of the Rings trilogy and Narnia.
It's a gateway to the South Island's Central Otago wine region, too.
2. Sample the South Island's other wine regions
The South Island lays claim to the Marlborough region, whose sauvignon blanc put New Zealand on the international wine stage, but it's also home to plenty more wine regions besides that are definitely worth your attention.
Explore Central Otago near Queenstown, with its mountainous landscapes and some of the world's best pinot noir, and the bucolic Canterbury and North Canterbury wine regions near Christchurch, where the Southern Alps meet rolling plains to create elegant pinot noir, chardonnay and aromatic wines.
3. See Fiordland National Park by boat, air or on foot
If New Zealand's South Island is renowned for its spectacular natural landscapes, then Fiordland National Park encapsulates them all.
This ancient environment on the island's south-west corner is composed of fiords, lakes, waterfalls, rainforests and snow-capped peaks, and is ready to be explored by boat, air or on foot.
Join wilderness cruises to explore the unspoilt wonders of Milford and Doubtful sounds; embark on a multiday hike – or tramp, as they say here (Fiordland is home to some of the country's best) – such as the Hollyford, Kepler or Hump Ridge track; or take a scenic flight over the park to gulp it all in on one epic adventure.
4. Stargaze in Aoraki/Mount Cook National Park
Aoraki/Mount Cook, on the South Island's west coast, is not only New Zealand's highest mountain but also one of the best stargazing spots on Earth.
Designated in 2012, the Aoraki Mackenzie International Dark Sky Reserve is one of only two of its kind in the southern hemisphere (South Australia's Murray River Region was designated an International Dark Sky Reserve in 2019).
Experiencing the dazzling sky here – almost entirely free of light pollution – via astro operators like Big Sky Stargazing and Dark Sky Project.
Aoraki/Mount Cook National Park is also home to New Zealand's most spectacular and accessible glaciers: Fox and Franz Josef. Take a heli hike tour – which incorporates ice trekking – for the ultimate experience.
5. Abel Tasman National Park
Small but perfectly formed, Abel Tasman National Park is where to head for a taste of Kiwi beach life.
You can cruise, sail or sea kayak through this coastal paradise but equally you can simply relax on its golden sandy beaches and dabble in a gentle spot of swimming and snorkelling.
Don't miss crescent-shaped Kaiteriteri; spectacular Awaroa with its maze of golden sand banks; the tranquil oasis of Onetahuti; the wide sweep of Totaranui; or the small horse-shoe shaped bay of Te Puketea, with its ancient Maori pa (fort) site.
6. Get away from it all in Marlborough Sounds
Located at the top of the South Island, Marlborough Sounds is a collection of ancient sunken river valleys filled with the waters of the Pacific Ocean that comprise 1500 kilometres of New Zealand's coastline.
Best accessed from the seaside town of Picton, its winding waterways, sheltered inlets and sandy bays make for excellent boating, fishing, diving and wildlife spotting (including dolphins).
It's also an ideal place to get away from it all: embark on the iconic multi-day Queen Charlotte Track, which traverses coastal forest, historic bays and ridges with mind-boggling views, with welcome resorts and lodges along the way.
Or fast-track the downtime by whisking yourself away in a water taxi to one of these remote retreats, such as the five-star Bay of Many Coves or characterful Lochmara Lodge.
7. Have an animal encounter on the east coast
The east coast eco-marine town of Kaikoura, 2.5 hours' drive north of Christchurch, is home to some of the country's top wildlife experiences.
A Maori-owned operator committed to sustainable tourism, Whale Watch offers the chance to see giant sperm whales all year round.
Humpback, pilot, blue and southern right whales might also make an appearance depending on the season, and you might spot pods of leaping dusky dolphins, the wandering albatross or New Zealand fur seals, too.
For a guaranteed dalliance with a fur seal, or kekeno in Maori, look up Seal Swim Kaikoura or Kaikoura Kayaks, or drive to the Peninsula Seal Colony to see them basking on the rocks and frolicking in the surf.
For another set of wildlife encounters in a quirky east coast town, don't miss Oamaru, three hours' drive south of Christchurch.
Come for its blue penguin colony and stay for its Victorian architecture and steampunk museum.
8. Soak in the creativity in Christchurch
A series of tremors in 2010 and 2011, known as the Canterbury earthquakes, devastated the South Island's largest city. In the decade since, Christchurch has undergone a process of rebuilding and reinvention.
The elegance and quintessential Englishness that the city was once most known for is still here: take a punt down the Avon River with a gentleman dressed in Edwardian garb and stroll the Botanic Gardens or elegant quadrangles of the Gothic Revival-style Arts Centre to see for yourself.
But what's most striking today is the grass-roots creativity that has emerged across the city in the form of creative precincts like the Riverside Market, Boxed Quarter and The Colombo, vibrant street art and public sculpture trails.
9. Visit New Zealand's only castle
Situated on the picturesque Otago Peninsula just outside Dunedin (the second-largest city in the South Island), Larnach Castle is New Zealand's only castle.
It was built in 1871 by merchant baron and politician William Larnach and provides an insight into Victorian culture and Dunedin's past – a city founded on Scottish heritage whose name comes from the Scottish Gaelic word for Edinburgh.
It was restored by the Barker family after they purchased it as a family home in 1967, and today you can take history tours, have high tea in the Ballroom Cafe and stay the night in one of its unique accommodation offerings.
10. Go wild on Stewart Island
Stewart Island/Rakiura is a unique Kiwi escape located 30 kilometres south of the South Island (one hour by ferry from Bluff, a fishing port renowned for its oysters).
Its Maori name means 'the land of glowing skies', and – true enough – the Aurora Australis do often appear in these southern skies.
The island is home to New Zealand's newest national park, Rakiura National Park, and 85 per cent lies within its boundaries.
Most travellers come here for birdwatching and hiking: the brown kiwi, or tokoeka, outnumbers humans here, while the three-day Rakiura Track provides a sweeping overview of Stewart Island's wild beauty (a potent mix of dense coastal rainforests, freshwater wetlands, vast sand dunes and granite mountain ranges).
Spend your nights in a backcountry hut managed by the Department of Conservation listening to the call of the ruru (native owl) or check into a bed and breakfast or boutique lodge such as Observation Rock Lodge.
LEAVE YOUR COMMENT