An 8-day road trip through New Zealand's North Island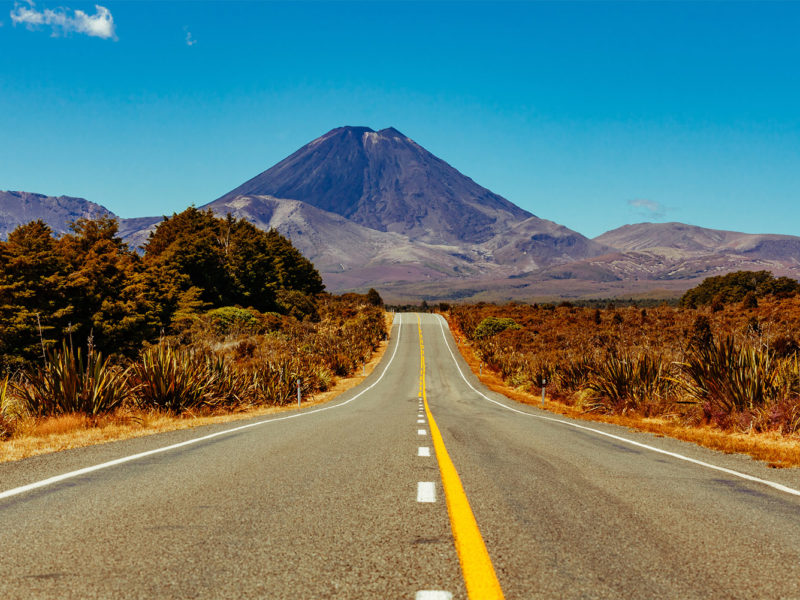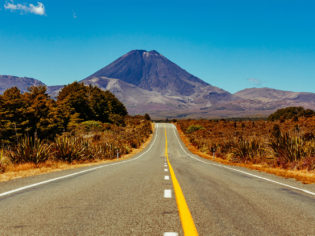 Here's how to do a road trip from Wellington to Auckland in eight days.
Day 1– Wellington
Start the day on Cuba Street at Fidel's Café, a Wellington institution with a menu touting New Zealand fare with a Cuban twist.
Wander down Cuba Street, known for its vintage stores, including Thrift and Hunters and Collectors, where you're likely to pick up a seriously cool '80s sports jacket or a pair of original '90s Doc Martens. At the juncture of Cuba and Ghuznee streets, there's also a collection of local boutiques worth browsing such as fashion store ENA and homewares store and gallery Precinct 35.
For lunch, seafood lovers should try Ortega Fish Shack, which is a very elegant fish shack indeed, or for something more casual Egmont Street Bakery does deliciously fresh sandwiches, salads and the like.
Spend the afternoon walking around the city's waterfront along the pathway that stretches from Wellington Railway Station to Oriental Bay.
Dinner is a short drive south of the city to Hiakai in Mount Cook, an innovative two-hatted fine diner that centres its menu around Maori and Polynesian ingredients. It was named one of Forbes magazine's 10 Coolest Places to Eat in 2020.
Tip
Every Friday and Saturday night, Cuba Street mall is home to Wellington Night Market, a flurry of food trucks and stalls touting exotic bites from around the world.
Must-see
Te Papa Tongarewa is one of the country's best museums. Learn about New Zealand's natural landscapes, history, art and people, and step into the Earthquake House, which simulates the seismic shifts common in this region.
Where to stay
$ Park Hotel Lambton Quay – Simple, modern accommodation in a central location, with a lovely breakfast offering.
$$ QT Wellington – Located near the waterfront, QT is where quirky design meets luxury.
Day 2 – Wellington
This morning take the historic Wellington Cable Car up to Wellington Botanic Garden. Wander through its 25 hectares of vibrant botanic displays and enjoy the view over the city.
The nearby village of Thorndon boasts historic architecture and specialty stores, including some great cafes such as Hillside Kitchen and Cellar, with a focus on plant-based dishes, and Goods Manufactory & Café, a cosy bakery.
For dinner, head to 1154 Pasteria on Cuba Street, for a delicious bowl of made-from-scratch pasta and a glass of local organic wine.
Day 3 – Wellington to Taupo
428 kilometres; 5.5 hours (via Rangipo, without detour to Martinborough)
The drive from Wellington to Taupo should start through the Upper Hutt region along State Highway 2, with a detour to the colonial village of Martinborough, home to some of the country's best pinot noir and scenic rolling countryside. Grab a coffee at In the Neighbourhood before heading back on the road, stopping in at Schoc Chocolates to sample handmade chocolates at nearby Greytown.
Further north at Woodville, choose one of two routes to Taupo: stay on State Highway 2 and journey via the Art Deco town of Napier on the east coast. Or take State Highway 1 through the otherworldly Rangipo Desert, home to three active volcanic mountains and an unexpected and beautiful barren landscape.
State Highway 1 is the shorter route from Wellington to Taupo. If you choose to travel via Napier, consider staying a night to explore this beautiful heritage town and surrounding wine region.
Arrive in Taupo and enjoy a wander around the town, which is home to many boutique stores, restaurants and bars. It also has a collection of vibrant street art hidden in its laneways. Enjoy dinner tonight at Vine Eatery and Bar, which has a New Zealand and Mediterranean inspired menu in an elegant setting.
Tip
Desert Road is closed for periods over winter due to snow and ice; check the New Zealand Transport Agency website for updates.
Where to stay
$$ Millennium Hotel and Resort Manuels Taupo – Set right on the lake and close to town, this cosy resort has spacious rooms and lovely views.
$$$$ Huka Lodge – One of New Zealand's premier lodges, Huka Lodge is the epitome of luxury and located north of town, near Huka Falls.
Day 4 – Taupo
Board a cruise this morning with Huka Falls River Cruise to get up close to the thundering cascades of breathtaking Huka Falls. Afterwards, head to the lookout to the see falls from a different perspective, then drop into the nearby Huka Honey Hive to sample and purchase New Zealand honey products.
Next, stop by Craters of the Moon, where you can take a 60-minute stroll on a boardwalk to witness a unique landscape of bubbling and steaming craters created by geothermal activity underground.
For a casual and hearty dinner tonight, head to Southern Meat Kitchen, which does a mean American barbecue. Then take a nighttime dip in one of Taupo's naturally fed mineral hot pools at Taupo DeBretts Spa Resort (open 8:30am – 9:30pm).
Must-see
Take a scenic cruise on Lake Taupo itself, to see the picturesque bays and surrounding mountains, as well as the Mine Bay Maori Rock Carvings.
Tip
For a more natural hot pool environment, check out Otumuheke Stream, located near Huka Falls.
Day 5 – Taupo to Mount Maunganui via Rotarua
155 kilometres; two hours
Have breaky at The Storehouse, a little gem hidden in an industrial area. It serves great coffee and has a play area for kids to keep them occupied.
Jump back in the car and head to Rotarua, around an hour north of Taupo. Little more than halfway, you'll come across Wai-O-Tapu, one of the most extensive geothermal systems in the country, and a colourful landscape of geysers, mud pools and unique volcanic terrain. Beware: it can be a little unpleasant on the nose.
Stop for lunch in Rotarua. Capers Epicurean is a great option to grab a takeaway sandwich or salad to be enjoyed in the sunshine by the lake. Then continue north to Mount Maunganui, affectionately referred to as The Mount.
This afternoon take a stroll along the white sands of Main Beach to Leisure Island, which is accessed by a walking track and features a blowhole at its far end.
The Mount has a plethora of dining options for dinner: try Rice Rice Baby for cool and casual Vietnamese or gastropub The Freeport for its simply delicious traditional Napolese pizza.
Must-see
Be sure to stop at the simply beautiful Redwoods Forest, which is also home to the 700-metre-long suspended treewalk, and only five minutes' drive from Rotarua.
Where to stay
$$ Belle Mer Beachfront Apartments – Located directly across from the beach, these one- to three-bedroom apartments are modern and self-contained.
$$$ Airbnb – The Mount is not a place of hotels and resorts, so check out Airbnb options including this four-bedroom beachside house.
Day 6 – Mt Maunganui
Start your day at The General, a popular award-winning café, then lace up your sneakers for a walk around (or up) the town's namesake monolith. The base walk is a 3.4-kilometre track that is easy to do with kids and prams, starting on the beach side and finishing at Pilot Bay. If you're feeling energetic, the 232-metre summit takes around 40 minutes to climb but has panoramic views of the Pacific Ocean from the top.
While away the afternoon at one of the area's beautiful beaches or spend it in town, browsing the boutique stores, such as premium design and lifestyle stores Paper Planes and Neche and bohemian fashion store Neon Gypsy.
Beer enthusiasts should head to Mount Brewing Co for dinner: The Mount's very own brewery has 15 taps of craft beers and ciders brewed on-site, as well as a dumpling house and eatery.
Day 7 – Mt Maunganui to Auckland
219 kilometres; three hours
Grab a quick bite and a coffee at Elspeth Bakery before hitting the road early this morning, heading to the cosmopolitan city of Auckland.
On arrival, enjoy an easy lunch at Jewish New York-style Federal Delicatessen, located on Federal Street, a bustling foodie haven. Sky Tower looms overhead – you can head to the top for a great city view, walk around its edge on a 192-metre-high platform or even take the leap over the city with SkyJump.
This afternoon, wander down to Viaduct Harbour and stroll around the marina. Stop by ever-so-sophisticated Giraffe for dinner, helmed by local celebrity chef Simon Gault.
Rooftop bars are a thing in this city: check out The Glass Goose, Seven and The Parasol & Swing to enjoy a cocktail or two above the streets.
Must-see
If you're in Auckland on a weekend during summer, Silo Park, to the west of Viaduct Harbour becomes host to food trucks, outdoor cinema screenings, fun games for kids and more.
Tip
If you spend a few nights in Auckland, be sure to make the trip to pretty Matakana, just 45 minutes' drive north. It's home to wineries, a weekend farmers' market where you can pick up artisanal cheese, preserves and the like, and a quaint village.
Where to stay
$$ SkyCity Grand Hotel – Located in the heart of the city, next to SkyCity Casino, this modern hotel has a number of excellent dining options and a day spa.
$$$ SO/Auckland – Just minutes from Viaduct Harbour, this luxe hotel has a quirky design, harbour views and a great rooftop bar.
LEAVE YOUR COMMENT