The trans-Tasman travel bubble – what you need to know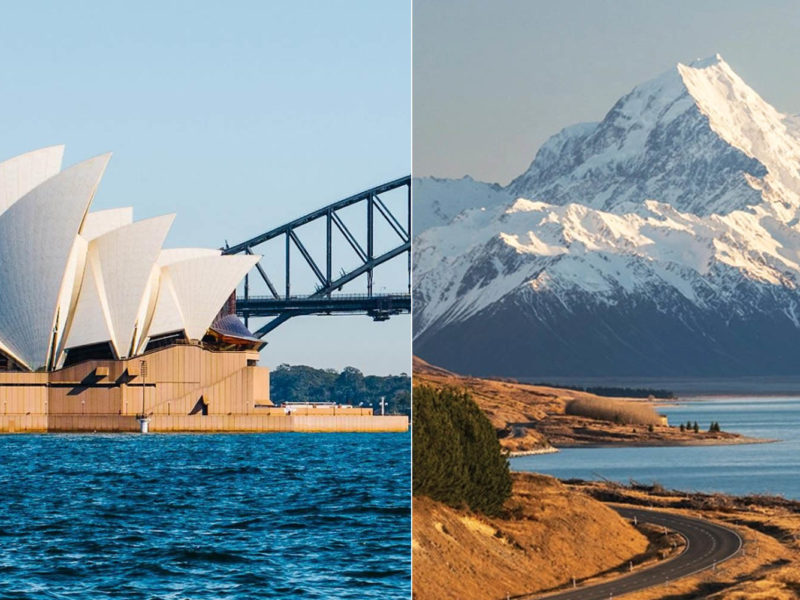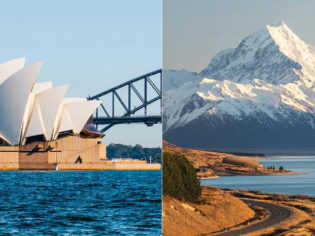 Travel between New Zealand and Australia is open and we've got the answers to all your most pressing questions before you cross the Tasman.
UPDATE: As of the 22nd of July, 2021 the travel bubble has been suspended for eight weeks.
Addressing press on April 12, New Zealand Prime Minister Jacinda Ardern revealed plans for the trans-Tasman travel bubble, which will allow two-way quarantine-free flights between the two countries.
Prime Minister Scott Morrison welcomed the announcement.
"After spending all that time in New Zealand, for the past year, I'm sure that so many will be keen to get on that plane and come across," he said. "It is a win-win outcome for the trans-Tasman travel to be open — both countries benefit from that occurring."
If you're left wondering exactly what that means for you – the traveller – keep reading for everything you need to know about the trans-Tasman travel bubble.
Have there been any trans-Tasman bubble updates?
Due to a string of new cases of COVID-19 around the country, the trans-Tasman bubble has been paused in Western Australia, Northern Territory, Queensland and New South Wales as of July 7.
New Zealand resumed quarantine-free travel with four Australian states – Victoria, South Australia, the Australian Capital Territory and Tasmania – on Sunday night, requiring travellers who had been in the country for more than 72 hours to return a negative test for Covid-19 before flying out.
Going forward, everyone who has been in Australia for more than 72 hours will need a negative pre-departure test result to enter New Zealand.
What is the trans-Tasman travel bubble?
A travel bubble is an exclusive agreement between neighbouring countries that allows for travel across each other's borders. Countries around the world have been closing their borders since March 2020, in hope that this would contain the spread of COVID-19.
Countries with success in containing the pandemic (like Australia and New Zealand) have been in talks to re-establish connections between their nations, opening borders to allow people to travel freely within the zones and requiring no mandatory quarantine on arrival.
When can I travel to New Zealand?
Two-way quarantine-free flights are available to book now for travel from April 19 2021. Two-way quarantine-free travel allows airlines and airports to operate 'quarantine-free' flights – also known as 'Green' flights – between New Zealand and approved safe travel zone destinations without the requirement of quarantine on arrival as set by local governments. These services are subject to Government and Regulatory Approval.
Outbreaks may cause either Australia or New Zealand's borders to close, so travellers should prepare a back-up plan should restrictions arise.
What are the conditions for the new trans-Tasman travel bubble?
Only those who are currently residing in either New Zealand or Australia will be eligible for quarantine-free travel. However, Smart Traveller says as long as you've been in either country for 14 days before departure and meet the usual (pre-pandemic) border entry requirements, you're eligible to travel.
For Aussies keen to visit New Zealand, you must not have had a positive COVID-19 test within the previous 14 days or be currently awaiting a COVID-19 test result.
Masks will be required on the flight, and travellers must download the NZ Covid Tracer app upon landing.
Passengers will arrive on 'green zone' flights, which will separate them from anyone else in the airport arriving from elsewhere overseas.
Where can I travel to?
The bubble means Australians can fly to anywhere in New Zealand, as long as there are flights operating.
According to Tourism New Zealand, Australian tourism contributes $NZ2.7 billion ($2.5 billion) to the economy in a normal period. This year, if everything bubble-wise goes smoothly, they're hoping it'll be around $NZ1 billion.
If you need some inspiration on where to go and how to fill your itinerary, head to our New Zealand hub here.
What happens if there is a COVID case?
New Zealand Prime Minister Jacinda Ardern was adamant that she wouldn't open up a trans-Tasman bubble until she was sure she could keep her citizens safe.
As a result, three responses have been outlined if a case was detected in Australia. They are to continue, pause or suspend the bubble.
She said that if there was a case linked to a quarantine or border worker who was contained quickly, it would be likely that the bubble would "continue".
A "pause" may occur if there was a localised outbreak that resulted in a short lockdown – similar to the ones recently experienced in Brisbane.
If cases continue, and a number of community transmissions occur without an unknown source, the New Zealand government will "suspend" the bubble temporarily.
Ms Ardern said once the bubble was restarted travellers coming to NZ from an outbreak or previous outbreak area may be asked to do one of these things, "depending on the risk":
1. Monitor symptoms
2. Take a test before they leave
3. Isolate on arrival
4. Go into managed isolation for 14 days, but only in "some situations"
If a flight back from Australia did need to go into managed isolation, the people on board wouldn't be charged.
The NZ approach will mirror Australia's, which has seen the bubble paused temporarily during outbreaks in Auckland, and people sent into quarantine. Once things are under control it's been reopened, people are allowed to leave quarantine and it resumes as normal.
Scott Morrison said he hoped the states and territories would take a "proportionate" response to COVID-19 outbreaks in New Zealand, allowing the bubble to prosper.
"We all understand, whether it's Prime Minister Ardern or myself, that we're still not living in a COVID-free environment despite the success of both countries.
"From time to time, the steps might have to be taken to protect both countries if there is a sizeable outbreak.
"I think that's just assumed."
How are the airlines taking precautions?
Following the announcement of the trans-Tasman bubble, major airlines like Qantas, and national carrier Air New Zealand, are offering increased flights between the two countries.
The International Air Transport Association (IATA) has specifically written up guidelines for companies to follow, both in the airport and onboard.
Read about them here.
LEAVE YOUR COMMENT