The best way to see New Zealand? Motorhome of course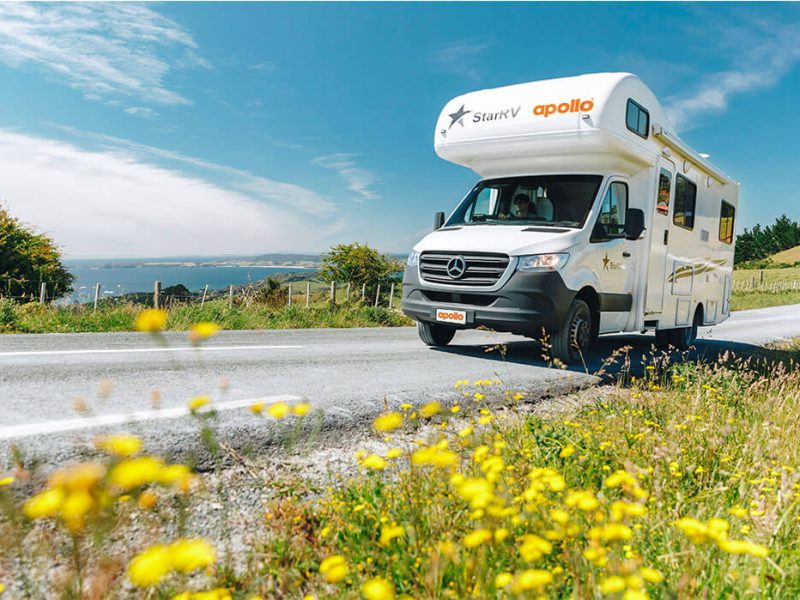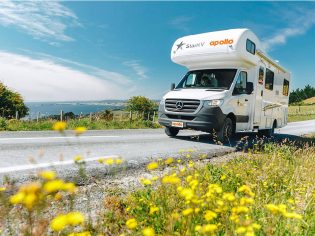 |

This Article was created in partnership with Apollo RV Holidays

|
It's long been one of the world's most desired tourist destinations. Peter Jackson's
The Lord Of The Rings
trilogy (and
The Hobbit
) helped turn New Zealand into the place
everyone
across the world wanted to go. So aren't
we
the luckiest people of all to be oh so close?
The best way to see everything New Zealand has to offer is on a road trip – it's just 1600 kilometres long, and 450 kilometres wide (at its widest point) so it's even possible to see the whole country on one road trip.
And the best road trip in New Zealand is one where you bring your accommodation with you. Don't feel held back on your holiday with set schedules; book an Apollo motorhome and go wherever the road takes you. Freedom? It's as Easy As Apollo – nowhere on Earth offers such an ideal motorhome holiday option.
New Zealand freedom Apollo-style
For a small country, New Zealand sure has a lot of open spaces. Its South Island is cut down the middle by its rugged, snowy Southern Alps; while its North Island is home to dormant volcanoes, bubbling hot springs and expansive tracts of forest.
There's a lot of space to explore – and not always a lot of accommodation at towns along the way. So the best way to ensure you see the best of what New Zealand has to offer is to take your hotel on the road with you.
Forget trying to plan your way around this stunning wilderness on a booked road trip, you can travel at your own pace with an Apollo motorhome and can decide where you want to go… spontaneously.
Take your own route: if you see somewhere that looks good along the way, with an Apollo motorhome… just go there. You can stay at campgrounds, caravan parks, free stays and national parks across the country; it's just a matter of deciding where you want to go, as you go. It can be tricky planning a holiday.
How can you know if you'll like a place until you're actually in it? (Online pre-trip research is never the same as being there.) Travelling through New Zealand in an Apollo motorhome allows you to be completely footloose and fancy-free – it's your holiday, who needs to be stuck to plans you mightn't want to keep?
Hassle free
You'll never have to wait in a check-in queue at a hotel. Pick up your 6 berth Apollo motorhome with kitchen, shower and toilet or a compact 2 berth campervan at the airport and your hotel's with you.
Plus, you won't have to worry about packing and unpacking or leaving important items behind in hotel rooms (those odd socks that go missing under the bed) – because you've got the same bed to find them under tomorrow. You'll also never have to guess where the light switches are, or how to make the TV work.
When it's time to move on, just secure your load and off you go.
You can pick up your Apollo motorhome from Auckland or Christchurch and choose either of these branches to return it to.
What's more, you won't need an International Driving Permit: your Australian licence is fine in New Zealand. You might like to pick your motorhome up in Auckland and drop it off in Christchurch (or vice versa) meaning you'll get to see as much of New Zealand without having to circle back to your arrival point.
Download the ApolloConnect App to watch the safe driving video and learn how to use your vehicle – after doing your check-in online – then pick up the keys and off you go. It's that easy.
You can also use the App to search for campgrounds along the way, look for local points of interest in the area you're travelling to and discover discounts on attractions and experiences. And forget about checking oil, water or tyres; the maintenance on your motorhome has all been done for you.
Value
What could be better value than completely removing the cost of hotel rooms from your New Zealand holiday?
For most travellers, hotel room rates make up a big part of the cost of their holiday. But by booking an Apollo motorhome you're combining your accommodation with your transport and saving yourself a fortune.
And there's plenty of space for everyone and everything in your motorhome – Apollo have motorhome options for two to six people, all filled with the comforts of home – with spacious living areas, fully equipped kitchens and shower and toilet facilities.
New Zealand has caravan and campgrounds in every tourist centre and town – many of them are located at the best vantage points in town offering million-dollar views for a very budget-friendly price. Along with Australia, it has one of the most extensive caravan and campground networks in the world.
For less than $100 a night, you'll often enjoy better views than what the five-star hotel offers for $1000.
While Apollo recommend staying in a caravan park to charge your battery by connecting to electricity every two nights (so you can use all the vehicle features) there's many free stay areas and national park campgrounds throughout New Zealand.
You're permitted to stay overnight in most areas of New Zealand, with local authorities maintaining free stay areas in all regions. The Department of Conservation manage more than 200 areas throughout New Zealand, including national parks, where you can get in touch with nature and escape crowds while staying at an extremely affordable overnight rate.
The best New Zealand holiday is in an Apollo motorhome, see
apollocamper.co.nz
LEAVE YOUR COMMENT