How to plan an overseas honeymoon in 2022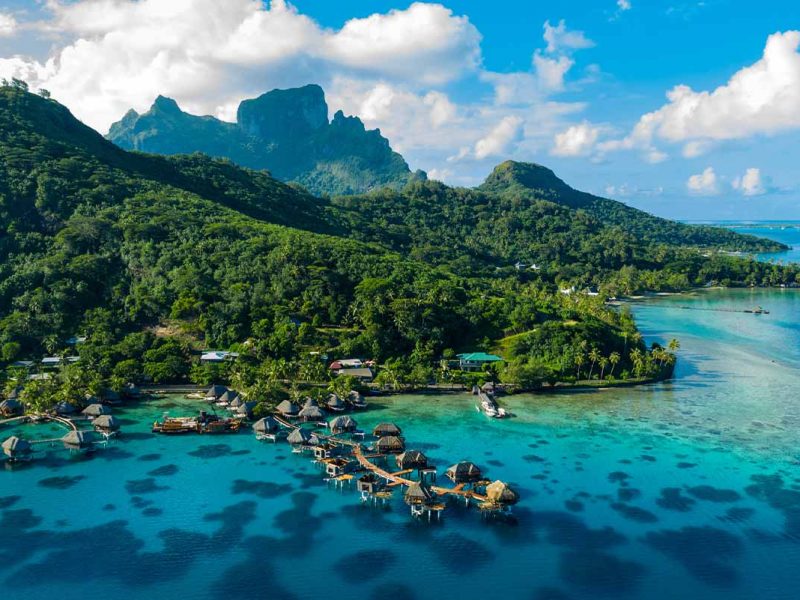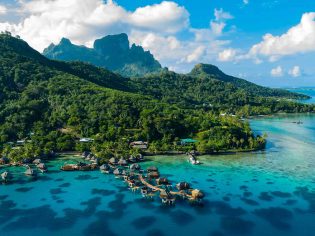 You've scrimped and saved, planned and delayed. Now your Big Day is fast approaching, with the long-awaited honeymoon just around the corner. But in a world of travel bans, border testing, and flight delays, how best to make sure your blissful love-fest away is more 'for better' than 'for worse'?
We spoke with Ann-Catherine Jones, Virtuoso Travel Advisor at Travel Associates, and all-around travel expert, on what loved-up travellers need to know when planning that perfect overseas honeymoon in 2022.
See also: 21 things Australians are going to have to rethink about international travel
What are the best, easy overseas honeymoon destinations for Australians?
If you're after something easy, there are overseas destinations that are ideal for a romantic, low-stress honeymoon. This should be factored in when you're making the initial plans of where to go. For example, a destination like Hawaii will be easier to get to than others because of its border, and the fact it only takes one flight to get there.
"America has been open to us, the entire pandemic," Ann-Catherine explains. "It was Australia that had the restrictions, not the United States."
Plus, one flight means less potential complication in terms of additional testing or quarantine requirements that may come with adding another country to the itinerary.
If honeymooners are more concerned about their chances of catching COVID-19 than they are about a tidal wave of paperwork, Ann-Catherine's top pick is the always stunning, incredibly remote, Maldives.
"Internationally, we've had a lot of people testing positive for COVID," she says. "But the Maldives still have very little [cases], because their arrivals are very carefully monitored. It's such a unique and isolated, beautiful destination that they can actually restrict the numbers easily."
See also: Affordable & romantic places to stay in the Maldives
What insurance do I need to go overseas for my honeymoon?
While most travel insurance companies will now cover you if you get sick with COVID-19, or if you have to isolate yourself, there are some limitations to be aware of when it comes to getting insurance on holiday, advises Ann-Catherine.
"No insurable that I'm aware of will cover for border closures," she warns. "And if [honeymooners] are going on a cruise, they need to look for a specific insurance that covers cruises, as quite a lot in Australia don't."
As before COVID-19, couples should shop around for the insurance that suits the kind of honeymoon they're dreaming of.
Can I get a honeymoons refund? What about if there are cancellations?
While in places like the EU, authorities have reinforced airline passengers rights to a refund as opposed to a voucher or rebooking, a monetary refund can be hard to come by when travelling these days. Instead, Ann-Catherine says there are other methods to safeguard your travel investment.
"Refunds are almost a thing of the past," she says. "You either book a flexible rate that can be cancelled, or most suppliers will put things into credit. [But as] COVID is a known thing, there is a level of responsibility that needs to be borne by the traveller."
Ann-Catherine says she always asks the traveller what their backup plan is if they can't make those dates, for whatever reason.
'[For example], I've had some ladies going on a ski trip. We've cancelled that, and now they're going to go in September next year to Europe instead."
Also, instead of opting for the cheapest deal that you can find, she recommends that honeymooners opt for the slightly higher rate for things like accommodation, with the option of booking flexible dates.
"Don't get me wrong, we all want a deal!" Ann-Catherine says. "But we also want these companies to make it through."
What about the COVID-19 requirements on a honeymoon?
Whenever she receives a proposed travel itinerary, Ann-Catherine does one thing first to visualise the different travel requirements:
"I sit there and think: how would I get back from a destination should I contract COVID-19?" she explains, "We've got some really great tech around to be able to put an itinerary in, and work out what the [requirement] touchpoints are."
Ann-Catherine says that in general, destinations are loosening up when it comes to COVID-19 requirements, but there are still some "exceptionally strict" destinations to be aware of, like Singapore and Japan. Are you one of those that adored adding in a Singapore stopover back in 2019? It won't be as easy as you remembered.
"Stopovers are just overcomplicating everything," says Ann-Catherine. "I've had clients do Singapore-Maldives-Singapore-Sydney. And it was very tricky, logistically, with all of the extra bits with Singapore. So anywhere with a direct flight or straight-through connection on the same airline is probably where you need to go at the moment."
When it comes to navigating all these requirements, the key is to be prepared. And sadly, Ann-Catherine says, travel agents can't do every single bit of paperwork needed to make this happen – particularly when travellers are returning.
"Every [bit of paperwork is due] within 72 hours, within 24 hours, within 48 hours. So travellers do need to calendar in their phones or diaries on the way back when they need to do all of this return paperwork."
Travel agents – do I need one for my honeymoon?
During the pandemic, the argument for choosing a real-life human expert over a brief dalliance with Mr Google when planning an overseas trip became even stronger.
"Even before the pandemic, the role of a really professional, high touch travel advisor was becoming more normal," says Ann-Catherine. "Obviously, with the pandemic, we've got a unique skill set in being able to help people navigate it."
The major advantage of the travel agent when booking your honeymoon is the level of in the moment information the agent has access to, meaning they can react quickly if rules change, lessening the chances of you getting stuck in a never-ending trip.
"We get daily updates," explains Ann-Catherine. "If something happens when travellers are halfway through a trip, I've actually emailed them. [For example] with Emirates two weeks ago you did not need a PCR test to come back into Australia. But now you do; to transit Dubai, because of the Omicron outbreak. We got in touch with every single one of our Emirates travellers, just to let them know that they would now need to get a PCR test."
And of course, there are still those magical touches that only a travel agent can pull off for starry-eyed couples, courtesy of their direct relationships with hotels.
"If honeymooners are booking with a multinational website, they might get a $30 discount," she says. "But that's only $30 less in value. Whereas if I book a top hotel for you, I can get breakfast included, early check-in, late checkout, maybe an upgrade. We offer value in a very different way."
Top honeymoon locations for Australians in 2022
Linger longer in French Polynesia
Remote islands and atolls, lined with stunning beaches, lapping turquoise waters and lush jungle fringes, await you and your boo in French Polynesia. Famous for its fusion of European and Islander cultures, Bora Bora and Tahiti remain firm favourites among travellers.
"The last time I went there, I actually went to a tiny atoll called Rangiroa," says Ann-Catherine. "So, not just about [experiencing] the big resorts, but getting back to the locals and learning about how they do their tattooing. Going fishing and staying in a little French pensione on Rangiroa would add to that destination so beautifully."
Where to book?
Always, Italy
Spending long summer days clambering through ancient ruins and traversing tiny winding medieval streets, submerging yourself in the sparkling Mediterranean Sea, and winding down with an aperitif. A trip to Italy is always a good idea. And when the oxytocin is surging? Doubly so.
"Everyone loves Italy, but in Rome especially, we can create a phenomenal honeymoon. There are beautiful boutique villa properties, and unique places to stay," says Ann-Catherine. "It's such a romantic place, but you can add on Florence or the Amalfi Coast, or both. And then you have the perfect honeymoon."
Where to book?
LEAVE YOUR COMMENT