5 ways to experience mindful travelling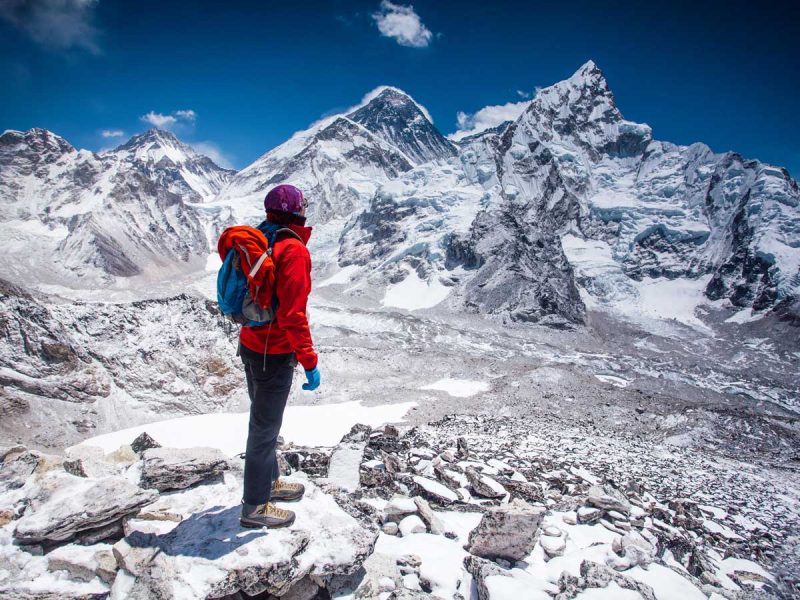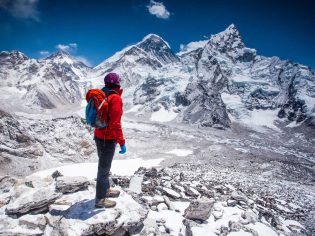 Author and travel writer Nina Karnikowski reflects on our pre-pandemic travel style to chart a course for a more green and gratifying future by asking questions, searching out alternatives and being a more mindful traveller and world citizen.
In February, I travelled on a plane for the first time in two-and-a-half years. That might not seem like much, given the restrictions imposed by the pandemic, except that in 2018 it seemed entirely normal for me to fly to Antarctica, Botswana, East Timor, Ethiopia, Georgia, Hong Kong, India, Japan, Kenya, Spain, Vietnam and back in a single year.
Sure, the job of a travel writer demands a high volume of travel, but just thinking of all that fossil fuel burning now makes my stomach churn. I received some rather shrill ecological wake-up calls during the pandemic; I think most of us did.
When I read those reports, during the first stretch of lockdowns, about the Indian communities who could see the Himalayas better than they had for 30 years due to dramatic drops in air pollution; and the American studies about the songs of sparrows recovering the acoustic quality they had decades ago, I recognised them as glimpses of a cleaner, greener world.
A world the pandemic proved we could create, if only we could slow our consumption of everything – including travel, which pre-COVID-19 accounted for an estimated eight per cent of the world's carbon emissions – right down.
At the same time, the 'great pause' delivered by COVID-19 helped me realise how vital mindful travelling is, both for travellers and destinations. I felt the fernweh, that desperate longing for faraway places, and read countless stories about how countries and their economies were suffering without the presence of travellers.
Tourism accounts for one in 10 jobs worldwide while also teaching tolerance and expanding our world views. When done consciously, travel can also empower communities, support small social enterprises and protect the wildest parts of our planet.
Now that we are packing our bags and travelling internationally again, I am hoping more of us (myself included) will take this more mindful approach, fostering a 'less but better' attitude to travel, saving those long-haul flights for when we can spend more time in destinations and doing everything we can to make the carbon burn worth it.
This includes avoiding overtourism and country counting, spending our powerful travel dollars to uplift communities and wild spaces, and giving more of our time and effort to developing deeper connections with the places we visit.
Below are some action-oriented ideas for how to do all that and more, ensuring our travels are as nourishing for the places we visit as they are for ourselves.
1. Plan slower adventures
In our warp-speed modern world, when budget air travel has caused a rise in more frequent, shorter breaks, our travels often have superficial impacts, both in terms of our understanding of the places we visit and the economic benefit to them.
An antidote to this is to travel at a slower pace. You might want to consider:
Taking fewer but longer trips, storing up your holidays or waiting for a sabbatical or long-service leave so you can linger and forge real bonds with people you meet.

Picking one place, not four, to visit in a week.

Off-season travel, when there are fewer crowds and things are often cheaper in the air and on the ground.

Savour the journey – those long train, van or boat trips – as much as the destination.

Organise less and keep yourself open to discovery.
2. Consider under-visited locations
Think beyond the places on everyone's Instagram feed and instead seek out more off-track spots and destinations that would gain real benefit from your tourist dollar. If you need help, engage companies that specialise in helping you fall on the tourist map.
Searching 'alternatives to [insert popular destination here]' is a good start, as is contacting locals that you follow on social media to ask about their favourite hidden places.
These destinations will probably be easier and cheaper to book, you won't have to plan around the tourist rush, and locals will be happier to engage with you.
3. Work out your 'why'
Clarifying the purpose behind each journey will make them more satisfying, meaningful and memorable. It can also help us be a force for good in the places we visit.
Ask yourself:
How can my trip, from an off-grid multi-day hike to a conservation-focused road trip, teach me to be more sustainable at home?
Where can I go to indulge my obsessions and interests or learn a new skill, whether it be learning language skills, indulging a love of history or art, or learning a new skill like surfing or sewing?
Do I want to give back by volunteering or donating my time to locally-owned businesses and conservation projects?
4. Fly smarter
Pre-COVID-19, air travel was generating around 2.5 per cent of global carbon emissions. If we return to business as usual (the busy northern hemisphere summer season seems to indicate that we will), passenger numbers are set to double in 20 years, with the International Air Transport Association predicting 8.2 billion passengers annually by 2037.
We have to start minimising, taking fewer but longer trips and questioning whether a series of Zoom meetings could substitute for the two-day business trip. Buying carbon offsets another option, via sites such as Native or Climate Impact.
Some extra things to try:
Book the most direct route, since taking off and landing burns the most fuel.
Prioritise airlines that use biofuels or more fuel-efficient, newer planes.
Combine work trips with holidays so your fight does double duty.
If you fly regularly aim to adjust emissions in other areas; I fly a lot for work so I commit to giving up beef and not buying new clothes for six months of each year.
5. Lodge mindfully
To make sure your hard-earned travel dollars are being funnelled back into the country you're visiting, choose hotels (and eateries) that are locally owned. The smaller the hotel, the more likely it is to be owned and stayed by locals.
These also usually produce much less rubbish and pollution than big resorts and give you the chance to experience the destination in a more authentic way.
Look for hotels that:
Use renewable energies, such as solar and wind power.
Find innovative ways to reduce energy demands.
Participate in sustainable community projects.
Are sensitive to an area's environmental needs (like minimising water use in drought-prone areas) and sit comfortably within the community.
Are built with sustainable or salvaged materials.
Are accessible for everyone, regardless of their age or physical challenges; inclusivity should be rewarded.
Ultimately, being a more mindful traveller comes down to taking responsibility for our actions, no matter how small, and thinking like a citizen rather than a consumer. And, perhaps most importantly, thinking of the generations ahead who will inherit the world we are creating.
LEAVE YOUR COMMENT