9 alluring places to travel based on famous paintings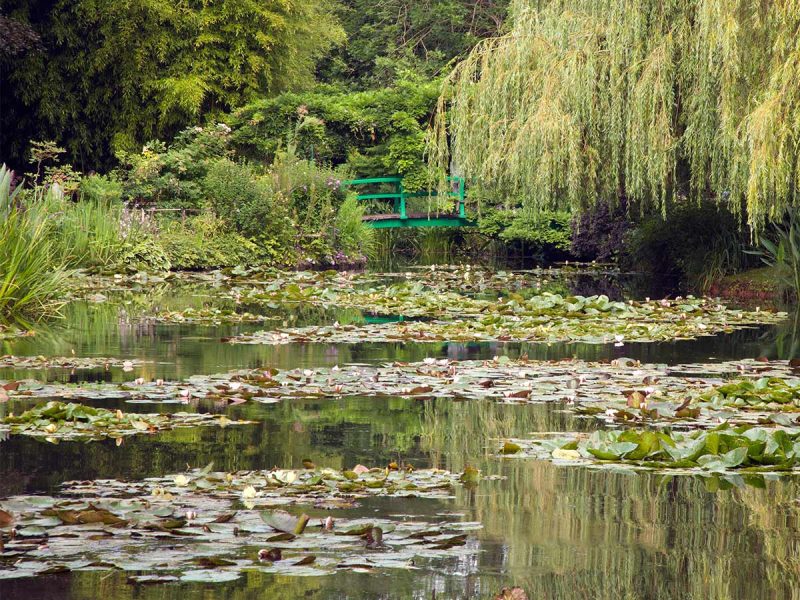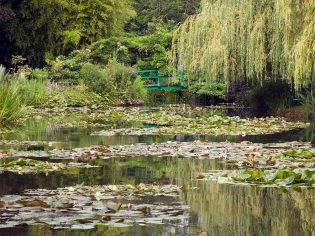 There are many reasons to pick a holiday destination: culture, movie sets and family ties. But what about the landscapes and destinations that are so breathtaking they inspired some of history's most famous works of art?
From Vincent Van Gogh to Norman Rockwell – famous artists around the globe couldn't help but be inspired by nature to create some of their most revered works. Why not pay a visit to these famous painting locations to find your own inspiration?
1. Water Lilies by Claude Monet
Claude Monet's famous and rather dreamy Water Lilies was the artwork that inspired this list, and it was a recreation of his very real garden at his home in Giverny, France (yes, I'm jealous too).
Located along the Seine River, you can still stroll through the gardens of Monet's home today. Expand your cultural experience in Giverny by joining one of many art tours, stopping in at the Musée des impressionnismes, walking or cycling through the quaint streets or jumping in a hot air balloon to see it all from above.
2. Cafe Terrace at Night by Vincent Van Gogh
This 1888 oil painting by famous Dutch artist Vincent van Gogh actually depicts the very real Le Café La Nuit in Arles, France. In fact, that cafe leaned so hard into its reputation that it is now called Cafe van Gogh.
You can laze away an afternoon at this bright yellow cafe even today with coffee, or a delicious meal matched with wine.
3. Stockbridge Main Street at Christmas by Norman Rockwell
Painting the quintessential white Christmas scene is 20th-century artist Norman Rockwell's Stockbridge Main Street at Christmas. It's not hard to deduce that the inspiration for this artwork was, in fact, Main Street in Stockbridge, Massachusetts.
You can visit not only this street but also the Normal Rockwell Museum in Stockbridge today. You'll find plenty of nearby places to find further inspiration, including rotating outdoor sculpture exhibitions and the native plants of Berkshire Botanical Garden.
4. At the Moulin Rouge by Henri de Toulouse-Lautrec
While the crowds found inside the famous Moulin Rouge may look quite a bit different since Henri de Toulouse-Lautrec memorialised them in his painting of the Parisian icon sometime between 1892 and 1895, it's still an incredible sight.
Get dressed up and take in dinner and a show, from around 133€ ($217), before exploring the rest of what this romantic city has to offer.
5. American Gothic by Grant Wood
If you haven't laid eyes on this iconic painting from 1930, then you've at least seen it goofily referenced in several movies since (Mulan, Rocky Horror Picture Show and more).
While the people featured in the painting were just "the kind of people [he] fancied should live in that house", the house itself was actually inspired by the American Gothic House (also known as the Dibble House, after its builders Catherine and Charles Dibble) in Eldon, Iowa.
Built in 1881-82, it changed hands many times until it was donated to the State Historical Society of Iowa in 1991. Today you can enter the house on the second Saturday of the month from April to October.
6. Au Lapin Agile by Pablo Picasso
It's no secret that Paris inspired more than its fair share of artists, and this famous painting by Picasso depicts a very real and famous cabaret club in the Montmartre area of Paris, Au Lapin Agile.
Today, you can still book into this 19th-century stone house for an entertaining night of classic French songs and poetry in a casual, intimate setting. Prices start at 35€ ($57) and include a glass of champagne.
7. Christina's World by Andrew Wyeth
One of the best-known American paintings of the mid-20th century may have many stories explaining who the woman in the painting is, but what we can be sure about is that the location is Olson House in Cushing, Maine.
While the house is temporarily closed to the public while ongoing restoration work goes on inside the house, tours will return when it's done.
8. Guernica by Pablo Picasso
Considered Picasso's most important political painting with a strong anti-war sentiment, Guernica depicts the aerial bombing of this small northern Spain town during the Spanish Civil War in 1937.
While you can visit the painting in Madrid's Museo Reina Sofía, you can also travel to Guernica (official name Gernika-Lumo) and get a look into the history of the Basque people when you stop at the Biscayan Assembly and the famous Guernica Tree (and oak tree symbolising freedom) – both of which survived the bombing.
9. Starry Night Over the Rhône by Vincent van Gogh
At the time of painting his famous Starry Night Over the Rhône, van Gogh was living in his famous Yellow House on Place Lamartine in Arles, so while the exact location he sat along the bank of the Rhône to create this artwork isn't known, it is believed to be within a couple of blocks of this house.
Today, find your own vantage point to view the night skies with a stroll along the river or join a river cruise.