Exploring the best boutiques, bars and bistros in Paris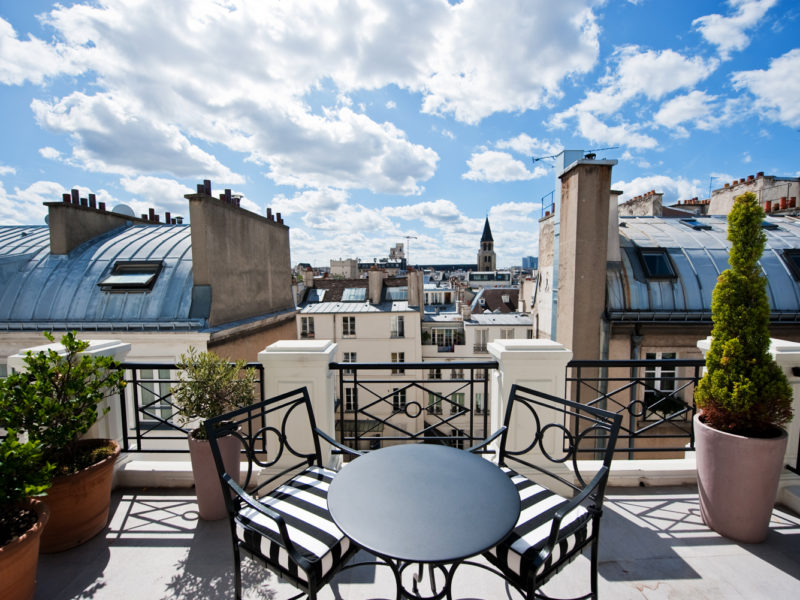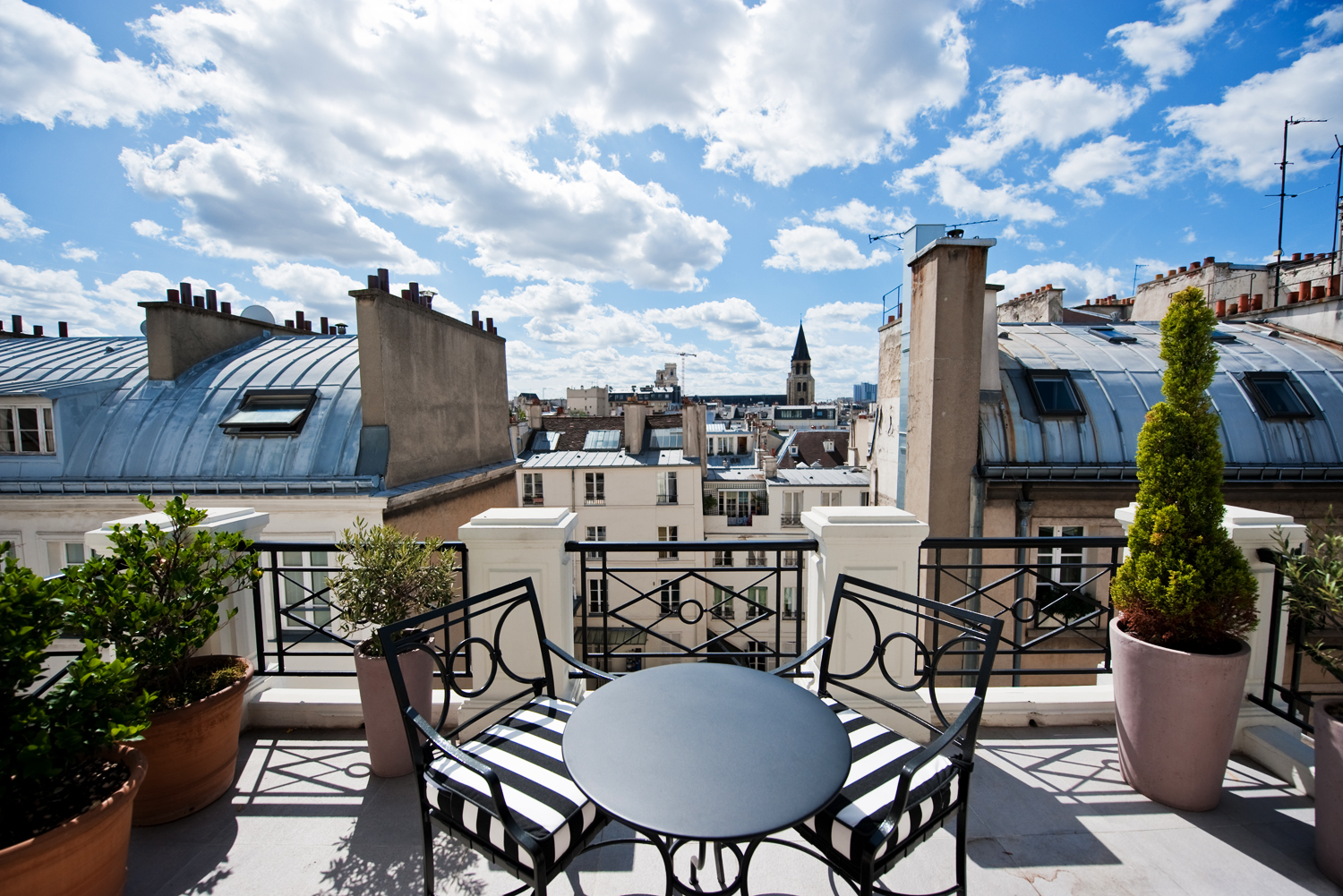 We wander the alluring boulevards of Paris (and plenty of side streets) to find the new and chic boutiques, bars and bistros of the city of love.
A tanned blonde wearing cut-off denim shorts, fluoro trainers, and a Hermès cuff hops off her scooter and saunters into fashion darling Isabel Marant's store in Paris' swanky Saint-Germain area.
Moments later she's off in a puff of smoke with over a thousand euros worth of shopping strapped to the Vespa.
Welcome to Paris today – the land of bobos: bourgeois bohemians predominantly in their twenties who have blurred the class boundaries between the ultra wealthy and working classes.
They're anti-establishment, yet consumerist. The term has been around since 2000, yet the bobos effect of shaking-up the city and relaxing its attitudes have only been felt in the past few years.
Paris is in a state of gentle upheaval. Casual wine bars and eateries have been opening up at a rapid pace. They're intimate, casual, and best of all, affordable.
This new Paris is at its best in neighbourhoods north east of the city centre, the 3rd, 10th and 11th arrondissements.
The sophisticated 6th and 7th arrondissements are following suit with their own versions of new bars and boutiques.
And here's the shocking news: Parisians are now welcoming, if you parle un peu Français.
Location, location
Paris is made up of twenty arrondissements (arr.).
These districts spiral out like a snail clockwise in numerical order north of the Seine River starting with the smallest (1st arr.) in the city centre, where the Louvre museum is located.
Parisian streets are busy and animated, but not filled with a frenetic energy like New York.
The pace is slower, making it a fantastic walking city. As you would expect, the Parisians have a name for it: flânerie – the art of strolling with no particular purpose other than to observe the grandeur and details of the city and its people.
The pedestrians of Paris have a hero, Baron Haussmann. Under Napoleon III's instruction, he redesigned and redrew the entire city in the 1850s, destroying many of its medieval buildings and alleyways. They were replaced by grand wide boulevards and streets lined with sidewalks and intersected by even grander roundabouts.
He created an efficient and easy to navigate city. Fortunately, he also left pockets totally untouched, allowing for hidden surprises.
To tap into both traditional Paris and sample its new trends, divide a stay in half by basing yourself in two distinctly different areas.
Begin in 'classic' Paris: Saint-Germain. It's located predominantly within the 6th arr. on the southern bank of the Seine and sits directly opposite the 1st arr.
Then cross the Seine to the Upper Marais which is just north-east of the 1st arr. It has a more relaxed village-like vibe. From these bases you can navigate both sides of the city mostly on foot.
Change of guard
Saint-Germain, 6th Arrondissement
The chic neighbourhood of Saint-Germain was once the playground of artistic and literary greats and the epicentre of publishing houses and commercial art galleries.
More recently it has morphed into a hotspot for refined interior design and homeware stores, busy cafés and boutiques.
Start the day at Le Bar du Marché (75 rue de Seine, 6th arr.). It's a convivial corner café that provides a perfect view of the rue de Buci food market on the street in front.
Take a seat on the sidewalk and watch the well-heeled locals purchase fresh supplies including seasonal fruits and vegetables and roasted chickens (open Tuesday to Saturday). The handful of market stalls are squeezed in front of patisseries, gourmet food shops and cafés lining the compact street, which are also worth sticking your nose inside for the smells alone.
For a taste of old-world charm head to La Palette for your daily coffee (43 rue de Seine, 6th arr.). The preserved art deco interior is hung with paintings of café scenes and traditionally-clad waiters in long white aprons bustle about. But the terrace is the place to sit, particularly from 5pm onwards.
Paris' under 30 bourgeoisie have claimed the café/bar as their Left Bank (southern side of the Seine) headquarters, congregating there for wine and cigarettes. It's a fun place to watch them in action.
Comb the streets between rue Bonaparte and rue Mazarine all the way down to the Luxembourg Gardens, the city's largest public park. They are filled with shops. Stop in at Cire Trudon, the oldest candle-making company in France and commission your own unique scented candle. Simply select a colour, shape, size and scent. Then purchase some boules puantes (stink bombs): tiny glass vials of subtle fragrance designed to be smashed on terraces to perfume summer evenings (78 rue de Seine, 6th arr.).
The Luxembourg Gardens are less frequented by tourists than the Tuileries Gardens beside the Louvre museum, simply because the park is further from the centre of Paris. If you can, time your visit to the gardens for a warm Saturday afternoon when it's packed. It's a voyeuristic pleasure to observe moneyed Parisians at leisure. Children watch puppet shows and float boats across the main pond while adults play tennis and lounge on aluminium chairs.
Head back north towards the Cathedral of Saint-Sulpice (rue Saint-Sulpice), the city's oldest church. Rue Saint-Suplice is a boutique mecca. You'll find stores for women including Vanessa Bruno for knits and simple satin separates (25 rue Saint-Sulpice); Carven featuring elegant cuts in bright fabrics with directional detailing (34 rue Saint-Sulpice) and IRO for laid-back designs with an undeniable edge of street style (38 rue Saint-Sulpice) to name a few.
Spend the late afternoon at Ladurée, a hidden gem serving teas from all over the world with a tempting selection of patisseries. Monsieur Ladurée was one of the city's first salon de thé proprietors, but most people purchase the treats and leave, not knowing there's an oriental-themed parlour around the corner from the display counter.The frescoed walls feature exotic birds in a forest setting, and the metal columns supporting the glass ceiling resemble palm trees.
Nothing feels more indulgent than sipping from fine china whilst nibbling on a pistachio religieuses – light choux pastry filled with a pillow of creamy pistachio custard and topped with pastel green icing (21 rue Bonaparte, 6th arr.).
Hidden treats
7th Arrondissement
The neighbouring 7th arr. to the west of the 6th arr. is the prestigious 'old money' part of Paris.
It's home to foreign diplomatic embassies, the Eiffel Tower, and two significant museums. The Musée Rodin's enormous garden is its draw card where the artist's iconic bronzes, including The Thinker and The Gates of Hell, are permanent outdoor fixtures (79 rue de Varenne, 7th arr.).
The Musée d'Orsay houses an extensive collection of Impressionist works under the roof of a railway station built in the late 1800s (1 rue de la Légion, 7th arr.).
Just minutes on foot from the Musée d'Orsay is 7L, fashion King Karl Lagerfeld's bookstore selling art, design, fashion and architecture publications beneath his studio. The designer is involved in selecting the titles, so expect lots of new releases as he prides himself on having his finger on the pulse when it comes to trends of any kind (7 rue de Lille, 6th arr.).
The hip new Coutume Café is shaking up the traditionally conservative neighbourhood. A partnership between an Australian and a French-born, Melbourne-trained master roaster, the real coup is that the Parisians are opting for the Aussie-style coffee in their droves. They come for the caffeine and the fresh antipodean fare has won them over. Just a five-minute stroll south of the Musée Rodin, the loft-like space wouldn't be out of place in SoHo with its wooden floor boards and iron columns (47 rue de Babylone, 7th arr.).
Don't miss a visit to Deyrolle. It's more of a whimsical museum masquerading as a store. From the street it looks like a gardening shop selling fancy utensils and plant seeds. Take the stairs to the second level and you are instantly transported to an intimate walk-in cabinet of curiosities taking up several rooms. They display everything from mounted rare butterflies to a menagerie of taxidermied animals including giraffes and zebras (46 rue du Bac, 7th arr.).
Just a few blocks south from Deyrolle is Le Bon Marché, Paris' oldest department store. Few tourists seem to know about it, favouring that other grand dame, Galleries Lafayette on the other side of the Seine.
In comparison, it's a more intimate place to browse designer ready-to-wear treasures and homewares under a stained glass ceiling. For top-notch nibbles, hit the adjoining Grande Épicerie Food Hall (24 rue de Sèvres, 7th arr.).
Whet your palette
Nights in the 6th and 7th Arrondissements
Being based in the 6th and 7th arr. there are some great small and intimate spaces for an evening drink and nibble.
A hot dining city trend is cave à manger – wine shops doubling as restaurants. They're casual, affordable, and always packed. Tucked away in a late 19th-century former dairy shop is La Crèmerie (9 rue des Quatre-Vents, 6th arr.). The ageing marble walls are lined with French wines, champagnes and local delicacies to purchase. To dine in, just pay corkage on the shelf price and nibble on daily specials.
Wine bar La Compagnie des Vins Surnaturels is filled with ikat print armchairs within cosy stone walls. The vibe is lounge-like, and the tempo is upbeat thanks to the tunes playing in the background. Slowly work your way through its vintages sourced from around the world whilst picking at thinly sliced truffle-infused Iberian ham (7 rue Lobineau, 6th arr.).
In the space of just a few years, the secret cocktail bar scene in Paris is flourishing. Taking a leaf out of New York's Lower East Side, these speakeasies and secret nooks are all the rage. Prescription Cocktail Club is a stylish 1930s-style bolt-hole (23 rue Mazarine, 6th arr.). Settle into a plush wingback lounge at the start of the night for a quiet tipple or join the hipsters late on weekends when DJ's spin upstairs. Strictly not in the 6th arr. the Le Ballroom du Beef Club in the 1st arr. is a quick taxi ride away for upmarket cocktails and milieu. It's old-world glamour with metallic wallpaper and velvet lounges. (58 rue Jean-Jacques Rousseau, 1st arr.)
If you're saving pennies for one very special meal in Paris choose the intimate 20-seater Jean-François Piège (79 rue Saint Dominique, 7th arr.). Despite opening two years ago, it remains a local secret. The pastel décor appears inspired by Dean Martin's bachelor pad interpreted by the surrealists. Golden light fixtures resemble entangled spaghetti strands with golf club-like globes attached. It's a whacky, yet refined wonderland.
Choose from one, two or three ingredients, from which your meal is themed around. They could include anything from langoustines (small lobsters) to truffles. It is bookended with an assortment of taste sensations: tiny hors d'oeuvres, desserts and cheeses.
Savour the evening by taking a stroll over the ornate Pont Alexandre III, the grandest of the bridges straddling the Seine with its excessive baroque embellishments glowing under the lamps.
Objects of desire
Upper Marais, 3rd Arrondissement
Across the Seine, to the north-east of the Louvre is the Upper Marais in the 3rd arr.
Here you will find old narrow cobblestone streets, town houses, arcades, and pockets of pretty squares largely untouched by Haussmann. Its streets are packed with the miniscule boutiques of designers on the rise (rue Charlot), old craft workshops and synagogues, plus an abundance of cute cafés. It's bobo-ville central and is conveniently close to Bastille and République – vibrant artistic neighbourhoods on the rise.
The Upper Marais contains many niche and worthwhile museums. Many are located in what were once 17th and 18th century hôtel particuliers (urban mansions) of the French nobility. The 'must-sees' include:
Musée Carnavalet: two adjoining townhouses display memorabilia depicting the history of Paris from Gaul times through to the 20th century. You'll find reconstructed period rooms, maps, miniature-scale city models, and even vintage shop signs dating back to the 16th century. Don't miss the secluded manicured gardens (23 rue de Sévigné, 3rd arr.).
Musée de la Chasse et de la Nature: the pick of the lesser-known Paris museums. Even die-hard PETA members will admire the cornucopia of taxidermy, fine art and antique firearms displayed around the theme of hunting and nature (62 rue des Archives, 3rd arr.).
Gaîté Lyrique: Paris' first digital cultural centre opened in 2011 and the exhibition schedule features music events and installations at the forefront of technology (3 bis rue Papin, 3rd arr.).
Musée Picasso: re-opening in the summer of 2013 after extensive renovations (5 rue de Thorigny, 3rd arr.).
For a satisfying fix of retail therapy head to Merci, a concept store housed in a 19th century former fabric factory (111 Boulevard Beaumarchais, 3rd arr.). Within its soaring industrial spaces you'll find unique furniture and homewares, an assortment of designer clothing, exquisite jewellery displays, and even a healthy organic restaurant downstairs with a cute herb garden outside. Don't leave before browsing in the second-hand bookstore/café.
Stop in at Shine for up-and-coming and established international designers (15 rue de Poitou, 3rd arr.), or for reasonably-priced emerging designers try Abou d'Abi Bazaar. It organises its collections on colour-coordinated racks (125 rue Vieille du Temple, 3rd arr.). Close to both is Isabel Marant's flagship store with bohemian chic clothing and accessories coveted by the bobo set (47 rue Saintonge, 3rd arr.).
Savoir 'Flair'
Upper Marais, 3rd Arrondissement
Tucked away behind old city walls and gates is the Marché des Enfants-Rouges, the city's oldest covered market-come-outdoor restaurant (39 rue de Bretagne, 3rd arr.).
Studded among the food stands selling produce including breads and olive oils are a variety of stalls offering Moroccan, Italian, Lebanese, Afro-Caribbean and Japanese feasts for around ten euros a main.
The place buzzes from midday to two pm with all ages vying for a table (closed Mondays).
Casual Upper Marais hot spots for a morning coffee or lunch include:
Café Charlot: a classic Parisian bistro with tiled walls and a zinc bar (38 rue de Bretagne, 3rd arr.).
Merce and the Muse: for muffins, cakes, salads and great coffee in a space filled with cool bric-a-brac (1 bis rue Charles-François Dupuis, 3rd arr.).
Rose Bakery: serving risotto of the day, mouth-watering tarts and salads in a cozy stone-walled bunker (30 rue Debelleyme, 3rd arr.).
Nanashi: a modern space with pastel-hued mosaic tabletops serving Japanese-inspired organic meals (57 rue Charlot, 3rd arr.).
Bar/tabac Le Progrès is the perfect place for a pre-dinner aperitif watching the French actors and beautiful 20-somethings promenading (1 rue de Bretagne, 3rd arr.). Stroll down to the relaxed and friendly Chez Julien for a meal (1 rue du Pont Louis-Philippe, 4th arr.). With its floral relief-painted glass ceiling, mirrored walls and chandeliers, it feels like you're dining inside an antique jewellery box. The menu is classic French; rare Chateaubriand steaks and crème brûlée.
Club Silencio, a new club owned by director David Lynch, is just minutes away by taxi. He designed every aspect of the décor, from the gold-leaf walls and reflective dance floor to the 1950s-style furniture. It's for members-only, but opens to all from midnight – as long they're dressed to thrill (142 rue de Montmartre, 2nd arr.).
Alternatively, Le Chacha Club combines restaurant, bar and club in a suite of dimly-lit rooms decorated with velveteen lounges and gilded mirrors. The music rocks and it's a good place to swivel on the dance floor. Expect a few random celebrity sightings (47 rue Berger, 1st arr.).
For a more casual late evening drink, try Grazie, an industrial loft-style space (doubling as a pizza joint). It's a current magnet for the cool, casual set (91 Boulevard Beaumarchais, 3rd arr.).
The new guard
11th Arrondissement
The 'bistronomy' revolution is centred just east of the Upper Marais in the burgeoning quartiers of Bastille (comfortable with revolutions of all sorts) and République, both in the 11th arr.
You'll also find an endless mix of fashion boutiques, galleries, design stores and bars within these cool, grungy parts of town.
The movement was born from gifted young chefs who have worked in some of the world's best kitchens and have now opted away from the Michelin limelight in favour of opening their own fresh and innovative take on the modern French bistro.
Sourcing organic, seasonal products, they are serving sophisticated fare at seriously democratic prices to crowds of fashionable locals and foodies.
Grab a drink on the sidewalk at Pause Café (41 rue de Charonne, 11th arr.) and watch the locals passing by (the street has a great range of boutiques and stores). Afterwards head to:
Le Chateaubriand: Inaki Aizpitarte's avant-garde menu is all about offering light, yet intense flavours, so share as many small plates as you can. He often uses unlikely combinations such as a strawberry and bittersweet paprika meringue (129 avenue de Parmentier, 11th arr.).
Le Dauphin: Aizpitarte's other restaurant, just a few doors down. Cutting-edge Dutch architect Rem Koolhaas transformed the space into a modern white cube carved from Carrara marble with a mirrored ceiling. The U-shaped bar plays centre stage to all the locals waiting for tables. The menu is tapas-style, but packs French flavours (131 avenue Parmentier, 11th arr.).
Septime: inventive and artfully-presented dishes are served within an industrial-meets-rustic-farmhouse setting (80 rue de Charonne, 11th arr.).
Vivant: expect complex flavours, such as seared Dupérier foie gras over shaved baby artichokes, in this tiny bistro covered in ageing art nouveau tiles, with exquisetly hand-painted exotic birds. The team just opened a wine bar next door offering plat du jours, cheeses and hams (43 rue des Petites Écuries, 10th arr., just outside the western border of the 11th arr.).
No matter how long you stay in Paris, you are likely to leave feeling like a jilted lover. The further you explore, the more time you want to get to know her intimately. That just makes planning the return trip all the more seductive.