2. Ski the top end of New Zealand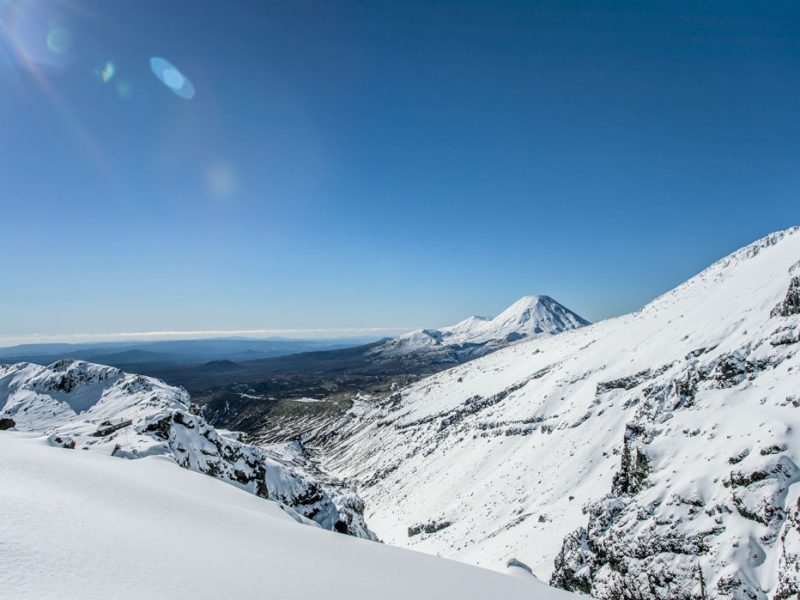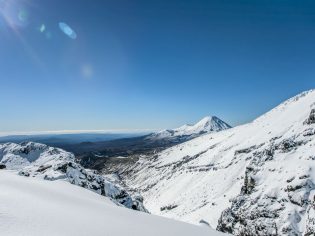 Though Auckland/Tamaki Makaurau and Wellington/Te Whanganui-a-Tara skiers are avid fans, most Aussie skiers don't even know you can ski New Zealand's North Island/Te Ika-a-Māui. But there's an active volcano in the middle of the island called Mt Ruapehu that's home to two of the country's largest ski resorts on the one mountain (it's the tallest peak in the North Island/Te Ika-a-Māui at 2797 metres). Located within the 80,000-hectare UNESCO World Heritage-listed Tongariro National Park and receiving more snowfall than any other ski resorts in this part of the world, Tūroa and Whakapapa can be accessed on one lift pass.
You'll find New Zealand's largest beginner area at Whakapapa, a completely self-contained learner's area that also offers one-hour sledding passes that are ideal for families. But this is New Zealand's largest ski resort, so there's lots of options for intermediates and experts, too, with views from every part of the ski slopes. The access road in is easy to negotiate and you can stay just down the road in Whakapapa Village, at accommodation such as Chateau Tongariro, one of the country's most historic hotels that has views over the national park's three volcanic mountains.
Tūroa is 75 kilometres away by road, and is located close to Ohakune, one of New Zealand's most lively ski villages with a bustling, cosmopolitan vibe. You'll find everything from high-end restaurants to cheap-and-cheerful après-ski bars, with numerous accommodation options. Tūroa's access road is fully sealed and it isn't steep, so anyone can drive up. The resort has the highest chairlift in New Zealand (2322 metres) and some of the country's longest ski runs, and the snow lasts longer than in any other ski resort in Australia or New Zealand (the same goes for Whakapapa). In fact, it's not unusual for there to still be metres of snow in November.
There's plenty to do here when you're off the mountain, too. The scenery across Tongariro National Park is some of the most spectacular in the whole country with waterfalls, lakes and rivers to old lava flows and volcanic peaks, and activities include horse riding, hiking (there are short walks, day hikes and multi-day adventures) and mountain biking.
Return to 101 Reasons To Stop Dreaming About New Zealand And Go
LEAVE YOUR COMMENT