1. The South Island's best winter ski resorts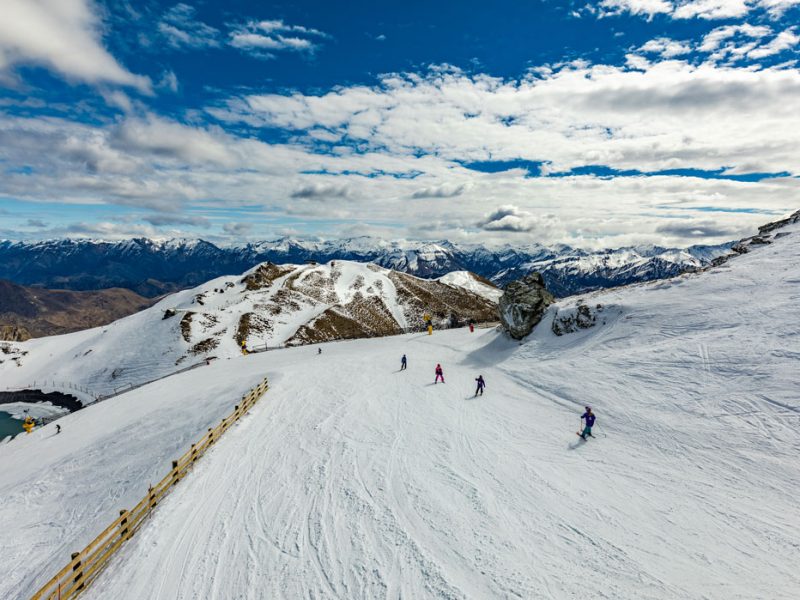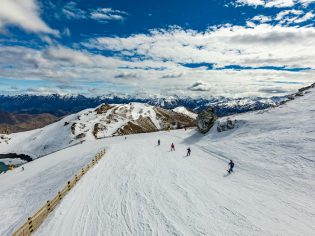 New Zealand's South Island is home to a pick and mix of some of the best ski resorts in the world. Here, we break it down into a handy guide for you.
Treble Cone
Treble Cone, or TC as its regulars call it, is New Zealand's most underrated ski mountain. Check any ski magazine and it'll rate TC as New Zealand's best ski resort; and yet, it's hardly a household name in Australia. Odd, considering it's only 30 minutes' drive from the picturesque ski village of Wānaka, set on the stunning Lake Wānaka, and the views from everywhere on this resort are out of this world. Imagine sitting on the edge of a huge mountain looking down across a massive lake, and up to one of the country's tallest mountain ranges.
Perhaps the reason lies in the fact this is a skier's mountain, with almost half the terrain designated for experts. But don't fret: there are plenty of beginner options, and every beginners' slope affords the same stunning view as the one the experts get. It's 'undiscovered' vibe means it's a tad more basic than other resorts, but there's nowhere you'll feel more deeply ensconced in the Southern Alps (you'll even have the world's only alpine parrot flying above).
Cardrona
One of the best features of Cardrona is that it's easily accessible from both Queenstown and Wānaka (it's 35 minutes from Wānaka and an hour's drive from Queenstown). Another is that it's one of the few commercial ski fields in New Zealand with on-mountain accommodation, with 15 apartments located a minute's walk from the chairlift. Another option is to drive 20 minutes down the mountain and stay in one of New Zealand's most charming (and oldest) hotels, Cardrona Hotel. If you don't stay the night, it's at least mandatory you indulge in an after-ski drink in its iconic beer garden beside the fire pit. Cardrona is ideal for families, with childcare facilities available, a ski school program to suit young skiers and half the mountain devoted to beginners and intermediates. And there are shuttle bus services available from Queenstown and Wānaka to get you there with minimal hassle.
The Remarkables
If ever a ski resort earned the right to be known as The Remarkables, it's this one. The drive in alone is worth the money for your ski pass. Located in the middle of the mountain ranges of the same name, which rise high above Queenstown and Lake Wakatipu, there are breathtaking views from every part of the resort. You don't even have to ski, mind you, with the refurbished cafe/restaurant offering some of the best views of all. The outdoor deck on a sunny afternoon is the place for après-ski in these parts. Located 40 minutes' drive from Queenstown along a mostly sealed road, it suits all kinds of skiers, with as much terrain for beginners as experts. Take your skis off and hike to the lookouts above the slopes for a view of the lake and Queenstown below that is the best in a region known for its stunning outlooks.
Coronet Peak
No ski resort in New Zealand is as easy to access as Coronet Peak, which sits barely 20 minutes from Queenstown up a fully sealed road. Coronet Peak almost feels like an extension of Queenstown itself. There's night skiing three times a week, with a DJ playing live music, but it's a hell of a place to be any time of the day or night, with a variety of runs, two bars and two restaurants, and views out across Lake Wakatipu, Lake Hayes and The Remarkables (as well as fireworks during school holidays).
There are also scenic gondola rides, tobogganing and paragliding tandem flights. The terrain caters to intermediate skiers with some of the best groomed runs in New Zealand, there are plenty of beginner-friendly runs, and experts have options, too. You can easily pop in for just a few runs or stay the whole day. Both here and at the Remarkables and Mt Hutt, there's also the option of sliding down the slopes on the newly introduced Yooner, a fun contraption that blends sledging and skiing.
Mt Hutt
In their race to Queenstown, Australian skiers sometimes overlook Mt Hutt. That's a shame… or is it? Come here during weekdays and you'll have the place largely all to yourself (though at only 90 minutes' drive from Christchurch/ Ōtautahi it can get crowded on weekends). Mt Hutt has one of the Antipodes' longest ski seasons and you can see across the Canterbury Plains to the Pacific Ocean from its slopes.
Mt Hutt suits every type of skier, from rank beginners to experts. You'll also experience small-town New Zealand at its very best when you stay at the village below the mountain: Methven. Most patrons at the snow sport town's local pub (the Brown Pub is for locals; the Blue Pub is for tourists) are sheep farmers, but there's enough international ski-town chic in Methven to keep everyone happy. And there's more to do around here than just ski: go jet-boating, play golf, or visit wineries in a landscape that spawned movies like The Chronicles of Narnia.
Hidden gems in plain sight
Halfway between Wānaka and Christchurch/Ōtautahi in the Mackenzie region, you'll find a trio of New Zealand's best-kept secrets: unheralded ski fields with stunning views; and amazing ski terrain for all abilities, sans the crowds. Check out these three resorts for all sorts of snow treats.
Ohau is still largely unknown to everyday skiers, yet its slopes on a fresh snow day are so revered the US Olympic ski team has been known to train here over the years. Located two hours north of Wānaka, stay in historic Lake Ohau Lodge with 72 rooms situated beside Lake Ohau that's been owned and run by Mike and Louise Neilson for 31 years. Three-course meals are served at communal tables and an old-school bus (sometimes driven by the owners) runs to the ski slopes every morning. Alternatively you can drive yourself as it's barely 20 minutes away. There are only two chairlifts, but boy you should see the views from them out over Lake Ohau, and even stretching to Aoraki/ Mt Cook in the distance. It suits every kind of skier from beginners to experts, and while it might be rustic it's full of the kind of charm that will thrill skiers yearning for the good ole days of ski holidays.
Located off the State Highway between Christchurch and Wānaka, Mt Dobson was the dream of a young local mechanic who first skied the area in 1959. It took Peter Cooke three years just to build the road into this place, but he still owns the resort, along with his three sons. These days there's a triple chairlift, a cafe and a ski school here but forget about a fancy après-ski scene. What you'll find instead at Mt Dobson is an insight into traditional New Zealand skiing with traditional New Zealand skiers (this is where local farmers ski). It also has the largest learner and intermediate ski area in the country. Stay in the town of Fairlie and get picked up by bus if you'd rather not drive the 15-kilometre dirt road into the resort.
Located down the highway from Mt Dobson, you can stay in one of New Zealand's most iconic lakeside villages, Tekapō, where you're only 30 minutes from Roundhill. The drive in is enough to entice: it's a winding road through high country farmland with views over Lake Tekapo and Aoraki/Mt Cook. Once designed just for beginners and families, with the introduction of the world's longest rope tow (it's a staggering 1473 metres long), Roundhill instantly became the resort with the longest vertical drop for skiers anywhere in the Antipodes and its popularity exploded. It remains fittingly humble though with just the one cafe here, but après-ski lovers have some options back in pretty-as-a-postcard Tekapō.
Return to 101 Reasons To Stop Dreaming About New Zealand And Go
LEAVE YOUR COMMENT