The best destinations for yoga in India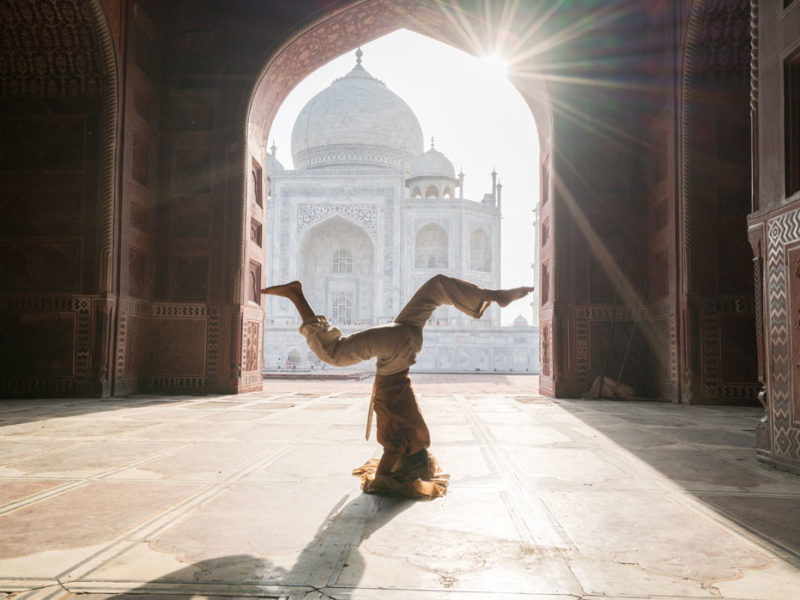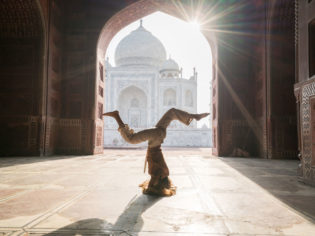 |

THIS ARTICLE WAS CREATED IN PARTNERSHIP WITH Tourism India

|
Considering a pilgrimage to the birthplace of yoga? There's no better place on earth than India to study the practice, take a training course or visit a retreat for a little self-care. Namaste.
The history of yoga is shrouded in mystery. In its earliest forms, teachings were handed down from master to student orally with no written record, which made dating the practice a challenge for most historians. What they have agreed on is where it originated. The word yoga is Sanskrit for 'yoke' or 'bind' – interpreted as the union of breath, mind and body – and first mentioned in India's oldest collection of Vedic Sanskrit hymns, the Rig Veda. Today, it's considered India's greatest cultural export and a mass phenomenon the world over.
For devout yogis, practising yoga in India is almost a rite of passage, with many attesting to the life-altering qualities a stint here can impart. But with so many styles on offer – Vinyasa, Hatha, meditation, chanting, yoga philosophy, karma yoga – and so many ashrams, retreats and shalas to choose from, deciding where to go can be overwhelming. If it's your first pilgrimage, consider starting your journey at places where yoga is a part of its living history.
Rishikesh
Ever since the Beatles came to study meditation in the 60s, Rishikesh has been a magnet for yogis and enlightenment seekers. Its location, resting at the foothills of Himalayas on the banks of the Ganges River, is pretty conducive to the practice, too. Home to many gurus, sages and saints – not to mention ashrams and yoga schools – Rishikesh has something for every beginner or yogi master.
The International Yoga Festival is also held here, welcoming yogis of every culture, colour and creed for seven days in March each year. Among its most famous ashrams are Parmarth Niketan, where the 2020 International Yoga Festival is held; Sivananda Ashram – also known as the Divine Life Society – which offers teachings in yoga, Hinduism and Vedanta; and Omkarananda Ganga Sadan, which embraces spiritual, cultural, educational, scientific and social fields alongside yoga practice.
Udaipur
Udaipur's old-world charm, colourful bazaars, fantastical palaces and temples, and countless crooked streets, lakes, forts and gardens make for a pretty romantic destination to find your Zen. This is especially true if you want to couple your pilgrimage with a journey through India's famed Golden Triangle that ends in Rajasthan's other colourful city, Jaipur. You'll find all kinds of yoga teachings, techniques and philosophies here, including Vinyasa, Ashtanga, Iyengar and Hatha, and plenty of modern yoga schools for western travellers.
Goa
This beachside Indian state is a compelling proposition for travellers seeking spiritual recalibration, filled as it is with retreats, yoga classes and mindfulness experiences. A great place to kick-start your training, or simply kick back, casually spiritual yogis flock here for the asana's, plus green juices, fast Wi-Fi and an endless stretch of golden-sand beaches. The collective Om is heard most notably in North Goa, however quieter coastal areas like Agonda and Palolem in the south have their fair share of retreats. The best time to visit is between October and May, when the cool mountain air travels down from the north.
Port Blair
If a fear of 5am starts and cold showers is holding you back from practising yoga in India, then maybe the relaxed pace of Port Blair in the Andaman Islands – situated more than 1000 kilometres off the east coast in the middle of the Bay of Bengal – will be more your style. Expect sunrise and sunset yoga on powder-white sands overlooking azure water, treetop meditations and nature walks. The mangrove creeks, tropical rainforest and coral reefs of the nearby Mahatma Gandhi Marine National Park is another allure of visiting the Andamans' bustling provincial capital.
Mumbai
Home of The Yoga Institute, Mumbai makes the cut for this institution alone. Founded by Shri Yogendraji in 1918 in Santacruz (east), it's one of the oldest organised yoga centres in the world. The centre promotes the belief held by its founder; that everyday people benefit the most from the knowledge and practice of yoga – a belief that earned him the title of the Father of the Modern Yoga Renaissance. More than just an ashram, The Yoga Institute offers training in asanas, pranayama and yoga sutras, but also consults its members on general health, yoga therapy, couples counselling and ethics for everyday life.
Bekal
Located in the blissed-out and beautiful Kerala, Bekal's unexplored beaches, quiet backwaters, off-grid retreats and new-wave detox methods have made it a haven for yoga practitioners and meditators alike. As more people cotton on to the area's renewed popularity, ashrams, yoga centres, and glitzy five-star health resorts and spas are gradually colonising. Schedule in your pilgrimage now before more and more soul-seekers discover Bekal!
For more information, or to find out more about practising yoga in India, visit Incredible India.
LEAVE YOUR COMMENT