Experience the mystique of India's Little Tibet in the Himalayas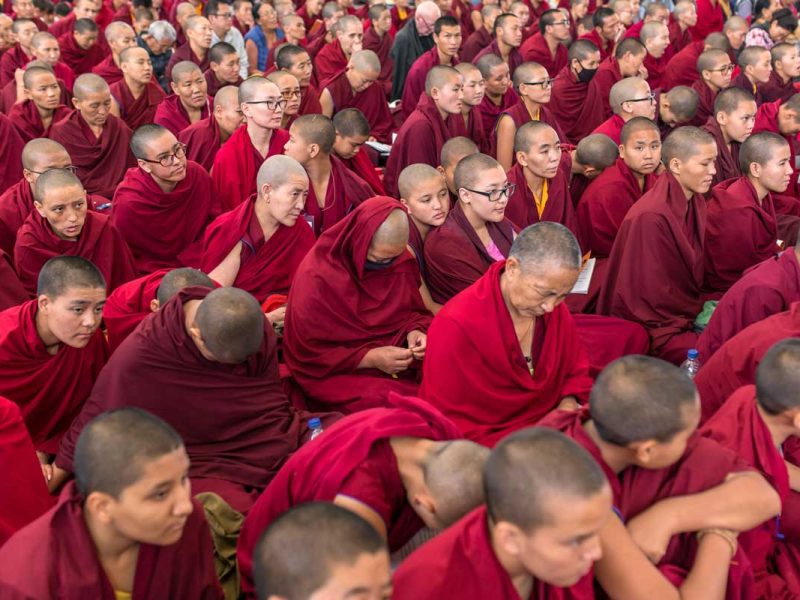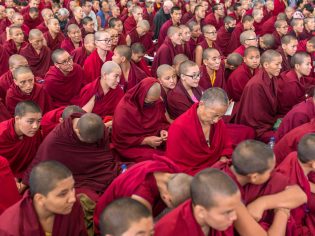 Sitting in an audience with the Dalai Lama, we find life lessons and a slice of Tibetan Culture in India's 'Little Tibet'.
I'm sitting cross-legged inside a monastery, crammed shoulder to shoulder between a throng of Buddhist monks. It's not just any monastery, though. Namgyal Monastery is the home temple of the Dalai Lama, who is due to arrive any minute now. Young monks swathed in sumac-coloured robes are making their way through the packed hall with enormous teapots of scalding-hot yak-butter tea (a thick, calorieladen drink that's been a staple in Tibet since the 10th century), divvying it out among the masses.
An enchanting spiritual melody
One monk leads in a mesmerising chant, a hypnotic melody that spellbinds the chamber. All around me, monks are swaying side to side, transforming the monastery floor into a gently oscillating sea of saffron and crimson robes. Then, there's silence. A wave of reverence sweeps over the temple; heads bow and palms press together as one of the highest spiritual leaders in the world enters the space.
The town is a temporary home to many of the Tibetans settled in the picturesque hill station of Dharamshala-McLeod Ganj. Thousands of refugees, including the Dalai Lama, fled their occupied homelands and settled here, where the North Indian hillside begins to heave into the mighty mountains of the Himalayas.
The delights of Dharamshala
Nothing about Dharamshala feels transitory, though. The mountain town has a worn-in, cosy feel about it, like a pair of trusted leather boots. The streets are infused with the smell of cinnamon, cloves and star anise from chaiwalas (tea sellers) who preside over vats of steaming masala tea.
Plates of plump, succulent momos (a Tibetan bite-sized dumpling) are available on nearly every corner. The emerald pine forests surrounding the town are cleaved only by a winding serpentine road, leading up to the vibrant backpacker hubs of Dharamkot and Bhagsu.
A shared cultural and religious heritage
The region draws in tourists from all over the world. Many come to witness Tibetan culture, hike among the beautiful surroundings, or get in touch with their inner yogi by flocking to one of the yoga and meditation schools peppered around the mountainside.Today, I'm trying out the latter.
I'm striking my very best warrior pose under the instruction of Omji, a renowned yogi and reiki master with a Cheshire cat's grin, a booming laugh and messianic, gold-flecked eyes. We transition onto the floor, legs stretched in front of us, instructed to touch our fingertips to our toes. Mine can barely graze my knees.
"Sorry, I'm not very flexible," is all I have to say for myself, as I notice Omji's eyes upon me. "I can see that," he replies, flashing his winning smile. At the end of our session, we gather in a circle and he pours each of us a fragrant cup of herbal tea. Omji speaks of the hundreds of travellers he teaches each year, many seeking self-knowledge or a deepening of the spirit.
Experiencing Dalai Lama's teaching
Our class is simply the latest iteration of faces passing through – although we're treated with the warmth and familiarity of old friends. One of the most prominent drawcards of the region is the spectacular trekking that it offers. It's a few days later when I've decided to tackle the steep track up to the hill station of Triund, guided by my friend Abhijeet.
It doesn't take long before the village falls away and the majesty of the mountains begins to reveal itself. We pass through misty waterfalls with streams of wind-battered prayer flags fluttering in the breeze. We hug the side of the trail as goat herders stride past us, their flock waddling in tow, the din of their clanging bells sounding out as they disappear into the distance.
A journey to the Buddhist enclave
The verdant landscape feels airy and alive; as if you could feel the earth flexing against your soles as you step. The view from Triund is otherworldly. Or so I've been told. I can't actually see any of it. Not only do the clouds suffocate all traces of a panorama, but a heavy rain descends upon us as we approach the lookout.
We hide out for an hour beneath the tarp of a chaiwala, chitchatting and dunking Parle-G biscuits into the sweet brew. Just as we're about to cut our losses and make for a descent, the sun breaks through the clouds, spilling honeyed light into the valley.
The scenery comes into view like an apparition; the sun's glow illuminating the creases and furrows embedded in the mountains around us. It draws the snow-capped peaks of the distant Dhauladhar ranges clearly into view. It doesn't last, though. It's a brief, blissful yawn from the heavens before they plunge back into a slate-grey slumber.
A glimpse of the Tibetan culture
It's nightfall by the time we return to Bhagsu and, by then, the cafes are alive with travellers and dreadlocked hippies strumming, drumming and jamming away between sips of canned beer. I stop by my favourite one, Welcome Cafe, for a warming plate of dahl and a nightcap of masala tea.
The most unique feature of the region is a rare opportunity to immerse oneself in Tibetan culture. Independent travel is prohibited in Tibet, so Dharamshala offers an opportunity for visitors to experience a slice of Tibet's rich culture and religion outside of the Tibetan Plateau (also known as 'the roof of the world').
Admiring the mystical Namgyal Monastery
I encountered this richness wandering around Namgyal Monastery a few days earlier. The temple grounds are simple, save for one room gilded with statues of golden multi-limbed gods, set against a mighty mural of intricate bhavacakra (a form of mandala).
It's a mesmerising kaleidoscope of vibrant colours and mythical creatures, representing the Tibetan 'Wheel of Life' and philosophy of reincarnation and cyclical existence. It's a concept I'm eager to learn more about when I sit for an audience with the Dalai Lama himself.
As it turns out, I can't understand anything the Dalai Lama is saying. I've missed the memo – I was supposed to bring a radio and headset to tune into the live translation of the teaching, which is spoken in the Dalai Lama's native Tibetan. However, I do recognise one word the Dalai Lama keeps repeating throughout his talk – ahimsa. It's an ancient Sanskrit word for the principle of non-violence toward all living beings.
I notice a flea bouncing across the carpet. An alarmed traveller in front of me raises her hand above it, wavering hesitantly. But before she can commit to the blow, a monk gently takes the tiny creature between his thumb and forefinger, plucks it from the ground and places it safely in a small pouch to be relocated later. I may not comprehend the Dalai Lama's teachings, but I suspect the scene in front of me has taught me all I need to know.
A Traveller's Checklist
Getting there
The fastest way is to fly from Delhi to Kangra-Gaggal Airport, which takes just over an hour's flight time. From there, it's roughly another hour by taxi to Dharamshala-McLeod Ganj.
Staying there
Experience alpine luxury at the upscale Hyatt Regency Dharamshala Resort, where you'll find yourself sequestered by lofty pine trees. A little way out of town, Mandara Tree Villa has some of the best mountain views in the region. Or experience local culture with a homestay such as Redeem Cafe & Homestay.
Playing there
Walk to the majestic Bhagsu Waterfall and sip on chai at the famous Shiva Cafe. Immerse yourself in Tibetan culture at the Tsuglagkhang Complex, which encompasses Tsuglagkhang temple, Namgyal Monastery and the Tibetan Museum.
Find your inner bliss at Tushita Meditation Centre, where you can take courses in meditation and Buddhist philosophy. For food, make a beeline for Tibet Kitchen in McLeod Ganj, which offers delicious and authentic Tibetan dishes that are guaranteed to warm your belly.
Talking there
English is widely spoken in the region, but a simple thank you goes a long way. That's dhanyavaad in Hindi, and thu-chi che in Tibetan.
LEAVE YOUR COMMENT