Sikkim: The spirit of India's Himalayas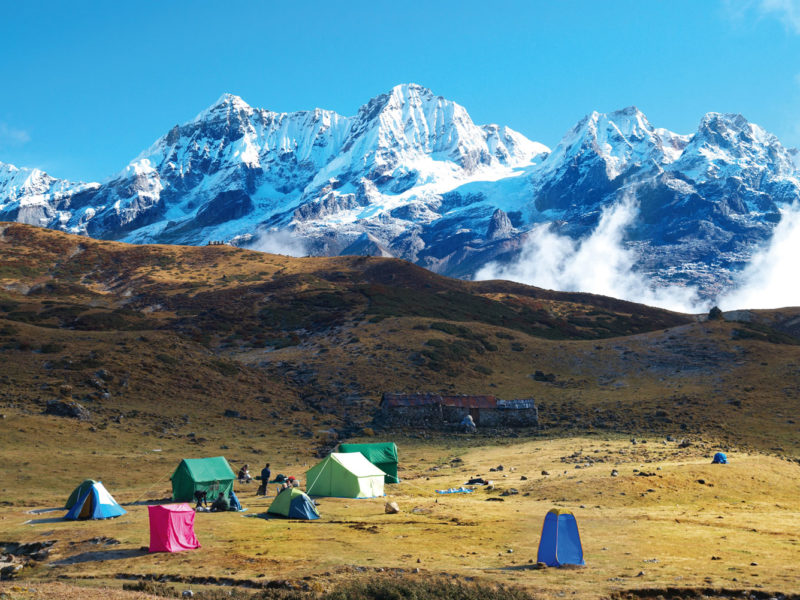 Some people have never heard of Sikkim, let alone visited it… four times, no less. Leisa Tyler shares why this Himalayan kingdom keeps drawing her back.
It's not a rally, enjoy the valley", proclaims a bright yellow sign on the road leading to Sikkim.
"Road is hilly, don't be silly", says the next. A ravishingly beautiful thumb of undulating foothills and snow-capped mountains sandwiched between Nepal, China and Bhutan in eastern India, Sikkim is unquestionably hilly.
I'm not quite sure what to make of "Go my friend, on the bend", until a rusty jeep loaded high with passengers and luggage zooms past us on a blind corner that is fringed by a sheer hundred-metre drop on the other side.
The state – an independent kingdom until 1975 – is inhabited by Nepalese, indigenous Lepchas and the Bhutia (ethnic Tibetans who settled here in the 15th century).
But following rumours of invasion from China, and then a referendum which grabbed 97% of the vote, Sikkim became India's newest and least populous state.
No airport and gruelling mountain goat roads have long kept this lovely slice of the Himalayas off the tourist trail. For me, this is precisely the appeal.
Driving up from the dusty chaotic plains of West Bengal, travellers enter a world where vertical hillsides, either carpeted with dense forests or terraced into carefully tended orchards are cut by thundering white water rivers fed by the melting snows.
Stone gompas, Buddhist monasteries and blue and white wooden homes festooned with clay pots of white orchids and bougainvillea clutch precariously to the hillsides. Prayer flags printed with intricate scripture fly from every house and mountain pass.
At the pinnacle lies Mount Kanchenjunga, a muscular massif that, at 8586 metres, is the world's third highest mountain. Meaning 'the Five Treasures of Snow' in Tibetan, it is Sikkim's crowning glory.
Hairy bus rides and pot head grannies
I am on my fourth trip to Sikkim. My first was in 1999 with my mother.
I had made the grave mistake of taking a local bus from nearby Darjeeling to Pelling, a hilltop village prized for the stunning 18th century Pemayangtse monastery, and spellbinding views over Kanchenjunga.
The rickety and ageing bus was filled with chickens, goats and little old ladies with gold hoops through their noses smoking clay chillums stuffed with marijuana – here it is a weed that grows wild.
But it was the road that grinded our nerves: little more than a goat track zigzagging up and down vertiginous hillsides littered with landslides and stray cows. When we arrived at Pelling my mother delivered me an ultimatum – we go back by helicopter, or we walk.
Back then, long-distance telephone lines were scratchy and internet access was impossibly slow. The hotels were musty and budget, at best, with no hot running water or room heaters. Electricity cuts were often and long, and a village's small supply of lukewarm beer and tomba – or millet wine – often ran out before sunset.
But there was innocence, a raw beauty in Sikkim and its people that ingrained itself into our hearts. We spent days scrambling through the ruins of Rabdentse Palace, a one-time royal palace of red brick that sat in ruins on the edge of a sheer cliff.
We spent hours gazing at magical Khecheopalri Lake; a sacred lagoon framed by ancient rainforests. We saw in Losar, the Tibetan New Year, at Pemayangtse monastery.
For the better part of a week, the monastery's grounds became home to a spectacle of dances performed by young monks dressed as fantastical animals such as phoenixes, dragons and sneering devils.
The dances – accompanied by the grave and then frenzied drones of Tibetan horns – varied, but the objective stayed the same: by depicting the fight between good and evil, the soil would be cleansed of evil influences.
Walk on the wild side
Driving is the cheat's way to see Sikkim's mountains up close. The other way is to walk to Goecha La, like I did ten years ago.
The week-long trek traverses the Kanchenjunga National Park – at around 850 square kilometres it is one of the largest and most ecologically diverse corners of India.
It was March when I went and the gorges were awash with blooming scarlet-red and violet coloured rhododendrons, hundreds of years old and as tall as houses.
Climbing hundreds of metres a day, the track passed through several climates, from steamy tropical lushness, to snow-capped ridges marked by leopard prints. The winds were ferocious; elements barely noticed by our Nepalese porters, who carried straw baskets loaded with supplies and wore torn Chinese gumboots on their feet.
At Dzongri, signposted as the "meeting place for men and mountain gods," we climbed a ridge to catch a glimpse of Mount Kanchenjunga. It was so windy we had to link arms to save being blown away. At the shores of sacred Samiti Lake, the base for walks to Goecha La, we encountered fog so thick we could barely see a metre in front.
That night the temperature dropped to below 20. We erected our tents inside a stone cottage and burnt sweetly scented juniper branches to keep warm.
Woken by Pema, our guide, at 4:00am the next morning, we walked outside and were struck dumbfound; the skies had cleared, revealing our location deep inside a mountain valley.
Pema and I skirted the edge of frozen Samiti Lake and clambered to the top of a nearby ridge to watch the early morning sun drench Kanchenjunga; so close we could almost reach out and touch her.
Time stands still
"Has Sikkim changed?" people ask me when they hear of my repeat visits. Not really. While much of the rest of India has developed at break-neck speeds, Sikkim remains largely, and thankfully, the same.
The internet is better, mobile phone services are now available and a clutch of upmarket hotels and travel outfitters have created a more comfortable travel experience.
But the province's towns are still unhurried and sedate; the musty and mesmeric Nyingma Buddhist monasteries still make visitors blush with their raunchy paintings; the magical views of the Himalayas are still obscured by rising mist; and the roads are still as windy and perilous as ever.
Two areas which have opened to foreigners in recent years – and my first port of call on this trip – are the remote Lachung and Lachen valleys, around eight hours driving north of the capital, Gangtok.
The last few years have been tough on these mountains. On 18 September 2011, an earthquake reading 6.9 on the Richter scale ripped through north Sikkim from its epicentre near Kanchenjunga, killing more than one hundred people.
The roads are now passable again, but frequent tremors cause regular landslides. My guide, Dinding, a Tibetan woman with flushed red cheeks siding a moon face and broom of raven-black hair, tells me the locals have built stupas to appease the devious mountain spirits, believed to be behind the many landslides.
"Does it work?", I ask Dinding as we pass a five-tonne excavator clearing a landslide from the road. "Of course", she replies.
We drive most of the day along pot-holed gravel roads, stopping for cups of milky sweet tea and army checkpoints, reminding us we are close to the border with China. By the time we reach the small village of Lachen a snow storm has rolled in from nearby Tibet, hindering visibility and cutting the electricity supply.
We check in to a newly built wooden hotel with no insulation and two-inch gaps under the doors then huddle around a wooden heater sipping glasses of Castle Pride Scotch Whisky, which is distilled locally under licence from Angus Dundee in Scotland.
The storm rages into the night and I'm afraid our trip to see the mountains has been futile. Thankfully by early morning it has blown over, revealing a cobalt blue sky streaming down on a clutch of stone houses made miniature by the humbling and ominous peaks of the surrounding Himalayas.
A less wild walk
On this journey I discover that while walking is the best way to experience the extraordinary Sikkim landscape, it no longer has to involve laborious week-long treks.
Marrying Sikkim's scenery and idyllic rural lifestyle while bringing much needed income boosts to local families, Delhi based Shakti Himalayas (who also own 360° Leti lodge in Kumaon), have renovated five traditional houses in Southwest Sikkim that provide bases for three to five-day guided lodge-to-lodge walks.
I meet Pujan, Shakti's sprightly 30-year-old guide, in Gangtok one sunny morning before setting out for Radhu Kandu, the first village house.
By the time we reach the cluster of white and blue stone houses surrounded by verdant rice terraces, it is almost dusk; the drive has taken eight hours, zigzagging up and down narrow mountain roads, but we have travelled less than 50 kilometres as the crow flies.
We are greeted by the family matriarch, who smudges a crimson red tikka on my forehead and drapes freshly strung jasmine flowers around my neck.
Shakti rent three houses from the Radhu Kandu family. One consists of two simple but comfortable bedrooms, each with wooden floorboards and plush king-sized beds.
There is a kitchen and small shared bathroom with hot shower in another, and a third for Shakti staff, including a chef, a butler, drivers and porters, who stay with the guests for the duration of their trip.
I think the staff-to-guest ratio seems excessive until drinks are presented beside a roaring fire followed by a smorgasbord of Sikkimese delicacies for dinner: corn rice with nettle gravy and kinema, fermented soybeans with curry and fresh vegetables from the farm.
We rise early the next day hoping to catch a glimpse of Kanchenjunga. But one of Sikkim's notoriously reliable heavy mists has risen up from the valley floor, obscuring both the mountains and adjacent hills.
Instead we set off for Hee, a three-hour walk away. We traverse dark eerie woodlands and terraced groves of blossoming apple trees and the luxuriant spiky leaves of cardamom plants, here prized for their large pungent seeds.
We stop to drink ginger tea by the side of a mountain stream and make shortcuts through people's backyards lined with orange lilies and crimson red azaleas. We meet two men carrying timber downhill to finish building their house.
The bundles of green sapwood, which weigh more than 60 kilograms each, are carried on the men's backs by a strap across their foreheads. Pujan and I can't even lift one bundle between us.
Day three takes us to Sangdyang Lee via Rusem Monastery, a derelict 200-year-old temple that once belonged to a wealthy family of land owners.
Pujan tells me the family commissioned a local monk to perform rituals at the temple, but reneged on his payment.So the monk placed a curse, announcing that every male child born to the family would be disabled. When the curse came true, the family fled, leaving the quaint little prayer hall to the elements.
We find plenty of monks the next morning when we attend puja – a daily religious ritual – at the local temple, a 20-minute walk from Sangdyang Lee.
The small wooden temple, standing alone in a grass field, is unremarkable apart for the frescoes inside: the walls, blackened by hundreds of years of burning butter lamps, reveal Buddhist deities, their legs crossed and fingers poised delicately in the lotus position, peering solemnly out upon the world.
At the centre is a sitting Buddha hidden by thousands of karta – white and yellow prayer scarves – draped around his neck.
Two dozen young boys wrapped in maroon robes fidget on matching cushions while pretending to read from pages of Sanskrit script in front of them. Their low guttural murmurs seem forbidding until a conch shells sounds, a trumpet is blown and the young monks explode with harried chants.
By the time we leave the temple, another storm has started brewing and mist has encased the hillside. I fear my luck on seeing Kanchenjunga again has run out.
But sure as day, there she is, poking high above the rising mist.
The details
You can't leave without
Trying the local brew tomba, made from fermented millet and sipped through a bamboo straw.
The mesmeric murals etched into the walls of Pemayangtse Monastery in Pelling.
Seeing Mount Kanchenjunga bathed in early morning light.
Best thing about Sikkim
The views, the friendly locals, the lack of tourists and the fresh mountain air. And the bars… Sikkim is a duty free zone and the locals love to drink.
Worst thing about Sikkim
The incessant dust. Do as the locals do and wear a face mask – they are available everywhere. And avoid the overcrowded shared jeeps that operate as public transport; hire a vehicle and driver for a more comfortable ride and the chance to stop and take pictures along the way.
You should know
Foreigners need a permit to enter Sikkim, which is easily obtained at the border. Check out smartraveller.gov.au/zw-cgi/view/Advice/India for more information
Book train tickets well in advance. Leisa used cleartrip.com
Carry hand sanitiser gel or wipes and use them before meals

How to get there
Singapore Airlines fly daily from major cities in Australia to Kolkata via Singapore from $1152 including taxes. From Kolkata you will need to fly to Bagdogra in West Bengal, the nearest airport to Sikkim. Bagdogra is a five-hour drive to the capital, Gangtok. Otherwise there are overnight trains from Kolkata to Siliguri, which is around two hours drive from Gangtok.

When to go
March to May for blooming rhododendrons; October to November for clear skies and balmy temperatures. Many hotels close during the monsoon season (June to September), when torrential downpours wash the roads away.

Where to stay
Affordable: Rabdentse Residency in Pelling has friendly staff and 16 comfortable rooms with attached bathrooms and TV. Request a room with a balcony and mountain views, or enjoy the panorama from the hotel's garden. From $125 per night; saikripa.in/rabdentse_residency_pelling
Comfortable: The WelcomHeritage Denzong Regency has 26 comfortable rooms in Tibetan-style close to the centre of Gangtok. From $126 per night including breakfast; welcomheritagehotels.com
The Mayfair Hotel Gangtok is one of Sikkim's fanciest hotels. Their 53 spacious rooms have big cosy beds, bathtubs and balconies overlooking the terraced hills. The service is excellent and there is a gym, a swimming pool and a casino onsite. From $227 per night including breakfast and dinner; mayfairhotels.com
Luxury: Shakti Himalayas has four-night guided walks including accommodation, meals, alcohol, taxes and transfers for $1878 per person, twin share. shaktihimalaya.com

Touring
Gangtok-based Blue Sky Tours offer several tours around the area. Foreigners trekking in the Kanchenjunga National Park are required to trek in groups of two or more, hire guides and arrange the trip with a trekking agency. blueskysikkim.com