Spiritual India: a trail of enlightenment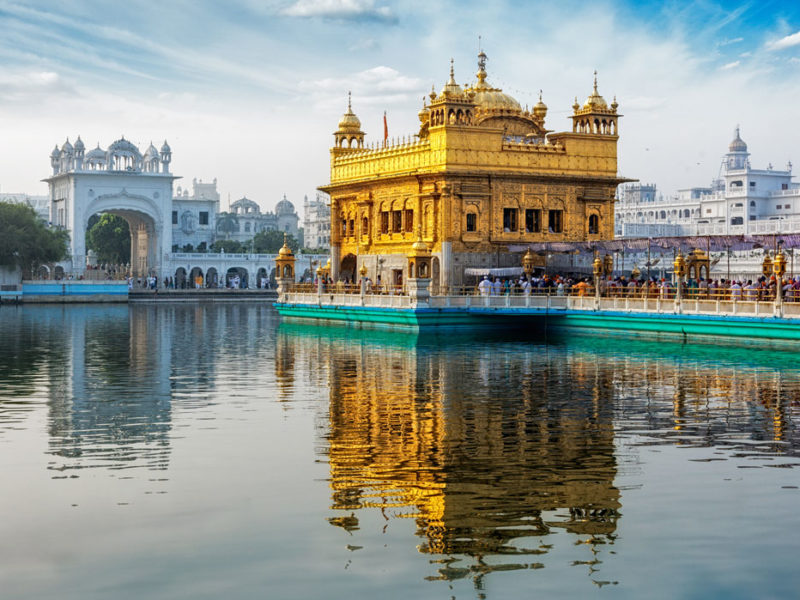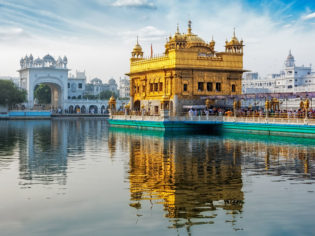 |

THIS ARTICLE WAS CREATED IN PARTNERSHIP WITH Incredible India

|
Long before Elizabeth Gilbert's Eat Pray Love became the travel bible for recovering divorcees seeking a return to self, India was the destination for spiritual recalibration.
Despite India's often confronting, chaotic cities assaulting the first-time visitor with an ambush of disorienting sensory confusion, on the banks of the Ganges, in the foothills of the Himalayas and by the Goan coast, you'll find places of pure stillness. Even within her livewire cities, temples and monuments dedicated to spiritual devotion offer solace to those searching for a holiday interwoven with a little self-contemplation.
The cities of Varanasi, Amritsar, Ajmer and Goa are good places to start for a soul-searching pilgrimage to spiritual India, with opportunities for introspection aplenty.
Varanasi
Perhaps the most obvious place to seek enlightenment is India's spiritual capital, Varanasi. This ancient city, which has been dubbed the real City of Light (sorry, Paris), has long been a holy centre for Hinduism. For Buddhists, too, Varanasi holds great significance, for it was here that Buddha is said to have given his first sermon.
Varanasi accepts pilgrims from all over India and beyond, who come to bathe in the sacred waters of the Ganges in an attempt to sanitise their souls. While the city offers plenty of beauty in its numerous temples, such as the must-visit Vishwanath Mandir Temple, and on sunset cruises along the river, travellers should be prepared to see the ritual of death played out daily. Some come here to cremate loved ones; others simply come to die in a city deeply connected to the cycle of life.
Observing this reality, however, can have an unusually uplifting and peace-enhancing result, and strolling the colourful ghats along the Ganges is an experience you'll find nowhere else in the world. If you're here for a soulful experience, take a sunrise yoga session at Assi Ghat, one of the biggest and most vibrant along the river, and return in the evening when it comes to life with hawkers and a holy fire ritual.

Amritsar
Meaning 'pool of the nectar of immortality', this city takes its name from the great water tank, Amrit Sarovar, of the Golden Temple (or Sri Harmandir Sahib), in whose fabled restorative waters devotees come to bathe. The temple is considered the most significant Sikh monument in India and one of the most compelling reasons to visit Amritsar.
A journey to explore this 16th-century temple of marble and pure gold leaf, inlaid with precious and semi-precious gems, should be at the top of the list of those seeking to have their faith in the goodness of humankind reinstated. It is not simply to marvel the workmanship of the gilt architecture, but for the daily and continual Guru Ka Langar – a free meal served by volunteers to everyone, no matter their caste, colour or creed.
In keeping with the lore of the Sikh religion, which promotes equality among all, everyone who partakes in the meal dines together on the floor, side by side. Bankers sit next to slumdogs, next to wide-eyed tourists, next to taxi drivers. On an average day, the two temple langars feed around 50,000 people a meal of roti, rice, vegetables and a sweet. The food is prepped and cooked at all hours of the day and dishes cleared and cleaned five times before being reused. It's an enormous daily expression of goodwill and inclusiveness that will rekindle a love for fellow humans in anyone. True food for the soul.
Ajmer
No matter the religion you subscribe to (or don't), the architectural expression of any belief system has the power to enhance your own brand of spirituality – and this is a power that's evident in the city of Ajmer. Located 130 kilometres from Jaipur, built around the manmade Ana Sagar Lake and sheltered by the impressive Aravali Mountains, it's a place where Islam and Jainism gently rub divine shoulders. While the city itself can be frenetic, Ajmer remains a destination for spiritually inclined travellers because of its incredible mosques and temples, and demonstrable devotion to an ideal greater than ourselves.
First stop is the ruins of the Adhai Din Ka Jhonpra mosque. Said to have been built in just two and a half days, the structure's 10 domes are nothing short of awe inspiring. Afterwards, be sure to pay a visit to the most hallowed shrine in India, Ajmer-e-Sharif, where Muslims come to pay their respects to revered Sufi saint, Moinuddin Chishti. After marvelling at these Islamic constructions, make your way to the Nareli Jain Temple to study the deeply detailed stone carvings, emblematic of the Jain faith.
Slow your pace just 13 kilometres away at the serene town of Pushkar. Literally translating to 'lotus flower', Pushkar has an ethereal, mystic energy where spirituality flourishes in the hills and forests, and pulsates through the ghats that flow down to Pushkar Lake. A walking tour will wind you through the town's holy sites, and there are plenty of ashrams and meditation retreats nearby to enhance your own spiritual journey.
Goa
This beachside Indian state offers the casually spiritual traveller the best of both worlds. Yes, there are meditation retreats, yoga classes and mindfulness experiences aplenty – particularly come winter – but once you've sufficiently detoxed from daily life, Goa just as easily facilitates your return to hedonistic pleasures. Since the '60s, the coastline that spans the western state has lured beaded and bearded hippies and backpackers and, while its partying days have slowed considerably, nightlife is still here to be enjoyed if you're willing to partake.
If not, Goa's spice-laced mix of fascinating history, culture and food bring many layers to a retreat. Once a Portuguese colony, the architecture and flavour of Goa is unique to India and deserves a thorough exploration by way of a cooking class or walking tour. Old Goa, with its colonial era churches, cathedrals and convents, draws crowds of Christian pilgrims from all over India making it a fascinating day trip.
Of course, simple immersion in the Arabian Sea is enough to complement your yogic or meditative practice, so choose the beach town with a personality synchronised with your goals and settle in for a journey to your inner sanctum.
Rishikesh
Any dedicated yogi (or Beatles fan) will have heard of Rishikesh. Sheltering in the foothills of the Himalayas, this sanctified city in the state of Uttarakhand teems with holy sages, yogis and those aspiring to enlightenment. Since the Fab Four hunkered down in an ashram here in the late '60s, the city has often been declared the yoga capital and is a beacon for those on their own spiritual pilgrimage. It plays host to the International Yoga Festival and is home to many seriously authentic yoga schools and ashrams.
But it's not just a proliferation of body-contorting yogis that imbues this mountain-shrouded city. You'll also find a hub of Ayurvedic medicine, reiki (crystal healing), and hasya yoga (laughter yoga) to help you forge a shiny, happy path to wellbeing.
From basic ashrams to luxury retreats, like the award-winning Ananda in the Himalayas, you can dive as deep or float as lightly as you'd like into spiritual wellness. But it would be a mistake to spend all your time in Rishikesh inwardly focused, when there is so much culture to explore. Set aside your nirvana goals for a few days and visit the city's ghats and temples, such as the popular Triveni Ghat and Neelkanth Mahadev Temple.
For more information, or to start planning your visit to the Golden Triangle, visit Incredible India.
LEAVE YOUR COMMENT