The top 24 festivals from around the world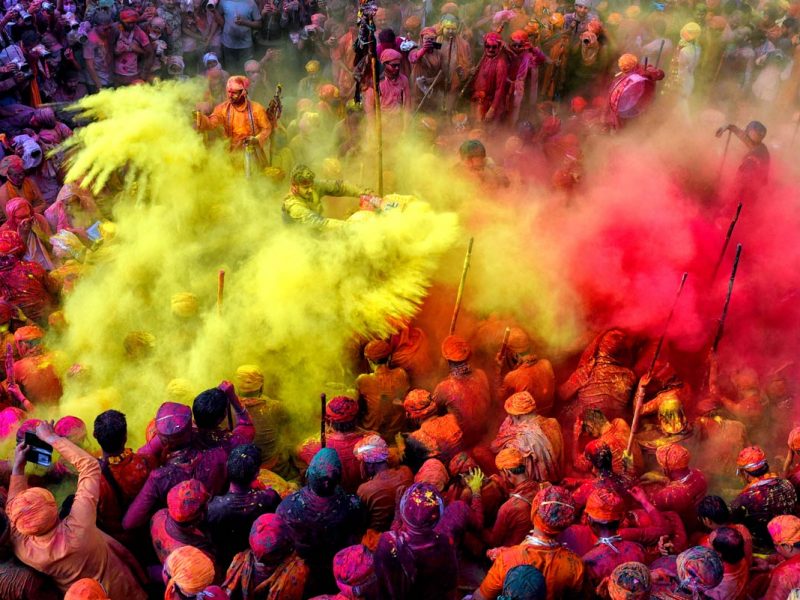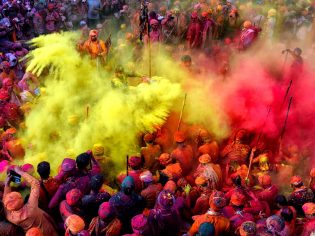 We uncover the top 24 festivals across the globe to add to every traveller's bucket list.
It seems every country has one major event on the annual calendar that claims to trump all others. But with almost 200 countries across the globe, experiencing every single one is near impossible for most us – despite how much we'd like to go. Here we've boiled down the options to the absolute top 20 events to add to your bucket list.
1. Gion Matsuri – Kyoto, Japan – July
Widely considered to be the summer festival in Japan, Gion Matsuri is more than 1000 years old. It all started as a means to appease the gods who wrought chaos by way of fire, floods and earthquakes, but these days, it's a little more light-hearted and certainly a huge tourist magnet. A highlight of the Kyoto festival is the Yamahoko Float Procession, featuring floats akin to beautifully intricate works of art. Also, expect to be awed by the three festive evenings leading up to the procession known as the 'Yoiyama' (festival eve) a spectacle of ethereal-looking lanterns and an all-round atmosphere of excitement with free-flowing sake and food stalls.
2. Sydney Gay and Lesbian Mardi Gras – Sydney, Australia – March
A true celebration of love in all its forms, the Sydney Gay and Lesbian Mardi Gras has been showering Sydney with a glittering rainbow every March since 1978. Back then, it was more protest than celebration, which sadly ended in police violence, but today the parade and surrounding parties and events are wholly embraced as one of the city's flagship events, attracting a huge swell of international visitors. The highlight of the celebrations is the parade along Oxford Street, a bedazzled display of flesh and feathers. And while you might cop an eyeful of more cheek than you care to see, it's all done with good-natured, inclusive, humorous fun.
3. Songkran – Thailand – April
A water fight on a national scale, Songkran in Thailand is the celebration of the Buddhist New Year. Initially, water played a part in this auspicious day by being poured over statues of Buddha, but these days, the drenching isn't just reserved for deities and its purpose of purification is applied to everyone who doesn't take shelter. Although still a spiritual and religious festival with everyone paying a visit to their local monastery, Songkran has morphed into a joyous occasion for revelry across the kingdom. Wherever you are in Thailand ­– anywhere from Bangkok to Chiang Mai, Ayutthaya, Krabi or Koh Samui – you can expect to get thoroughly wet with everything from water guns to elephant trunks being employed for the purpose.
4. Saint Patrick's Festival – Dublin, Ireland – March
Sure, Saint Patrick's Day is celebrated anywhere in the world where there is an Irish diaspora (or even just an Irish pub), but if you're going to get involved, there's no better place than Dublin. This festival runs for five days and five nights in March and is packed fuller than a leprechaun's pot of gold with a program of music, performing arts, literature, tours and food events. Centred around the national holiday, this festival of Irish pride, achievements and talents will be well supplied with Guinness and Irish cheer.
5. Montreux Jazz Festival – Montreux, Switzerland – June–July
There are plenty of music festivals in Europe, but this 50-year-old good time held on the shores of Lake Geneva is truly one of a kind and is the second-largest jazz festival in the world (pipped by Montreal, Canada). It's not just jazz, though. At Montreux Jazz Festival you'll find broad-ranging acts from pop to rock and blues, and, best of all, a large portion of the performances are free, in keeping with the festival's charter to make music accessible to anyone.
6. Mevlana Festival – Konya, Turkey – December
Anatolian holy man and Islamic scholar Mevlana Celaleddin Rumi passed away in 1273, in the Turkish city of Konya. Since then, his followers, the Melvlevi Order (better known as the Whirling Dervishes) have celebrated his teachings of tolerance and religious ecstasy achieved through dance by way of a festival. For 10 days in December, the whirling dance, Sema, is performed in traditional costume in homage to Rumi's spirit. The hypnotic dance is incredible to behold and the energy is palpable. The festival is a wholly uplifting experience, no matter your religion.
7. Semana Santa – Seville, Spain – March/April
The Andalucía city of Seville is host to Semana Santa (Holy Week), one of the most spectacular and elaborate of the Easter festivities. There is a great deal of emotion on display during the festival, along with intricately crafted baroque religious statues paraded through the streets and large processions of Easter brotherhoods in traditional robes (with their pointed, vaguely sinister-looking hoods). Although the atmosphere is usually rather sombre, there are moments of lightness, too, as well as plenty of feasting. If you're after a raucous romp, this probably isn't the festival for you, but from an artistic and cultural perspective, it's fascinating and hard to beat.
8. Nozawa Onsen Fire Festival – Nozawa Onsen, Japan – 15 January
If you're planning a ski trip to Japan, it's well worth timing it to coincide with the wild and slightly alarming Nozawa Onsen Dosojin Matsuri. Come winter, the beautiful Japanese town of Nozawa lies half-submerged in powder, making it not only excellent for skiing, but the ideal place to watch the lighting of a towering pyre and fire-fuelled battle between villagers. Held on the same day each year, the festival goes for around four or so hours and holds cultural significance to locals as the wooden shrine is endowed with a dosojin (a deity that presides over roads and borders) before being set alight. A mock battle then erupts, to ensure good fortune in the coming year. Don't worry, though, you won't be drawn into the fray, as only men of the specific ages of 25 and 42 are able to participate.
9. Cannes Film Festival – Cannes, France – May
Whether you adore the wonderfully charismatic glamour of the film industry and its celebrities or you are enthralled by the creativity and storytelling of filmmaking, you'll want to make the trip to Cannes Film Festival at least once. Perhaps the most important film festival on the circuit, at its heart, Cannes is about mining for new talent and providing a showcase for it. But of course, its procession of polished and gilt stars provides a certain air of prestige, too. The inaugural festival was held in 1946, which helps to further imbue it with an authoritative air, as does its French Riviera locale. Get along to absorb some brilliant cinematic works and perhaps rub shoulders with a few A-listers while you're at it.
10. Edinburgh Festival Fringe – Edinburgh, Scotland – August
One of Europe's most engaging and diverse festivals, the Edinburgh Festival Fringe runs for three weeks every August throughout the Scottish capital. With a roster of literally thousands of performances happening in every nook and cranny of the city, from cabaret to comedy and opera to spoken word, you have plenty of opportunity to soak in the colourful and sometimes kooky vibes of the festival. The Fringe is run by the Edinburgh Fringe Festival Society, a registered charity devoted to supporting and encouraging the Scottish arts, which, if you ask anyone at the festival, is an entirely worthy cause.
11. Carnival — Rio de Janeiro, Brazil — February
From feathery costumes, and elaborate parade floats to a non-stop extravaganza of drums, dance and debauchery, few things say festivity like 'Carnival'! Although it's celebrated right across Brazil and other Catholic countries, Rio de Janeiro has long been regarded as the place to experience Carnival, drawing millions of event-goers every year.
12. Burning Man — Black Rock City, USA — August—September
It doesn't get any more hair-curling, baton-twirling, mind-swirlingly spectacular than Burning Man, which has been described as a 'City of Art'. For one week this experimental community in Nevada's Black Rock Desert challenges its 60,000 'participants' to express themselves and rely on one another while incorporating the annual theme in some way – think performances and art installations to otherworldly costumes and handmade gifts from strangers.
13. Holi Festival — India — February—March
A rainbow of colour and Hindu traditions combine to create this celebration of love, springtime fun and good triumphing over evil. You'll mostly see Holi Festival across India and Nepal, but also in other areas with large Hindu populations. Kicking off with a night-time bonfire where people gather, sing and dance, the next day is a carnival of colours where everyone frolics about throwing dye powder, squirting water guns and coloured water-filled balloons, uniting friends and foes, rich and poor, children and big kids at heart.
14. Oktoberfest – Munich, Germany — October
Millions of litres of Oktoberfest beer are just the beginning of this 15-day Bavarian fair, which takes over Munich every year. Having started in 1810 to celebrate a royal wedding, the event is still held on the original site, dubbed Theresienwiese ("Theresa's fields"). As well as your fill of Löwenbräu pints, there are also amusement rides, market stalls, games and a bounty of traditional food to sample from pretzels, dumplings and cheese noodles to all manner of sausages and roasted meats.
15. Mardi Gras — New Orleans, USA — January
French for "Fat Tuesday", Mardi Gras is a two-week overload of inhibition-less frivolities that end the day before Ash Wednesday, the beginning of Lent, when traditionally abstinence prevails. So before the self-restraint kicks in, New Orleans becomes a hub for masquerade balls, glittering beads and excess booze, with some cracking parades across the city.
16. Il Palio – Siena, Italy — July—August
Twice a year the Tuscan town of Siena harks back to its medieval past with a bareback horse race in the local ancient square. Each of the 17 horses in the race (and of their course riders), represent one of the city's contrade (or districts), adding to the roar of the crowd. And to make things even more entertaining, jockeys are allowed to do anything to their opponents other than tug their reins, so expect as many spills as thrills.
17. Dia De Los Muertos — Mexico — October–November
Translated to 'Day of the Dead', this seemingly morbid festivity is a day to celebrate and remember those who have passed away with parades, costumes, paper decorations and edible skulls. It is believed that the spirits of the dead visit their families on October 31 and leave on November 2, so many spend this time visiting cemeteries – where there is often music and dances to honour the spirits.
18. Snow & Ice Festival — Harbin, China — January—February
Harbin is transformed into a winter wonderland with seismic ice sculptures across the city, adorned with lights and lasers, drawing thousands of artists and art enthusiasts alike. And if that's not enough to tickle your fancy, there's also the Ice Lantern Art Fair, dog sledding to watch and our favourite, "winter swimming watching".
19. La Tomatina — Buñol, Spain — August
Tomato fiends get their fill on the last Wednesday of August as over 100,000kg of tomatoes are hurled, squished and splattered in the town square. It's the culmination of a week-long celebration of Buñol's patron saint, which leaves the town in a bright red smattering like a horror film scene. We don't envy whoever has to clean up that mess!
20. Glastonbury Festival — Pilton, England — June
The mother of all music festivals, Glastonbury has been running for over 40 years and has been crowned one of the largest music festivals in the world, now attended by some 150,000 people. As well as promising the latest and greatest in pop and rock music performances, event-goers are also treated to dance, comedy, theatre and circus acts. And like all good music fests – expect gumboots, loud music and plenty of mud.
21. Hokkai Heso Matsuri —Furano City, Japan — July
Residents of Furano in Hokkaido, Japan, have created a festival completely inspired by their geographical location. In the same way the belly button is in the centre of the body, Furano is in the centre of the Hokkaido Prefecture. Thus, the Hokkai Heso Matsuri, commonly known as the Belly Button Festival. Dancers paint themselves to depict the belly button as the mouth of a character and proceed to belly dance their way through the streets of the city. The festival also celebrates the city's Hokushin Shrine, the proud backbone of the belly button festival. The shrine is dedicated to birth, growth, health, happiness, thriving and peace.
22. International Bathtub Regatta — Dinant, Belgium — August
Locals and tourists alike are invited to take part in one of Belgium's most popular yet unusual festivities, the International Bathtub Regatta on the gorgeous Meuse River in Dinant. All boats involved in the one-kilometre race must be made from a bathtub and are not allowed a motor, making for some interesting inventions and contraptions. As well as the bathtub race, the event includes an antique car show and tastings of flamiche, a local delicacy.
23. Lazarim Carnival — Portugal — February–March
A far cry from the feathers and glitter of the carnivals Portugal are known for, the Lazarim Carnaval is one of the few celebrations in the country where the Celtic ritual of wearing large wooden masks is still practiced. The masks are worn by 'caretos', meaning disguised as the devil. The Lazarim Carnival includes a drum parade and feasting on tasty stew.
24. Gasparilla Pirate Festival — Florida, USA — January
Since 1904, Florida has been celebrating the plundering of Tampa by the Spanish pirate, Jose Gaspar and his marauding band of buccaneers at the Gasparilla Pirate Festival, held every year in January. A large Spanish galleon arrives in Tampa Bay to kick off the event, which is escorted by hundreds of small ships. The pirates come to shore for a five-mile parade route featuring floats and marching bands, in which they fire thousands of blank shots in the air and throw gold coins and beads into the crowd.
Read our Top 100 travel experiences for more inspiration to add to your travel bucket list.