Five-minute guide to Munich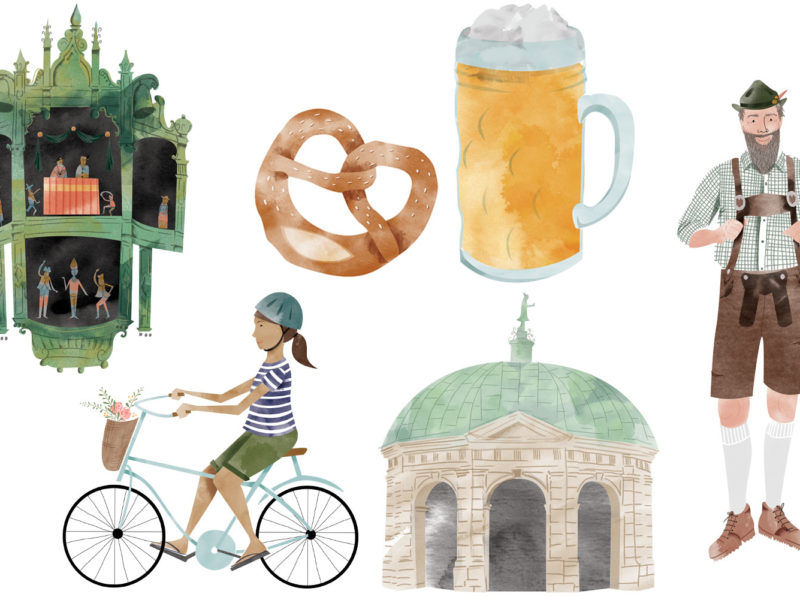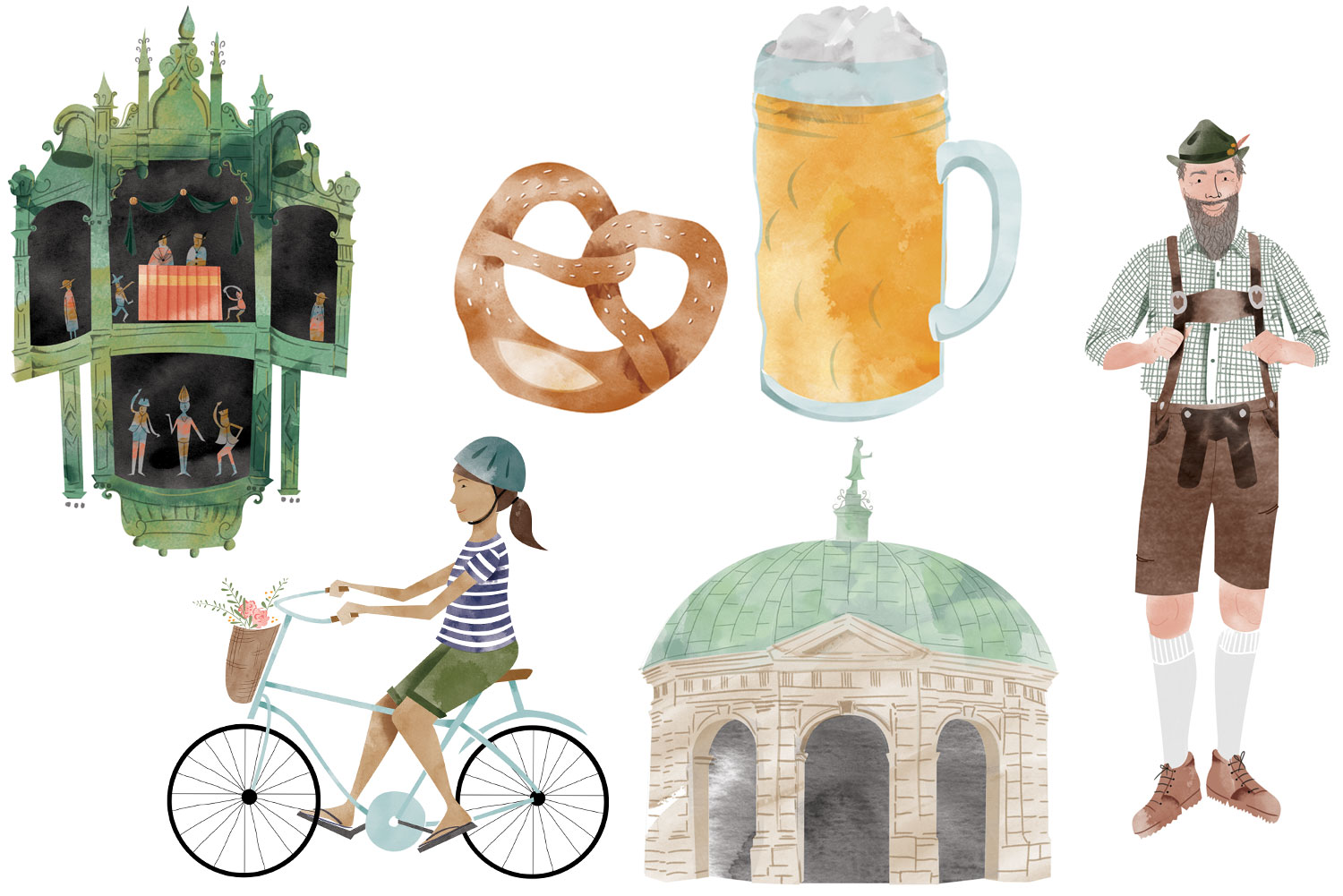 This vivacious German town is festive all year round. Words Megan Arkinstall, illustrations Lauren Merrick
Welcome to München
The capital of Bavaria may be one of Germany's major metropolises but it has the feeling of being a small city, hence its nickname 'Village of a Million People'.
Getting to and from the airport (around 35 kilometres north of the city centre) is simple with two public transport options.
The Lufthansa Airport Bus departs every 20 minutes between 6am and 10pm, takes around 40 minutes, and costs $16 one-way and $26 return.
The S-Bahn (suburban train) has two routes that run between the airport and city centre every 10 minutes from 5am–1am. It takes 38–48 minutes to the city and cost $18 per adult. The ticket is valid for use on the entire network (trains, trams, buses) until 6am the following day.
Getting out and about
By train/bus/tram:
The public transport system in Munich is efficient and comprehensive (exactly as you would you expect from a German city, nein?).
The U-Bahn is the inner-city subway and runs services every five to 10 minutes. For all the stops in between you can hop on a Metrobus or a tram (Strassenbahn), which run every 10–20 minutes.
A one-way ticket costs $2 (up to four stops), but we recommend an inner zone day ticket for $9 or a three-day ticket for $23.
Make sure you validate your tickets or you can be fined up to $60.
By foot:
Don your sandals (with or without socks) because most of the must-sees are within walking distance in the city's Old Town – Marienplatz and its famous Glockenspiel, the National Theatre, the Royal Residence and so on – and there's a plethora of stunning baroque and gothic architecture to marvel at.
We recommend jumping on a free walking tour to hear fascinating stories of the city's history (you simply tip at the end). Try SANDEMANs, which departs from Marienplatz twice daily.
newmunichtours.com
By bicycle:
Or if you prefer two wheels, you're in luck – Munich is an über-bike-friendly city with around 1200 kilometres of cycle lanes and 22,000 bike stands.
If you want to join a tour, Mike's Bike Tours has been around for 20 years.
Sightseeing
You've probably heard of the Englischer Garten (English Garden) but what about…
The Documentation Center for the History of National Socialism:
Only opened in May of this year, this poignant minimalist museum is located on the former site of the Nazi party headquarters in Konigsplatz and was intentionally designed in stark contrast to the neo-classical buildings of Hitler's liking.
It examines the rise of the Nazi party and how Munich was its foundation through displays of photos, footage and audio guides. (If you have a spare day, try to make it out to Dachau also.)
www.ns-dokumentation szentrum-muenchen.de/centre
Bier und Oktoberfest Museum:
Located down a winding laneway between Marienplatz and Isartor is Munich's oldest townhouse, which has a history dating back to 1340.
It has been beautifully restored and now displays a small permanent exhibition on Bavarian beer and the 200-year-old tradition of Oktoberfest, along with beer tastings and an historical kitchen serving traditional Bavarian specialties.
Entry is $6, guided tour is $7.50.
bier-und-oktoberfest museum.de/en
Pinakothek der Moderne:
With more than 80 museums in Munich, the choice is overwhelming. But if it's modern art you're after, the choice is easy: Pinakothek der Moderne (Modern Picture Gallery).
Located in Kunstareal (Museum District), this sleek, contemporary building holds four impressive collections – arts, graphics, architecture and design – from the 20th century to today from the likes of Picasso to Warhol.
Entry is $15.
pinakothek.de/en
Shopping
Wiener Platz:
As opposed to the popular Viktualienmarkt (still worth a visit!), Wiener Platz is a small and less touristy market square, about 15 minutes on the tram east over the river.
It has a village-like atmosphere and a host of cute stalls selling food and flowers, boutiques, cafés and beer gardens.
Kaufingerstraße/Neuhauser Straße:
Between Marienplatz and Karlsplatz, these two pedestrian-only streets join together to become Munich's main shopping area, home to brand names such as H&M and Zara, to Gucci and Burberry.
But make sure you look down the sidestreets, too, as there are plenty of hidden stores for you to splash your cash.
Feinkost Käfer:
This is where the big wigs shop for their gourmet goods. In fact, this well-known delicatessen has one of the most exclusive and expensive tents at Oktoberfest.
Come here to browse delicious fresh produce including meat, seafood, caviar, more than 350 types of cheese, thousands of bottles of exquisite wine, 40 types of bread, gourmet condiments, oils, and so on.
We suggest you stock up on picnic supplies, then head across the river (about a 15–20-minute walk) to Englischer Gartens for a lazy afternoon basking in the sun and people watching (don't be surprised if you see people with liberal views on clothing wandering around!).
en.feinkost-kaefer.de
Eat & drink
Glockenbachviertel:
This quiet borough located next to the Isar River is one of the city's hippest hoods, home to a host of trendy bars, restaurants, cafes and shops.
It's the perfect spot to relax away from the rowdy beer halls; its centre, Gartnerplatz, is handsome with flower beds, fountains and stretches of grass for people to recline on.
Cafe am Beethovenplatz:
Located in the Belle Epoque Mariandl Hotel built over 100 years ago, Munich's oldest concert cafe is likened to a Viennese coffee house.
Boasting high ceilings decorated with ornate stucco, parquet floors and wooden panelling, the cosy cafe is popular for the classical music and jazz that is played here on a daily basis.
mariandl.com
Nürnberger Bratwurst Glöckl:
Fancy trying a 'wurst? A short walk from Marienplatz by the Frauenkirche (cathedral), this cosy and cute tavern is the place to sample Bavarian cuisine including wursts (sausages) of all sorts; the menu has hardly changed since it opened in 1893 so it's an authentic feed.
bratwurst-gloeckl.de
Beer halls:
Even if you aren't a beer lover, a visit to one of Munich's 200 or so beer halls/gardens is a must and you won't be hard-pressed to find somewhere to purchase a pint and a pretzel.
The most famous is Hofbräuhaus, founded as a brewery for the royal residence in 1589; it later became a regular site for several Nazi meetings (the painted ceilings feature hidden swastikas) and is now an always-buzzing place of joviality with oompah bands, servers in traditional dress and hearty Bavarian food.
Another popular place to yell "Prost!" is Chinesischer Turm (Chinese beer garden), a huge outdoor beer garden in the leafy Englischer Gartens, with a 1790 pagoda-style wooden tower that was destroyed in WWII, but rebuilt in 1952. Or savour a stein at Augustiner Keller; opened in 1812, the beer is served straight from wooden barrels.
Where to stay
If you want to be able to walk everywhere, base yourself in the Old Town, the heart and soul of Munich.
Our picks to stay:
Louis Hotel:
Also on the edge of Viktualienmarkt, the elegant Louis Hotel – part of the Design Hotels group – is located in a 100-year-old building revamped by local architects.
Each of its 72 rooms is individually designed with custom-made furnishings, resplendent in handcrafted wood and stone. There's a Japanese restaurant and rooftop bar.
From $236 a night; louis-hotel.com
Mandarin Oriental:
Tucked away in a quiet side street, in the centre of Old Town, the recently renovated Mandarin Oriental has spacious rooms and suites; some overlooking the city, others overlooking Hofbräuhaus's beer garden, all boasting large marble bathrooms.
There's a rooftop pool, Turkish steam bath and Finnish sauna, and the soon-to-be-opened restaurant from acclaimed Japanese chef Nobu Matsuhisa.
From $928 a night; mandarinoriental.com/munich
Helpful phrases
Hello = Hallo/Guten Tag (Good Day)
Please/Thank you = Bitte/Danke
How much does that cost? = Wieviel kostet das?
Where's the bathroom? = Wo ist das WC?
Do you speak English? = Sprechen Sie Englisch?
Cheers! = Prost!
LEAVE YOUR COMMENT