Inside Munich's most thought-provoking museum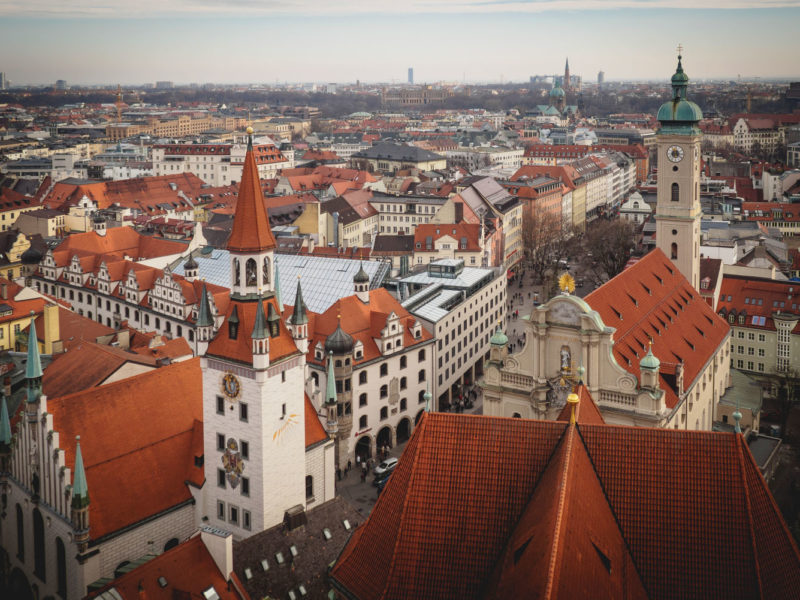 Munich's striking Documentation Centre for the History of National Socialism confronts the city's dark past through its illuminating permanent exhibition.
The white concrete cube cuts a contrast against the muted stone and neatly neoclassical architecture of nearby Königsplatz, a square commissioned by Bavarian king Ludwig I in the early 19th century to make Munich look like Athens. It punctures the landscape deliberately: a statement of intent and a new sign of consciousness for a city that had buried its past for 70 years.
"In German we have the saying: let grass grow over it," says Professor Winfried Nerdinger from his airy office on the top floor of this building, the Munich Documentation Centre for the History of National Socialism (NS-Dokumentationszentrum).
Billing itself as a place of learning and remembrance, this bold institution within the city's Kunstareal museum quarter opened in 2015 on the spot where the headquarters of the Nazi Party once stood. After the so-called Brown House was bombed at the end of the Second World War and its rubble removed, a lawn was laid in its place. "So what the administration really ordered was to let grass grow over history," founding director Nerdinger explains. "Somehow to let the history that Munich was the capital of the movement disappear."
Munich has the ignominious reputation of being the birthplace of the Nazi Party. When Adolf Hitler was stationed in the Bavarian capital after the end of the First World War as a corporal, he fell upon a nascent and poorly organised political group that shared his own strongly nationalistic, pro-military and anti-Semitic ideals, the German Workers' Party. Sensing an opportunity, Hitler – a famously skilled orator – joined the party in 1919 and within two years had changed its name to the National Socialist German Workers' (Nazi) Party, grown its profile and assumed leadership.
In 1923, Hitler led an attempt to overthrow the German government. The Beer Hall Putsch was unsuccessful and led to Hitler's nine-month-long imprisonment, but a decade later – after the country had plunged into depression, the Weimar Republic had collapsed and Hitler had capitalised on his party's exponential rise in popularity by installing himself as dictator – its anniversary would come to be celebrated each year in a pseudo-religious ceremony on Königsplatz. Temples to honour those who died would be built here, as well as grandiose public buildings with names like Hitler's Führerbau (the Führer's Building).
The square and its surrounding areas were turned into the party administrative district; Hitler and other senior members including Heinrich Himmler and Joseph Goebbels held their offices in the stately 'Brown House' mansion.
The NS-Dokumentationszentrum details this history clearly and unflinchingly using photographs, texts, posters, old film footage, news clippings and more. The permanent exhibition descends from top to bottom over four floors and is arranged into four main themes: the origins and rise of the Nazi movement; dictatorship, society and everyday life under National Socialism; the Second World War; and how the Nazi era was dealt with in Munich after 1945. The interior of the building itself – designed by competition-winning Berlin architecture firm Georg Scheel Wetzel – also acts as a witness to what went before: through its cross-storey windows cut into the cube's facade visitors have an intentionally distorted view of relics that survive from the Nazi era including the Führer's Building, now a music and performing arts academy, and Königsplatz itself.
The exhibition is designed in an agile way that means visitors can engage with it on two separate levels – by following its vertical illuminated frames you'll gain an overview in under two hours; by further consulting the horizontal panels laid out in the space, you'll come away with a deep understanding in three to four hours.
I spend half a day at the centre, and it isn't long enough: the experience is sobering, engaging and utterly absorbing. It fires up my synapses and leaves me reeling not only at the unthinkable things that happened for no good reason but at just how vital a place like this feels right now. Far from simply providing a very well-structured history lesson, the centre – like its striking architecture – rings with contemporaneity.
The two underlining questions it poses to the visitor are, 'what does this have to do with me?' and 'why should this still concern me today?'.
By breaking down the magnitude of history's arc – the rise of a dictator, war, genocide – into a series of interlocking and sometimes seemingly preventable moments, it feels relatable. And this is key to the centre's objectives. "History does not repeat itself in exactly the same way," says Nerdinger. "There will never be a man with a moustache – this is of course ridiculous. But you have to understand the structures, and what you can learn out of the structures."
When a country experiences a political or economic crisis, says Nerdinger, voters will go to the extremes. And during these times, "it's of utmost importance that the democrats stand united together. This did not happen in the Weimar Republic: [after the onset of the Great Depression in 1929] the democratic parties were split in themselves and they could not counter extremist movements – and so the democracy broke and failed," he says. "That's why we say one can learn out of history, and that's what you can learn out of a place like this."
The NS-Dokumentationszentrum also tells the stories of brave individuals who stood up to the Nazi regime, including siblings Hans and Sophie Scholl and Christoph Probst. Students from the University of Munich, they formed part of a peaceful resistance movement called the White Rose and spoke out using graffiti and hand-printed pamphlets, the first of which implored, 'Do not forget that every nation deserves the government that it endures'. In 1943, the trio were arrested after Sophie was seen throwing a pile of pamphlets from a balcony into the square below at the university. They were convicted of high treason and executed hours later.
From the NS-Dokumentationszentrum, it's a 20-minute stroll to Geschwister-Scholl-Platz, where the siblings and their friend are commemorated with a subtle and poignant tribute: the White Rose Memorial sees a scattering of bronze replica leaflets embedded on cobblestones in front of the university building where the students were arrested. Geschwister-Scholl-Platz is in the heart of Schwabing, long known as Munich's bohemian and artistic district. It was the epicentre of European arts in the 19th century, before the avant-garde moved to Berlin and Hitler manipulated the city's artistic legacy to suit his own ideology: decreeing it the capital of German Art – an intrinsically racist proposition – while rejecting modern art as degenerate. Today, you can nonetheless spot its trendsetting legacy in the many beautiful Jugendstil (Art Nouveau) houses that still exist in the area. The dust has settled on Schwabing to reveal an attractive neighbourhood with an alternative undercurrent and plenty of spots to sip coffee and ponder in.
In the months after I meet him in his office on the top floor of the NS-Dokumentationszentrum, Professor Nerdinger retires. An architectural historian by trade whose father, the graphic designer Eugen Nerdinger, was also a resistance fighter, Nerdinger has campaigned to establish a documentation centre of this kind in Munich since the late '80s. Other cities in Germany, including Berlin, Cologne and Nuremberg set examples, but Munich – voted the world's most livable city by Monocle in 2018 and slowly but surely shedding its conservative image – dragged its heels.
"I always said the city has a responsibility because everything started here," Nerdinger explains. "But it took another generation – almost 25 years – because there were so many obstacles here in Munich set by different groups, politicians, families and so on. But at last we have the building… it took a long time!"
And yet it seems so timely now, a century on from when Hitler first entered politics. This landmark white cube that confronts a dark past feels as relevant and essential today as it ever could.
Getting there
Etihad offers one-stop flights to Munich from Brisbane, Sydney and Melbourne.
Playing there
The Munich Documentation Centre for the History of National Socialism is open 10am–7pm Tuesday to Sunday, and on public holiday Mondays. Admission costs €5 ($8) for adults and €2.50 ($4) concessions; it's free for under 18s, school pupils and students in groups. Use of media guides and a smartphone app is free of charge, as is access to the learning centre.
The NS-Dokumentationszentrum is located a four-minute walk from Königsplatz metro station.
LEAVE YOUR COMMENT