The best countries for road trips around the world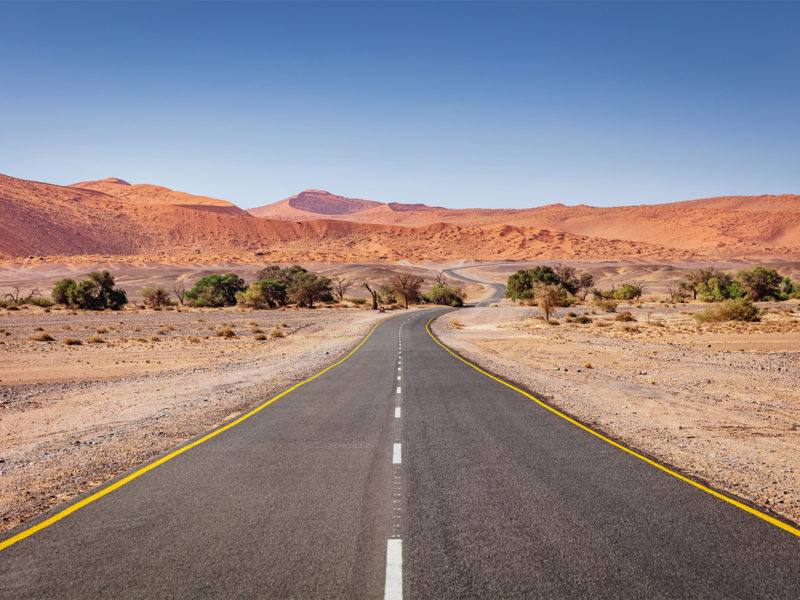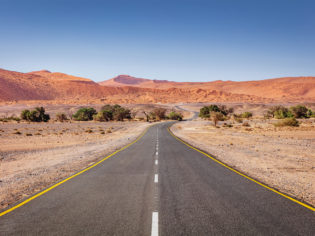 Cutting your own path on a road trip through a country is the best way to make the journey part of the adventure.
There are many ways of getting from A to B when travelling, but there is a case to be made for slowing down to enjoy the ride – starting with the views you'd otherwise miss. A road trip helps you make the most of the journey and these countries offer some of the best routes to entice you there sooner.
Namibia
Wide open spaces, seemingly-endless hills of orange sand dunes, African wildlife within reach – Namibia is a destination unlike anywhere else in the world. It's also one of the most sparsely populated places on Earth, and a year-round destination for jaw-dropping road trips.
The roads are well-managed and maintained and you'll find plenty of camping facilities along the way to break up the journey with a good night's sleep.
Begin in the Namibian capital, Windhoek. From here you can wind your way through the breathtaking orange Sossusvlei sand dunes, passing through the adorable town of Solitaire. Alternatively, opt for a wildlife sojourn through Etosha National Park, which can be done from the comfort of your own vehicle.
The deep valleys of Fish River Canyon also provide plenty of alluring landscapes, as well as endless starry night skies to gaze at each evening when the sun goes down. No matter where your itinerary takes you, a road trip through Namibia will deliver wild delights, delicious food and conversations with friendly locals; and all within a dramatically beautiful setting.
Italy
It's not hard to wax lyrical about the many charms of Italy. Neapolitan pizzas paired with bold red wines from Chianti, the sparkling water of Lake Como and the romantic fishing villages of the Cinque Terre – the country's combination of world-class food, culture and natural wonders make it an irresistible destination. And what better way to experience it all than on four wheels?
Driving Italy's most scenic stretch of coastline, the Amalfi Coast, may be an obvious place to start, but it's hard to beat the breathtaking Mediterranean beauty and enchanting pastel-coloured villages encountered along this route. Begin the journey in Salerno and continue west along the coastline stopping at Ravello, Amalfi, Positano and ending in Sorrento.
For foodies, Tuscany's vineyard-dotted landscape is the way to go. Starting in Florence, cruise along the SS22 until you reach the heart of the Chianti wine region. Spend your days sipping on Italian wine and dining on the best produce in the region – only leaving when your food-coma threshold reaches maximum capacity.
For a breathtaking alpine drive opt for a road trip through the UNESCO World Heritage listed Dolomites. The 140km Grande Strada delle Dolomiti, or the Great Dolomites Road, starts at Cortina d'Ampezzo (two hours' drive north of Venice), climbs up to Falzarego Pass and eventually ends in Bolzano in Trentino-Alto Adige. There are plenty of day hikes and regional Italian fare to be enjoyed along the way.
New Zealand
It is often said that a road trip through New Zealand will spoil you for life. No other country can compare with the otherworldly beauty of New Zealand's landscapes, forged through volcanic activity to deliver a variety of prehistoric vistas to marvel at along the drive.
Aside from the views you'll encounter on the North and South Islands of New Zealand, you'll also get a chance to immerse yourself in Maori culture, learn about the nation's European history, spend time indulging in the allures of its main cities and explore countless natural wonders.
Highlights of a New Zealand road trip include the Turquoise lakes in Pukaki and Mackenzie country, driving and hiking around Coronet Peak and Crown Range, the thermal wonderlands in Rotorua, the picturesque lakes of the South Island, the night sky over Lake Wanaka and oh-so-much more.
For more inspiration, follow our 8 day road trip itinerary through New Zealand's North Island.
Portugal
Portugal's glorious coastline, fabulous flavours and photogenic cities make it one of Europe's hottest destinations. When explored by car, its hidden escarpments reveal themselves and any wrong turn will happily deliver you to an unexpectedly beautiful town or village. Plus, most major towns are only about 3-4 hours apart, making it extremely accessible to hop from city to city by car.
The bustling region of Porto is a popular place to start. From here, venture through the Duoro Valley, home to Portugal's most popular wine region. Spend time exploring the many wineries, sipping the best vinos and dining at the many restaurants.
Alternatively, head for the sun-soaked southern region of the Algarve to explore its many beaches, plunging clifftops, picturesque towns and charming coves.
Iceland
Iceland's Route 1 or Ring Road, as its name helpfully suggests, is a loop around the entire, pristine island.
For many, the journey begins (and ends) in the capital of Reykjavik. Sticking close to the coast, six to 10 days should give you ample time to explore. Make time to stop at the spellbinding Jökulsárlón glacial lake with its floating monoliths and the volcanic Lake Mývatn.
You'll also come across national parks, lovely villages, enigmatic black-sand beaches, and dramatic waterfalls, such as the life-punctuating Seljalandsfoss and Skógafoss. The only problem will be deciding which ones to squeeze into the journey.
Canada
Holding the title of the world's second biggest country comes with some equally big perks. Full of fantastic places to see, unspoiled nature to marvel at and many an adventurous activity to be had, the Canadian highways are ready and waiting to be explored.
The Trans-Canadian highway is arguably the most famous route, passing through all 10 provinces. It's a recommended route for first-timers who are keen to experience as much of the beautiful country as possible. Highlights include St John's (Newfoundland), Gross Morne National Park, Quebec and the picture-perfect Lake Louise in Banff National Park, where you can expect incredible encounters with a variety of wildlife – including moose, elks and bear – close to the snow-capped Canadian Rockies.
The Arctic Circle, along the Dempster Highway, is one for those who prefer the path less travelled. Driving along this scenic route is a sure fire way to immerse yourself in the Arctic, through the middle of the tundra, jagged mountains and endless wilderness.
For coastal views, the Cabot Trail is our pick. Crossing over 300km of Nova Scotian wilderness, you can expect breathtaking sea views at every turn.
But the beauty of Canadian wilderness culminates in the Icefields Parkway. The road stretches for 232 kilometres through the Canadian Rockies, connecting the famously beautiful towns of Jasper and Banff. It's often described as one of the world's most scenic highways, so plan for several pit stops for marvelling at glaciers, waterfalls, dramatic rock spires, turquoise lakes and sweeping valleys.
Ireland
If you're at all into breathtaking scenery, rich history, charming towns and villages – you'll need little convincing as to the allure of an Irish road trip.
In the Ancient East, explore a living, breathing museum spanning some 5000 years. Even the most astute of history buffs will be in left in awe at sites such as the sixth-century monastic site of Glendalough; the medieval town of Carlingford which has traces of Viking and Norman history; and the Rock of Cashel, a collection of remarkably preserved medieval buildings perched on a rocky limestone outcrop.
Driving the sparsely populated Northern Headlands region is another option. Some of Europe's highest sea cliffs call this place home, rising out of the foaming waters below, neighboured by lonely light houses, and frequented by the appearance of the Northern Lights.
Northern Ireland's Causeway Coastal Route is known as one of the world's greatest road journeys. Following the north-eastern coast between the cities of Belfast and Derry-Londonderry, this region is famous for the UNESCO World Heritage listed Giant's Causeway, a natural wonder consisting of 40,000 basalt columns resembling stone steps, with a compelling legend to go with it. The route, which is best enjoyed at a leisurely pace with plenty of stops along the way, is dotted with plenty of important historical sites, and other natural bounties.
LEAVE YOUR COMMENT