9 epic day walks from around the world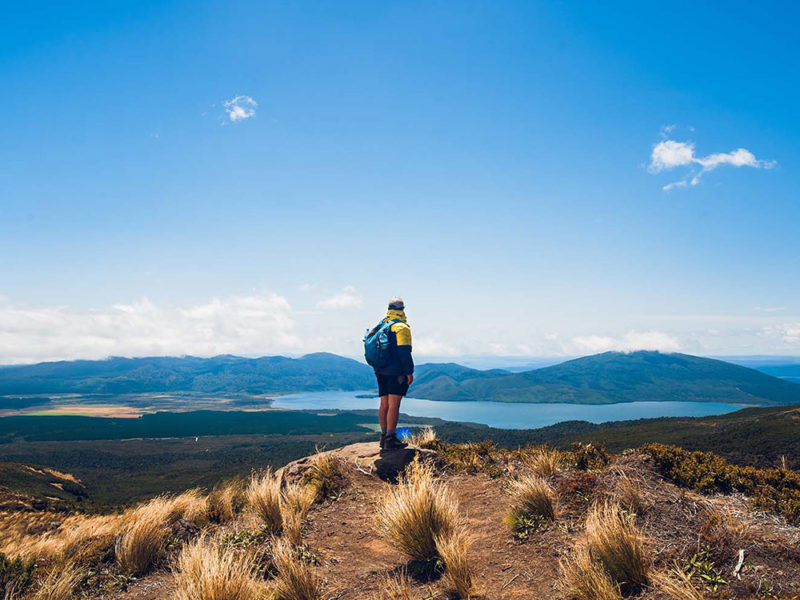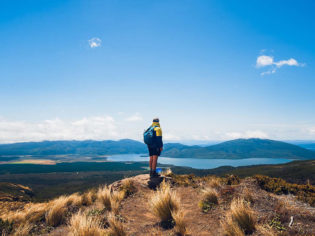 From Machu Picchu in Peru to Japan's Nakasendo Way, it's possible to experience some of the world's most iconic sights and trails on foot in just one day.
Whether it's the volcanic landscapes of New Zealand, the soaring red-rock cliffs of Utah or the idyllic Swiss Alps, there's nothing like exploring the wonders of the world on foot. So dust off your hiking boots, buy a new memory card for your camera – you're gonna need that extra space – and set your sights on one of these epic walks that you can do in just one day.
1. Tongariro Alpine Crossing, North Island, New Zealand
Distance and time to complete: 19.4 kilometres / six to eight hours
Why go: The Tongariro Alpine Crossing is often considered the best one-day trek in New Zealand – and one of the best in the world, too. It's located in Tongariro National Park on the North Island, which is the country's oldest and dual-heritage listed for both its dramatic and awe-inspiring scenery and its importance to local Maori culture. Its challenges – steep climbs and unpredictable weather among them – are worth tackling for the otherworldly experience you'll have in this remarkable volcanic landscape.
Highlights: Emerald lakes, volcanic craters and lava flows. Landforms, including the volcanic peaks of Ngauruhoe, Tongariro and Ruapehu, that you won't see anywhere else in the world.
What to expect: This challenging trek is graded as advanced so a good level of fitness is required. Weather in Tongariro National Park can be unpredictable and conditions can change quickly so it is essential that walkers come prepared.
Wear strong and sturdy boots and carry food plus all the water you'll need for the day (minimum two litres per person – more on hot summer days). Pack warm and waterproof layers, sunscreen and sunglasses.
You can walk the track from either end but the most popular option starts at Mangatepopo Valley. It's recommended that visitors don't drive to either end but instead opt for the park-and-ride services provided by local operators from nearby townships such as National Park Village and Whakapapa Village.
2. Cinque Terre trails, Liguria, Italy
Distance: Various
Why go? The Cinque Terre is a string of five picture-postcard villages – Riomaggiore, Manarola, Corniglia, Vernazza and Monterosso – improbably built into the rugged Italian Riviera coastline. With candy-hued vintage houses, a strong sense of heritage and the Mediterranean Sea dazzling away at every turn, it offers visitors the most romantic snapshot of Europe.
But the not-so-hidden gem of this UNESCO World Heritage site is its network of 48 hiking trails that link the villages and which have evolved from ancient tracks once used by agricultural workers in the region. The Monterosso to Vernazza trail is a typical example, covering 3.5 kilometres and walkable in 1.5 hours: in this time you'll cross past vineyards, citrus orchards and olive trees, breathe in the fragrance of evergreen oaks, arboreal heather, broom and juniper and marvel at panoramic views of the sea.
Perhaps the most beloved of the trails, Sentiero Azzurro or the Blue Path, spans all five villages across 12 kilometres and is currently undergoing reconstruction. It's expected to reopen to travellers in 2021.
Highlights: Walking through fragrant Mediterranean vegetation and ancient terraces still cultivating grapevines and olives. Coastal panoramas and views of the famous Cinque Terre towns. The well-earned meal or refreshments you'll enjoy in town al fresco upon the completion of each stretch: the menus here are laden with Ligurian cuisine including fresh seafood straight from the sea, pasta with local pesto and dry white wine.
What to expect: In recent years, the Cinque Terre has become a victim of its own beauty and has suffered somewhat under the weight of overtourism. Measures are being introduced to moderate visitor numbers on the trails and its most popular ones are ticketed.
Purchase a Cinque Terre Card (€7.5/$12 per day) to gain access to all trails during peak season. Purchasing a Cinque Terre Train Card (€16/$26 per day) will also give you unlimited access to the train services that operate between the towns.
Aim to visit in the off seasons of spring and autumn (March, April and September, October) for milder weather and fewer crowds.
Or try: Medieval Portovenere is considered the Cinque Terre's 'sixth town' but gets far less crowded by dint of not having a train station. Walk there from Riomaggiore on a challenging 12-kilometre Cinque Terre trail that will take you through pine forests, past a 15th-century sanctuary and breathtaking views of the whole Cinque Terre coastline, and along a spectacular cliffside path. End with a celebratory drink at Portovenere's harbour, before hopping on an early evening boat back.
3. Five Lakes Walk, Zermatt, Switzerland
Distance and time to complete: 9.8 kilometres / three hours
Why go: The Five Lakes Walk in the Zermatt mountains of southern Switzerland offers quintessential alpine scenery complete with unrivalled views of the Matterhorn – the pyramid-shaped peak that is thought to be the most photographed in the world.
The round trip winds past the five lakes of the Stellisee, Grindjisee, Grünsee, Moosjisee and Leisee, each one different from the next, and is a fantastic and accessible way to breathe in great lungfuls of a region synonymous with Switzerland.
Highlights: Swimming in the Leisee and Grünsee lakes and picnicking at their shores. Catching the reflection of the Matterhorn in Stellisee, Grindjisee and Leisee lakes on a calm day.
What to expect: This walk is graded moderate, is mostly downhill and is appropriate for children aged six and upwards. Wear good footwear and always pack waterproof layers. Pack water and food for a picnic or stop halfway at the Mountain Lodge Ze Seewjinu for lunch.
To begin the walk you'll need to first take the funicular from the resort town of Zermatt to Sunnegga and then the gondola to Blauherd; from here the hike is easy signposted as '5-Seenweg'. During summer, this is also the starting point for many other hiking trails in the area including the family-friendly Marmot Trail and Flower Walk; in winter it offers direct access to the ski pistes of the region as well as winter hiking trails.
4. Mirador Las Torres, Torres del Paine National Park, Patagonia, Chile
Distance and time to complete: 18 kilometres / eight to nine hours
Why go: Hikers make the pilgrimage to Chile's Torres del Paine National Park for its O-Circuit (nine days) and W-Trek (four to five days) that take in Patagonia's out-of-this-world topography of mountains, glaciers and lakes in one fell swoop.
And it's the sight of the three ragged granite towers at Mirador Las Torres that's the most coveted of all. This landmark is the climax of the park's famous treks, but it can also be accessed on one (admittedly challenging and undoubtedly epic) day.
Highlights: The iconic sight you'll be rewarded with – where the national park's namesake peaks are mirrored in the impossibly turquoise lake below – will remain vivid in your memory forever.
What to expect: This is rated as a very hard walk and hikers must be prepared for a long and steep ascent (and later descent), and to climb over rocks at times.
Weather in Patagonia can be unpredictable all year round and a strong wind blows especially during the peak summer hiking season (November to early March). Wear hiking boots and warm layers and pack a waterproof jacket and windbreaker. Walking sticks are recommended too. Pack food and water for the day (note that it's possible to refill your bottle from the streams here).
The Mirador Las Torres walk departs from and returns to Las Torres Hotel within the national park; base yourself here or a nearby hotel for two nights. You'll need to pay an entry fee (USD 25/$36 for adults) to access the park, which can be done in cash at any of the park's entrances or in advance, by credit or debit card, at the bus station in Puerto Natales (the gateway town for Torres Del Paine, two hours' drive away).
Or try: Cerro Castillo in Patagonia's unbelievably beautiful Aysén region is one of Chile's newest national parks and has trekking circuits – ragged peaks, vivid green lakes and all – to rival Torres del Paine's – minus the volume of visitors, for now. Check out the day adventures offered by local tour operator Senderos Patagonia.
5. The Inca Trail, Peru
Distance and time to complete: 15 kilometres / four hours
Why go? Set high in the Andes in southern Peru, the Inca Trail is a four-day mountain trek that rewards at its end with an eternal view of the ancient ruins of Machu Picchu: the 'Lost City of the Incas' and one of the new Seven Wonders of the World.
But for those without the time or inclination to embark on the whole journey, it's possible to get a taste of the trek – including that famous view – in just one day from Cusco (75 kilometres to the south-east).
Highlights: Climbing up the Monkey Steps to the Sun Gate for your first glimpse of Machu Picchu. Walking through the incredible landscape of the Sacred Valley, which has Incan ruins dotted throughout and lush green slopes sculpted by ancient agricultural terraces. The chance to explore the mind-boggling architecture of Machu Picchu.
What to expect: Your best bet is to join a tour operator to undertake this day hike. Local operator ITEP Eco Travel's day trip departs Cusco at 4am, arrives at the Sun Gate by lunchtime and includes a guided tour of the mysterious Incan city and the chance to see the site practically empty at sunset. Operators like Intrepid and Peregrine include this day trip on their Peru itineraries or as an optional extra. A moderate level of fitness is required for this hike; pack a small day pack with essentials like water (two litres), sunscreen and snacks. You'll need to bring your passport to enter Machu Picchu.
6. Magome Tsumago Trail, Nakasendo Way, Japan
Distance and time to complete: Eight kilometres / three hours
Why go: The Nakasendo Way is one of Japan's most intriguing propositions: an ancient highway from the Edo period connecting Kyoto to Tokyo that translates to 'path through the mountains'. It now serves as a quiet walking trail through rural and mountainous countryside complete with rest stops in authentic rural villages and stays at traditional inns.
Self-guided and small group tours can last between five and 11 days (Walk Japan has a great offering), but it's possible to experience a taste of the trail by walking the most popular section, Magome to Tsumago, as a day trip from Kyoto.
Highlights: Winding through forests, farmhouses and fields and stopping off at a traditional teahouse halfway. This section links Magome and Tsumago, two of the juku (rest stations) along the Nakasendo Way: both villages have well-preserved traditional buildings to explore and Magome has a museum, so you can learn more about its fascinating history.
What to expect: This is an easy, gentle path that is well signposted in both English and Japanese. If you're carrying a heavy load, or feel like walking light, take advantage of the baggage forwarding service that's available between each village from April to November, where your bags will be zipped ahead and waiting for you on your arrival.
7. The Tiger's Nest (Paro Taktsang), Bhutan
Distance and time to complete: 6.5 kilometres / four to five hours (plus one hour to tour monastery)
Why go: The Tiger's Nest monastery, also known as Paro Takstang, is Bhutan's most recognisable – and not to mention most photographed – spots: a sacred Buddhist site precariously perched on a cliff in this tiny Himalayan kingdom. It was built in 1692 around a series of holy caves that are steeped in seventh-century legend, and you can visit today via a relatively accessible day hike.
Highlights: The scenic views of the valley as you steadily climb the trail are truly special and you'll get tantalising glimpses of the monastery to come along the way. But the highlight is undoubtedly the moment you meet the monastery eye to eye on the neighbouring cliffside: this is the spot where all the iconic photos get snapped.
What to expect: The hike consists of a wide dirt trail with prayer flags strung overhead and is a fairly steady ascent until you reach steep steps on the final stretch to the monastery. Wear hiking shoes and pack water, snacks and, of course, your camera.
You'll have the opportunity to visit the monastery once you reach it so make sure you bring layers to cover your shoulders and legs. You'll find a cafeteria about halfway up where you can stop for food and refreshments. Locals sell walking sticks at the base of the hike, which may come in handy as the terrain includes dirt and gravel and the descent can be slippery after rain.
The hike is located 16 kilometres north of the valley town of Paro; transport here will be arranged via your guide (apart from those from India, Bangladesh and the Maldives, travellers to Bhutan are required to be with a guide or guided tour).
8. Angels Landing via West Rim Trail, Zion National Park, Utah, USA
Distance and time to complete: 8.7 kilometres / four hours
Why go: The majestic red-and-white cliffs of Zion Canyon that soar over the Virgin River help make Zion National Park in Utah one of the USA's most epic landscapes. Its most popular hike is one of its most beautiful – and infamous: the Angels Landing via West Rim Trail is a series of switchbacks that zigzag their way up Zion Canyon. The walk culminates with a traverse along a razor's edge ridge before a chain-assisted scramble to the summit that opens up to 360-degreee views of the landscape around you.
Highlights: After a 460-metre ascent, the view from the top of Angels Landing is spectacular, but this walk is all about the journey: adventure-seekers will find the route's final traverse along a steep, narrow ridge that falls away at either side (with a chain to hold on to) nothing short of thrilling.
What to expect: This strenuous hike is one for adventurers and not suitable for those with a fear of heights. Make sure you're wearing grippy shoes and exercise caution; eight people have lost their lives on this trail. That being said, this is the national park's most popular hike and for good reason. This also means it can also get busy: consider hiking at off-peak hours like early morning or late afternoon. All visitors to Zion National Park must purchase a pass upon entering.
Or try: Prefer water to heights? Try the 16-kilometre Narrows canyon trail, which will essentially see you making your way along the Virgin River – swimming or wading at times to proceed.
9. Kalalau Trail, Hawai'i, USA
Time and distance to complete: Various
Why go: The 35-kilometre round trip Kalalau Trail on the Hawaiian island of Kauaʻi is a bucket-list item that takes in the lush valleys, unspoilt beaches, freshwater streams, steep sea cliffs and Pacific Ocean blues of one of the world's most famous natural wonders, the Na Pali coast. And while it's possible to hike the 17.5 kilometres to Kalalau Beach in one day, ideally you should allow for three to five days there and back to do it justice.
A gentler but no less spectacular option is the day hike from Ke'e Beach to Hanakapiai Beach. A six-kilometre round trip, it has an optional extension that will see you hike three further kilometres inland from Hanakapiai Beach to reach the 90-metre-high Hanakapiai Falls.
Highlights: This is a tropical trek into paradise that will see you switchback from coast to valleys over freshwater streams. The steep climb to the highest point on the walk rewards with unforgettable views before a descent through jungles of twisted vines, wild ginger and bananas to the golden sands of Hanakapiai Beach (swimming not recommended). A further trek inland to Hanakapiai Falls brushes through bamboo forests and mountain apple trees.
What to expect: This is not beginners' terrain: quality hiking gear, experience and planning are a must. Remote and dangerous in parts, your preparation and efforts will be rewarded with isolated beaches, tropical jungle and dramatic mountains. Visitors embarking on the Kalalau Trail hike must make online reservations through Hāʻena State Park, limited to 900 a day, before they set off. See here for important safety considerations.
LEAVE YOUR COMMENT