10 items to add to your sustainable packing list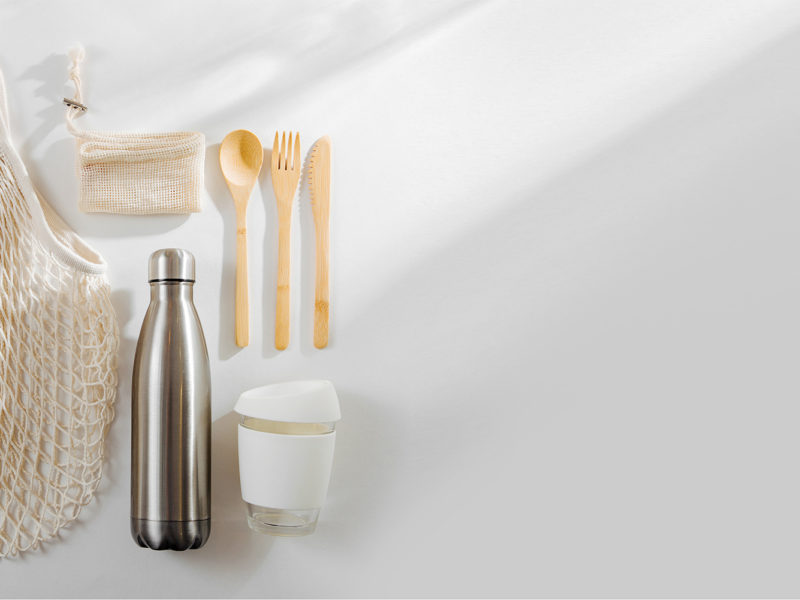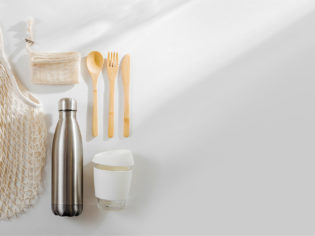 If you've ever visited a beach piled high with rubbish or been overwhelmed by the sight of plastic water bottles left behind in a pristine environment, then you've probably stopped to think about how, as travellers, we can do our bit to further reduce our environmental footprint.
From eco-friendly luggage to chemical-free toiletries, here are 10 items to add to your sustainable packing list that will ensure conscious travellers set off on the right foot.
1. Sustainable travel towel
In the Hitchhiker's Guide to the Galaxy, Douglas Adams writes of the importance of towels for doing everything from wrapping around one's head to ward off noxious fumes, to waving in emergencies as a distress signal.
If Adams had penned the novel in 2020, said travel towel would have been an Evolve eco-friendly towel made from 80 per cent recycled polyester (that's about 20 plastic drinking bottles right there).
The anti-microbial towel was created by an environmental science teacher who wanted to inspire his students to make a difference. Ten per cent of proceeds from buying the planet-friendly towel are donated to charity and free carbon shipping is included for all orders over $75. RRP $69.
2. Eco-friendly luggage
What's a sustainable packing list without a sustainable backpack? And one made from recycled plastic bottles to boot? Eco-minded business travellers will appreciate the fold-down Crumpler Backpack Colourful Character made from recycled plastic bottles and the addition of a back pocket with a waterproof zip, while day-trippers will love that the bag will go the distance when they're heading off-road on an adventure.
The bag has an external water bottle pocket and padded shoulder straps, and is stylish enough to be embraced by urbanites looking to show off their eco cred in the office. RRP $199.
3. Tote Bag
A sustainable Eco-Tote Bag is indispensable when travelling. Use it as carry-on to stuff in your reusable noise-cancelling headphones and neck pillow (to avoid using the disposable headphones supplied on long-haul flights), place it over your shoulder to mooch around a farmers' market in Mexico or to shop for everyday items at a local supermarket.
You can even use it to wrap around your toiletries bag to prevent a shampoo blowout on the plane or to segment your dirty undies. We love the stylish Angie Rehe X Eco-Tote Eco – L'Amour Cat. $49.95.
4. Stainless-steel cutlery
Disposable cutlery is doled out willy-nilly everywhere from inflight meal service to food courts. Thankfully, Messermeister is now in the mix, doing its bit to tip the scales in favour of reusable cutlery.
The German knife brand introduced a new chef-grade travel set designed for adventurers: each foldable set comes with its own canvas carry case, making it safe and convenient to pack when you go camping or on a road trip. The range has been crafted using stonewashed stainless carbon alloy blades, which means it's durable, easily re-sharpened and cleaned. The 4-in-1 Adventure Chef tool includes a dual-action serration knife, fork, spoon and integrated bottle opener. RRP $64.95 to $119.95.
5. Food container
A great habit to get into when on the road is to travel with a stackable food jar made from stainless steel, which will keep food hot or cold for hours and is more durable than plastic. If you're self-catering, this is a must-have that will save you money as you can pack the leftover soup or pasta from the night before into the leak-proof food jar for a picnic on the go.
Choosing a container or food jar that is stainless steel means it's built to last, non-toxic and eco-friendly. We love the Zoku Neat Stack Food Jar, which is perfect for packing porridge or chia pudding; it's also handy when you front up to a street food vendor and ask for your dinner to go in your very own vacuum-insulated container. $44.95 to $59.95.
6. Water Filter Bottle
A sleek, water filtration bottle is the perfect accessory for travellers who like to journey through a remote forest, bike or hike, or travel to countries where clean water is not readily available. A bottle with a water filtration system enables travellers to drink water from ponds, lakes, rivers or streams while on the hop.
Those who purchase a LifeStraw Go Water Filter Bottle can also quench their thirst for paying it forward: for every product purchased, a school child receives safe water for an entire school year. LifeStraw also produces a sleek, sturdy sustainable stainless-steel water filtration bottle.
All LifeStraw components are recyclable, except the carbon filters. But the company is now evaluating a recycling program that takes it a step closer to that goal. RRP $62.95.
7. Lip Balm
While hard-core environmentalists may well curl the corner of their lip up in contempt for frequent flyers, it's a fact that many of us want to see the world and do so in a more sustainable fashion. Enter the Pure Planet Club Lip Balm, designed to replenish the moisture that is sucked out of your lips and into the pressurised cabin on that long-haul flight to Chile an Patagonia.
The soothing lip balm is organic, the lip balms are encased in handcrafted, plastic-free, compostable packing, made from 100 per cent uncoated PCW paper, USDA-certified organic, cruelty-free and gluten-free, recyclable and available online. Pucker up with a three-pack of the organic vanilla lip balm for $30, which includes delivery to your door.
8. Reef-friendly sunscreen
Investing in good-quality reef-friendly sunscreen is a no-brainer. Piff that gloopy bottle of toxic sunscreen and put a chemical-free version on your sustainable packing list that is both good for your skin and the environment.
Sukin's SPF30 Sheer Touch Facial Sunscreen responds to increasing consumer demands for sunscreens that are free of the chemical oxybenzone, coral reef-friendly, not tested on animals and 100 per cent vegan. The formula includes a rich blend of rosehip oil, green tea and cucumber. RRP $24.95.
9. Deodorant Paste
Feel better about yourself and your impact on the planet by travelling with a deodorant paste rather than an aerosol antiperspirant that contains aluminium compounds. Black Chicken Remedies has something to squawk about with its bicarbonate-free Axilla Deodorant Paste for sensitive skin.
The cute little green-and-black jar of BO basher is chemical free and contains only natural and certified organic ingredients. Better still: it is vegan and cruelty-free. The paste is completely invisible when applied and has a clean citrus scent that is free from sweat blockers. RRP $18.50.
10. Eco-Friendly Bamboo Toothbrush
A 2016 report showed that more than 30 million plastic toothbrushes end up in landfill in Australia every year. A bamboo toothbrush is a sustainable alternative to this environmental abomination. Forgo the mini toiletries or amenity bags when you fly and BYO Flora & Fauna Bamboo Toothbrush, which has soft bristles. While the bristles are nylon, they can be recycled.
The biodegradable toothbrush is made from MOSO Bamboo. Yes, caring for your dental health is important; so is being kind to the planet. Check out the Flora & Fauna website for a range of products that will help you be ethical and eco-friendly on your travels. RRP $3.95
For more on ethical and sustainable travel and wildlife experiences visit our Conscious Traveller section.