Top places to chase the sun in the USA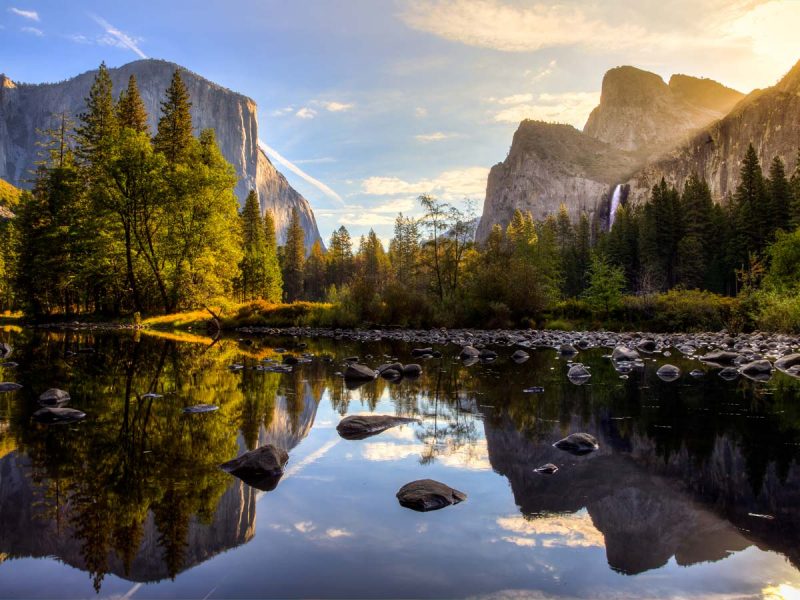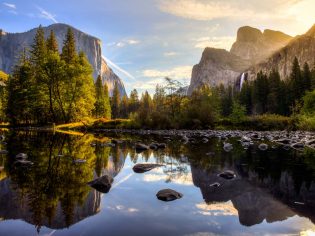 Leave winter days behind and escape to these sunny places in the USA.
With 50 states to run through, narrowing down these must-see places in the USA was no easy feat. But we'd like to think our choices embody a summary of everything the good ol' United States of America is known for: stunning national parks, next-level craft beers, sprawling shopping districts, Hawaii's island paradise, and of course—the ever-iconic New York City. Get the full American experience with this hit list of six places to chase the sun in the USA.
Read about all 100 places to chase the sun around the globe here.
76. Yosemite National Park, California
Three hours on the road is all it takes to trade the streetcars of San Francisco for the dramatic granite peaks and towering waterfalls of Yosemite National Park, which is California's most visited national park.
A fave summer vacation destination for generations of American campers, hikers and rock climbers, you'll need to plan and book your visit ahead of time. But good planning is a small price to pay for entering paradise.
If you're an experienced hiker in seriously good form and ready to feel the burn, then rise before dawn to tackle the Half Dome. Considered a risky (yet rewarding) hike, you'll need a permit to take this challenge on.
Danger not your middle name? Try the eight-kilometre Mirror Lake loop trail, feel the fresh spray of water across your face at Bridalveil Fall or contemplate the meaning of life while wandering the Mariposa Grove of Giant Sequoias. Whatever your mood or fitness level, there's a corner of Yosemite just right for you.
Campsites and lodgings inside the national park are packed during summer, so staying nearby at Bass Lake is a masterstroke, as direct access to the lake is priceless when the mercury rises. Not far from the south entrance to Yosemite, staying at The Pines Resort is like living inside an American coming-of-age movie (in fact, the John Candy classic The Great Outdoors was filmed here).
You'll find wood cabins, a forest-fringed lake populated by carefree boaters and waterskiers, and a stuffed black bear in the lobby that acts as a reminder that bears and other wildlife are present in the area, so hike with care (and get used to operating bear-proof bins).
After a long day hiking in the fresh mountain air, complete the summer camp experience by hitting the resort's general store for Twizzlers, Twinkies and all the other calorific greats of the American snack scene – John Candy would be proud.
By Jo Stewart
77. The Midnight Sun Game, Fairbanks, Alaska
It's the most unique way to celebrate the summer solstice on Earth – with the world's only baseball game played at midnight, without a hint of artificial light. Fairbanks, Alaska, located 600 kilometres north of Anchorage and just 300 kilometres south of the Arctic Circle, has been the setting for this unique game of baseball every year since 1906, with what started as a bet between two bars now attracting 5000 people (including plenty of visitors) each year.
Two baseball teams take the field at 10.30pm and play until well after midnight in sunlight (the sun does dip below the horizon for an hour). Locals here live among bears and moose and commute with float planes, so you're in for a heck of a lively experience, preceded by a compulsory community bar crawl.
By Craig Tansley
78. Where to eat, stay and play in Hawai'i
Staying there
For stunning coastal views, stay at the Outrigger Kona Resort & Spa on the island of Hawai'i. Turtle Bay Resort on the North Shore, O'ahu, has reopened after a renovation worth more than $350 million. The reimagined 'Alohilani Resort is just steps from the sand at Waikiki Beach.
Eating there
Enjoy oceanfront views with your typical Hawaiian plate lunch at Papa Kona Restaurant & Bar.
Experience a deeply engaging Feast & Fire luau performed by the famed Lim family at Outrigger Kona Resort & Spa. Dine on seafood that sings of the seasons at Alaia, Turtle Bay Resort on the North Shore, O'ahu. Enjoy fish tacos by the pool at Swell at the 'Alohilani Resort and Monkeypod Mai Tais and hapa poke at Moku Kitchen at Salt at Our Kaka'ako.
Playing there
Swim with giant manta rays with Eka Canoe Adventures. Snorkel in Kealakekua Bay with Fair Wind. Practise paddling and pop-ups with Jamie O'Brien Surf Experience. Lastly, plant a tree on a Malama Tour with Paradise Helicopters.
By Carla Grossetti
79. A shopping mecca in Palm Springs, California
More than 180 stores lie in wait for you to cartwheel in through their front doors at Desert Hills Premium Outlet, home to the largest collection of luxury outlets in California.
Cherry-pick brands the likes of Dolce & Gabbana, Saint Laurent Paris and Alexander McQueen at up to 65 per cent off the retail price at the upscale shopping centre.
Split into two gargantuan sections, Desert Hills' East Village is where you'll find the majority of the high-end stores, while West Village has got your everyday favourites such as Banana Republic, Converse and Gap covered.
With a space so large, you will need to wear comfortable shoes and plan with military-like precision. I picked up a Savings Passport and scored additional discounts, having received 20 per cent off a sequinned disco jumper from Alice + Olivia, $20 off yet another pair of silver glitter Cons, 40 per cent off a jacket at Neiman Marcus Last Call and 30 per cent off a grey cashmere scarf from Theory that I have since worn to death.
A vintage thrift store paradise
Cast aside all thoughts of searching for hours through the taffeta maze of your local charity store; in Palm Springs, where mid-century modern rules both the home and the wardrobe, stumbling upon immaculate '50s-, '60s- and '70s-era threads, furniture and decorative items is almost too easy.
Provided travel dates are flexible, many travellers kick off by visiting the best-known flea market in the region, Palm Springs Vintage Market, which takes place in the Camelot Theatre parking lot on the first Sunday of every month between October and May.
Pop in the early morning to get first pickings on racks and tables: think bold dresses and wool coats in seizure-inducing shades, oversized jewellery in precious metals, eclectic furniture, vinyl, collectables and yes, even the odd 'goat playing a harmonica' porcelain item you didn't know you needed.
If you prefer your vintage shopping within the luxurious surrounds of a boutique, Iconic Atomic remains the place to go for Mad Men-inspired wardrobes; Bon Vivant reigns supreme for those seeking decades-old costume jewellery and eclectic pieces; and lastly, visiting Gypsyland, a thrift and consignment store, is almost as much about the eye candy as it is about its broad collection of mid-century vintage clothing, accessories and furniture.
Regardless of which stores capture your imagination, make your first and last stop The Fine Art of Design. Since throwing open the doors to his downtown Palm Canyon store in 2011, Nicolas Delgado has been purchasing eye-catching pieces from local residents and curating the pieces to appeal to a new demographic. Going through the racks can take time, but the payoff is sweet: what say you to show-stopping Oscar de la Renta gowns for about $285 or Halston blouses for little more than $70?
El Paseo
Perhaps no shopping strip in Palm Springs is more deserving of your time than the fairy-light-laden El Paseo. Teeming with luxury brands, chic boutiques, art galleries and day spas, this mile-long street is the place to go to pick up a vibrant Candice Held dress or some seriously blinding bling at El Paseo Jewelers.
If you're unsure whether the prices are a good fit with your bank balance, it's helpful to know that prices are smaller at the start of the strip and slowly creep up as you walk east.
Also consider spending the afternoon (or a day or two) in the Uptown Design District, a slick stretch on North Palm Canyon Drive that celebrates a solid mix of mid-century design and modern aesthetic. Don't miss A La MOD, Bon Vivant Palm Springs and Shag the Store, which is as famous for its colourful limited-edition prints, gifts and apparel celebrating the quintessential Palm Springs lifestyle.
The challenge? Finding a way to get all of the above home in a manner befitting the newer, more fabulous you.
By Dilvin Yasa
80. Breweries in Denver, Colorado
A jagged line of snow-dusted peaks stands out on the horizon against a cloudless blue sky. Closer at hand, a bead of condensation trickles down a glass of what looks like Berocca.
The sea of muscly calves and sinewy arms around me suggests I'm at a rock-climbers convention. But the adventures at Ratio Beerworks in Denver, Colorado, are all on tap, and I'm drinking King of Carrot Flowers, a juicy Saison spiked with carrot juice and elderflower.
Pure snowmelt created by the blazing summer sun is the main ingredient in all of Denver's beers. But that's just about the only thing they have in common. The German influence at Prost Brewing is so pronounced that banana-and-clove-scented hefeweizen is served up in metric half litres, while acid junkies can get their fill of barrel-aged sours with an almost vinous complexity at Black Project.
Dos Luces Brewery's sun-drenched taphouse next door serves 'the only truly American craft beers' including tepache, a thirst-slaking Mayan brew of fermented corn and pineapple rind given extra zing with the addition of cinnamon.
With 150 breweries in the Denver area, trying to visit each one is as epic an undertaking as summitting all of Colorado's Fourteeners. Fortunately, it's a long, hot summer in the Mile High City and there's plenty of time to explore.
By Alexis Buxton-Collins
81. The rooftop bars of New York City, New York
It was the glint that bounced off the Chrysler Building that first hooked me. As the sun set on another heady New York day, my vantage point from the expansive Midtown Manhattan rooftop of 230 Fifth offered a majestic light show of pink and orange hues. The Empire State Building stood front and centre, but there's nothing quite like the Chrysler's ornamental Art Deco spire, particularly under the sunset. Since then, rooftops have been a mainstay of summer visits to the Big Apple.
It is by no means an original pursuit, but it is certainly a worthy one. Sky-high libations and sunshine go together like gin and tonic and this iconic city is packed with rooftop bars that deliver all of the above. Enjoy incredible New York City views, revel in incomparable New York ambience, and soak up the endorphin-lifting Vitamin D that comes at no extra charge.
By Kate Symons
LEAVE YOUR COMMENT