7 of the best movie locations to visit while you're in Utah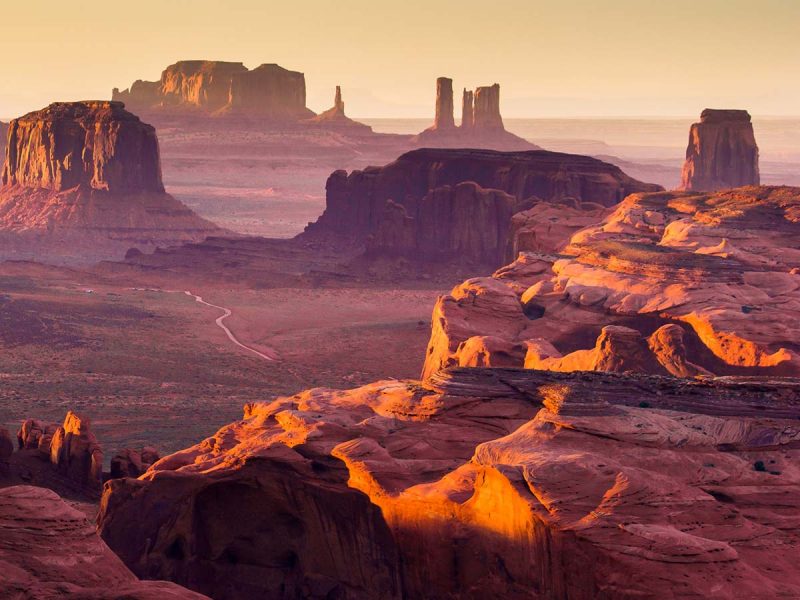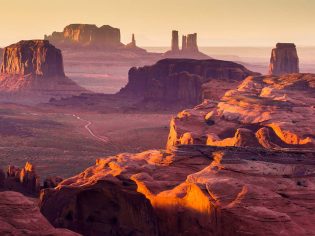 Even if you haven't been there, chances are you've already seen Utah in some of your favourite movies. Here are some of the most iconic movies filmed in Utah, with scenes that make you want to visit.
1. Thelma & Louise at Dead Horse Point State Park
Movie scene
In the final scene of the 1991 film, Thelma & Louise, stars Susan Sarandon and Geena Davis hold hands and drive their Ford Thunderbird convertible off a cliff and into the Grand Canyon to avoid arrest.
Why you should go
Dead Horse Point State Park isn't the Grand Canyon, of course. But it looks almost exactly the same, minus the crowds of its better-known Arizona neighbour. Here you can find isolation amid massive sandstone cliffs – miles from other travellers. Take The Shafer Trail through Canyonlands National Park an hour and 20 minutes south-west of Moab. It's an iconic backcountry road that descends nearly 500 metres where buttes and pinnacles rise up all around you.
2. The World's Fastest Indian at Bonneville Salt Flats
Movie Scene
New Zealand's Burt Munro sets out to prove his 1920 Indian motorcycle can set the world land speed record across the Bonneville Salt Flats in north-western Utah. On his eighth attempt, Munro succeeds.
Why you should go
You can actually drive the same salt flat Munro set his world record at, though don't be tempted to match his speed (324.8 kilometres per hour). The Bonneville Salt Flats are 180 kilometres west of Salt Lake City, making for an easy day trip. There are few other places like it anywhere on Earth: you'll be surrounded by 125,000 hectares of white salt crust stretching as far as you can see, a complete contrast to the red rock national parks Utah is renowned for. The Salt Flats are also an international hub for car racing; time your visit for Bonneville's International Speedway in August.
3. Forrest Gump at Monument Valley, Navajo Tribal Park
Movie Scene
After running across the USA, Forrest Gump decides he wants to go home as he runs across a landscape of sandstone pinnacles.
Why you should go
Monument Valley is the most famous of all Utah's film locations: they've been filming Westerns here for over 80 years, and the landscape defines what we think the American Wild West looked like. You'll also spot Monument Valley in other iconic movies, like Easy Rider and Back To The Future III. Located in the southwest corner of the state on the Utah-Arizona state line between Zion National Park and Moab National Park, drive on a loop road through the park, with signs pointing to Forrest Gump Point. Or book a tour with a Navajo guide for an insight into how the traditional owners of the park lived.
4. Butch Cassidy and the Sundance Kid at Grafton
Movie Scene
While hiding out from the law, Butch Cassidy takes his lover Etta Place for a ride on a bicycle to the song, Raindrops Keep Fallin' On My Head.
Why you should go
There's more to Utah than its stunning national parks and its Rocky Mountains. There's nearly two centuries of early settler history in evidence all across the state. Grafton provides an insight into early pioneers, while tracing one of Hollywood's most iconic films. Located 20 minutes south of Zion National Park, Grafton is one of the Wild West's best preserved ghost towns. It contains the remnants of a Mormon settlement from 1859. Take a self-guided tour of town; there's interpretive signs to guide the way.
5. 127 Hours at Blue John Canyon
Movie Scene
127 Hours is filmed in the actual location where climber Aron Ralston survived being trapped under a boulder while on a backcountry adventure in 2003. He survives by amputating his own arm.
Why you should go
The hero of the movie isn't just Ralston, it's the intricate slot canyons and sheer arches of San Rafael Swell. While Ralston gets trapped in highly technical climbing territory 100 kilometres from the nearest highway, it's easy for us to enjoy the solitude without travelling far, and without taking a single climbing risk. San Rafael Swell has no entrance fee but prepare for gravel roads. You'll find solitude out here 90 minutes south-west of Moab. Hike, bike and camp out here amid the sandstone buttresses, canyons and plateaus of Blue John Canyon. Or kayak for 20-plus kilometres through an area called Little Grand Canyon, surrounded by towering sandstone cliffs.
6. Indiana Jones and the Last Crusade at Double Arch, Arches National Park
Movie Scene
River Phoenix – as a young Indiana Jones – runs from the entrance of a massive cave to save the Cross Of Coronado from treasure hunters at the prologue of this 1989 classic.
Why you should go
Arches National Park contains more than 2000 natural sandstone arches – the highest concentration on Earth – and it's all just eight kilometres out of Moab. It's easy to drive the entire park along a 58-kilometre loop without needing to leave your vehicle – though there are plenty of short walks for those who prefer to stretch their legs. To see where Indiana escaped the villains chasing him, you only need take an 800-metre hike from the roadway.
7. Jeremiah Johnson at Sundance Mountain Resort
Movie Scene
Robert Redford was at the peak of his star powers in this 1972 movie about a true mountain man of the Rockies, where he wrestles bears and survives on his wits in the wilds.
Why you should go
The actor fell so deeply in love with Utah that he purchased a mountain resort 80 kilometres from Salt Lake City and renamed it in homage to his most famous role as the Sundance Kid. The 2000-hectare Sundance Mountain Resort was also his home for more than 50 years (he sold the resort in 2020). Hike an easy trail after riding a chairlift from the base of the resort to Stewart Falls, beneath Mt Timpanogos. As a bonus, at the base have a drink at the same bar Butch Cassidy drank at (Owl Bar), used in the movie, Butch Cassidy and The Sundance Kid. Redford moved it here from Wyoming.
Intrepid Travel is currently offering a 15 per cent discount towards your next Utah adventure so you can create your very own movie scene. For more information, click here.
LEAVE YOUR COMMENT