Sustainable travel through Colorado's top towns & cities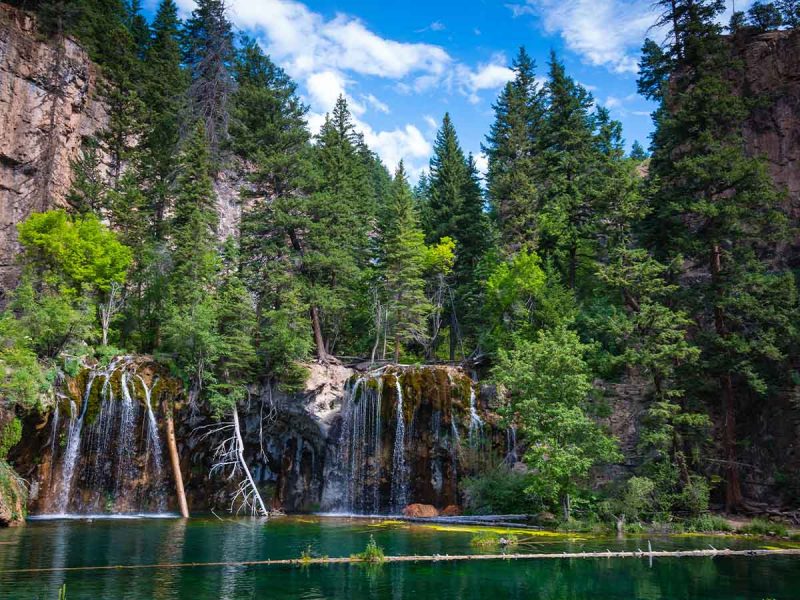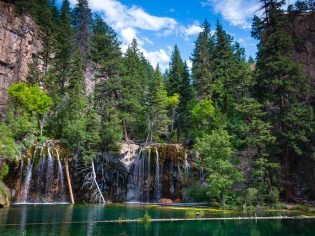 Colorado native Jen Murphy sets off to explore her stunning backyard in the most eco-conscious way possible, one jawdropping mountain bike trail and carbon-neutral cocktail at a time.
The mountains are calling and I must go." Literary naturalist John Muir's famed quote certainly rings true in Colorado, a state where locals consider hiking 14,000-foot peaks (4000 metres), or 14ers as they're known, a rite of passage. Home to 42 state and four national parks, Colorado is a playground for adventurers. But in the process of scaling and skiing mountains and navigating river rapids and single-track trails, it's easy to lose sight of the fact that nature isn't meant to be conquered.
Muir touted the responsibility of protecting wild places, not just using them for our pleasure. That extends beyond leaving no trace and treading lightly to considering how, as a visitor, you're impacting and interacting with local communities. Luckily, Colorado's mountain towns not only offer endless opportunities for outdoor pursuits, but also mind-blowing farm-to-table meals and lessons on how to lead a more sustainable lifestyle back home.
Fort Collins
Located in the foothills of the Rocky Mountains, about 105 kilometres north of Denver, Fort Collins embodies the city of the future with solar-powered breweries, locavore restaurants and 50 parks, including Lory State Park and a new white-water park along the Cache la Poudre River. Its 320-plus kilometres of dedicated bike lanes have garnered it Platinum-rated Bicycle Friendly Community status and, in recent years, FoCo, as it is known to locals, has earned a reputation as a mecca for gravel riding. The love child of road biking and mountain biking, gravel riding allows you to ditch the pavement and dangers of potholes and distracted drivers and get off-road without having to face the hairpin turns, rocks and roots of mountainous terrain.
Local pro cyclists Whitney and Zack Allison, co-founders of Bike Sports, are two of the burgeoning sport's biggest champions, and host everything from camps and day trips to races like the annual FoCo Fondo. I meet the husband-and-wife duo in Old Town Fort Collins and they fit me on a gravel bike, which presents like a sturdier version of a road bike with wider tyres.
Within minutes we've left urbanity in the dust and find ourselves cruising along dirt against a backdrop of rolling ranch land. Zack tells me the couple seeks out routes that highlight Northern Colorado's rural roads, local businesses and agrarian roots. I instantly see the appeal of this style of riding; it feels more like we're exploring back roads rather than attacking asphalt or trails. As we pedal through the tiny agricultural community of Bellvue, I notice a shoe perfectly sized for Paul Bunyan, the giant lumberjack of American and Canadian folklore, peeking out from behind a fence. The next day, I discover that this colossal shoe doubles as signage for the Colorado Shoe School.
Husband-and-wife founders Annabel Reader and Dan Huling run a studio next to their home and have converted an old train caboose into cosy on-site accommodation, complete with copper soaking tub and kitchenette, for students. The couple could easily produce and sell shoes but prefer to promote conscious consumerism. "It's easy to go to Amazon, click a button and buy a pair of shoes," says Annabel, "but do you ever think about where the materials were sourced or how the labourers were treated?" One- to five-day workshops encourage guests to recycle everything from bicycle tyres to old artist drop cloths and denim jackets into bespoke sneakers or shoes. "People find such satisfaction in making something with their hands," says Dan. "It becomes more than just a shoe, it's a statement of your personality."
Where to stay in Fort Collins
Located in the heart of historic Old Town Fort Collins, the 164-room Elizabeth Hotel celebrates the city's vibrant music scene with a lending library stocked with instruments and vinyl records, Crosby record players in every room and late-night jam sessions at on-site live music venue, the Magic Rat.
Where to eat in Fort Collins
Jessup Farm Artisan Village, a historic farmstead in south-east Fort Collins, has been reimagined as a collection of small, sustainably minded businesses. A tasting tour should include single-origin brew from Bindle Coffee, Rocky Mountain Road ice-cream from Josh & John's, a burger and fries at The Farmhouse at Jessup Farm and a stout aged in old bourbon barrels from Jessup Farm Barrel House.
Housed in an old grain mill in the heart of downtown, Ginger and Baker is a culinary complex that includes a cafe, a restaurant for fine dining, a teaching kitchen, rooftop bar and bakery specializing in pies, both sweet (whoopie pie) and savoury (chicken pot pie). Ingredients for everything from pie fillings to cocktail garnishes are sourced from the Ginger and Baker Farm, located up the road, or other like-minded local purveyors.
Glenwood Springs
Just over 240 kilometres west of Denver, and reachable from the capital via a scenic train ride on Amtrak's California Zephyr, Glenwood Springs is renowned for its natural healing waters. Over the centuries, the area's therapeutic springs have attracted everyone from the Ute Indians to Western gunslinger Doc Holliday, whose grave is located in Pioneer Cemetery just above town. These days hikers, bikers and kayakers come to soothe adventure-weary muscles in the mineral-rich baths of the historic Glenwood Hot Springs Resort – home to the world's largest hot mineral pool – and the 16 steamy pools at six-year-old Iron Mountain Hot Springs. It makes sense that a town rooted in geothermal riches recently became the second city in Colorado using 100 per cent renewable energy (Aspen being the other).
Glenwood Spring's pioneering sustainability efforts extend beyond energy. Ken Murphy, the Irishman behind Glenwood Adventure Company has been leading the charge to help make tourism in the area not just sustainable but regenerative. I meet 'the Murph', as he is known, at his downtown adventure shop where he fits me for a bike so I can explore part of the 67-kilometre-long Rio Grande Trail, a rails-to-trails corridor that connects Glenwood Springs to Aspen. As he sizes me up for a helmet, the Murph excitedly tells me how the Walmart heirs, Tom and Sam Walton, are helping revitalise the nearby community of Redstone, a former mining town, by restoring seven kilometres of beginner-friendly mountain bike trails.
The Murph has watched how tourism can both revive and destroy a place. Just 14 kilometres east of Glenwood Springs, Hanging Lake, a turquoise-hued lake fed by a cluster of waterfalls, has long been one of the state's most popular attractions. And hiking a calf-busting 335 metres of vertical over 1.9 kilometres of trail to reach the natural gem did not deter visitors.
"It had literally become loved to death," he says. "It had started to feel like an amusement park." In 2017, Hanging Lake averaged 1200 people on the trail per day in peak summer months. The Murph helped institute a reservation system that capped visitors at 615 per day and staggered entry in summer to avoid trail congestion. When I visit the next day, I find myself sharing the emerald-hued lake with just 18 other people versus 600, a better experience for both myself and the surrounding natural landscape.
Where to stay in Glenwood Springs
The Hotel Denver has hosted everyone from movie star Clark Gable to Chicago gangster Diamond Jack Alterie throughout its more than 100-year history. Walking drastically cuts your carbon footprint and this storied hotel is in a killer location within walking distance of the Glenwood Hot Springs and the town's restaurant row. The fact there is an on-site brew pub means you can also choose to stay put, making The Hotel Denver the eco-conscious place to stay.
Where to eat in Glenwood Springs
Chef-owner Mark Fischer elevates classic comfort food with a combination of creativity and top-quality local ingredients at The Pullman. Think tater tots with bacon fat aioli for dipping and mac 'n' cheese topped with mustard sage breadcrumbs.
Conveniently located across from the Glenwood Adventure Company, Local on Cooper is an all-day eatery serving healthy, fast-casual fare to fuel your rafting or biking excursions. Start the day with avo toast and a nitro cold brew then reward your efforts with a Neapolitan-style pizza baked at 1000 degrees in a brick oven.
Carbondale
I ambitiously decide to pedal the 19 kilometres from Glenwood Springs to Carbondale, following the Colorado River along the Rio Grande Trail. It's way easier to take in the spectacular mountain views (and stop for photos) on two wheels. Plus, there's some serious pampering that awaits at True Nature Healing Arts, a wellness sanctuary that offers classes on everything from yoga and meditation to dance and pilates.
The property also has a Peace Garden anchored by a 100-person Kiva (a sacred gathering space), an organic cafe and a spa with services ranging from craniosacral therapy to foot reflexology. A visit to this tucked-away retreat feels like a journey to the world's most celebrated wellness destinations thanks to intricately carved antique doors from Pakistan, Afghanistan and Kashmir and statues of deities like Ganesh imported from India. It's also a reminder that self-care is a key ingredient to any successful adventure.
After travelling to some of the planet's top healing centres, founders Deva and Eaden Shantay were drawn to Carbondale because of its proximity to nature and its diverse community of artisans, healers, entrepreneurs and ranchers. Long overshadowed by the glitz and glamour of its neighbour, Aspen, this small community of about 6700 people has begun to stand out for its vibrant arts, wellness and food scenes. Even imbibing can feel virtuous here.
I visit the tasting room of Marble Distilling Co., where head distiller and owner Connie Baker tells me she's working to save the planet one bottle of vodka at a time. A typical distillery requires millions of litres of water to convert hot vapour off the still into spirits and most of that water gets discharged into the sewer. Marble's zero-waste distillery saves more than 18 million litres of water annually and captures 1.8 billion BTUs of energy – enough to power 20 homes. And the facility is on track to become net-zero electricity in 2022. Baker pours me a taste of her small-batch vodka, made from locally grown wheat and malted barley. I raise my glass and we toast to a greener future.
Where to Stay
Set within a turn-of-the-century house on Main Street, The Way Home is more restaurant with rooms than hotel. Downstairs, The Landmark Cafe serves farm-focused and locally sourced fare while upstairs, two Scandi-style rooms are named for their respective views of topographical landmarks, Red Hill and Mt Sopris.
Where to Eat
True Nature Organic Café serves nutritious organic fare featuring ingredients sourced from the community and its own garden. Try a cup of Fairtrade, solar-roasted coffee or the addictive cacao chai with a slice of gluten-free chocolate cake. Silo's philosophy is rooted in simplicity. Exceptional ingredients transform ho-hum dishes like a turkey club sandwich and BLT into meals you'll want to write home about.
LEAVE YOUR COMMENT