17 reasons to visit the US ski town you've never heard of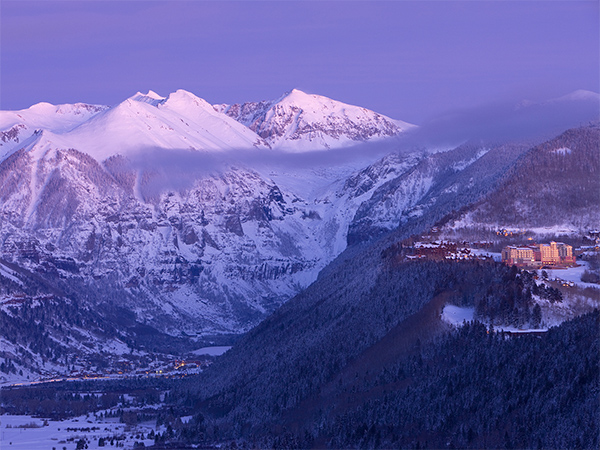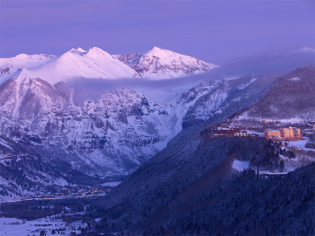 When measuring the criteria for the ideal ski destination, the remote, high-altitude town of Telluride, Colorado checks all the necessary boxes: breathtaking views, good food and stellar slopes.
But out of the region's many scenic ski towns, there's a reason that Telluride continues to be named the cream of the crop. Well actually, we'd say there's around 17 reasons:
1. For its one-of-a-kind, mining town personality
Telluride is a town born of America's Wild West days and, unlike many of the ritzy surrounding ski resorts in the Rocky Mountains, it has managed to maintain that unpretentious, bohemian charm over the years.
The town was founded during the mining boom of the 1870s. You can still see the building where Butch Cassidy robbed his first bank in 1892 before going on to a two decade career of outlawing infamy. The miners eventually left their drills and headed further west, but the skiers began to trickle in during the 1970s creating a renaissance of recreation, culture and art that transformed Telluride into the world-class ski spot it is today. You can learn all about Telluride's rich history at the Telluride Historical Museum in town.
2. For shorter lift lines and less crowded slopes
In nearby ski towns like Vail and Aspen, much of the ski day seems to be dragged down waiting for hours in lift lines. Telluride's more remote location enables both the lift lines and mountainside to remain relatively clear year after year, even during the holiday season. Typically, even a 15-minute wait in line would be much longer than usual during non-peak season and 30 minutes max during Christmas and New Year's Eve.
3. For unparalleled views
One word: picturesque. Telluride is front row to the most beautiful mountain views available in the Rockies. Situated snugly in the cradle of a box canyon, the town is surrounded on all sides by steep peaks and waterfalls.
4. For a return to originality
Telluride doesn't have fast food restaurants or any chain retail storefronts (Patagonia being the only exception, funnily enough). The town's rejection of big-name companies fosters the growth of small businesses with personality.
So when you go out for a drink, chances are the bar owner is the one shaking up your cocktail. And when you hit the town's various chic boutiques, they are guaranteed to be lovingly curated and uniquely Telluridian. Instead of a morning McMuffin from Macca's, you'll have to upgrade to a fresh baked pastry from Baked in Telluride and be better off for it.
5. For the free gondola
The gondola connecting Telluride and the adjoining town of Mountain Village is the first and only free transport of its kind. A scenic route as well as a practical one, the gondola offers an easy 13-minute link over the mountain between Telluride and Mountain Village, with a stop available at the peak (where a stunning photo op is easily accessible).
6. For the festivals
People travel from far and wide in the US to attend Telluride's world-class festivals. There's always something going on, so just take a look at the festival calendar and see what piques your interest.
The Fire Festival is coming up in early December. Some of the other most beloved are the Bluegrass festival in June, the Film Festival in September and Yoga Festival in June.
The locals even lead an annual Nothing Festival in mid-July celebrating a week of, you guessed it, nothing going on for a change. Nothing going on, that is, except for a surprise parade of locals proceeding down Main Street on bikes, skateboards etc. wearing… nothing.
7. For prime snow conditions
With an average of 431 centimetres of snow and 240 days of sunshine every year, Telluride has the perfect formula for prime ski conditions. It usually dumps vast amounts of snow at once, then clears up for sun and powder days. Of course though, conditions vary so check the snow report to avoid disappointment.
8. For historic drinking spots
When you grab a drink at the Last Dollar Saloon (affectionately known as 'the Buck'), you can easily imagine the gold miners and gun-slingers of an age past carousing in your stead. The bar made a seamless transition from serving rowdy miners to dishing drinks to today's ski bums, festival-goers and fur-clad second-home owners alike.
9. For the range of fantastic food, from fine dining to ace pizza
The quality of food soars far past you might expect from such a small town. There are 60 restaurants in the Telluride/Mountain Village area, many of which would easily stand their own in any big city. Allred's offers fine dining with a stunning view of Telluride nestled in the canyon 3215 metres below. 221 South Oak is a personal favourite, with its constantly rotating menu of innovative flavours. Brown Dog Pizza is the cozy carb-loading spot that dreams are made of. The Butcher and Baker serves healthier fare (at no cost to its tastiness) and lots of good vegetarian options.
10. For the extensive mountain
Boasting 148 trails, 17 lifts and the longest slope continuing for 7.4 kilometres, there's more than enough powder to go around on the mountain.
11. For the Christmas and NYE fire display
Celebrate the holiday season with two fiery night ski spectacles. On Christmas and New Year's Eve, the locals ski down the main slopes at nightfall with torches blazing in their hands. It's quite a view from the gondola or base of the slopes.
12. For world-class expert terrain
Lift 9, known as the 'local' side of the mountain, and Revelation Bowl offer some of the best black diamonds a true skier could hope for. Several professional skiers and boarders (such as Gus Kenworthy, Keaton McCargo and Hagen Kearney) got their start on the slopes of Telluride.
13. And for scenic, easy cruisers
Don't tune out if you prefer cruisers over the rough and wild. The mountain offers access to plenty of blues and greens perfect for beginners or those who want to take it easy. For example, Galloping Goose is a long, 7.4 kilometre double-green run where you can focus on the scenic beauty around you rather than worrying about crashing into the nearest tree.
14. To ski in and out of your own log cabin
There's no shortage of great hotels in the area (the Franz Klammer in Mountain Village is fantastic). However, for a unique experience, check out the countless log cabin rentals available on websites like Travelocity or Latitude 38. Many are cosied up to runs, so you can walk out your door and hit the slopes without worrying about lugging your equipment around.
15. For possible celeb spottings
If Telluride is good enough for Oprah to buy two properties there, it's good enough for us. Oprah is just one of the few high-profile returnees to the mountain village. Tom Cruise and Jerry Seinfield also own property in the area and are frequently seen out and about.
16. For the hot après-ski spots on the slopes
Several of Telluride's high altitude après-ski joints have delectable food and drink in addition to the merits of gorgeous mountain views. Try the famous pastry-encrusted mushroom soup and a spiked hot chocolate at Bon Vivant or sit fireside and enjoy a charcuterie board and rosé at Alpino Vino.
17. Because it's actually pretty easy to get there
Although many of Telluride's merits stem from its tucked-away location in the south-west corner of Colorado, it's just as easy to get here from Australia.
Montrose Regional Airport (MTJ) is the closest airport to Telluride. Book a one hour 20 minute shuttle ride with a transfer service, such as Mountain Limo or Telluride Express, to take you the final stretch to your destination. There are daily services from Dallas (DFW) to Montrose (MTJ), so with the non-stop flights from Dallas to Sydney, Australians could potentially arrive in Telluride after only one layover.