The unforgettable hikes every traveller must do in Utah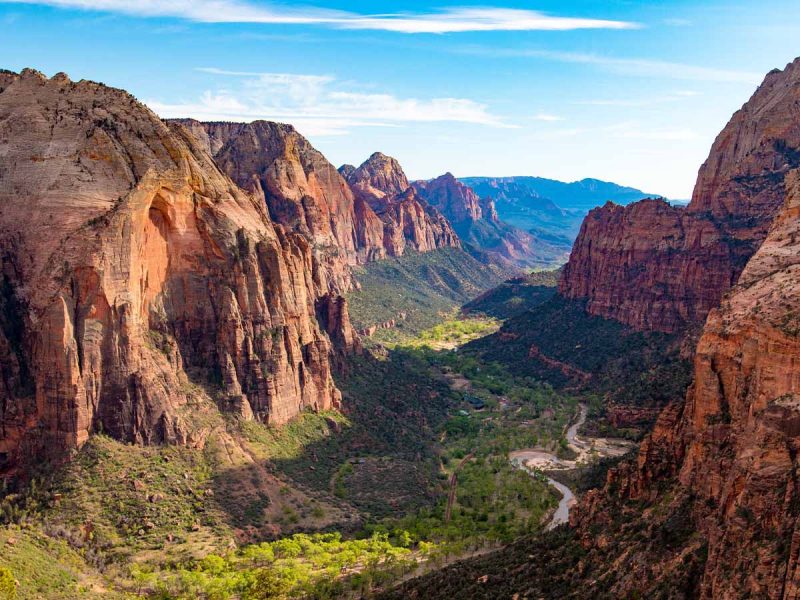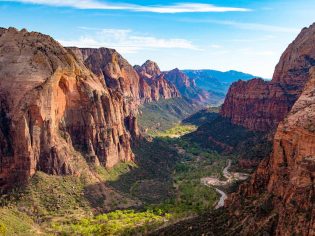 Utah lays claim to some of the best trails to hike in the world, but if you're pressed for time, here is what it's like to hike our pick of the top three hikes in Utah.
Delicate Arch in Arches National Park, Moab
I'm a crab on all fours, cautiously moving sideways. I sense it would be all too easy to slippery-dip my way into the abyss below. I scurry around the highest part of the funnel-shaped sandstone basin that acts as a curved bridge out to Delicate Arch. It's a move that quickly becomes known as 'The Carlin', to the amusement of my hiking buddies. I admit, it isn't the smoothest of moves, but in lieu of ice cleats, I'm not taking any chances.
The Delicate Arch stands as a red-rock geological wonder before me. I feel like Indiana Jones making my way through a rugged ruin with my prize in sight. The late afternoon sun has already started to make its descent towards the horizon as I reach the arch; there is a chill in the air and the famous landmark is reflected in puddles of melting snow that lie in the surrounding rock crevices. It's winter in Utah and by some stroke of luck, we have the place to ourselves. I feel very small under the freestanding arch. And not just because it towers above me at 16 metres high. It's also the passage of time it represents. The distinctive arches and sandstone fins that can be found all over Arches National Park have been relentlessly sculpted by shifting salt beds working in tandem with water, wind, gravity and time to reform layers of fractured rock into thin sandstone walls.
usa-posts-3
This nagging feeling of insignificance begins well before I'm a tiny speck of a human standing under the arch. It hits me almost as soon as we drive into the park. The road climbs back and forth over a series of switchbacks until we reach the top of the plateau where we're greeted with the towering sandstone formations of Park Avenue. And, with names like Courthouse Towers, Balanced Rock, and Three Gossips, it feels like we are sneaking through a giants' camp. There are a number of viewpoints throughout the park that allow you to take in the sights a short distance from the road, but the only way to see Delicate Arch up close in all her glory is via the five-kilometre-return trail. Feel free to borrow 'The Carlin' if the moment calls for it.
The sun plays hide and seek with the sandstone cliffs as we make our exit from the park towards Moab. The city in the state's south-east has a population of about 5000 that swells to accommodate just under 2 million visitors annually. It's renowned as an outdoor recreation mecca and Arches National Park is worthy of the pilgrimage.
Peek-A-Boo Slot Canyon in Kanab
I watch the landscape change from brilliant hues of orange and red rock with snow layered thick like icing to vistas of desert and sage bush as we drive five hours from Moab towards Kanab in the heart of the American West. I keep my eyes peeled for abandoned film sets on the drive into town, as I'm told filmmakers have been lured here for its scenic beauty for more than 80 years. But that's not why we're here. Today, I'm joining Coral Cliff Tours for a hike in Peek-A-Boo Slot Canyon.
I'm bouncing around in the back seat of a Jeep as our driver Brent navigates the five kilometres of deep sand in the Grand Staircase–Escalante National Monument area that leads to the opening of the canyon. He's an old hand at driving in these parts, and doesn't shy away from steep sandy climbs and sliding descents, which makes for a thrilling ride.
There is one other car parked at the opening when we arrive. Snow lies melted in puddles around the entrance and I make the easy scramble over the rocks into the mouth of the canyon. Light and dark play a game of tug-of-war as I make my way through the pathway of narrow and widening walls. The walk is like a carnival funhouse of mirrors, yet instead of my reflection I'm tracing the mesmerising patterns of red, orange, purple and white along the crevices of these curvaceous sandstone formations, which have been smoothed into submission by water and wind over time.
Brent points our attention to a collection of holes cut into the canyon wall above us in ascending formation. They're known as the Moki Steps and are believed to have been cut by the early Anasazi who used them to access a granary for storing corn and other supplies on an elevated hidden ledge. I'm reminded once again of my modest existence in the grander story of time.
I hear the gentle trickle of water and see patches of moss covering higher sections of the canyon as I continue. The out-and-back hike is an easy 1.6 kilometres, but I take my time moving my way through to absorb the beauty of this place. It offers up a collection of awe-inspiring contrasts: snow-dusted red rock meets with a ceiling of clear blue sky, tight and darkened spaces open up into rocky fields with tiny streams of melted ice.
I relish in the slow pace of the hike as tomorrow promises to deliver a completely different experience when we head 30 minutes outside of town to tackle one of the most daring hikes in Zion National Park.
Angels Landing in Zion National Park
I feel my nerves growing as I walk the stretch from the car park across the bridge over the river towards the trail. It looks unassuming at first, but I've Googled Angels Landing and I can't un-see what awaits. I think back to the conversation I had with a local in her early twenties a few days back, who swears she did the hike at night with a group of friends, in her bikini with no shoes on. It doesn't make me feel any better. It just confirms my suspicions that you might have to be a little crazy to attempt this hike at all. But my hiking partner has done this trail three times before and has lived to tell the tale. I'm curious to see just where my limits lie, so I steel my nerves and push the summit out of my mind to focus on the journey in front of me.
The hike begins at the Grotto Trailhead along a paved path up the west side of the canyon to meet with a portion of the West Rim Trail. It's a steep climb that slowly winds its way up, then quickly dials up the intensity as we continue to climb up into the Refrigerator Canyon. I stop to take in the views and notice the river I crossed has already been reduced to a slithering line cutting its way through the canyon floor. The hike climbs up roughly 460 metres and reaches a top elevation of 1800 metres. I don't have the experience to comprehend how high that is at this stage, but I already feel like I've climbed a mountain.
Then we hit Walter's Wiggles: a set of 21 short but relentlessly steep switchbacks. My thighs are burning by the time we reach Scout Lookout and it's time to decide if I'm going to tackle the last 800-metre scramble up exposed rockface known as The Spine to the summit. But the fear has been quietened by the thrill and I push forward, careful to follow in my friend's every footstep as I grip the chain for support until I reach the summit. I'm met with 360-degree views of Zion National Park and the canyon below. The sky is impossibly blue and I find myself sitting to take stock of what I just achieved. I feel new in a way that is hard to explain. It seems I'm also just crazy enough to make it to Angels Landing.
LEAVE YOUR COMMENT