Top places to chase the sun in Canada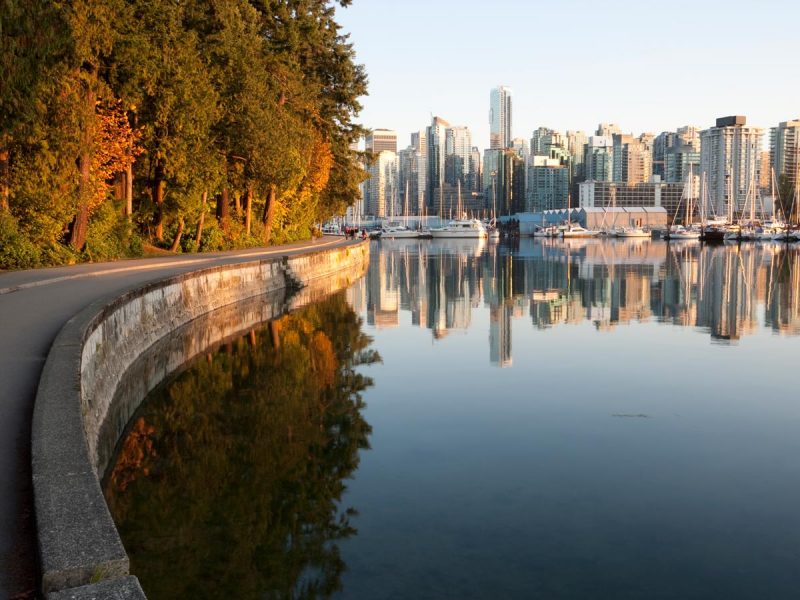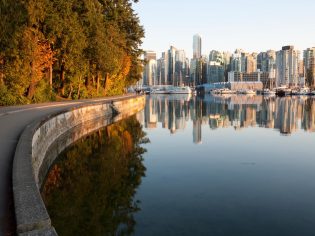 Serene summer spots to discover in Canada.
From Toronto's cosmopolitan streets to the quaint suburbs of New Brunswick to the mountain peaks of the Canadian Rockies, Canada's got no shortage of diverse attractions. Whether you're a nature lover or a big city wanderer, we've hand-picked three destinations to give you a bit of everything for the perfect sunny break in Canada.
Read about all 100 places to chase the sun around the globe here.
82. The bike routes in Vancouver, British Columbia
Oh, I do like to be beside the seaside, which is why Vancouver is a dreamy summer destination. As well as a quintessentially Canadian selection of outdoor adventures and a lively bar and restaurant scene, the British Columbian city is home to the world's longest uninterrupted waterfront path.
On foot or on wheels, the 28-kilometre Seaside Greenway is a calorie-killing way to take in some of Vancouver's top attractions, including the North Shore Mountains and Granville Island, as well as that fresh summer air.
If you prefer your holiday exercise in bite-sized portions, a nine-kilometre stretch of the seawall doubles as a loop around Stanley Park. At 405 hectares, this urban green space is considerably larger than NYC's famed Central Park and is a summer must, whether you care to cut a lap or not.
There are a further 27 kilometres of forest trails within the park, a pool and beaches, playgrounds and picnic areas, various cultural and historical monuments, and Vancouver's largest aquarium.
By Kate Symon
83. Winnipeg, Manitoba
Most Canadians refer to Winnipeg as 'Winterpeg', due to those average minus-thirty Celsius days in winter. But in recent years the capital of Manitoba, located in the longitudinal centre of Canada, has been rebranded as a top spot in summer for its endless blue skies and 25°C summer days. Unlace those ice skates. Here are a few good reasons to visit Winnipeg in the summer.
Summertime hops and stops
Pop-up patios are a Peg thing in summer. A top way to tap into this scene is on a Winnipeg Trolley Ale Trail, which stops for hops at taprooms such as Nonsuch Brewing Co.
Summer festivals
After a long winter's hibernation, Peggers burst back into circulation to enjoy live music at festivals such as Folklorama and the TD Winnipeg International Jazz Festival.
Meet Winnie in Winnipeg
Did you know Winnie the Pooh was named after Winnipeg? Find the statue of Winnie the Bear in pretty Assiniboine Park, which skirts the city in greenery.
Enjoy a culinary tour of The Forks
The Forks is so named because of its position where the Assiniboine River flows into the Red. While a Culinary Adventure Co. tour touches on the area's rich history as a First Nations settlement and the epicentre of the fur trade, it also offers bite-sized stories about Winnipeg's culinary heritage.
Explore the Exchange District
Stay at the Hotel Fairmont Winnipeg to gain easy access to the edgy Exchange District, where you will find locals perusing galleries and boutiques and spilling out of buzzy bars, breweries and restaurants.
84. Montréal, Quebec
My first night in Montréal coincided with the launch of the Montréal International Jazz Festival and a free outdoor show by Stevie Wonder. It was a sultry June evening charged with an atmosphere that set the tone for the following two months I'd spend here: where every week another street was cordoned off from cars for some festival or another, the whole city galvanised under the sun – the frozen depths of its famously long winters a distant memory again, for now. The cultural heart of Canada's Québec province, spirited Montréal is renowned for this jam-packed calendar that plays out in every corner of the city all summer long.
Other highlights include Mtl en Arts, which transforms Sainte-Catherine Street into a huge open-air art gallery; Just For Laughs, one of the world's top comedy festivals; venerable music festival Osheaga; a Caribbean carnival, Carifiesta; a citywide circus takeover with Montréal Complétement Cirque; Montréal Pride Festival; and even a Highland Games.
In between festivities, I read books by the pond in Parc La Fontaine, hunted out the famous bagels of Mile End, and sought out rooftops to survey it all from.
By Imogen Eveson
LEAVE YOUR COMMENT