A rapid journey along Canada's Nahanni River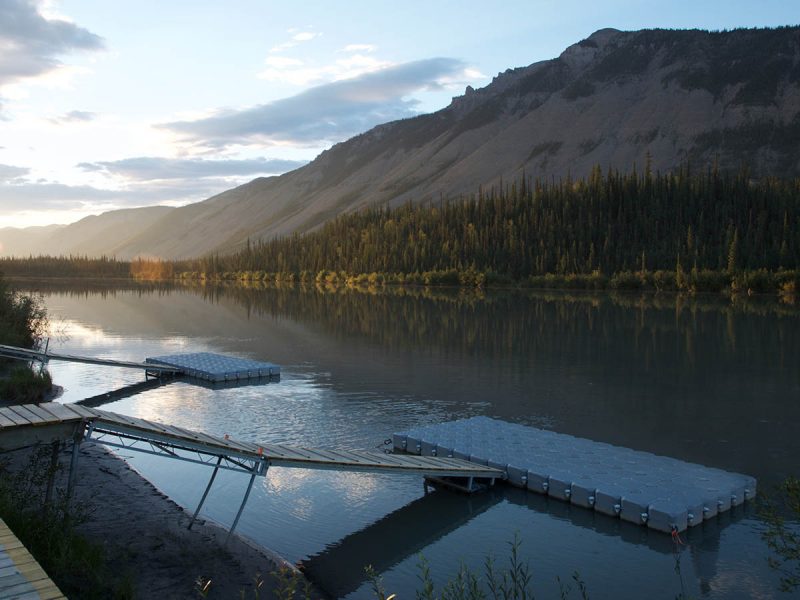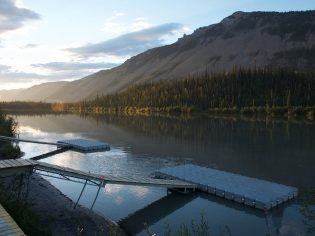 The Nahanni river began as a meandering prairie river but, as the mountains formed, it maintained its course and cut canyons into the rock.
Our bush pilot offers zero warning before treating us to a heart-stopping banked flyover of falls twice the height of Niagara. Minutes later, the floatplane touches down on calm waters above the remote 96-metre-high waterfall and we taxi to a pontoon positioned barely more than a kilometre upstream from where every last droplet plunges into thunderous confusion. I'm obviously back in the North of Canada– a place of few words and great intensity. Ahead of me is a week-long journey down the South Nahanni River in Canada's Northwest Territories, starting from the base of what Europeans named Virginia Falls but is really Náįlįcho (nigh-LEECH-oh) meaning 'big falls'. Turtle Island – the lands known as North and Central America – has got under my skin over the years, especially these northern extremes, but time on this river seeps right into the very core of my being.
Standing in full sunshine against a boreal forest backdrop, waiting for the de Havilland Twin Otter to dock, are our guides Jamie VanDrunen, Margaret Fahey and Ursula Kilbridge. I met all nine other guests yesterday when we converged on Fort Simpson. We range in age from late teens to early seventies and are travelling solo, coupled and as a grandfather and grandson team. I'm the only person on the trip who is not from Canada's southern provinces.
Our guides appear as relaxed as friends on holiday. In actual fact, they've spent 24 hours transferring masses of gear from a nearby standing camp to the base of the falls including the skin of an expedition raft and four double classic canoes. Margaret portages canoes solo by balancing an inverted vessel on her shoulders to negotiate the often slippery and steep 1.7-kilometre trail. Tonight's camp is nestled among berry-bearing wild-flowered scrub overlooked by stunted spruce and aspen. Although it's mid-summer, the sparsely treed mountains and barely vegetated plateaus of Nahanni National Park Reserve still support snow in their shadowy crevices. Across the river stands Sunblood Mountain named for its colour-morphing qualities.
Canadian River Expeditions and Nahanni River Adventures have been guiding this river for decades. Nahanni National Park Reserve was one of the first places to become a UNESCO World Heritage Site and the South Nahanni is arguably the most aesthetically dramatic waterway in the Canadian Heritage Rivers System. Yet, first and foremost, this is Dene (deh-nay) territory.
"As Dene walk through these mountains, all this is their store," explains Pauline Campbell – a Dene woman and Parks Canada cultural interpretation officer, here exclusively for us today. Pauline carries a handmade canvas and leather bag over one shoulder with a folder and bear spray poking out the top.
As Pauline leads us along a timber walkway to overlook Náįlįcho, she points out food, medicines and black spruce ideal for making canoes. The water gushing around the waterfall's central stack generates excessive light-refracting mist in which the Dene recognise animal shapes.
Pauline is from Nahanni Butte, where our journey will end around 240 kilometres downriver as the South Nahanni drains into the Liard River. The word Nahanni derives from a name in a Dene language that expresses the river's significance to the traditional people of this place. As a child, Pauline played here among the blueberry bushes and caribou lichen right where a 10,000-year-old moose femur fleshing tool – for removing flesh from hide – was found.
"She's not speaking of legend, she's speaking about her life," says Margaret after we part ways with Pauline. At camp, we eat succulent Taku salmon and fresh salads laid out on a wooden barbecue table. From tomorrow, we'll be back-country camping without Parks infrastructure, but the meal quality won't diminish. Under a near-midnight sun we crawl into tents we've set up ourselves.
The next morning, we head to the rocky riverbank and pack our vessels. This particular Nahanni itinerary offers a choice of rafting or canoeing. The river's Class II and III white water is technical for canoes, but not tricky to raft. Two couples, two guides and the grandfather and grandson, John and Connor, are in double canoes. A guest called Tom, who is on the brink of parenthood, is travelling in his own inflatable kayak packed with fly-fishing gear.
I don't have white-water canoeing experience or any motivation to become experienced; meeting the dreadful bed of the Colorado River in Class VI rapids a few years back helped me realise that's not how I want to go. As it turns out, however, there are some glorious half days ahead paddling flat-water sections of the Nahanni when canoers need or want a raft break. And I'll even get an hour or so on the raft oars.
"It's not a learning river. You've got to come with a skill set," says experienced lead guide Jamie. She's dressed in a dry suit and outlining this morning's paddling route in the sand for canoers. In terms of white water, she warns, this trip "starts off with a bang". All guests who've booked canoes have experience and training but are still challenging themselves and at least one had an extremely restless night's sleep.
Half an hour after we launch, John and Connor capsize in fast water through a wide canyon. John loses contact with their canoe, but Connor has a bigger problem: one foot is stuck under his seat. Luckily the teenager is tall enough to keep his head above water while Jamie and Margaret race towards him. Meanwhile, the raft intercepts John and I'm able to haul him in by his life jacket.
The Nahanni has seen plenty of action, drama and tragedy in its time, especially since Europeans came here for fur from the early 1800s and gold a century later. Names like Deadmen Valley, Broken Skull River, Hell Roaring Creek and Headless Creek hold some historic horrors. Even today, those who take from the land continue to negatively impact the lives of those who have always valued it. Here, above 60 degrees magnetic north, it's not like the south of Canada. The climate is far more extreme, the seasons more pronounced and the wildlife more abundant. We roll and float past moose, deer, bison, beaver and black bears, while above us are bald eagles and osprey. At each campsite, animal and bird prints pattern the sand banks and mud flats.
Designation of a national park in the 1970s halted proposed hydroelectric plans for this wild 563-kilometre waterway. Today, Nahanni National Park Reserve occupies an area of just over 3 million hectares. There are stringent hunting and trapping restrictions in the park, but throwing a line in is fine.
"I got one," shouts Tom in the late glow of the third night when we're camped at The Gate, where the river sharply corners between sheer cliffs. Jamie and I start to turn our heads until we hear Tom's reassessment: "I had one." The couple travelling on the raft with me are all about the scenic float and have little interest in paddling; the raft is mainly about drinking coffee, eating trail mix and sharing stories or a comfortable silence. Though with Ursula on the oars, our assistance is barely necessary. She has been guiding since she was 17 and now, at 24, she's a white-water kayaking junkie and records every river she visits through expressive line drawings.
This particular river is geologically eccentric. It began as a meandering prairie river but, as the mountains formed, the Nahanni maintained its course and cut canyons into the rock. It's called an antecedent river because it predates those mountains. While other rivers meander, the South Nahanni snakes and drops an impressive 396 altitudinal metres between Náįlįcho and Nahanni Butte.
As the trip progresses, the rockscape around us becomes increasingly dramatic. By First Canyon, even our raft is minuscule within this gigantic landscape where, in some places, walls tower more than a kilometre above us. This is part of the world's most northern known limestone karst. In one of First Canyon's many cliff-face caves is a pile of around 100 Dall sheep skeletons believed to be more than 2000 years old.
We can't access that cave, but there's plenty to see and do around the river such as swimming in Lafferty Creek's 'chasm of chills' and soaking in thermal pools. At Painted Rocks Canyon, it's a short walk from the riverbank to a wall of fossilised creatures dating back 500 million years to when the area was a tropical sea bed.
In Deadmen Valley, where Prairie Creek meets the Nahanni, the river is slow and braided and becomes the emotional centrepiece of my trip. It's a blustery afternoon when we arrive at a sandy beach to set up camp. In screaming winds, our guides somehow whip up a steak dinner and dessert with no extra crunch.
After the wind subsides, I lose hours washing, almost ritualistically, in the river and sitting on the pebbled shore lost in thought. Overnight it thunders and rains and blows. I dream wildly then wake to the sound of tents being zipped open and people gasping. When I emerge, I find a blue river under a clear sunny sky and the mountains in every direction caked with fresh snow. The North has done it again; the beauty is intense, and words can't begin to describe it.
A traveller's checklist
Getting there
Air Canada flies direct from Sydney to Vancouver.
Paddling there
Nahanni River Adventures' seven-day journey Nahanni Canyons from Virginia Falls (Canyon Kingdom) runs from June to late August. Rafters need no experience while canoers require at least Class II white-water experience.
Exploring there
Give yourself time in the Territories' capital of Yellowknife, which has two aurora seasons. Visit NWT Brewing Co. in the heart of Yellowknife's historic Old Town.
Staying there
You will sleep like a log at the Explorer Hotel, Chateau Nova and Capital Suites in downtown Yellowknife.
Going further
While most visitors come to Nahanni National Park Reserve to canoe or raft along sections of the river, which flows more than 500 kilometres from its headwaters in the Mackenzie Mountains, there is plenty more to do besides. For starters, the Cirque of the Unclimbables is a legendary route that draws adventure travellers for the challenge of climbing its jagged granite spires and for the romance of its spectacular scenery. You can also take a helicopter ride over Náįlįcho (Virginia Falls), one of the most beautiful waterfalls in the world. Fishing in the reserve is also popular for arctic grayling, bull trout, dolly varden and walleye.
LEAVE YOUR COMMENT