Meanwhile in Canada... it's Byron with bears and cougars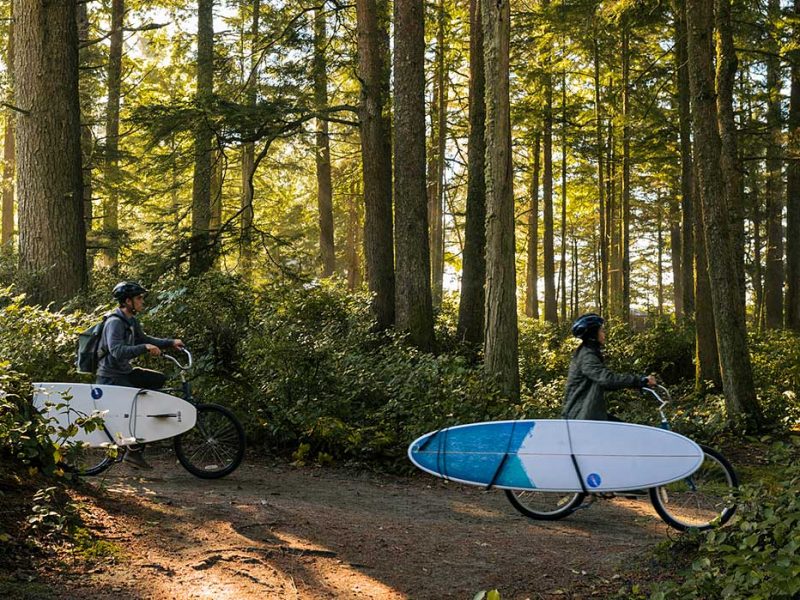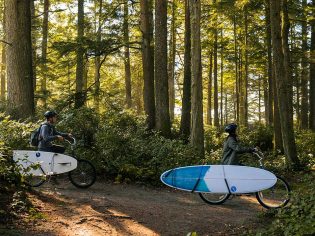 In a country most famous for its Rocky Mountains, I'm bunkered down in a bona-fide surf town where people say dude (a lot) and maan (a lot more) and the local radio DJ keeps telling us we're "surfing the radio waves" between songs.
The bartender who pours me my first drink in Tofino looks like a surfer I used to know as a teenager. Because the world's so small, it doesn't shock me when I find out he went to school in Byron Bay too.
"Tofino, dude," he says. "This is Byron Bay like we knew it. Only this is twice as pretty, and twice as cool."
Located right on the very edge of Canada – on Vancouver Island's remote west coast – Tofino's only connected to the world by a road that's often unpassable in winter, which was only paved a few decades back. The next stop west of here is Russia… dobro pozhalovat.
It's as wild as Canada gets. There are bears in the woods: "They're almost like gulls there's so many of them," a tour guide tells me. And cougars on the beaches: "I saw one last week having a sniff around my bag when I was surfing," a surfer explains. Yep, you read that right. A cougar! On. The. Beach. Sniffing. Bags. Orcas are a fairly regular sight just beyond the breakers too. "They won't hurt you though," another surfer tells me. "Just the cougars."
The water's chilly – even in the middle of summer I'm decked out in the thickest wetsuit I've worn in 40 years of surfing. I'm wearing a hoodie and booties for my blue feet too, even though Tofino is in the middle of a heat wave. Locals consider it a heat wave when it's over 20 degrees for a few days in a row.
Just like Byron Bay, Tofino is hardly your average surf town. It's as much a playground for the rich and famous as it is a place to ride waves. The hippies around here (like Byron) carry platinum Visa cards in their fisherman's pants.
Rooms at the Wickaninnish Inn, (no. 74 on our list of 100 Best Hotels and Resorts) perched on an outcrop between ancient rainforest and the rugged coastline, start at around $600 per night. Suites with giant soaking tubs and private balconies look out across the sea. Keanu Reeves has stayed there on holidays.
In the Pacific Penthouse Suite of the Long Beach Lodge Resort, (no. 60 on our list of 100 Best Hotels and Resorts) I have a two-person hot tub and floor-to-ceiling windows so I don't miss a single breaking wave. On long, lingering summer evenings the day doesn't look like darkening till at least 10pm.
There are certain things you should do in Canada: eat poutine, drink ice wine, ski at Whistler, watch a game of ice hockey, ride a bike in Vancouver's Stanley Park. Notice how surfing isn't on that list? Who goes surfing in Canada on holiday?
For days, I won't go beyond the sand. Then I can't stand it any longer. I paddle for my first wave in Canada as a nearby surfer screams at me. I take off cautiously, making sure I'm nowhere near him. But I needn't have worried.
"Duuude, sick wave maan," he shouts. Because this is Canada, the friendliest place on Earth, even surfers, the most territorial of all humans, welcome you with arms wide open. They're not the only friendly ones in the line-up. A baby sea lion won't leave me alone. It swims beside me for my entire surf, even following me to shore when I get a wave.
Later a guitarist playing songs at a local bar tells us we don't have to applaud, he's happy anyway because "I got some good waves today and my dog and me [sic] walked on the beach". And a surfer in his 70s at my local coffee shop (I go twice in two days so I'm calling it my local) tells me surfing keeps you young in Tofino. "I call this place Never-Never Land," he says. "Maybe it's the water, I don't know, but everyone around here carries on like they're still 18. Dude, it's the magic of Tofino, you never grow old."
When I'm not surfing or spending entire days on the beaches, I'm over on the other side of Tofino – the pretty side. Beaches might stretch on for kilometres beside national park on the coast side, but you should see Clayoquot Sound. It's what makes Tofino famous, the prettiest stretch of water in North America. Nothing comes close.
One night I head out to watch the full moon over the Sound. It's not too unusual to see grey whales and orcas and porpoises swim past from up here, near the middle of town (which isn't much more than a main street). During the day, yachts and fishing boats motor past and seaplanes land; beyond the water, big snowy mountains rise and fall to the horizon like they're supposed to in Canada.
I can smell summer jasmine and the sweet scent of pine trees, but there's always something of the sea lingering in the air around Tofino. Black bears, elk, wolves and cougars live on the other side of the Sound in woods where you'll still see the occasional hippie in a shack who came here in the '60s from the US to dodge the Vietnam War draft and never went back. Others came to help out in some of the biggest environmental protests in Canadian history in the '90s. They saved all the temperate rainforest you can see from town, where 1200-year-old trees still stand. It's easy to access this wilderness; one day I take a kayaking tour into bear country, another I ride a seaplane to an island where we walk through forests to natural hot springs in the rocks.
Many of us harbour a desire to live somewhere we find in our travels. In these moments of enlightenment, it makes a whole lot of sense to pack up our lives back home and move. But then we go home, and the idea quickly fades. Not me: I'm checking back into Tofino for a year, maybe two. I want to be somewhere cougars roam the beaches and Keanu not a Hemsworth rules the waves.
Next week I'll take you to the mountains for a different take on Canada. It's more like the Canada you would expect, but where we're going it's also nothing like you'd expect (spoiler alert: there'll be grizzly bears chewing on our front doors).
Want more? Check out our Meanwhile in Canada collection
How about more Vancouver Island?
Foodies, it's time to taste Vancouver Island
Frolic with killer whales off Vancouver Island
Befriend some sea otters off Vancouver Island
And don't forget to check out our ultimate guide to British Columbia
LEAVE YOUR COMMENT