Bee Hotels in British Columbia: a Buzzworthy affair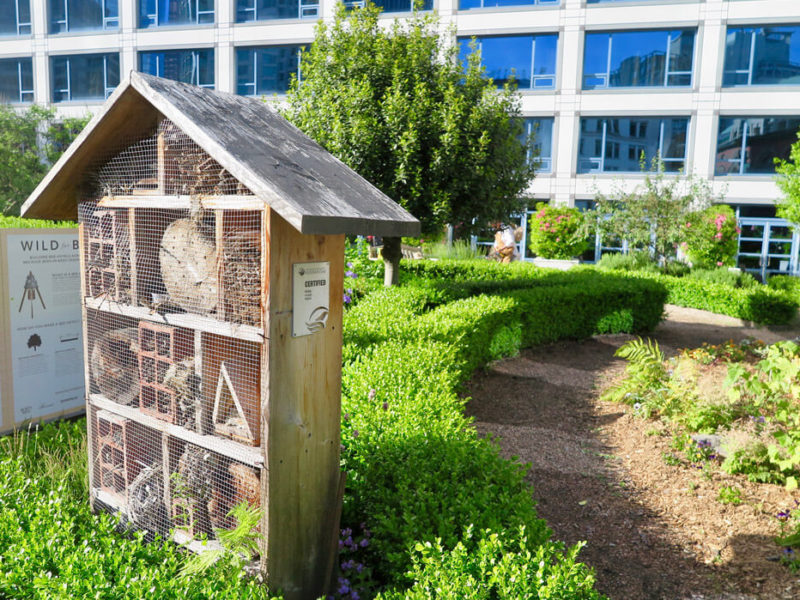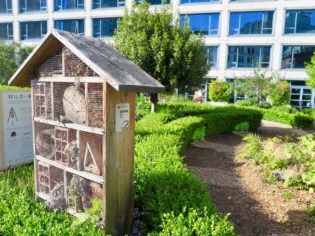 A series of bee-centric experiences in the Pacific Northwest of Canada invites visitors to learn about the role fuzzy pollinators play in the wellbeing of the planet while enjoying the spoils of their labour.
Sixty-six-year-old Julia Common squats and pulls out a wooden frame smothered with hundreds of wriggling bees. It's the closest I've ever been to a swarm and I instinctively step back.
Puffing another dose of sage and lavender-scented smoke at the squirming bodies, Julia reassures us: "The smoker cuts down their ability to communicate with each other," explains the chief beekeeper at the Fairmont Waterfront, Vancouver.
"The smoke isn't hot; it calms them down." Julia points to a bee away from the hive, vibrating gently. "The bum in the air means it's lost," she interprets for us. "They're highly social insects communicating all the time through smell and vibration and they groom themselves like cats. I'm in love with bees."
Abuzz with Greenery
We're in the hotel's sunny third-floor terrace garden, a delightful patch of greenery surrounded by a cityscape of buildings. "I always thought beekeeping was something you do in the country," admits Julia, a long-term bee hobbyist from Vancouver Island. "I've discovered the city is good for bees. It has stable populations of flowers that are watered."
In a win-win for bees, tourists and the property's parent company, Fairmont Hotels, the hotel's on-site bee sustainability program – the first developed by a luxury hotel brand back in 2008 – gives guests the opportunity to learn about bees in a fun, interactive way. It includes daily Bee & Garden Tours with the in-house bee butler and a bee-centric menu.
Julia scrapes honey from the frame onto teaspoons for us to taste, then prizes out some bee bread, a mix of naturally fermented pollen and nectar (honey) the bees manufacture as their main food supply, and offers me some. The texture is crumbly and the taste mildly sweet. Other products deriving from honeybees include royal jelly (the food fed exclusively to the queen bee and her babies), beeswax, pollen and propolis (prized for its antimicrobial properties).
After more bee factoids (instead of stings, the male drones, which exist solely for procreation, have genitals, for example), we're taken on a quick tour of the organic, bee-friendly garden.
Nestled beside lupins and other flowers, the cute apiary boxes are home to more than 250,000 European honeybees. Other, smaller varieties of bees hover around a natural structure dubbed the 'Bee + B Hotel'.
Decorated with hollowed bamboo tubes, twigs and wood, it provides shelter and nesting sites for wild, native bees – unlike the European honeybees, these are predominantly solitary creatures. Within Canada's British Columbia alone, there are more than 450 native bee species, Julia tells us.
Oh, Beehive
These include carpenter, mason, leaf cutter and bumblebees – like the gorgeous red-bottomed bumblebee I spy feasting on the hotel's mauve lavender garden.
Our bee-centric experience continues into dinner.
On site at ARC Restaurant, the 'Give Bees A Chance Menu' features more than 20 different foods that require pollination, including the berries, heirloom tomatoes and herbs in my salad and the edible flowers and honey (all from the rooftop garden) accompanying a nourishing almond coconut cake. Bees pollinate at least a third of the food we eat, Julia informs us.
With bee health and bee populations in decline due to agrichemicals, habitat loss and climate change, Vancouver recently banned toxic pesticides aimed at insects, reintroduced urban beekeeping and established bee-friendly corridors in the city as part of a goal to become the greenest city in the world by 2020.
In turn, the bees are helping humans. Julia also co-founded Hives for Humanity, a non-profit using beekeeping to connect marginalised people to nature, community, skills and better self-esteem. She shows me some of the colourful beeswax wraps, candles and flower seeds the participants have created for sale.
The next day I take a bus journey along the scenic Sea to Sky Highway to Whistler; by evening, I'm relaxing in the Fairmont Chateau Whistler, surrounded by peaceful woods and mountains, sipping the hotel's signature cocktail dubbed the 'Bees Knees', of course.
In the morning, the surrounding mountain peaks glitter with snow as we follow executive chef Isabel Chung into the crisp air on a tour of the rooftop garden and beehives. "The violas and English daisies are grown as edibles and used to garnish guest desserts," Isabel says. Vegetables, herbs and ornamentals like bee balm, also mingle in the peaceful space.
Honey for All
Our honey-themed breakfast in the Wildflower Restaurant features more mementos of bees including a summer fruit salad garnished with edible flowers, honey granola parfaits and honey tangerine mimosas.
After a day of cycling through the forest, my appetite is revived again for mead tasting over dinner in the Wildflower. The source of the mead is Tugwell Creek Honey Farm and Meadery on Vancouver Island. According to owner Bob Liptrot, mead is essentially fermented honey and was the birth of alcohol.
"Ancient people used any hives they found. It's likely rainwater got into honey and fermented it," he hypothesises. "The biggest misconception is that mead started in the Middle Ages. Not true. It goes back 10 million years."
I learn there are more than 60 categories of mead worldwide. Flavour variations are achieved with herbs, fruits, flowers and different types of honey. Mead, which is on the resurgence, can be paired like wine with different foods, Bob says. Suggesting a toast to the bees, I sip a sweet, fortified mead with a butterscotch aftertaste.
It's an educative yet quirky experience that connects us to nature and pleases the palate and soul.
For more Canada travel inspo, visit our Canada hub for all-things-Canada.
LEAVE YOUR COMMENT